Applications
To understand what practical benefits you can reach with ConceptDraw DIAGRAM take a look at this range of articles. They describe the versatile possibilities of ConceptDraw DIAGRAM expedient applications.
---
---
---
---
The most popular items
Business Flowchart Tool
A flowchart is a schematic representation of a process. Theoretically, flowcharts can depict processes of any complexity and length. In practice, flowcharts are most commonly used to illustrate business processes and represent the logic of computer programs. They are also widely used in education and everywhere where it is needed to represent a process in the form of a clear and intuitive scheme to aid understanding.
---
UML Diagrams
ConceptDraw DIAGRAM is a professional software product designed for creating detailed UML diagrams. A large number of libraries with ready-made objects for UML diagrams and task-oriented templates let you create UML diagrams of any complexity without effort.
---
ER Diagrams
Entity-relationship diagrams (ERD) serve for detailed description of structures and databases. An ERD represents a diagram made up mainly of rectangular blocks (for entities, or data) linked with relationships. The links between the blocks describe relations between these entities. There are three types of relationships: one-to-one, one-to-many and many-to-many. For example, "driver drives a car"
---
Organization chart software
An organizational chart is a chart which represents the structure of an organization in terms of rank. It's very convenient for showing formal relationships in large organizations in a clear, visual form. Normally, an organizational chart is made up of rectangular blocks representing positions of the staff, and relationship between them.
---
Landscape architecture
The concept "Landscape architecture" includes landscape planning, design and creation, as well as the management of resources and buildings. With reference to smaller scale projects the design stage and planning are referred to as landscape design. Accordingly, for owners of private houses the time scales and size of projects are smaller, and the section for such projects is referred to as garden design.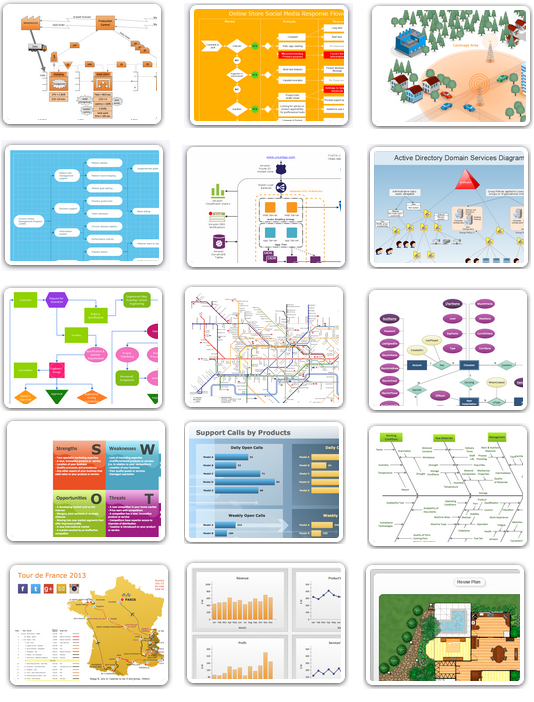 TEN RELATED HOW TO's: