IDEF1 standard
Industrial activity of the enterprise may be presented as the permanent process of change of objects which constitute this enterprise. These objects are workers, material resources, production, finances and many other things. This can be either physical or intellectual objects, for example ideas and technologies. To manage these objects the corresponding documentation is necessary. In this documentation there will be registered and represented the current state of the object, its preceding and even predictable states. Such documentation is called an information field of an enterprise, and the circulation of documents is called - information flows.
IDEF1 standard is elaborated for representation of information flows at the visual graphical view. With the help of diagrams created accordingly to this standard, it is possible to analyze and study information flows, their interaction and interrelation for discovering weak spots in the existing structure of the information field of an enterprise.
Also IDEF1 diagrams include objects of the industrial activity of an enterprise which lets study and analyze the existing information about these objects.
The purpose of this analysis is the more qualitative management of information and information flows of an enterprise. Results of the analysis of IDEF1 diagrams can be used for planning of the enterprise activity and increasing of the effectiveness of the information management.
Using visual graphical objects IDEF1 standard allows to model information interrelations and differences between:

Real objects (workers, resources);
Physical and abstract dependencies, existing between real objects;
Information about real objects ( personal files of workers, reports, descriptions);
Structure of data, used for acquiring, accumulation, usage and management of information (statistic data base);
Accordingly to IDEF1 standard, elements of the information field as well as their properties and interrelations are divided into classes. There is also a concept of an entity in IDEF1 standard. The class of the entity is the totality of information about the definite object and the group of objects of the enterprise information field, which has the relation directly to the enterprise. The main characteristics of entities are originality, which allows to identify one entity from another, and stability, which implies permanent accumulation of information about the object.
In IDEF1 standard the entity has the name and attributes. Attributes are a set of characteristic properties of an object. The class of attributes of an entity is a set of names of attributes and values of these attributes corresponding to the given object or to the group of objects. Attributes by which the entity is unambiguously identified are called dominant.
Every entity may have several dominant attributes.
According to IDEF1 standard all interrelations between entities form a class of interrelations. If dominant attributes of one entity come into class of attributes of another entity there is an interrelation between these entities. The name of interrelation is always expressed in the form of a verb (E.g. "work at", "reckoned on", "assigned to", etc.).
As an example of interrelated entities there can be a product produced by the enterprise department.
Operating Systems:
    Macintosh® (Mac OS X 10.7. or later)
    Microsoft® Windows® 7/VISTA/XP

| | | |
| --- | --- | --- |
| Price: |   ConceptDraw DIAGRAM |   $199 |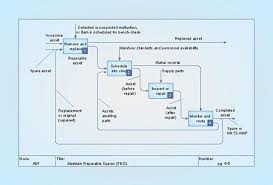 TEN RELATED HOW TO's: