Landscape Plan
Landscape design is a term familiar to all owners of houses and cottages. This term includes not only landscape gardening and landscaping garden. It is a real art that includes knowledge from different fields of science. Landscape design is based on the laws of design, architecture, construction, plant growing, history, culture and philosophy.
There are a lot of questions at the beginning of the garden arrangement process: how to build a pathway; where to provide a place for recreation or an arbor; where to plant trees, and which ones. One way to solve these issues is to explore piles of special literature or to buy a colorfully illustrated landscape design magazines, but, unfortunately, the theoretical knowledge does not always provide the desired result. Beautiful garden is not a coincidence, but the result of the specialists work, ranging from experienced designers and ending with qualified teams of workers who will embody the idea of the garden to reality. While designing the area it is desirable to consult an architect. The work can be divided into two phases: the preparation of the design and the actual design. Area designing is a very important and crucial stage of site adjustment process. Territory measurements are the first stage in design preparing. They are necessary for the accurate representation of the original relief of the area. This must be considered during future construction, land planning and functional zoning in order to more use the original terrain efficiently. It is also necessary to hold an inventory to accommodate existing trees, shrubs, flower beds, assess their condition, as well as to determine the optimal location for the garden planned elements. Landscape design begins with thinking about the most convenient and logical area zoning. A master plan is a carefully designed plan, based on a sketch, which shows the boundaries of the area, the projected plants, pathways, playgrounds, all existing plants, all the buildings and architecture, flower gardens.
One of the most important components of landscape design is a detailed landscape plan. ConceptDraw DIAGRAM extended with Landscape & Garden Solution from the Building Plans area of ConceptDraw Solution Park is a powerful software for easy drawing landscape plan of any complexity.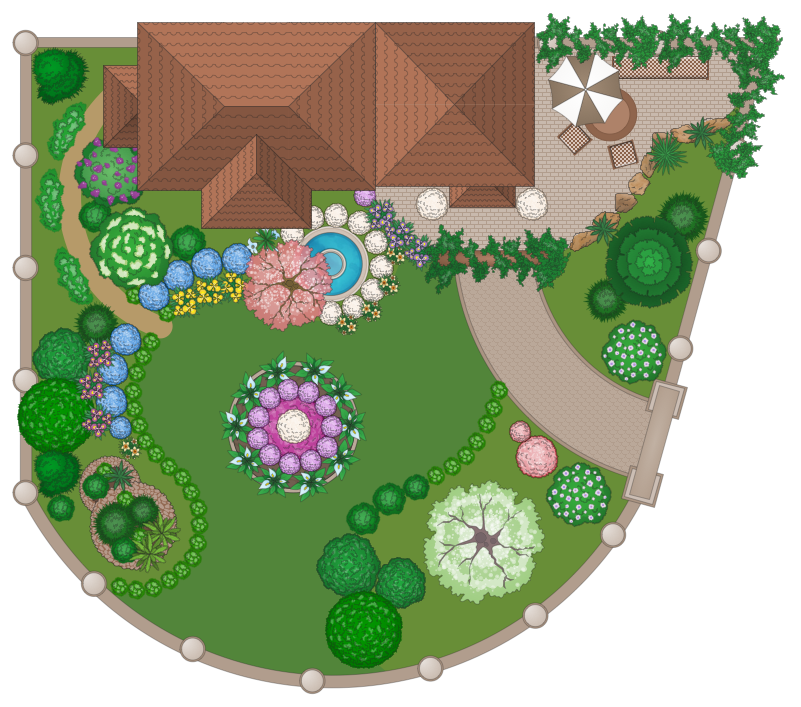 Example 1. Landscape Plan - Domestic Garden
Landscape plan must obligatory take into account all specific features of a land: natural ponds, hills, ravines, etc. Landscape & Garden Solution offers 14 libraries with variety of different predesigned vector shapes which will allow to represent any design ideas for any parcel of land.
Click on the previews to observe all beauty and diversity of ready-to-use vector shapes specially prepared by designers for ConceptDraw DIAGRAM users.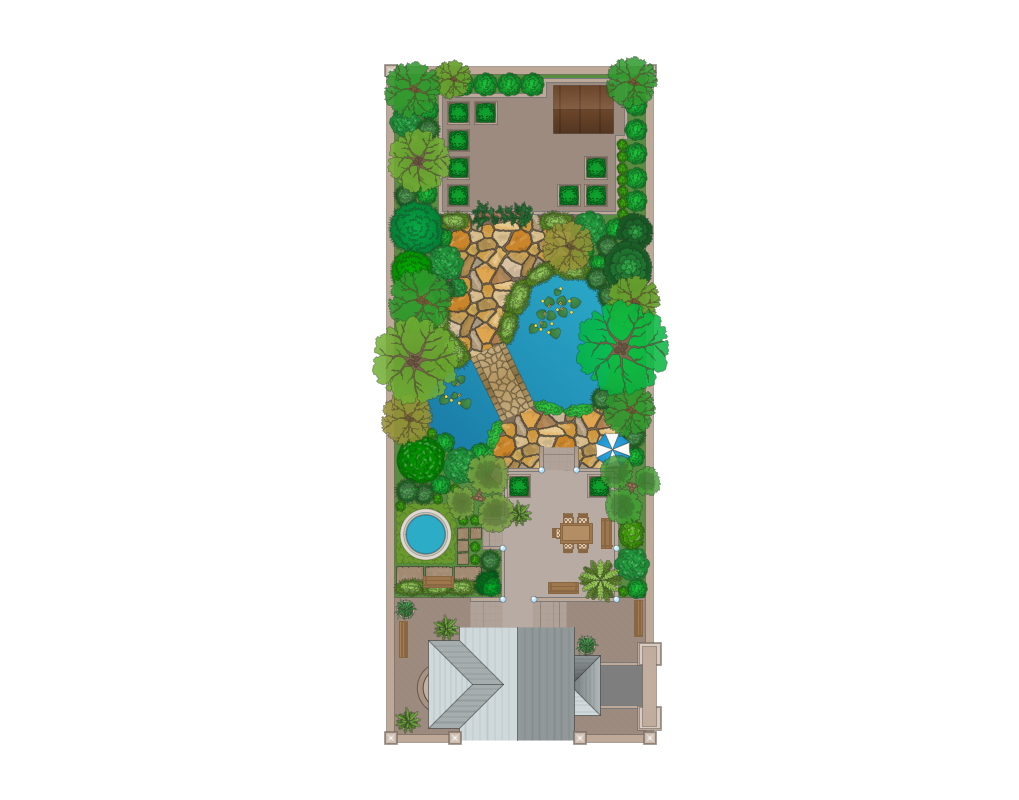 Example 2. Landscape Plan - Terrace Garden
The following features make ConceptDraw DIAGRAM the best Landscape Plan Design software:
You don't need to be an artist to draw professional looking plans in a few minutes.
Large quantity of ready-to-use vector objects makes your drawing landscape plan quick and easy.
Great number of predesigned templates and samples give you the good start for your own plans.
ConceptDraw DIAGRAM provides you the possibility to use the grid, rules and guides. You can easily rotate, group, align, arrange the objects, use different fonts and colors to make your diagram exceptionally looking.
All ConceptDraw DIAGRAM documents are vector graphic files and are available for reviewing, modifying, and converting to a variety of formats: image, HTML, PDF file, MS PowerPoint Presentation, Adobe Flash, MS Visio.
Using ConceptDraw STORE you can navigate through ConceptDraw Solution Park, managing downloads and updates. You can access libraries, templates and samples directly from the ConceptDraw STORE.
If you have any questions, our free of charge support is always ready to come to your aid.