Visio Files and ConceptDraw
Knowing MS Visio as a great vector graphics and diagramming application, which is nowadays a part of the Microsoft Office family, you might still find ConceptDraw DIAGRAM a better tool for drawing your own great looking schemes, diagrams, flowcharts and charts, as well as map, as the last mentioned software is extended with so many solutions, full of stencil libraries with lots of different design elements and pre-made examples, which all can be used for making the professionally looking drawings within a short period of time (sometimes even a few minutes are enough to complete a simple chart or map, having the pre-made template as a draft).
MS Visio application was developed by the "Shapeware Corporation", renamed in 1995 changing its name to "Visio Corporation", being acquired by "Microsoft Corporation" in 2000. There were two editions of "Visio 2013" for Windows, one of which was "Standard" and another — "Professional". Both of them share the same interface, but the difference is in that the last one has a few templates available, while ConceptDraw DIAGRAM provides lots and lots of examples and samples for its users to simplify their work with creating any needed drawings of any complexity.
After Visio 2013 was introduced, "Microsoft Corporation" changed the native file format used in earlier versions of Microsoft Visio, based on a new XML file structure that was highly compressed. The implementation of the mentioned file structure changes improved the customer experience and, as a result, it is now possible to use an alternative to MS Visio, having the files created in Visio to edit while working in ConceptDraw DIAGRAM software, as ConceptDraw DIAGRAM is a great and viable alternative for both individuals and organizations which are looking for a professional business solution.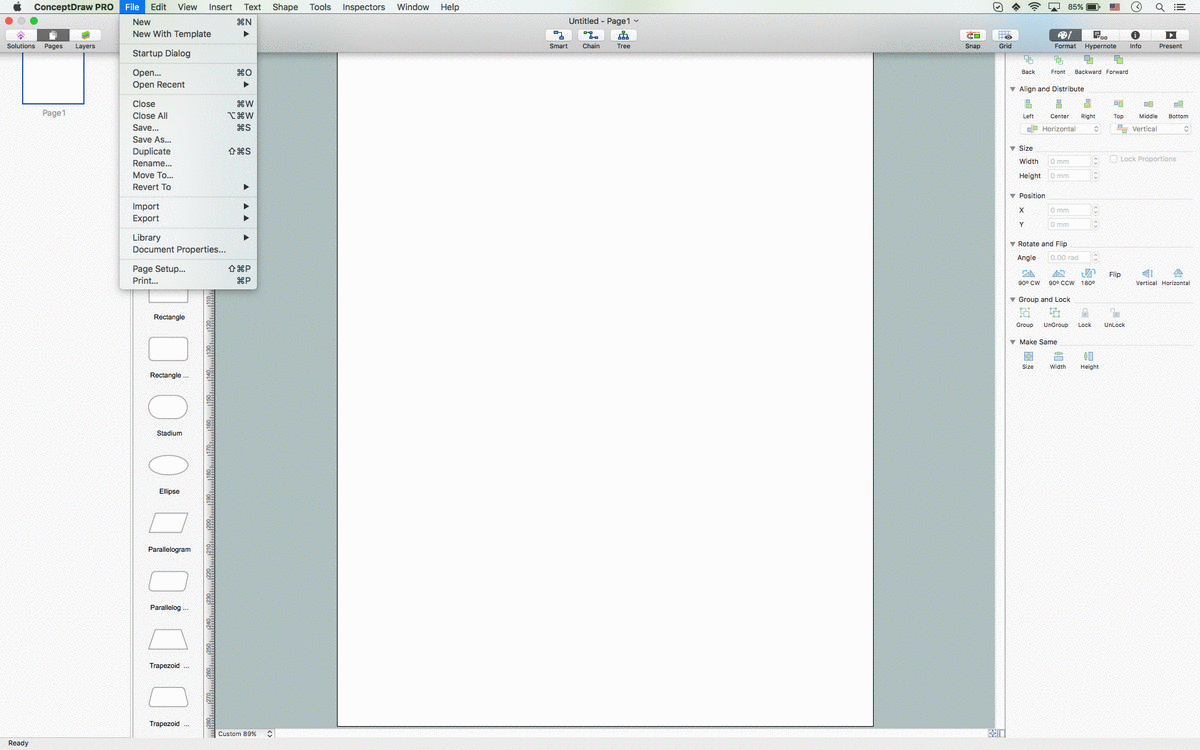 Pic 2. Import Visio File
ConceptDraw DIAGRAM can import and export any file created in MS Visio to work with it, in case it is a Visio VSDX file format. There are many more advantages of using ConceptDraw DIAGRAM diagramming software as it is simple in use, as well as economical application, which allows to save both time and money providing the existing, previously created templates, such as those mentioned in the solutions from ConceptDraw STORE application as well as from this site. To open any Visio file, such as ".vsdx", in ConceptDraw, you can simply place the document in the better and more useful software — ConceptDraw DIAGRAM — to start editing it and so to finish with it within only a few hours or even minutes, depending on how familiar and good you are with ConceptDraw DIAGRAM
Opening Visio Files in ConceptDraw
The native file format for Visio files is .vsdx, which can be opened by ConceptDraw DIAGRAM When opening MS Visio .vsdx extension file with ConceptDraw DIAGRAM there you may notice some differences when viewing the file in MS Visio and ConceptDraw DIAGRAM
ConceptDraw DIAGRAM does not support footers and headers, so any footer and header information that was in the MS Visio file will not be displayed in ConceptDraw DIAGRAM The header and footer information is not lost; they are just not viewable or modifiable within ConceptDraw DIAGRAM
Some MS Visio fonts are not supported by ConceptDraw. If this is the case, then you may select from a list of available fonts supported by ConceptDraw DIAGRAM when prompted.
Importing and Exporting MS Visio and ConceptDraw DIAGRAM Files
To Import MS Visio Files to ConceptDraw DIAGRAM



From the ConceptDraw DIAGRAM File menu, select Import.
Select MS Visio VSDX.
From the Open window, select the desired MS Visio file to be imported. Click Ok.




To Export ConceptDraw DIAGRAM files to MS Visio:


From the File menu, select Export.
Select MS Visio VSDX.
From the Open window, select the desired location folder. Click Ok.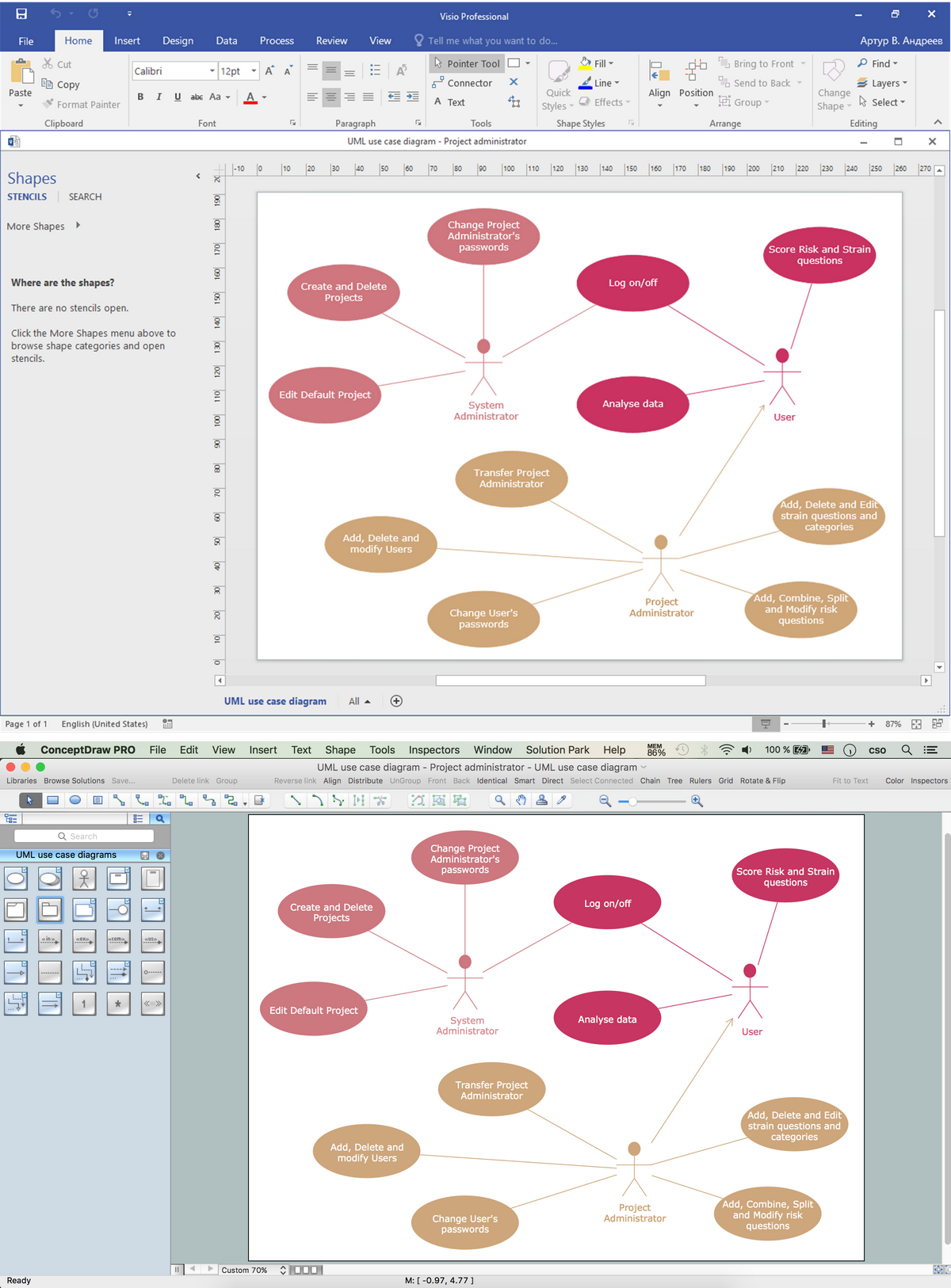 Pic 2. Visio Exchange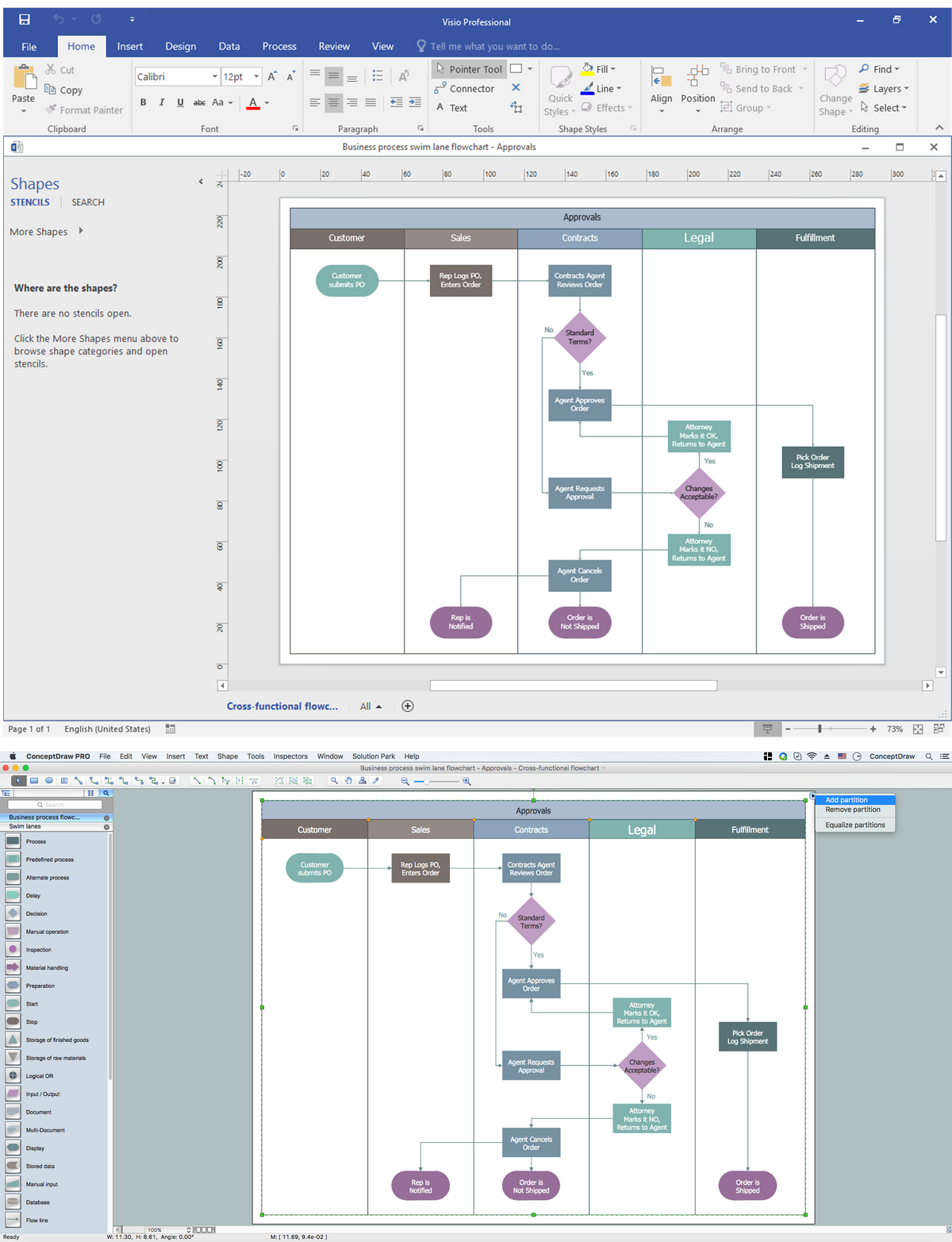 Pic 3. Business Process in Visio
This examples illustrates how MS Visio 2016 diagram (VSDX file format) has been converted into ConceptDraw DIAGRAM diagram.
All source documents are vector graphic documents. They are available for reviewing, modifying, or converting to a variety of formats (PDF file, MS PowerPoint, MS Visio, and many other graphic formats)
TEN RELATED HOW TO's: