Entity Relationship Diagram - ERD - Software for Design
Crows Foot ER Diagrams
ER-model is used in a high-level (conceptual) design databases. You can use it to identify key entities and designate connections that can be established between these entities. During database design the ER model is converted into specific database scheme based on the selected data model (relational, objective, networking, or any other).
Crow's Foot notation was proposed by Gordon Everest, originally called Inverted Arrow. According to this notation, the entity is represented by rectangle containing its name. Name of the entity must be unique within this model. In this case, the name of the entity is a name of type, rather than a specific instance of this type. A concrete representative of the entity is called by the entity instance.
The entity attributes are written inside the rectangle depicting entity. Among the attributes is also highlighted the entity key - the set of attributes the values ​​of which in aggregate are unique for each instance of the entity.
Relation is depicted by line which ties two entities involved in a relationship. The plurality of the relationship is indicated graphically by a "plug" on the end of the link. Optionality of a link is marked by a circle at the end of the link.
Entity-relationship diagrams based on both Chen's and Crow's Foot notations, can be easily drawn using the ConceptDraw DIAGRAM ERD diagrams software tools for design element Crow's Foot and Chen from Entity-Relationship Diagram (ERD) solution.
ERD Crow's Foot library from Entity-Relationship Diagram (ERD) solution contains 17 Crow's Foot notation symbols.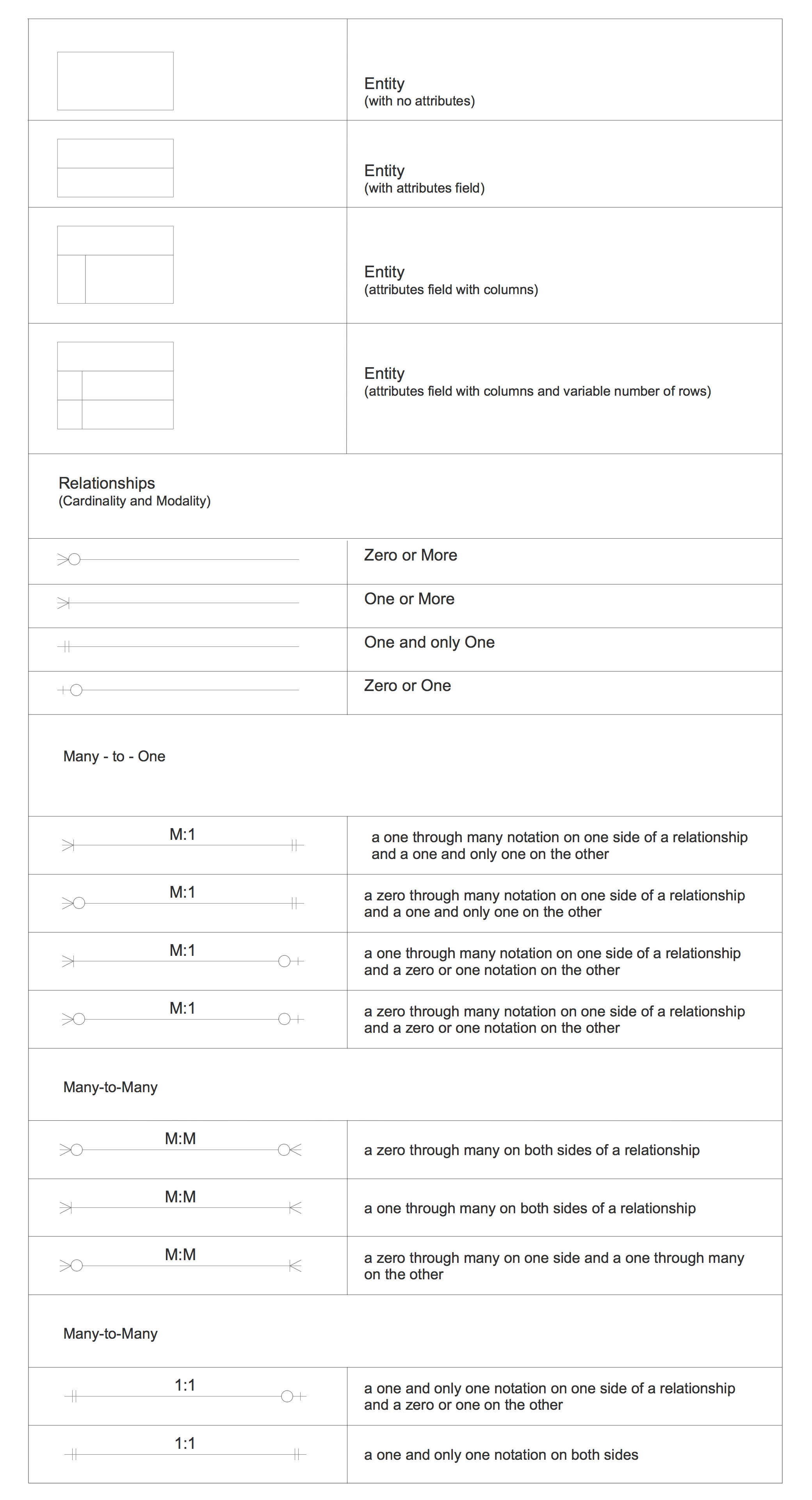 Example 1. Crow's Foot notation symbols
The shapes which include circles, bars, and symbols, indicate various possibilities. A single bar at Crows foot notation indicates one, a double bar indicates one and only one, a circle indicates zero, and a crow's foot indicates many.
Entity Relationship Diagrams (ERD) illustrates the logical structure of databases. The vector graphic diagrams produced when using the ConceptDraw ERD solution can be successfully used in whitepapers, presentations, datasheets, posters, or any technical materials.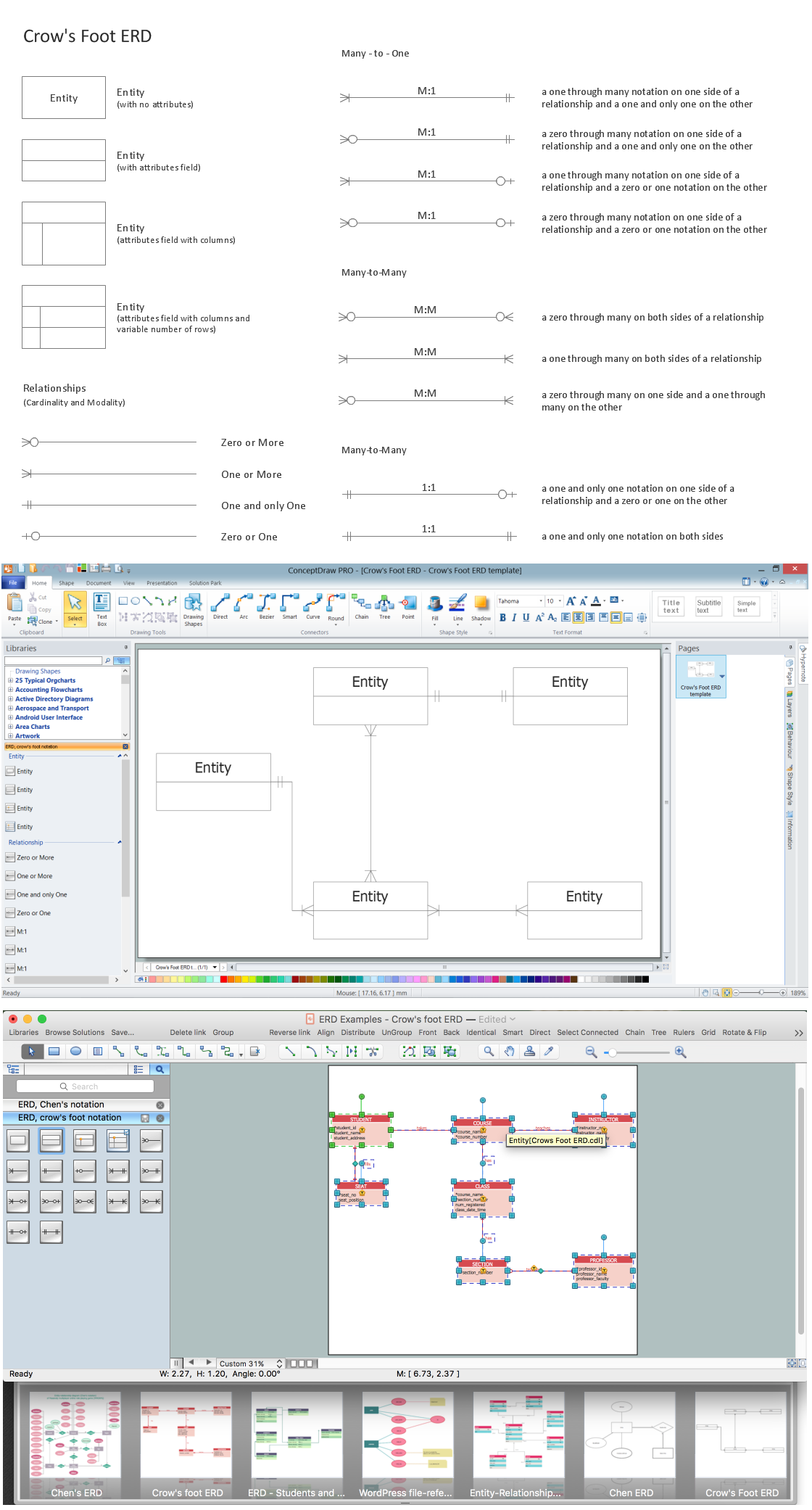 Example 2. Entity Relationship Diagram Software
Design Elements — Crow's Foot (Windows, Macintosh).
The samples you see on this page were created in ConceptDraw DIAGRAM software in macOS and Windows using the Entity-Relationship Diagram (ERD) solution and show the ER Diagrams created with Crow's Foot notation. An experienced user spent 10 minutes creating each of these samples.
Use the Entity-Relationship Diagram (ERD) Solution for ConceptDraw DIAGRAM to create quick and easy your own Entity-Relationship Diagrams using the Crow's Foot and Chen's notations.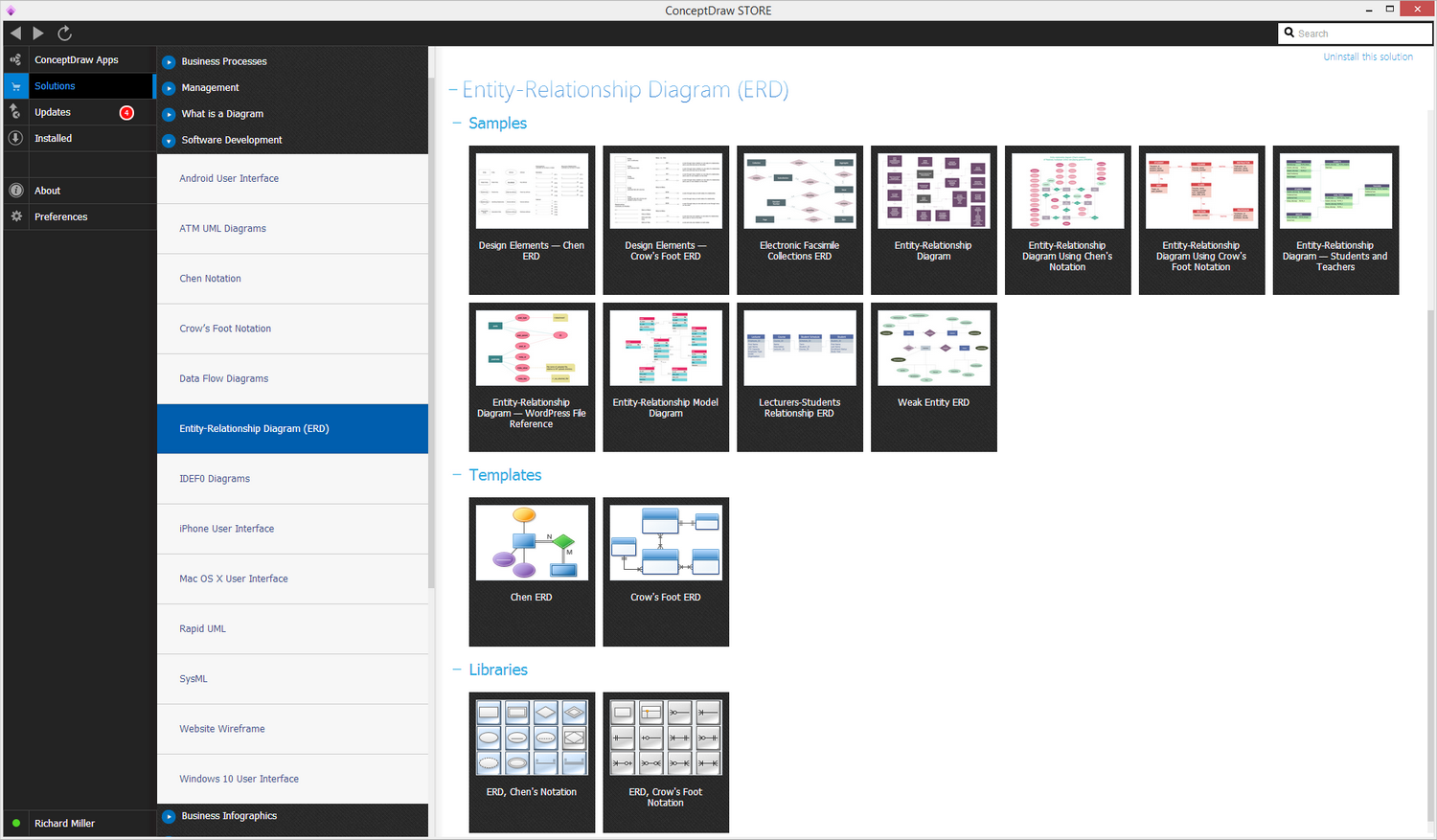 Example 3. Entity-Relationship (ERD) Diagram Solution
All source documents are vector graphic documents. They are available for reviewing, modifying, or converting to a variety of formats (PDF file, MS PowerPoint, MS Visio, and many other graphic formats) from the ConceptDraw STORE. The Entity-Relationship Diagram (ERD) Solution is available for all ConceptDraw DIAGRAM users.
TEN RELATED HOW TO's: