Hybrid Network Topology
Drawing topological structure of the computer network, which is called network topology, is always easier using ConceptDraw DIAGRAM software. Creating Hybrid network topology diagram which is a hybrid of two types of different topology diagrams, is better in this application as we provide you with so many different design elements in order to make best looking professional chart. There are very many libraries with so many elements for creating such diagrams, as well as templates and samples to make it simpler to start using our smart product. Combining Point-to-point with Bus network topology or Star network topology with Ring network topology, or Mesh one with Tree or Daisy chain in a way of diagram can be made in very short once you have our software. ConceptDraw DIAGRAM was developed by the IT specialists who know a lot about networks and network topologies and they know a lot about how to create a diagram, so we can help you to do it making the tutorials, creating examples and offering best support service to simplify your work and so life.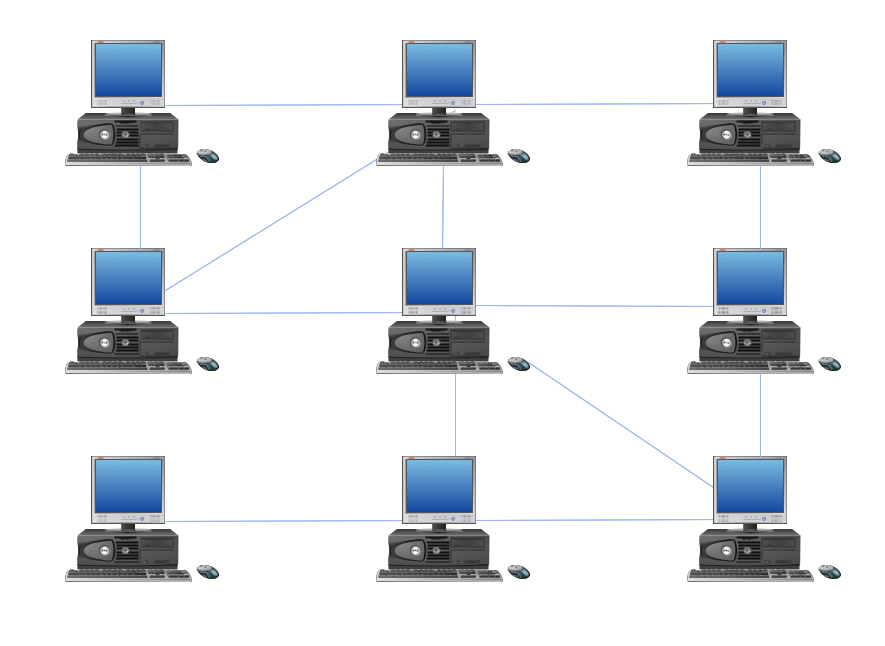 Example 1. Hybrid Network Topology
Network topology is the topological structure of the computer network. There are many types of the network topologies: bus, star, ring, mesh topology, but the most popular is the hybrid topology.
Hybrid network topology is a combination of two or more different basic network topologies. For example, it can be star-ring, star-bus topologies, etc. It must be certainly different topologies, because for example two star topologies form the star topology. The resulting hybrid topology has the features and limitations of its components.
Hybrid network topology has many advantages. Hybrid topologies are flexible, reliable, have increased fault tolerance. The new nodes can be easily added to the hybrid network, the network faults can be easily diagnosed and corrected without affecting the work of the rest of network. But at the same time hybrid topologies are expensive and difficult for managing.
Using the predesigned objects, templates and samples of the Computer and Networks Solution for ConceptDraw DIAGRAM you can create your own professional Computer Network Diagrams quick and easy.
The Computer Network Diagrams produced with ConceptDraw DIAGRAM are vector graphic documents and are available for reviewing, modifying, and converting to a variety of formats (image, HTML, PDF file, MS PowerPoint Presentation, Adobe Flash or MS Visio).
See also Samples:
TEN RELATED HOW TO's: