Network diagrams with ConceptDraw DIAGRAM
While documenting computer network it is often necessary to describe the existing network structure with the help of schemes or diagrams. It is required to document network configuration, used protocols, logical structure of the network, addresses and names of network objects. Network diagram is the tool for description, study and analysis of network knots and connections between these knots. Created network diagram can present you the existing information in comprehensible graphic view.
Network diagrams are divided into Physical Network Diagrams and Logical Network Diagrams.
As a rule at the development of diagrams ready sets of symbols and pictures for indication of network knots, connections between knots and information about diagram objects are used.
Outer objects, for instance Internet, out of network are described in the form of clouds. Depending on the diagram destination necessary level of the detailed elaboration of the diagram is selected. For instance, on the diagram there can be presented only network objects, such as computers and servers without indication of their parameters and connections type. Similar diagram presents the information about the general structure of the network and is not overloaded with excessive details. Besides, diagrams of different levels of the network contain different types of objects. On the diagram of LAN level (local area network) computers, printers, servers, etc. are displayed whereas on the diagram of WAN level (wide area network) whole buildings and even cities are displayed.
Physical Network Diagram presents to user following information:
Telecommunications data, such as cable length, carrying capacity or telecommunication type.
Servers with names, IP address (if it is static), server role and domain name.
Location of network equipment such as hubs, switches, modems, routers, bridges and printers.
Number of network users.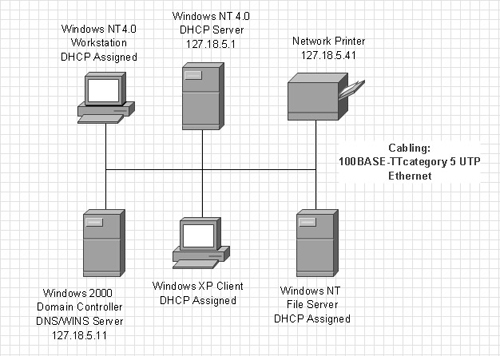 Pic. 1 Physical Network Diagram
Denote on the diagram all firmware versions of devices, telecommunications parameters, IP addresses assigned to devices and so on.
In contrast to Physical Network Diagram Logical Network Diagram presents the information about logical network structure, including:
Domain architecture
Used protocols
Servers roles
Trust relationship
Network diagram is an indispensable tool for network administrators and engineers at development of new networks and management of existing networks.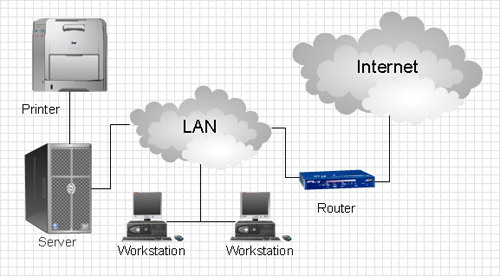 Pic. 2 Logical Network Diagram
This sample was created in ConceptDraw DIAGRAM from the Computer Network Diagrams solution.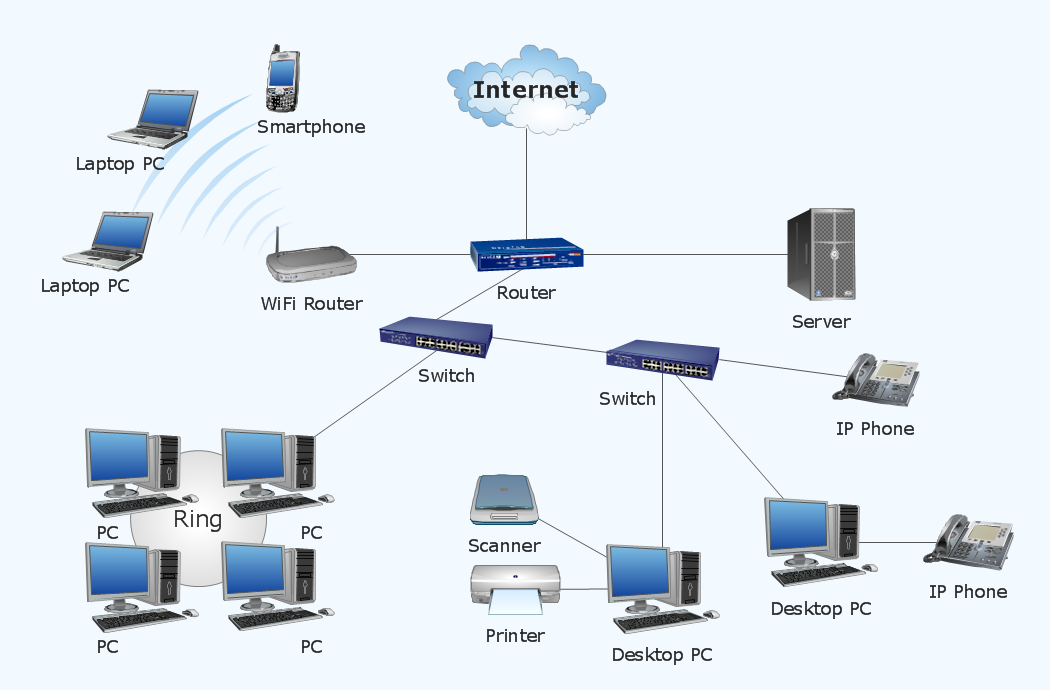 Pic. 3 Network diagram
All source documents are vector graphic documents. They are available for reviewing, modifying or converting to a variety of formats (PDF file, Power point Presentation, image or MS Visio) from the ConceptDraw Solution Park. The Computer Network Diagrams Solution is available for all ConceptDraw DIAGRAM users.
TEN RELATED HOW TO's: