Entity-Relationship Diagram (ERD)
with ConceptDraw DIAGRAM
Entity-Relationship Diagram (ERD) serves for detailed description of structures and databases. An ERD represents a diagram made up mainly of rectangular blocks (for entities, or data) linked with relationships. The links between the blocks describe relations between these entities. There are three types of relationships:
one-to-one,
one-to-many,
many-to-many.
For example, "driver drives a car". Here, the entity "driver" relates to the entity "car" by means of a one-to-one relationship "drives". One driver drives one car.

An example of a one-to-many relationship is a sergeant commanding a team of soldiers. Here the entity "sergeant" relates to a number of entities "soldier" by means of a one-to-many relationship.

Since the many-to-many relationship does not adequately represent the nature of interaction between entities, it is rarely used in diagrams, or is used in diagrams with little detail.
Entities and relationships can both have attributes. Example: a car from the first example has number; the "drives" relation may have quality attributes describing the quality of driving, or time attributes, saying when exactly the driver was driving the car.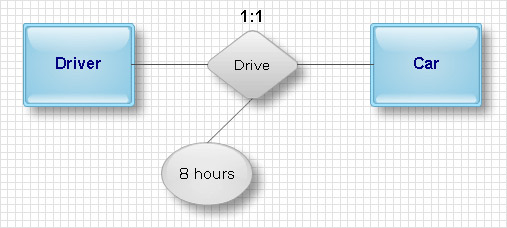 ERDs are mainly used to describe database structures, though they might be used as diagrams describing a structure of a company, organization, or some business processes.
ConceptDraw DIAGRAM extended with Entity-Relationship Diagram (ERD) solution from the Software Development Area allows you to draw very complex and detailed ERD. It has a number of libraries with objects used in diagrams, which are included in relevant templates and samples available from ConceptDraw STORE.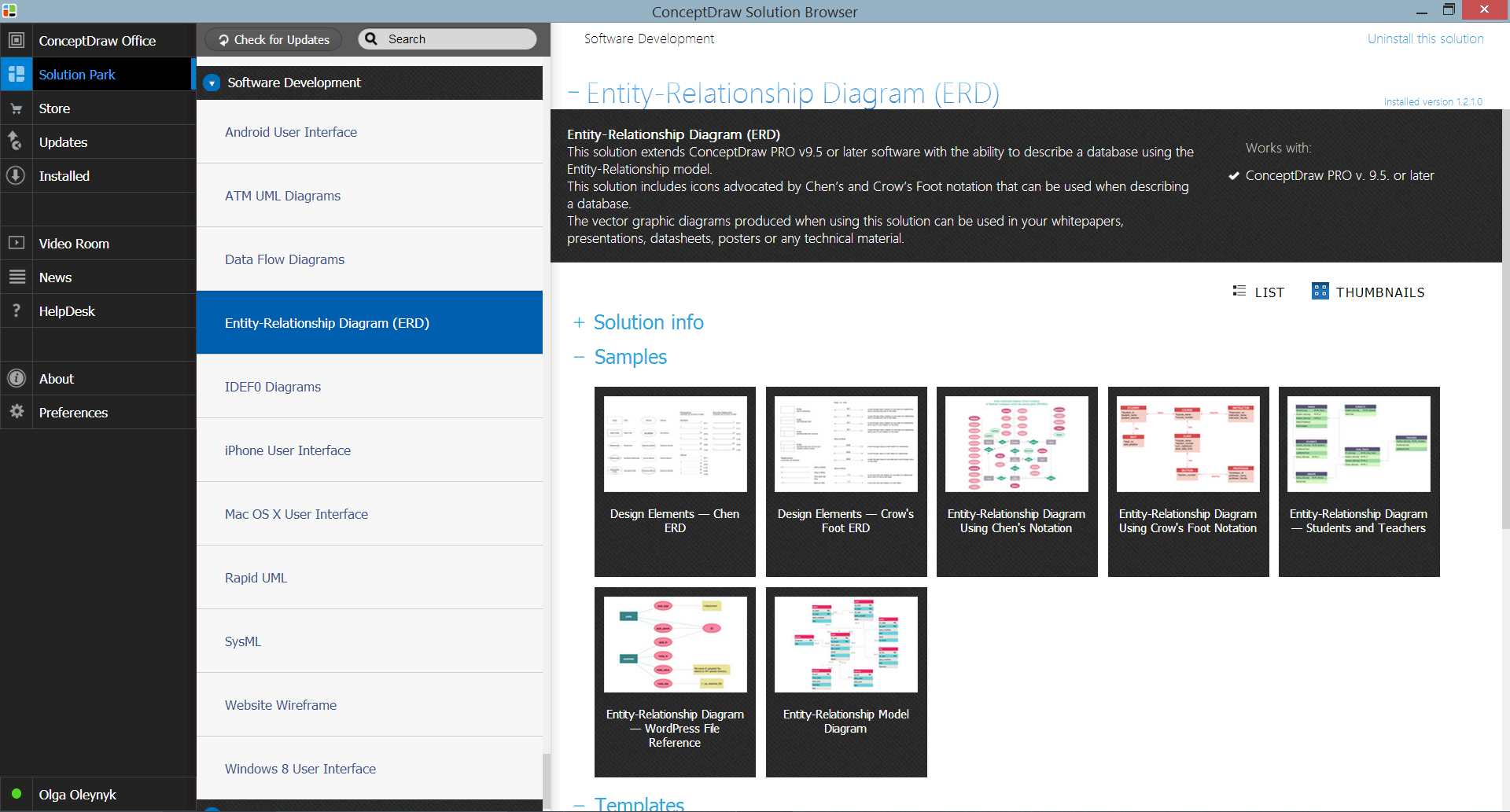 Example 1. Entity-Relationship Diagram (ERD) Solution in ConceptDraw STORE
In actual practice, ERDs employing the method of P.P. Chen are used most. Choose the Chen ERD template in ConceptDraw STORE. A new document will open along with the library with objects necessary to create a diagram. Drag the vector objects representing entities and relationships, and then just connect them between each other in the required order. Use respective library objects to indicate the types of relationships and their attributes.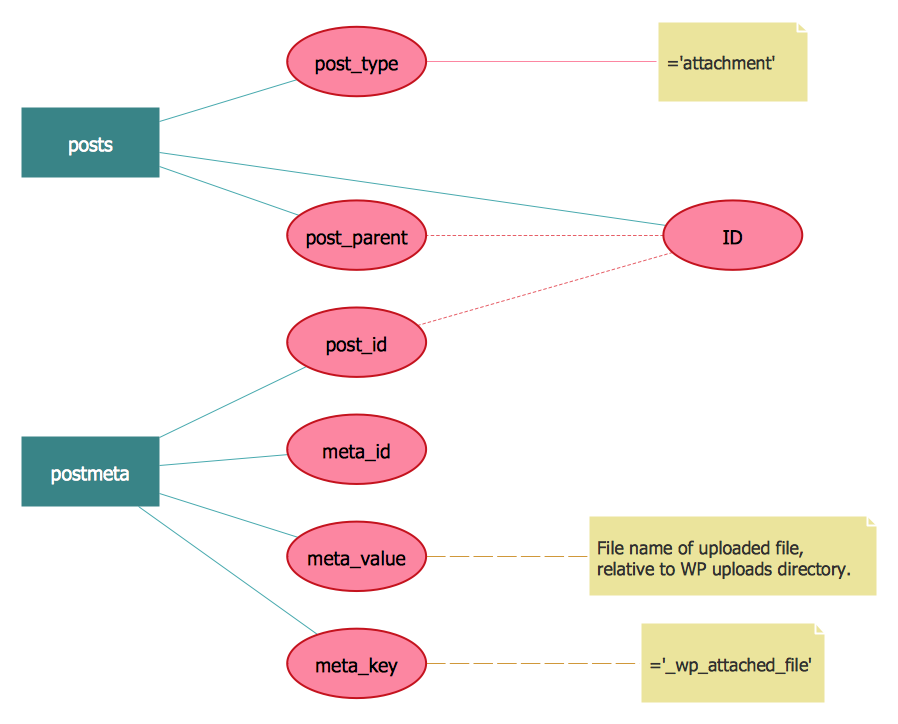 Example 2. ERD WordPressFile Reference. Chen's Notation
One of advantages of ERD diagram drawn in ConceptDraw DIAGRAM is that when you move entities on the diagram, they stay connected and you don't need to move relationships too.
Apart from building a diagram manually, ConceptDraw has a built-in tool for drawing an ERD automatically, from a database.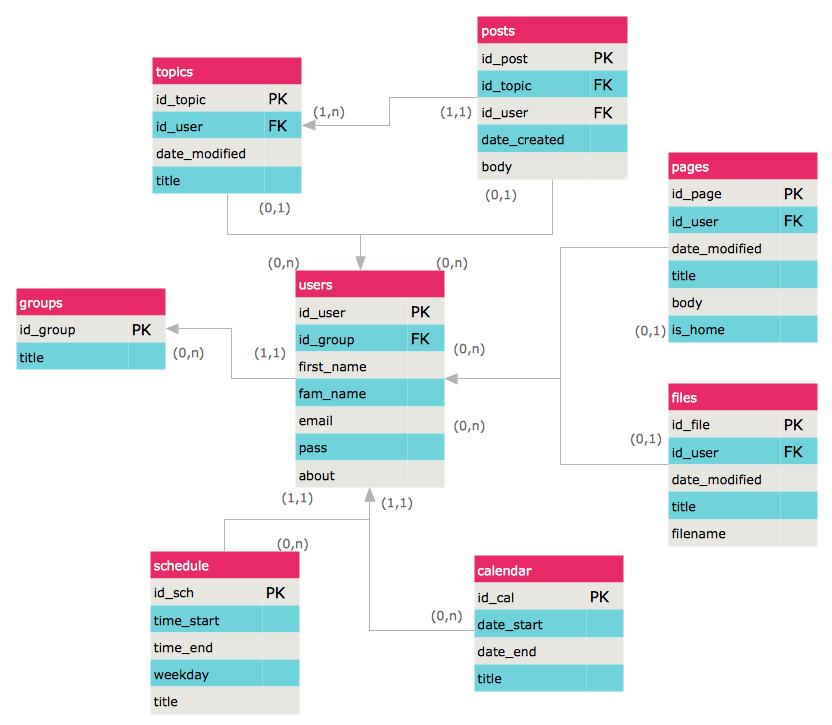 Example 3. Entity Relationship Model Diagram. Crow's Foot Notation
The samples you see on this page were created in ConceptDraw DIAGRAM using the Entity-Relationship Diagram (ERD) Solution and demonstrate some of solution's capabilities and the results you can achieve.
All source documents are vector graphic documents. They are available for reviewing, modifying, or converting to a variety of formats (PDF file, MS PowerPoint, MS Visio, and many other graphic formats) from the ConceptDraw STORE. The Entity-Relationship Diagram (ERD) Solution is available for all ConceptDraw DIAGRAM or later users.
TEN RELATED HOW TO's: