Geo Map — Asia — Indonesia
Maps of Asia — Republic of Indonesia
Indonesia is also known under its official name — the Republic of Indonesia. This transcontinental country is a unitary sovereign state, most of which territory is located in Southeast Asia, having some more territories in Oceania. Indonesia is situated between the Pacific and Indian oceans and it is the world's largest island country, having over 17000 islands altogether. Being 1904569 square kilometres in its size, Indonesia is one the 14th place in the world due to its land area. It also takes the 7th place in the world in terms of being a large country having combined sea and land area.
There are over 260 million people living in Indonesia. This country is on the 4th place in the world for being that much populous and it is simply the most populous Austronesian nation. Indonesia is also the most populous Muslim-majority country and the world's most populous of all island as its Java contains over half of the country's population. The form of government there is republican, which includes an elected president as well as the legislature. This country has all together 34 provinces, five of which have so-called "Special Administrative status".
The capital of Indonesia as well as this country's most populous city is Jakarta. Jakarta is the most populous city in Southeast Asia. This country shares land borders with East Timor, Papua New Guinea and some of Malaysia, which is its eastern part. There are, obviously, other neighbouring countries, which include the Philippines, Vietnam, Australia, Singapore, the part of India which is Nicobar and Andaman Islands and Palau. Nevertheless, this country is so populous, it has vast areas of wilderness, supporting the 2nd highest level of biodiversity on the world. This country has abundant natural resources, such as tin, natural gas, oil, gold and copper.
There are a few main products being produced by this country, which are palm oil, rice, coffee, tea, cacao, spices, rubber and medicinal plants. Indonesia trades with the United States of America, Japan, Singapore, Malaysia, Australia and China. The well-known Indonesian archipelago has been an important region for trade since the 7th century. This country's history has been influenced by the foreign powers, leaving their trace in this country's natural resources. For three and a half centuries Indonesia was colonized by Dutch, who started their colonization from Batavia and Amboina. Later, all archipelago got colonized.
There are very many linguistic and ethnic groups in Indonesia, main ethnic one of which is the "Javanese". The population of Indonesia is spread throughout the islands. There is a megalopolis of Jakarta as well as the tribes in the east of this country, making it very unique and unusual.
The economy of Indonesia is on the 16th place in the world taking into consideration its nominal GDP. It is also on the 7th place for being one of the largest countries, taking into consideration its GDP at PPP. This country is a member of a few multilateral organizations, such as the WTO, the UN, the IMF and the G20, as well as it is also a member of Asia-Pacific Economic Cooperation, Non-Aligned Movement, Association of Southeast Asian Nations, East Asia Summit, Organization of Islamic Cooperation and Asian Infrastructure Investment Bank.
The name of the country derives from the Greek name of the "Indos", which means "Indian islands". Its name dates to the 18th century and in 1850 one English ethnologist named George Windsor Earl proposed the term "Indunesians" as well as "Malayunesians". After the term "Indonesia" was used as a synonym for Indian Archipelago. Dutch academics, though, preferred "Malay Archipelago" instead, but after 1900 the term "Indonesia" became more common in academic circles outside the Netherlands.
This country is the largest archipelagic country in the world, as it was already mentioned before. It extends 5120 kilometres from its eastern to its western part as well as 1760 kilometres from its northern to its southern border. There are about 13466 islands included in the term of "Indonesia", 6000 of which are nowadays inhabited. The largest islands are Sumatra, Java, Borneo, New Guinea and Sulawesi. Indonesia shares its land borders on Borneo with Malaysia, on the island of New Guinea with Papua New Guinea and on the island of Timor with East Timor. It also shares the maritime borders across the narrow straits with Vietnam, Singapore, Malaysia, the Philippines, Palau and Vietnam to the north. It also borders with another huge island country — Australia.
The capital of Indonesia is situated on the island called Java. The largest cities, apart from the largest Java, are Medan, Semarang, Surabaya and Bandung. The country's average population density is 134 people per square kilometre, making this country take the 79th place in the world as there are 940 people per square kilometre living on Java island. Indonesia itself is the most volcanoes country in the whole world. Its mountains Mount Bromo and Mount Semeru, situated on Java, are the most popular. There is also Puncak Jaya, which is the highest peak of the country, which can be found at 4884 metres above the sea level. The largest lake there is "Lake Toba" in Sumatra, having its area spreading on the 1145 square kilometres. The largest rivers in Indonesia are in Kalimantan: they include the Barito and the Mahakan. Apart from the numerous volcanoes (at least 150 active volcanoes, such as Tambora and Krakatoa), there are also frequent earthquakes in Indonesia.
If you still want to visit this country, which is obviously very green and beautiful, or if you plan to have business with its local people making business plans all over its territory, then it can always be very useful to have its map, created by yourself, so you can mention all of the strategic places for your business to develop. Making your own geo map of Asia or Indonesia in particular can be a challenge, especially once you have not very much experience in drawing such things. In this case we recommend you to use ConceptDraw DIAGRAM software, as well as the "Continent Maps solution", which can be found and downloaded from "Maps area" of ConceptDraw Solution Park from this site or from ConceptDraw STORE to simplify your work as the vector stencils library "Asia" included in this solution contains 57 map contours, included the Indonesia's one.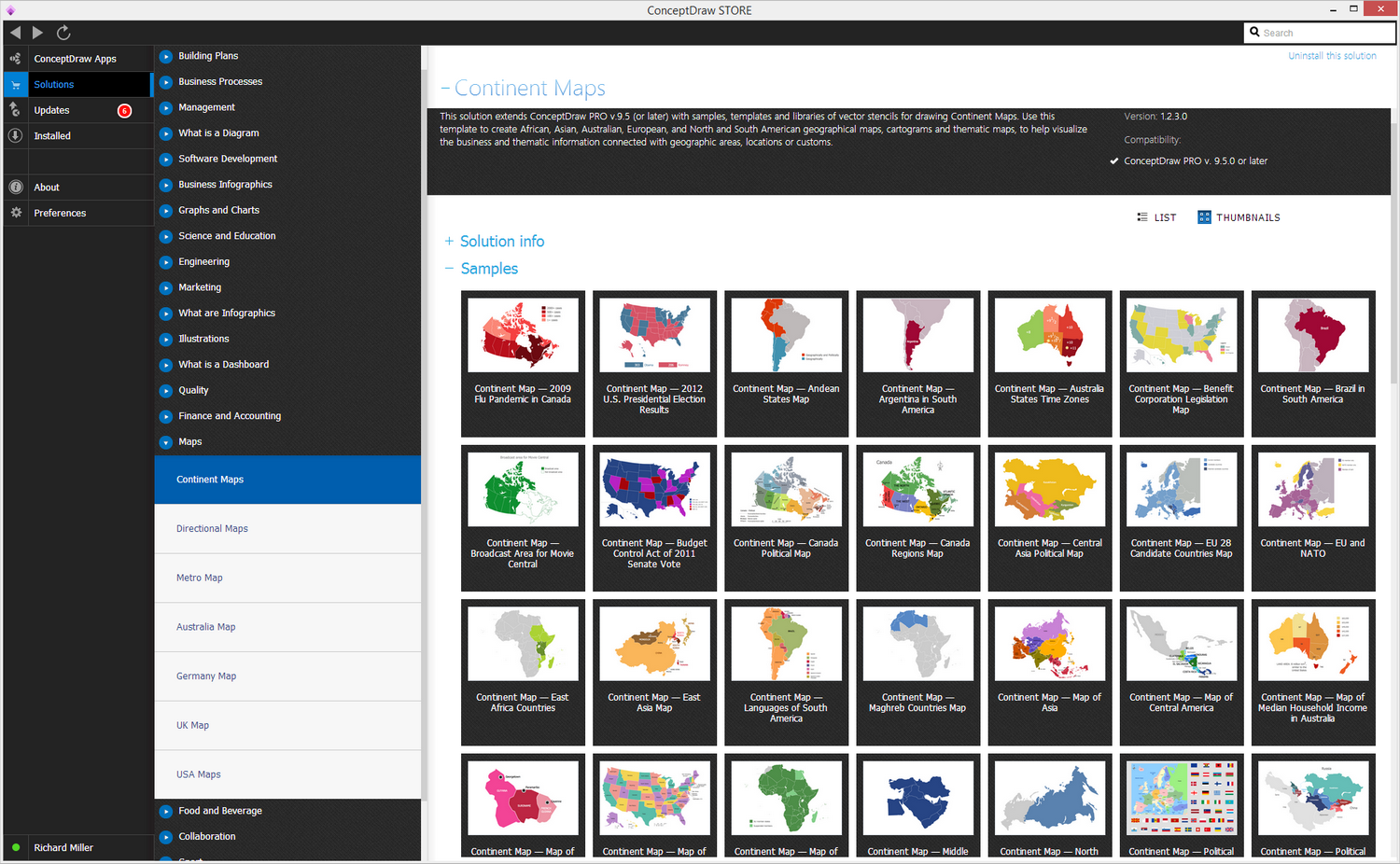 Pic. 1. Geo Map solution
Use the Indonesia library to draw thematic maps, geospatial infographics and vector illustrations for your business documents, presentations and websites.
Geo Map — Asia — Republic of Indonesia
Indonesia has a population of over 255.4 million and an area 1,904,569 km2(735,358 sq mi).

Pic. 2. Indonesia
Geo Map — Asia — Indonesia Contour
Capital - Jakarta.

Pic. 3. Indonesia Contour
Geo Map — Asia
Asia contains 48 countries(UN members) and 6 other states.
Area 44,579,000 km2 (17,212,000 sq mi). Population 4,164,252,000.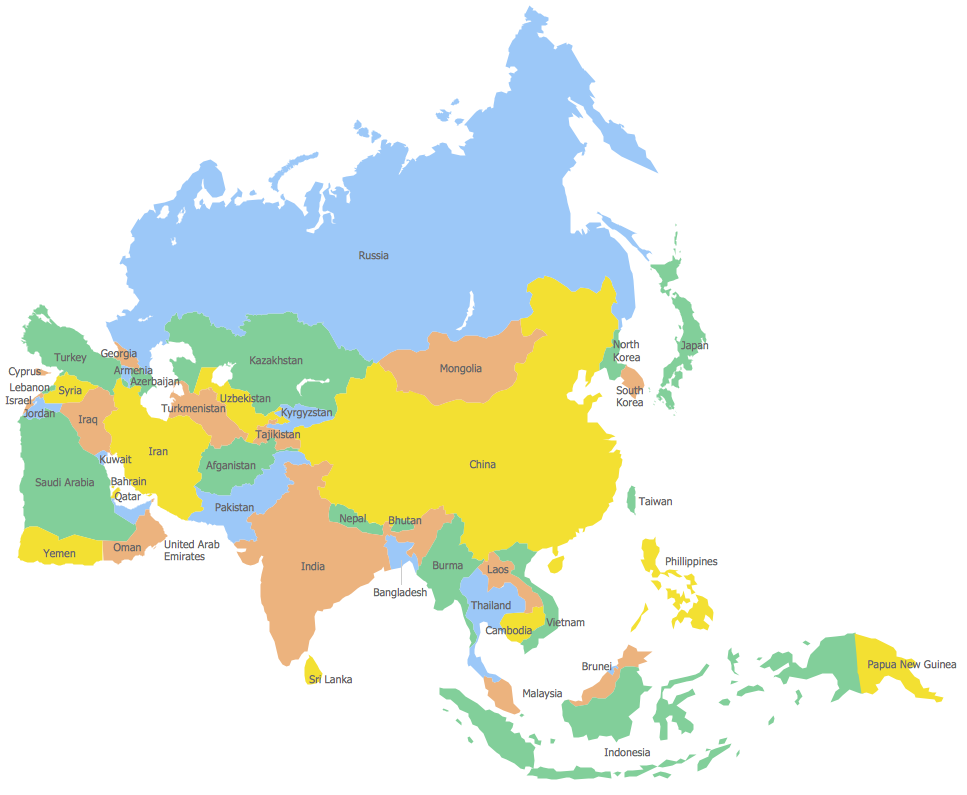 Pic. 4. Asia Map
Geo Map — Asia Contour
A contour map is a map illustrated with contour lines.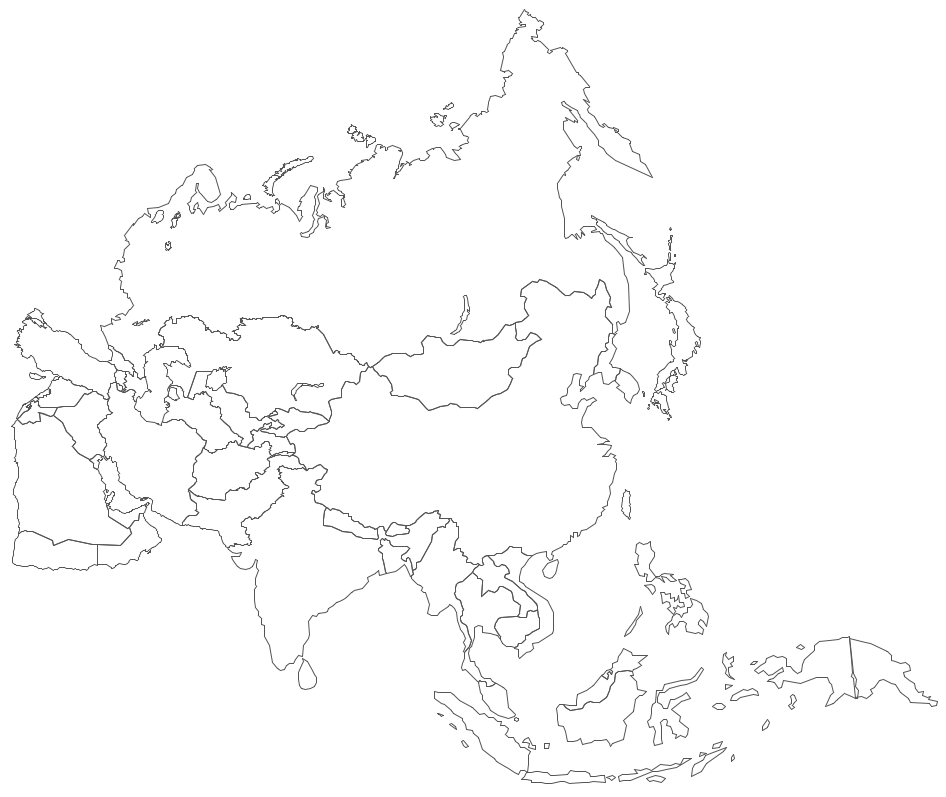 Pic. 5. Asia Contour
Geo Map — contours of Asia countries
Use the map contours library "Asia" to design thematic maps using the ConceptDraw DIAGRAM diagramming and vector drawing software.
The vector stencils library "Asia" contains 57 map contours: Asia political map, map contours of countries.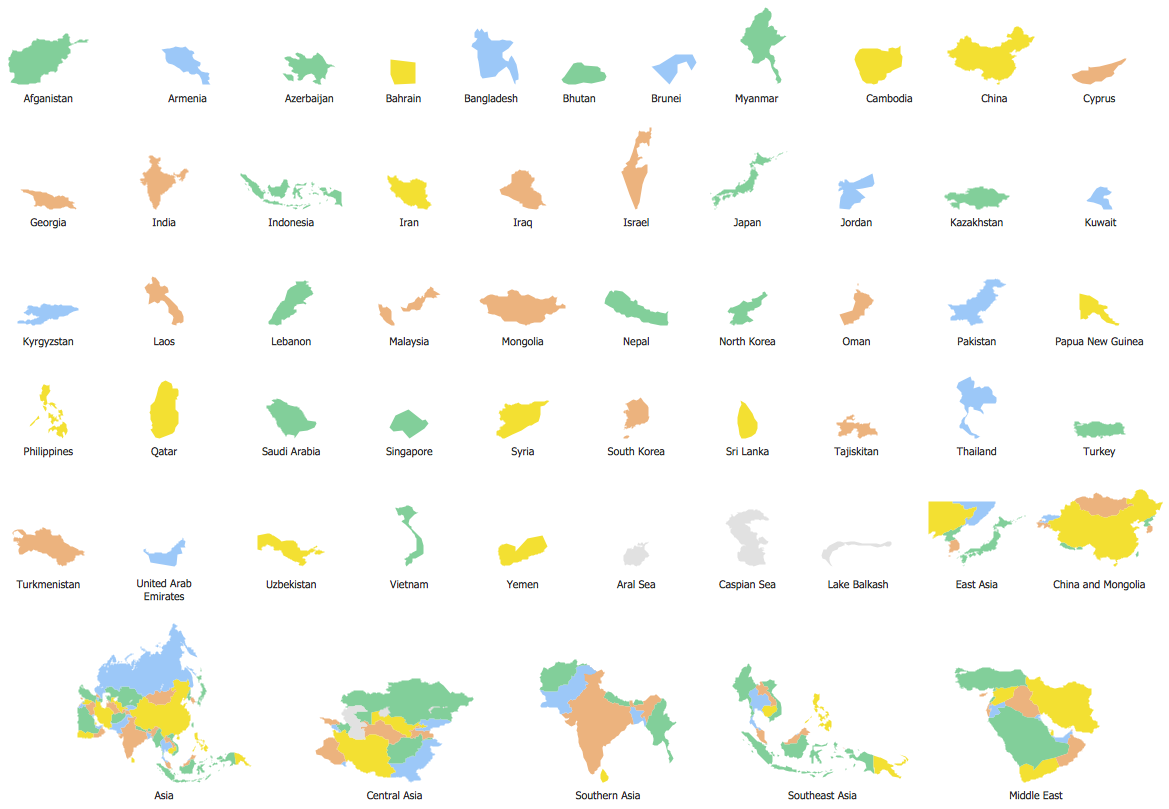 Pic. 6. Contours of Asia countries
All ConceptDraw DIAGRAM documents are vector graphic files and are available for reviewing, modifying, and converting to a variety of formats: image, HTML, PDF file, MS PowerPoint Presentation, Adobe Flash, MS Visio (.VDX, .VSDX).
---
See also Geo Maps of Asia Countries :
TEN RELATED HOW TO's: