Geo Map - Africa
Africa is a continent which is on the second place in the world due to its territory and the quantity of people living there (after Asia). This continent is 30,3 million square kilometres, including adjacent islands. It covers 6% of all of the Earth's surface area and 20,4% of the Earth total land area. There are over 1,2 billion people living in Africa, which is about 16% of the world's population in the world. This continent is surrounded by both the Red Sea and the Suez Canal on the north-east, by another sea which is Mediterranean on the north, Atlantic Ocean on the west and another ocean – the Indian one - on the south-east. Africa includes many different archipelagos as well as Madagascar (or officially "the Republic of Madagascar") – an island country in the Indian Ocean.
There are many ethnicities, languages and cultures in Africa. Most of the present states in Africa originate from a decolonisation process, which took place in the 20th century. African nations have attempted to co-operate in a way of establishing the so-called "African Union". There are about 2000 languages which are used all around Africa. Most of them originally come from African, but some are of Asian and European origin. This continent is the most multilingual one in the world, but there are a few major language families there, such as the Khoisan ones used by about 400000 people in Africa, mainly in its southern part; the Niger-Congo one, covering most of the Sub-Saharan Africa, which is the largest language family in Africa, as well as the one in the world; the Nilo-Saharan one, consisting of over a hundred languages used by 30 million people, mainly those from Uganda, South Sudan, Tanzania (most of people from that area come from its northern part), Nigeria, Kenya, Ethiopia and Chad; and the "Afro-Asiatic" language family including over 240 languages and being used by all together about 285 million people, mainly in the south-western part of Asia, the Sahel, the northern part of Africa and in the Horn of Africa, which is a peninsula in the north-eastern part of the continent.
There is so-called "African French", which is really popular in Africa and which is used by Africans in the government, commerce, education as well as the media. There are millions of Africans speaking Portuguese, Spanish, Afrikaans and Arabic all over Africa, both in the private and in the public spheres. Even Italian is used, but mainly in the former colonies of Africa. There are also German-speakers, but mainly in Namibia, as exactly this part of this continent was a former German protectorate.
The best and the most developed country in Africa is Nigeria where the GDP in 2014 was about 574000 millions of USD. Then, on the second place, there is a South Africa reaching over USD350000 millions. Egypt is on the third place getting over USD286538 millions and Algeria is after, on the forth place with its GDP over USD214000 millions. Tanzania takes the tenth place with its USD49000 millions nominal. The climate of Africa can be tropical or subarctic as well as the one in between, depending on where exactly you are on this continent. Most of the northern part of Africa is mainly desert and its southern and central ones are both in the savanna plains and in the dense jungles. There is a convergence in between, where the vegetation patterns dominate. Africa is the hottest continent on the Earth as 60% of its land surface consists of deserts and drylands.
There is probably the largest "range of freedom" of large lions, hyenas, cheetahs as well as other wild animals in Africa, as well as herbivores (for example, elephants, giraffes, camels and buffalos). There are also many primates, crocodiles, snakes as well as amphibians there. Also there is the largest number of the so-called "megafauna species", which are the simply large or giant animals, so it is always interesting to go to the jungles and see all of those exotic animals yourself once you are there.
But whether you want to go travelling planning your stay on this continent as well as the touristic routes or your work is connected with those dealing in Africa, then you might need to create your own map of Africa mentioning all of the needed countries, cities, geographical sites and other information. In order to do that you can always use the professional software with the help of which you will have a chance to make your great looking drawing.
Such software can be ConceptDraw DIAGRAM one as especially this application was developed for a purpose of enabling its users to draw the maps and schemes completely different simplicity as needed: having all of the necessary tools for making your drawings you will find it a fun and entertaining process of creating maps and other professionally looking schematics.
If you have ConceptDraw DIAGRAM downloaded on your computer or laptop, then you can treat it as if half of your work were done as having a professional tool is 50% of success. In case you have ConceptDraw STORE, then your chances increase as this new product of CS Odessa allows to use the solutions which can be very useful in terms of providing the ConceptDraw DIAGRAM users with the stencil libraries full of design elements as well as the templates and samples for creating the maps, including the ones of the countries in Africa.
Having the "Continent Maps solution", which can be downloaded from the "Maps" area of ConceptDraw Solution Park from this site or getting it from ConceptDraw STORE means having a very useful vector design elements library "Africa", which contains its countries map contours as well as the cartograms, geographical and thematic maps for using them while working in the ConceptDraw DIAGRAM diagramming and vector drawing software during the process of visualizing your business and thematic information in a way of mentioning the geographic areas, locations and customs.
Once you buy the solution you realize how truly helpful it is in terms of making very good looking and smart maps with it.
Vector design elements library Africa contains country map contours, geographical maps, cartograms and thematic maps for ConceptDraw DIAGRAM diagramming and vector drawing software. To help visualize the business and thematic information connected with geographic areas, locations or customs.
It's included in the Continent Maps solution from the Maps area of ConceptDraw Solution Park.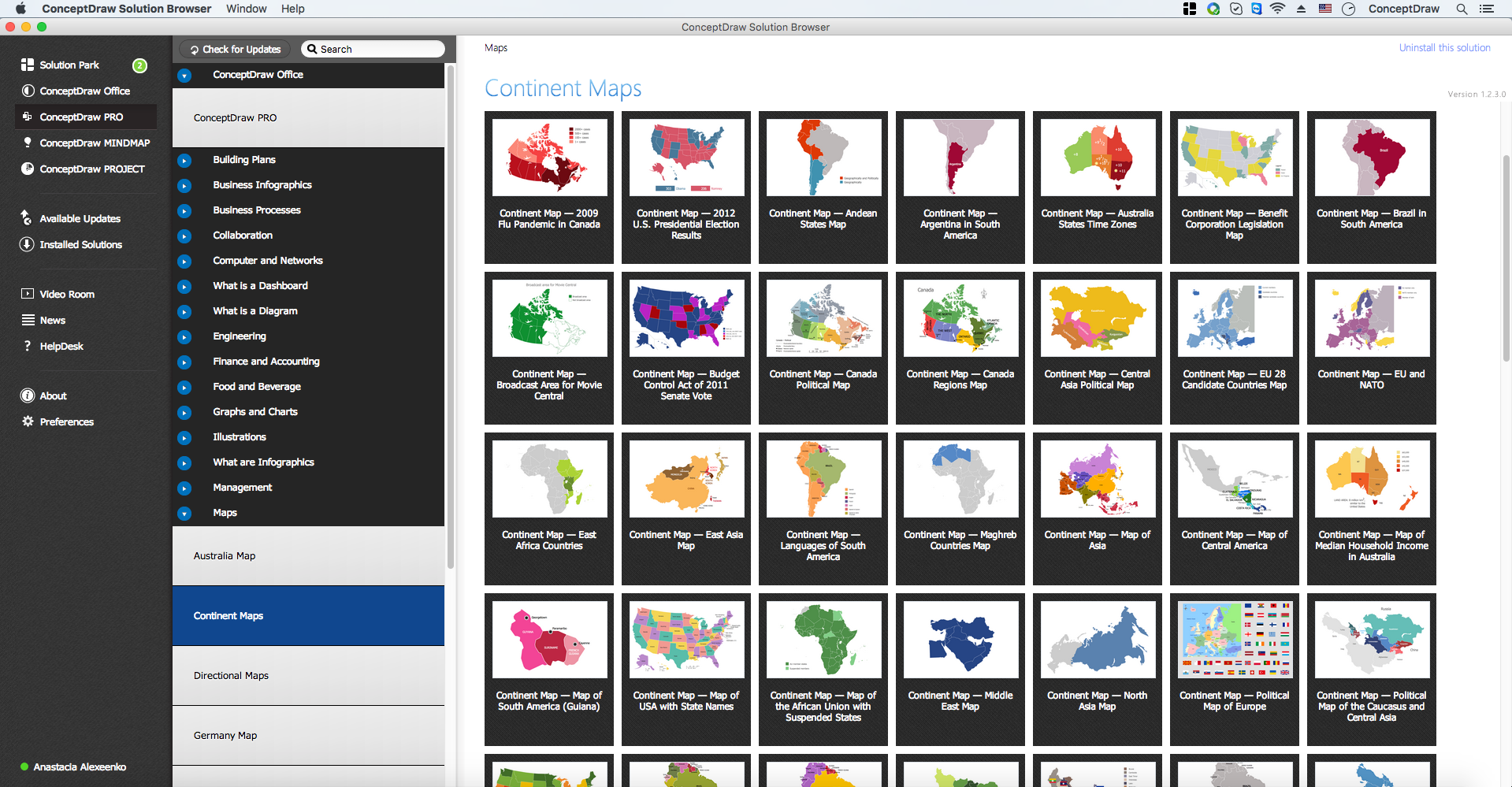 Pic. 1. Continent Maps Solution
Use it to draw thematic maps, geospatial infographics and vector illustrations for your business documents, presentations and websites.
Geo Map - Africa
Africa has a population of over 1.1 billion and an area 30,370,000 km² (11,730,000 sq mi).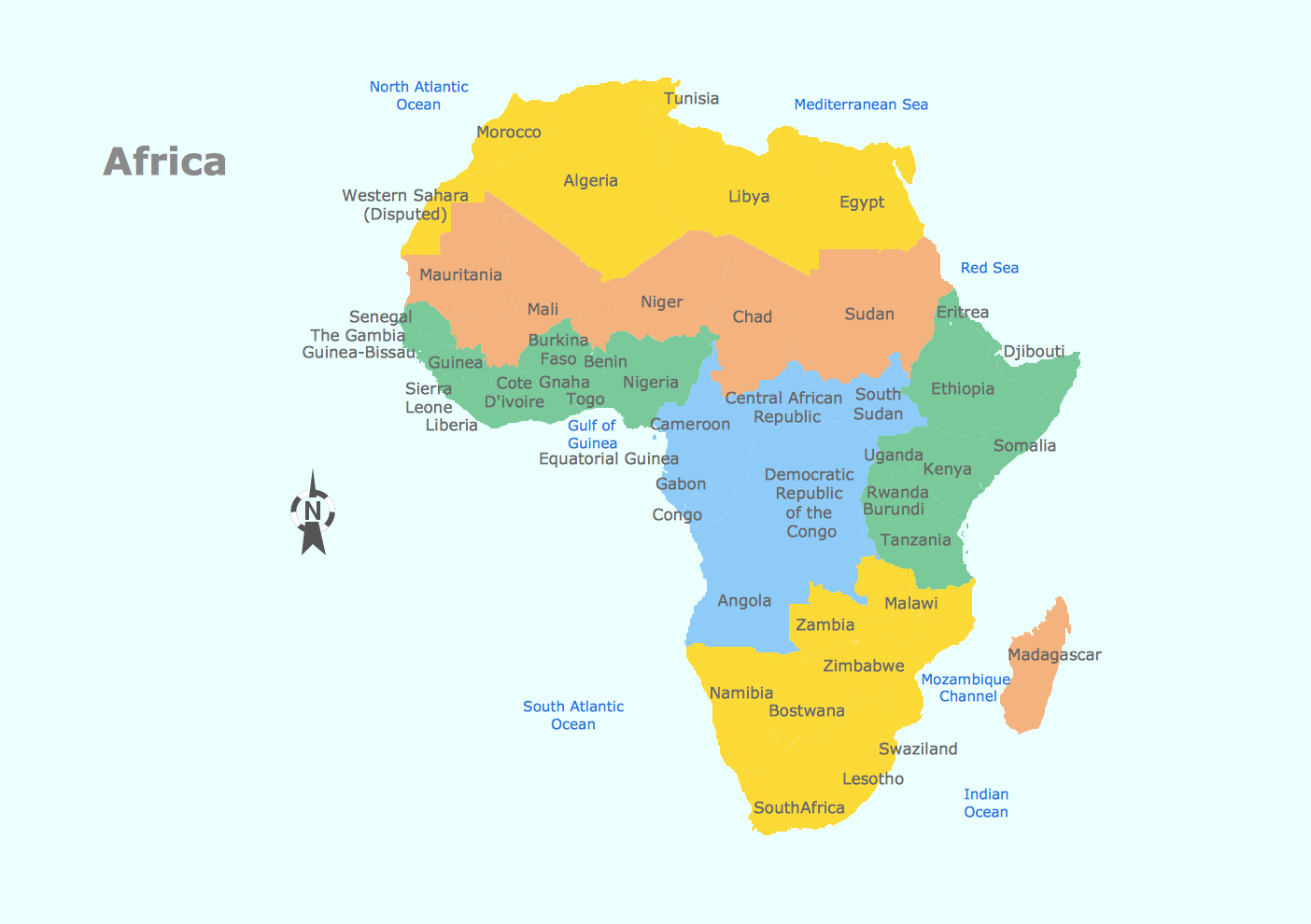 Pic. 2. Africa
Geo Map - Africa Contour
Africa contains 54 (and 2 disputed) counties.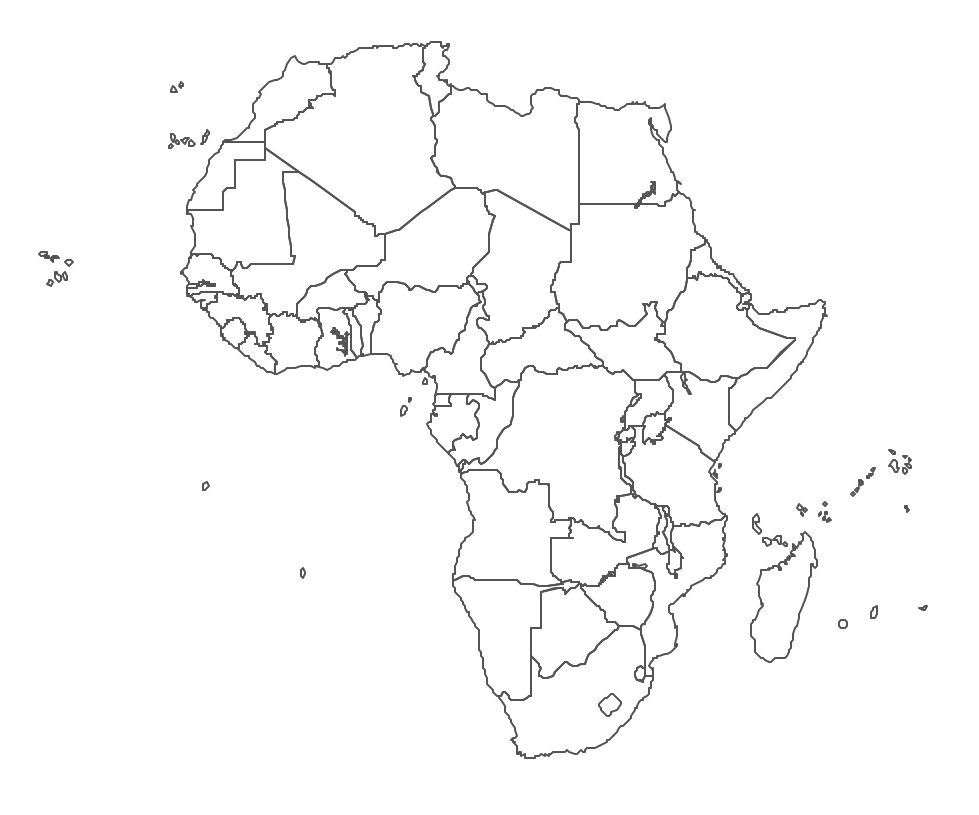 Pic. 3. Africa Contour
Geo Map - East Africa
East Africa is the easterly region of the African continent, variably defined by geography or geopolitics. 20 territories constitute Eastern Africa: Tanzania, Kenya, Uganda, Rwanda and Burundi, Djibouti, Eritrea, Ethiopia and Somalia, Comoros, Mauritius and Seychelles, Réunion and Mayotte, Mozambique and Madagascar, Malawi, Zambia and Zimbabwe.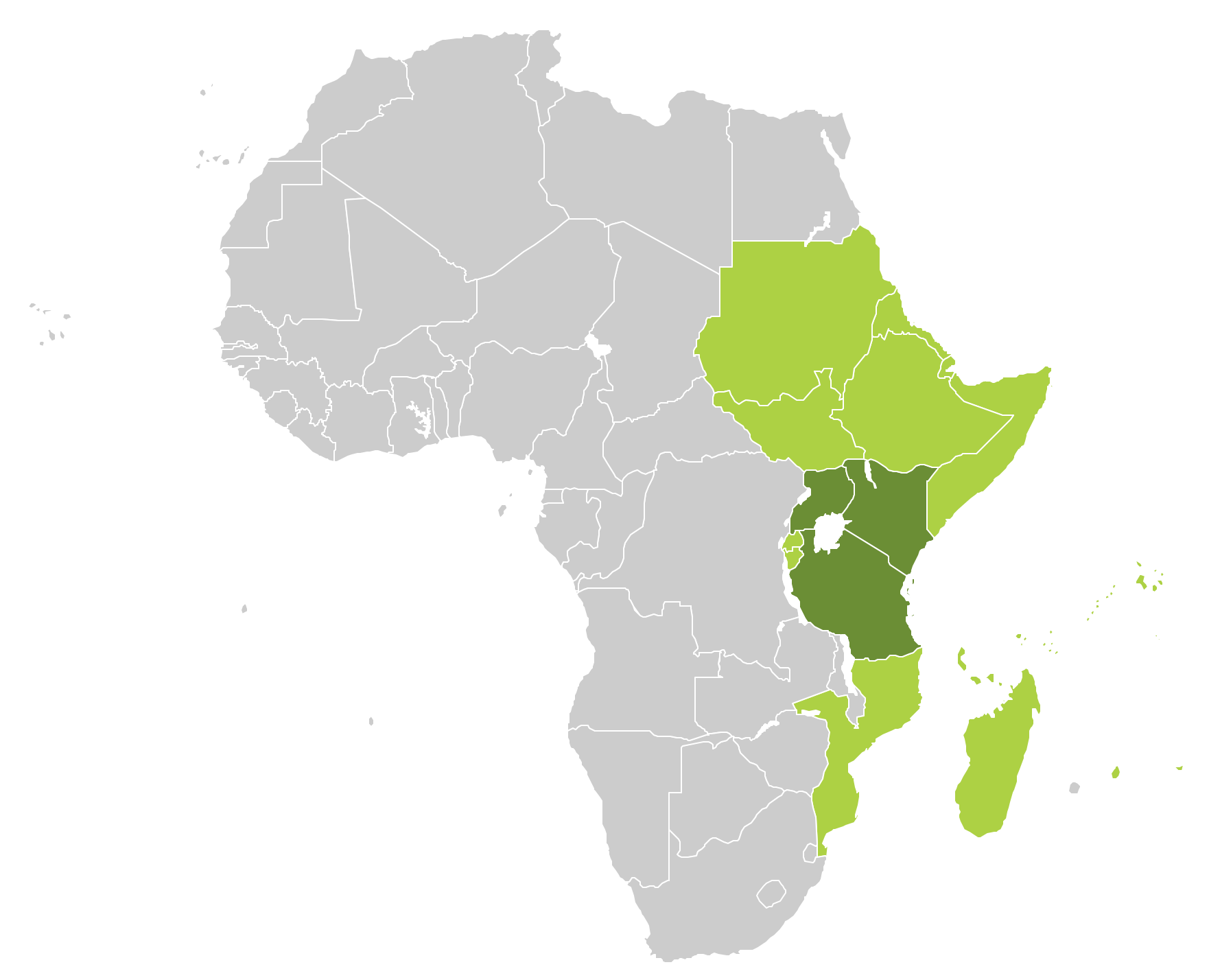 Pic. 4. East Africa
Geo Map - West Africa
West Africa has been defined as including the 18 countries Benin, Burkina Faso, the island of Cape Verde, Gambia, Ghana, Guinea, Guinea-Bissau, Ivory Coast, Liberia, Mali, Mauritania, Niger, Nigeria, the island of Saint Helena, Senegal, Sierra Leone, Sao Tome and Principe and Togo.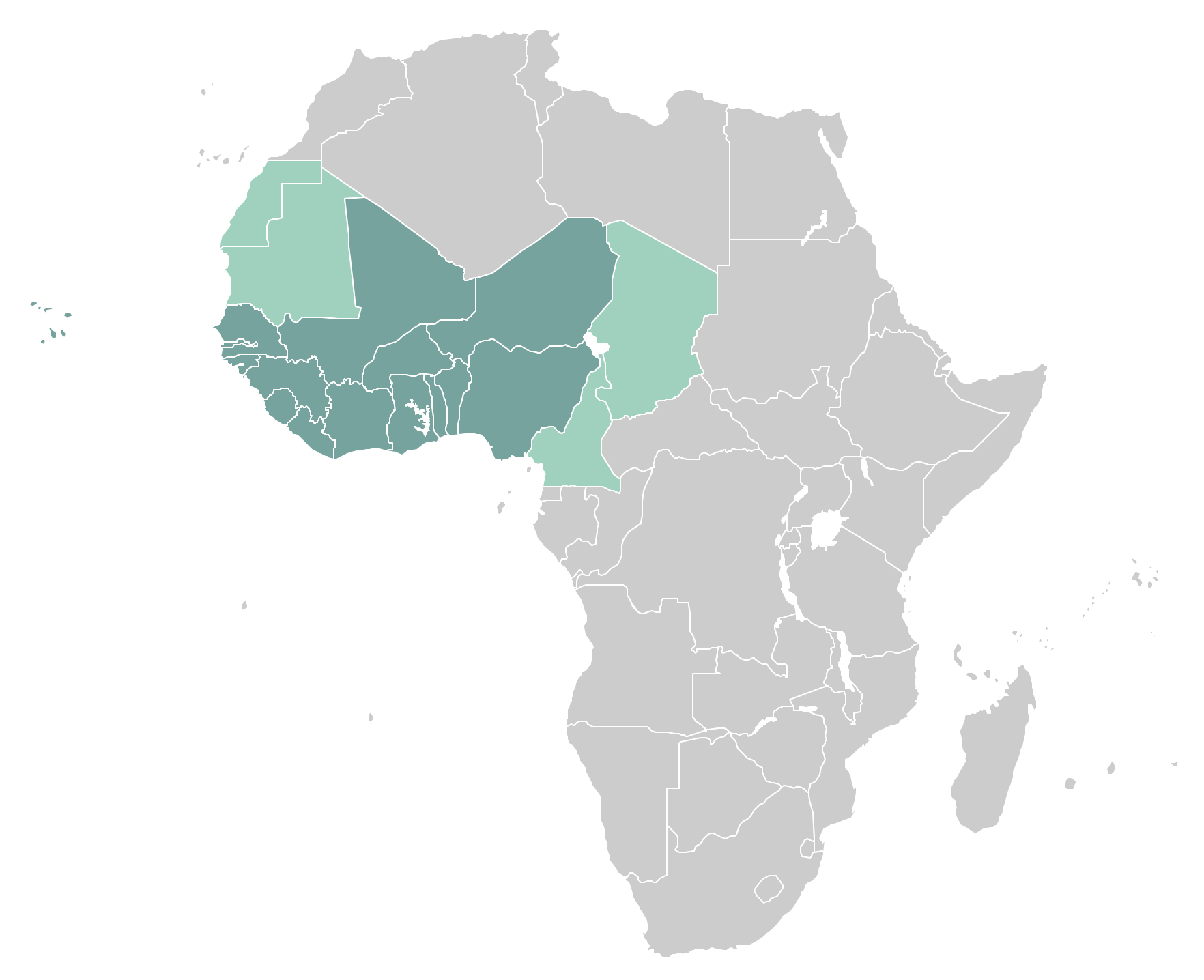 Pic. 5. West Africa
Geo Map - program library elements of Africa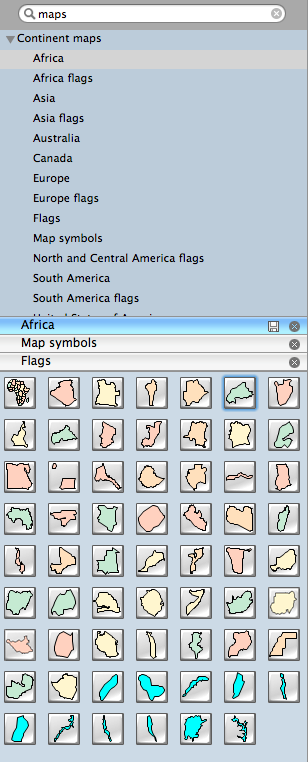 Pic. 6. Program library elements of Africa
Geo Map - elements of Africa flags

Pic. 7. Elements of Africa flags
Geo Map - elements of Africa
This is a list of sovereign states and dependent territories in Africa. It includes both fully recognized states, states with limited recognition, and dependent territories of both African and non-African states. It lists 54 sovereign states and 10 non-sovereign territories.
Algeria
Angola
Benin
Botswana
Burkina
Faso
Burundi
Cameroon
Cape
Verde
Chad
Comoros
Djibouti
Egypt
Equatorial
Guinea
Eritrea
Ethiopia
Gabon
Gambia
Ghana
Guinea-Bissau
Kenya
Lesotho
Liberia
Libya
Madagascar
Malawi
Mali
Morocco
Mauritania
Mauritius
Mozambique
Namibia
Niger
Nigeria
Reunion (France)
Rwanda
São Tomé and Príncipe
Senegal
Sierra Leone
Somalia
South Swaziland
Tanzania
Togo
Tunisia
Uganda
Zambia
Zimbabwe vDR Congo
Congo
Côte
d'Ivoire
Central African Republic
Sudan
Western Sahara
Use the map contours library "Africa" to design thematic maps using the ConceptDraw DIAGRAM diagramming and vector drawing software.
The vector stencils library "Africa" contains 62 map contours: Africa political map, map contours of countries.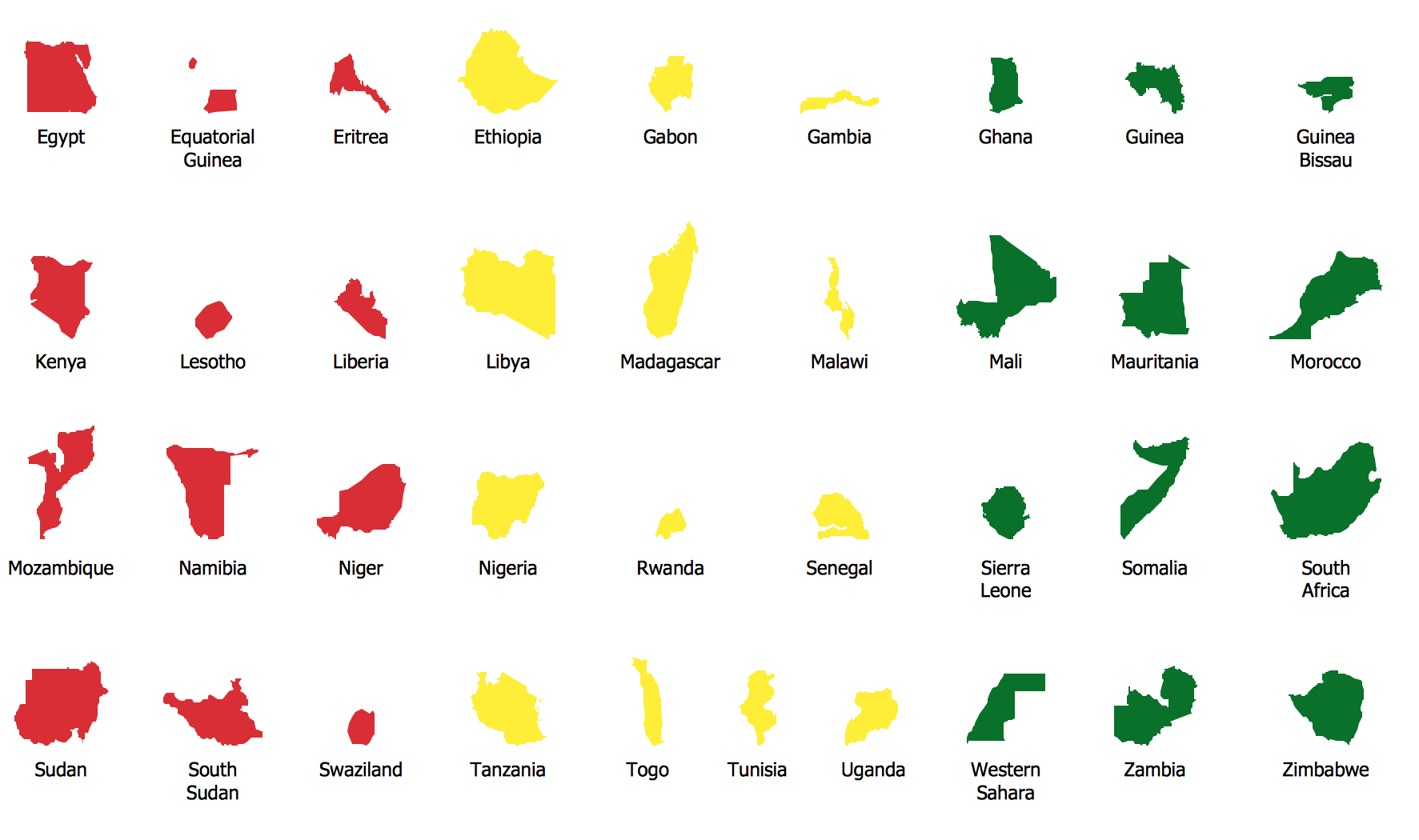 Pic. 8. Elements of Africa
Geo Map - Map of the African Union with suspended states
The member states of the African Union are the 54 sovereign states that have ratified or acceded to the Constitutive Act of the African Union to become member states to the African Union (AU). The AU replaced the Organisation of African Unity (OAU), and AU membership was open to all OAU member states. From an original membership of 36 states when the OAU was established on 25 May 1963, there have been eighteen successive enlargements – the largest occurring on 18 July 1975 when four states joined. South Sudan is the newest member state, having joined on 27 July 2011. The only African United Nations member state which could join, or more precisely re-activate its membership, is Morocco, which withdrew following the organization's acceptance of the Sahrawi Arab Democratic Republic, whose status is disputed, as a member state. Spain, primarily a European country, maintains sovereignty over Spanish North Africa and the Canary Islands off the coast, but is only accredited to the African Union.
The African Union is composed of fifty two republics and two kingdoms. The total population of the AU is 1,068,444,000 (2013)
This example is created using ConceptDraw DIAGRAM diagramming software enhanced with Continent Maps solution from ConceptDraw Solution Park.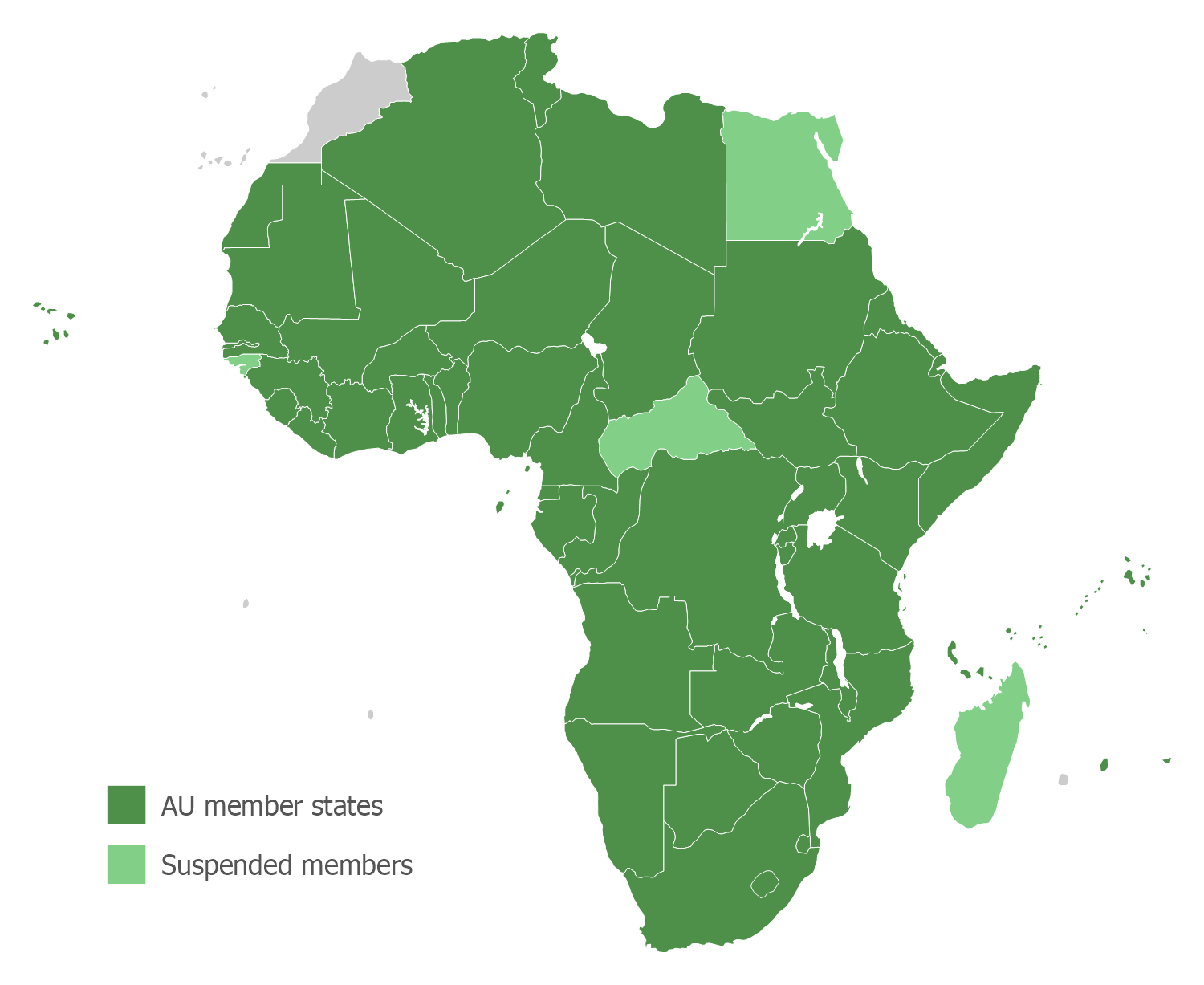 Pic. 9. African Union with suspended states
All ConceptDraw DIAGRAM documents are vector graphic files and are available for reviewing, modifying, and converting to a variety of formats: image, HTML, PDF file, MS PowerPoint Presentation, Adobe Flash, MS Visio (.VDX, .VSDX).
NINE RELATED HOW TO's: