Cross Functional Flowchart
The humble flowchart is one of the more ubiquitous diagrams used when constructing or analyzing business processes. Their simple nature makes them an ideal candidate for use as a solution model to a given problem; possible subject matter is practically limitless, and they can be utilized and understood by all levels of employee throughout a company.
The basic building blocks of a flowchart are always the same — the starting and (sometimes multiple) ending points of the process flow are called 'terminals', and are shown as circles, ovals, stadiums or rounded rectangles. Decisions are described within diamond shapes, and all are connected with arrowed lines that represent the flow of control throughout the process.
It is possible to add extra layers of complexity, by utilizing specialist shapes for certain tasks, or go even further by adding what's known as 'swimlanes' — turning a flowchart into a cross-functional flowchart (also known as a swimlane diagram or deployment flowchart). A normal flowchart is a basic view of the steps in a process — by adding swimlanes, that process can then be segregated depending on which of an organization's departments is responsible for certain steps.
ConceptDraw DIAGRAM extended with Cross-Functional Flowcharts Solution from the Business Processes Area is the best software for quick and easy designing Cross Functional Flowchart of any complexity. Make sure in it right now!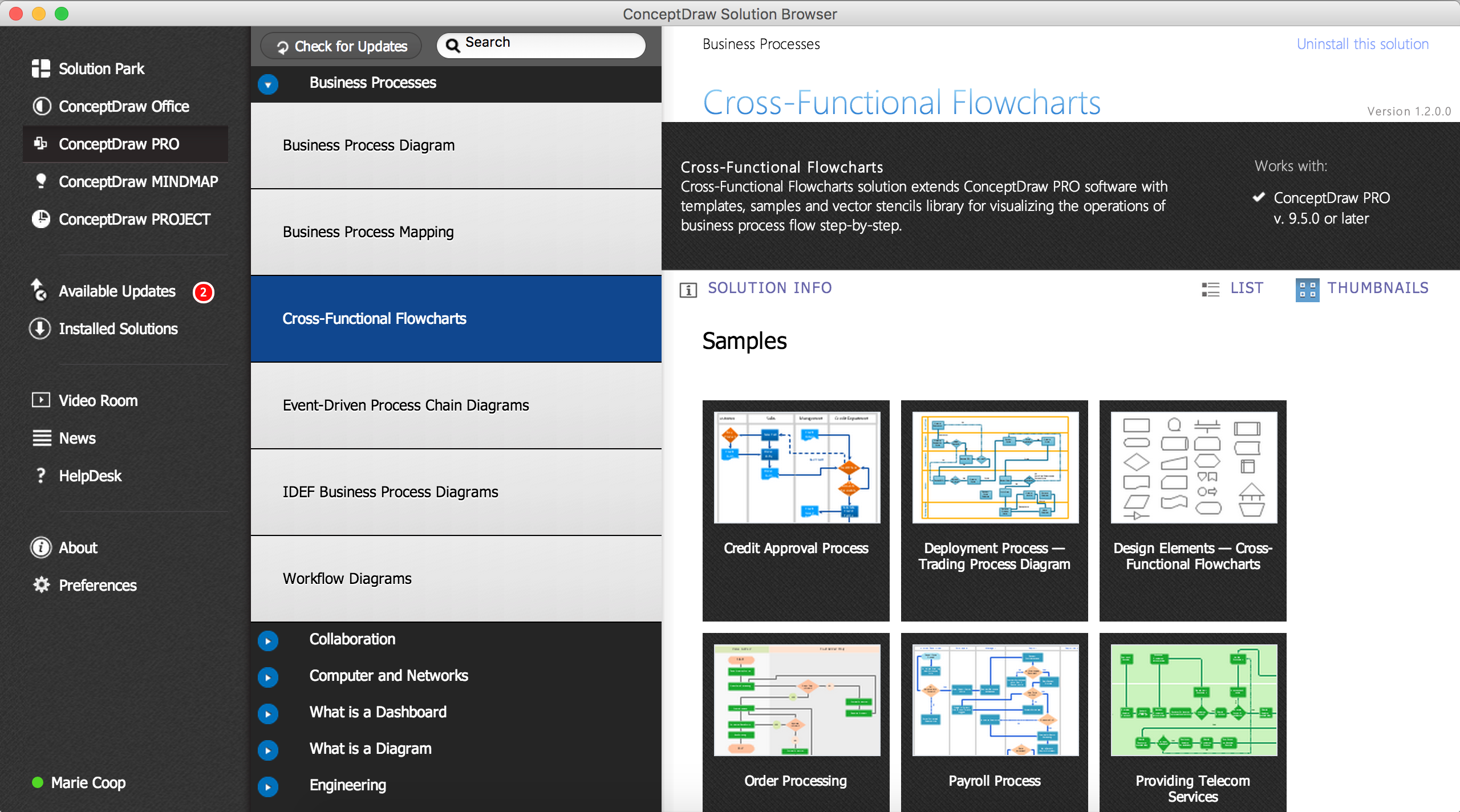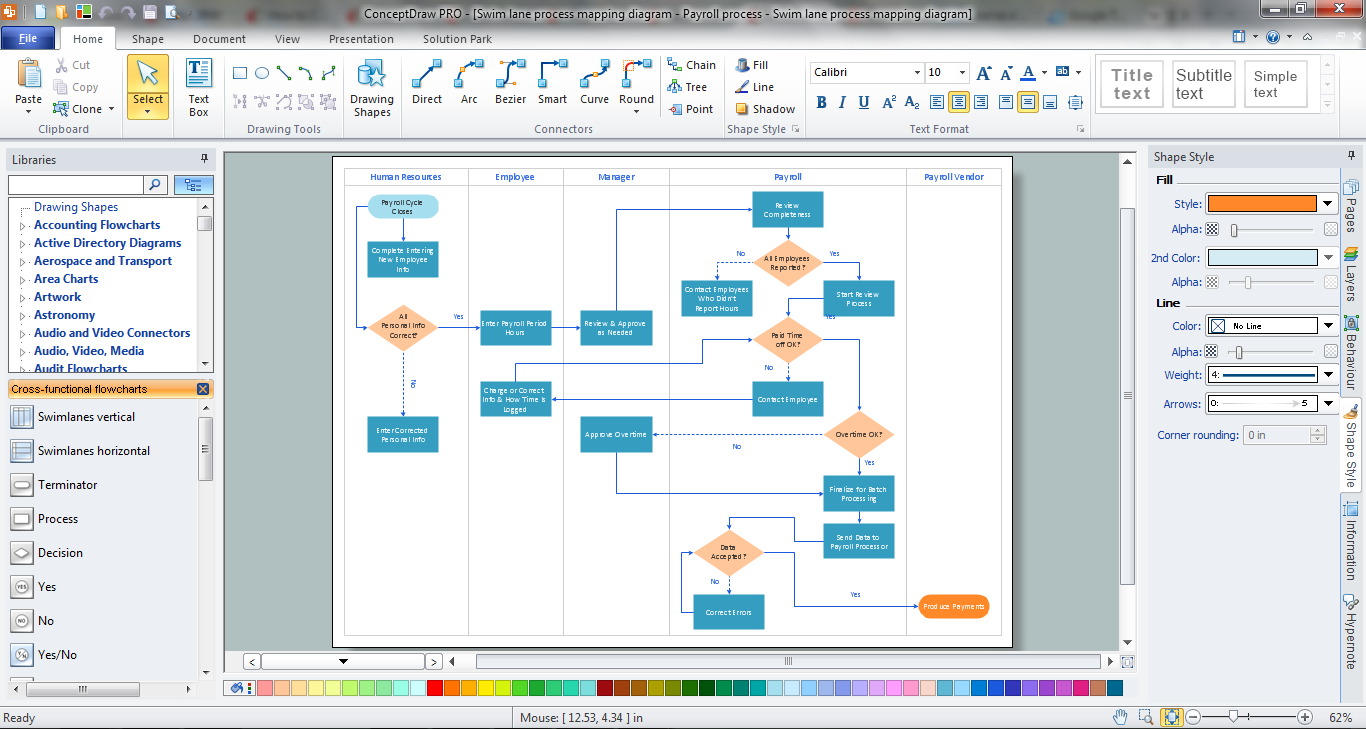 Example 3. Cross Functional Flowchart in ConceptDraw DIAGRAM
Cross-Functional Flowcharts Solution offers you the best numerous collection of predesigned Cross Functional Flowchart examples, samples and templates, and Cross-Functional Flowcharts library with large quantity of ready-to-use vector stencils.
Cross-Functional Horizontal Template
Cross-Functional Vertical Template
Opportunity Flowchart Template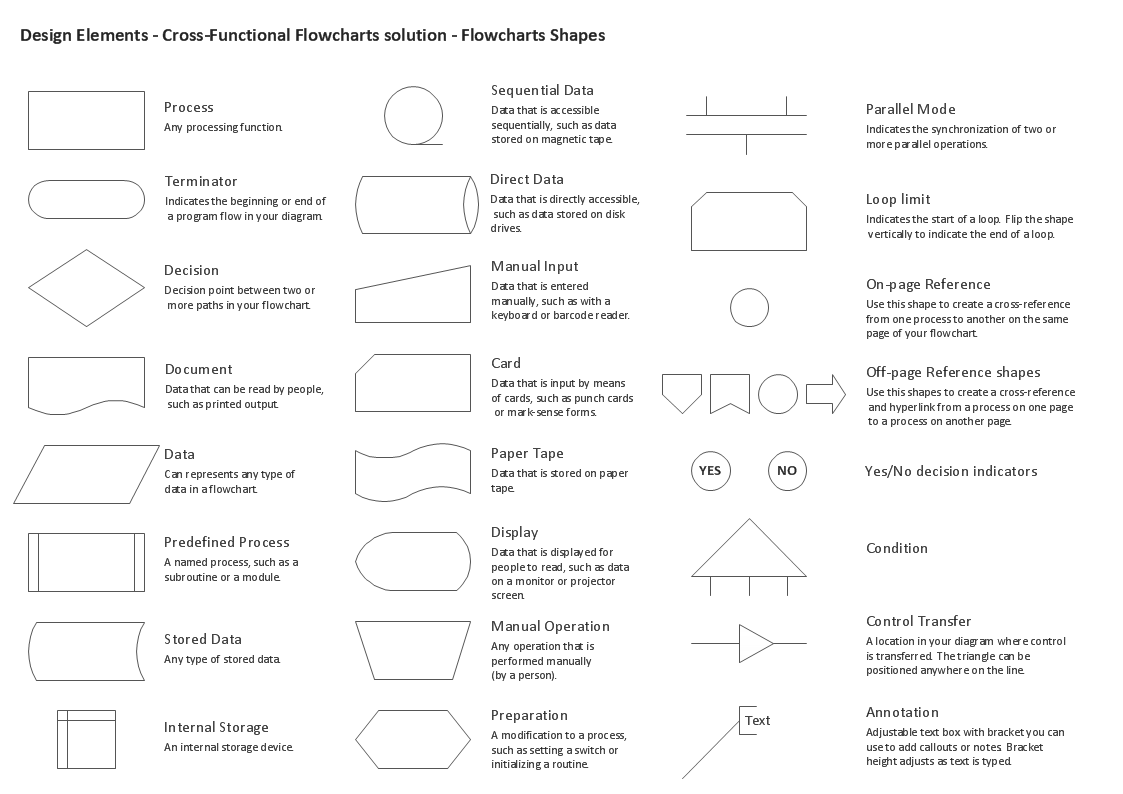 Example 4. Cross-Functional Flowcharts Library Design Elements
These ready-to-use shapes will help you design any professional looking Cross Functional Flowchart in a few minutes. Simply drag the desired shapes from the library to your document and arrange them according to your needs.
Example 5. Cross Functional Flowchart - Payroll Process
This Cross Functional Flowchart was created in ConceptDraw DIAGRAM using the Cross-Functional Flowcharts Solution. It visually shows the steps of the Payroll Process and interconnections between them. An experienced user spent 25 minutes creating this sample.
Use the Cross-Functional Flowcharts Solution for ConceptDraw DIAGRAM to create your own professional looking and attractive Cross Functional Flowchart of any complexity quick, easy and effective.
All source documents are vector graphic documents. They are available for reviewing, modifying, or converting to a variety of formats (PDF file, MS PowerPoint, MS Visio, and many other graphic formats) from the ConceptDraw STORE. The Cross-Functional Flowcharts Solution is available for all ConceptDraw DIAGRAM or later users.
TEN RELATED HOW TO's: