When To Use a Fishbone Diagram
Fishbone diagrams work for most entrepreneurs and almost any industry or person having a problem. It also named as Cause and Effect diagram or Ishikawa diagram or Cause and Effect fishbone diagram. To create it with automated diagram software use ConceptDraw DIAGRAM software. It helps illustrate and visualize an issue and it's structure, ConceptDraw DIAGRAM will be your lifesaver.
When to use a Fishbone diagram? Originally developed as a quality control tool, you may find a Fishbone diagram helpful when used in next cases:
improving problem solving in common and keep focus on
to analyze a complex problem with many causes;
when you need different point of view to look on a problem;
to identify possible root causes for an effect or a problem;
to uncover bottlenecks and identify issue where and why a process doesn't work;
to accelerate thinking process when traditional ways of problem solving are time consuming,
great mind motivator to attack complex problem and uncover creative approach,
an typical examples are: how solve manufacturing problems,
applying it on Seven Basic Tools of Quality methodology
How to Construct a Fishbone Diagram
Constructing a diagram started with templates and use design elements to visually support the process of Cause and Effect Analysis. The problem visualized as the fish's head and the causes as fishbones. Head is facing to the right and the causes extending to the left. The ribs branch off the backbone for major causes, with sub-branches for root-causes, to as many levels as required. Lets look an examples...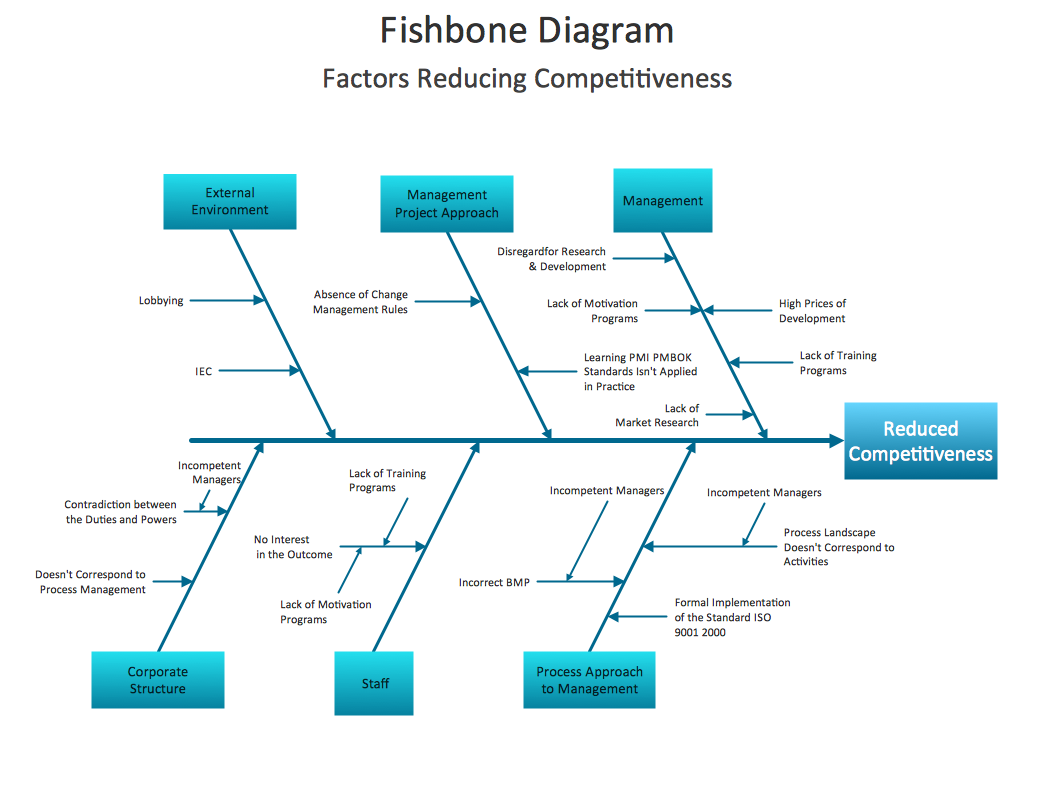 Example 1. When To Use a Fishbone Diagram
When you need create a Fishbone diagram as quickly as possible, you can use one of ConceptDraw templates. Fishbone templates are offered in large quantity by Fishbone Diagrams solution at ConceptDraw STORE, moreover for both ConceptDraw DIAGRAM and ConceptDraw MindMap applications.
You can draw a Cause and Effect diagram fully at ConceptDraw DIAGRAM If you prefer to use brainstorming technique when creating, you can use the ConceptDraw MindMap application and then output your mind map as Fishbone diagram to ConceptDraw DIAGRAM document.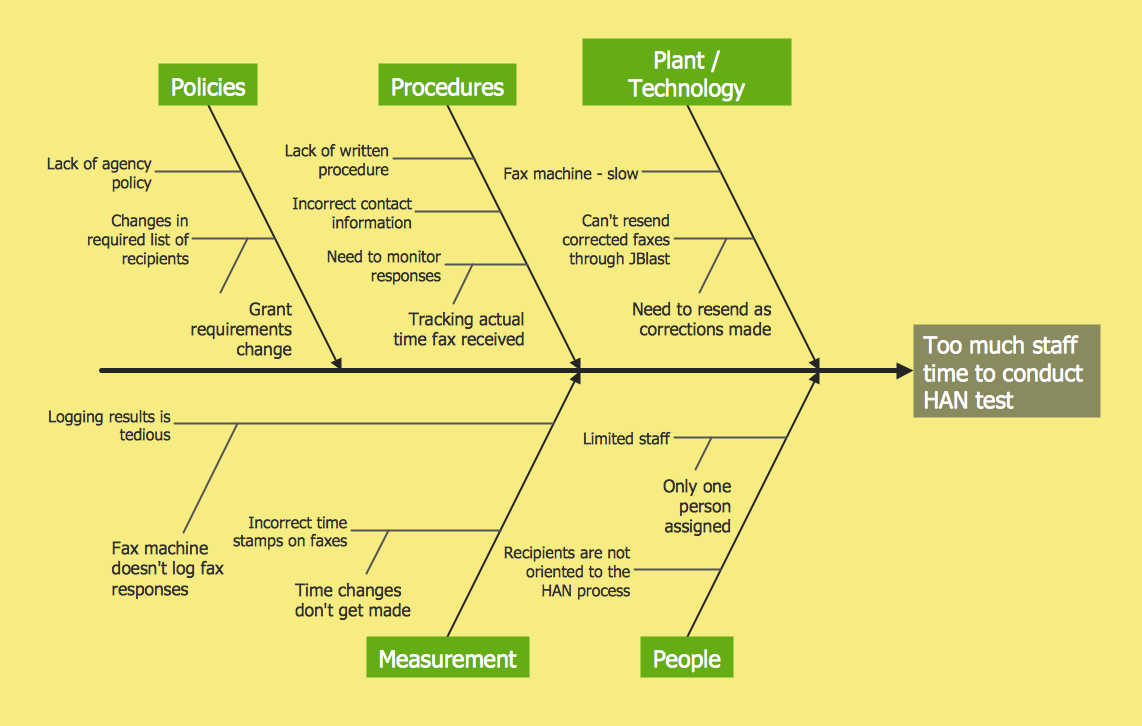 Example 2. Well Constructed Fishbone Diagram - HAN Project
Fishbone Diagrams Solution provides also variety of samples and examples of Fishbone diagrams, and Fishbone Diagrams library with predesigned vector objects for self-drawing.
You can also benefit from the ConceptDraw DIAGRAM wide export capabilities, just a few seconds you can export your Ishikawa diagram to PDF, PPT, HTML, Visio, or any from variety of graphic formats.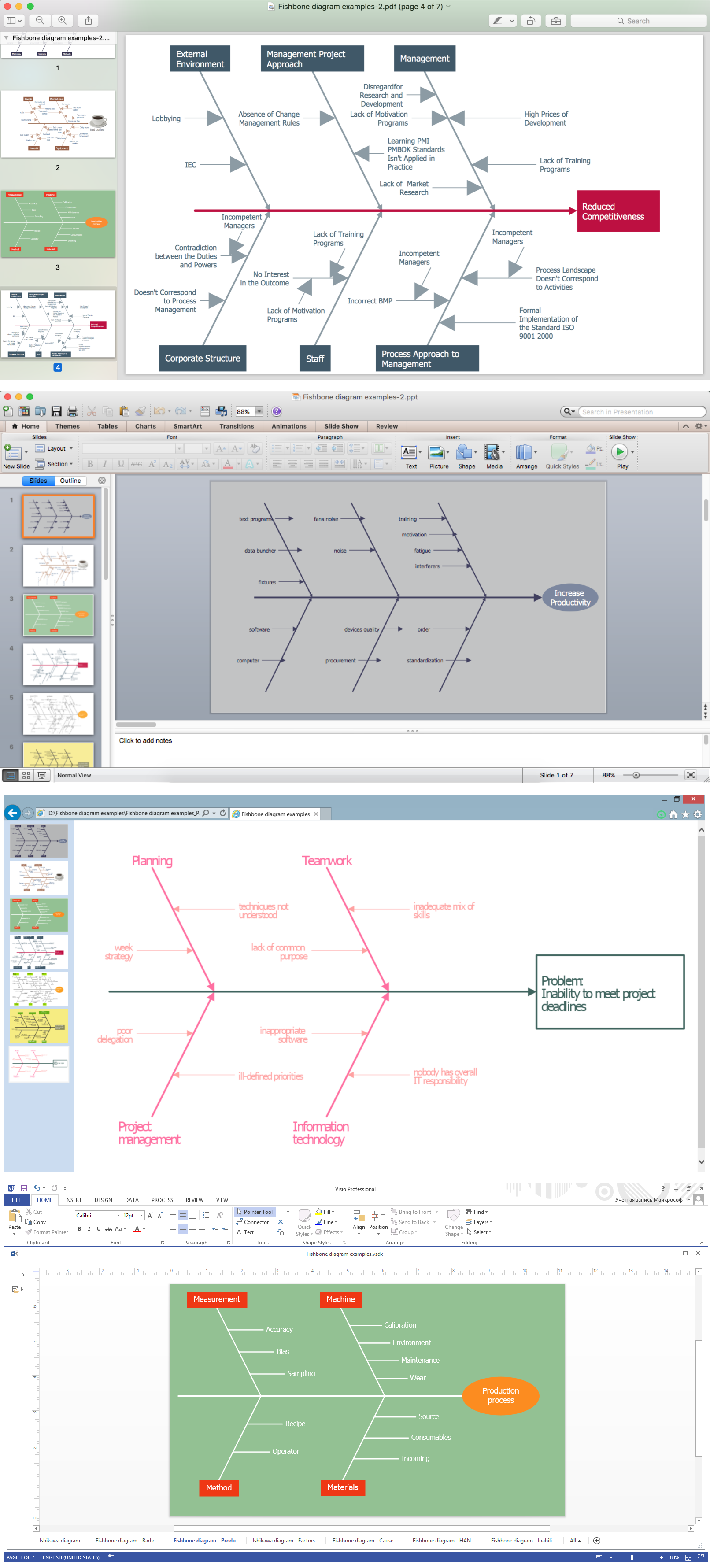 Example 3. Export Fishbone Diagram to PDF, PPT, HTML and Visio
The samples you see on this page were created in ConceptDraw DIAGRAM using the predesigned objects from the Fishbone Diagrams library. They show some cases when to use a Fishbone Diagram is effective and reasonable. An experienced user spent 10 minutes creating each of these samples.
Use the tools of Fishbone Diagrams Solution for ConceptDraw DIAGRAM Solution Park to draw quick, easy and effective your own Ishikawa diagrams for problem solving.
All source documents are vector graphic documents. They are available for reviewing, modifying, or converting to a variety of formats (PDF file, MS PowerPoint, MS Visio, and many other graphic formats) from the ConceptDraw STORE. The Fishbone Diagrams Solution is available for all ConceptDraw DIAGRAM or later users.
TEN RELATED HOW TO's: