Think and act effectively
Having the best organization of your time for important issues will enable you to find ways of increasing your personal effectiveness. Many people who use mind mapping software for personal organizing find ConceptDraw MINDMAP sufficiently useful mind mapping tool in their business and daily life. They says, that it helps them increase the efficiency of organizing their personal lives considerably. Especially many positive responses receive ConceptDraw MINDMAP as cross platform tool to mind maps for Macintosh and Windows.
ConceptDraw MINDMAP packs for personal development
Memory


Remembering things with use of mind map allows us to have a better grasp on them and makes them easier to remember. All you need to do is remember the keyword and the memory comes by association. This means you spend less effort trying to remember. Information can be easily understood in relation to what you already know, and considerably strengthens the efficiency of your memory.

Read more...



---



Thinking


Mind map is the best method for analyzing your thoughts. Your thinking becomes more precise and flexible. It also means your creative abilities become more active. The more often the method of mind mapping is used by you, the more effective your thought is. ConceptDraw MINDMAP is a powerful mind mapping tool to realize this method in your daily life.

Read more...



---



Personal organization


Mind map helps you to see all the details of your day to day life, understand how they interrelate better, and be able to organize your daily routine with ConceptDraw MINDMAP resulting in saved time.

Read more...



---



Decision Making


Mind map is an ideal tool for a creative approach to the solution of many problems. With it help you can choose your own way to reach a proper decision in day-to-day activity. Mind mapping software ConceptDraw MINDMAP can help you to choose the considered decision with accounting of pro and con arguments.

Read more...



---



Communication


Using a mind mapping software lets you easily state your opinions and ideas clearly to other people, as well as understand what they want to tell you. ConceptDraw MINDMAP is also an effective way to reach common decisions and discover the reasons for problems in your family life, as well as find different solutions.

Read more...



---



Planning


Planning for dealing with personal problems, actions, and ideas becomes much more effective when you organize all the details from start to finish. Use mind mapping tool such as ConceptDraw MINDMAP Everything is interconnected and it soon becomes clear what depends on what. Changes and corrections to your plans can be done quickly and easily

Read more...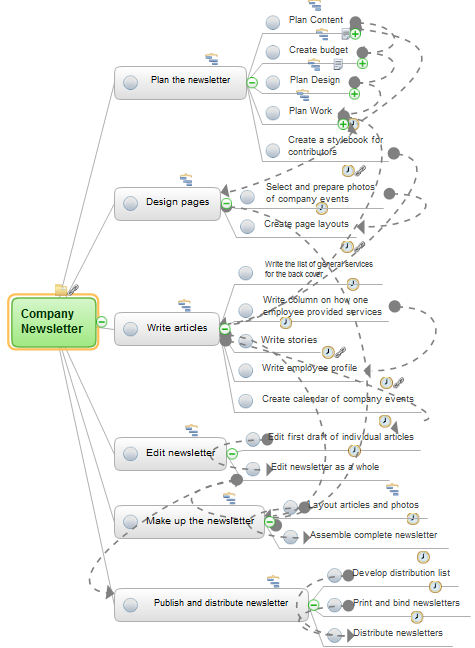 TEN RELATED HOW TO's: