How to exchange data files of major mind mapping software?
ConceptDraw MINDMAP
Capture What You Think, Do What You Plan
About exchanging mind maps:
The Mind Map Exchange solution allows you to share mind maps with others who have 3rd party mind map applications.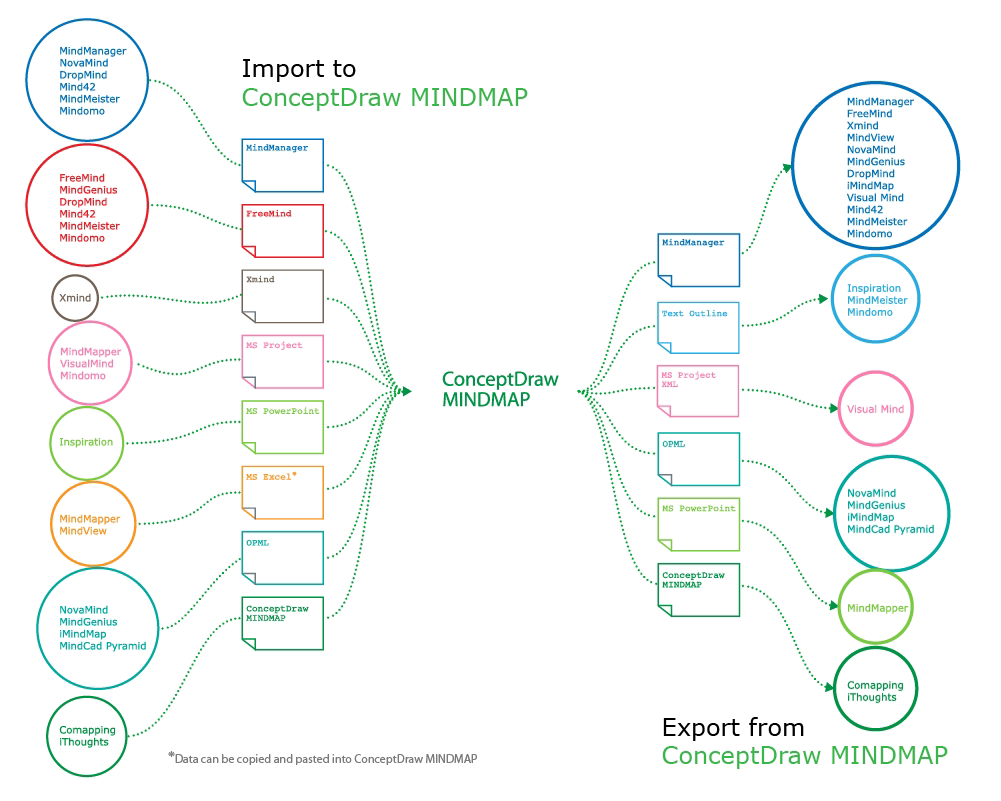 Pic. 1. Data Exchange - Data File Exchange with Major Mindmaping Software
Alternative Ways to Data Exchange
If a specific file format or application does not appear on the import or export list, you still haveoptions for exchanging mind maps with third party applications. Often you can import or export files through intermediary applications, like Microsoft® Office programs.
MS Excel®: Some mind mapping applications have the option to export to MS Excel. This option can be used to create an outline, which can then be copied-and-pasted into ConceptDraw MINDMAP
MS PowerPoint®: Exporting from ConceptDraw MINDMAP to PowerPoint will allow you to exchange the structure of your map with other applications. Export/import to MS PowerPoint is explained in the Presentation Exchange Solution Overview.
MS Project®: ConceptDraw MINDMAP can import MS Project files (*.xml, *.mpp, *.mpt and *.mpx) and then export to *.xml formats.
---
See also:
One formula of professional mind mapping.
How to use input and output features to prepare data for presentation:
Video lessons for professional mindmapping
Sample-1. Project Status report as mindmap presentation via Skype
Sample-2. Solar System presentation via Skype, mindmap and data
How to make great presentation via Skype?
...how it works with ConceptDraw MINDMAP?
---
See also Samples of mind maps:
TEN RELATED HOW TO's: