One formula of professional mind mapping :
input data + output data + make great presentation
ConceptDraw MINDMAP
Capture What You Think, Do What You Plan
ConceptDraw® MINDMAP software provides all components for professional Mind Mapping and much more beyond the traditional mind mapping. It imports MS Office files and major mindmaping files such as MindJet Mindmanager and Freemind. It provides rich exporting capabilities to generate MS Office documents, Project Management reports as well as create slide show for presentation, export it to MS PowerPoint or demonstrate via Skype to remote team.
Using ConceptDraw MINDMAP with Skype conference call - you can play and control the presentation's slide show on computers of Skype call participants. This is professional mind mapping presentation to remote team via Skype conference call.
Input data + Output data:
MS Word, MS PowerPoint, MS Project, Mindjet MindManager®, INGYRE
Project Status Reports: tasks, milestones, resources and assignments
Make great presentation:
via Skype conference call:
play the slide show via Skype conference call to your remote team
Use Slide Navigator to setup sequence of presentation and interactive notes
Use Map Stylish tools to make presentation fancy in one click
Example - Project Status Report
Here an example of project status report which can be subject of reporting the project status. This status report includes many pages and slides. It can be played as a slide show presentation to remote team using Skype conference call. This example created with ConceptDraw MindMap software.
Pic. 1. Professional Mind Mapping
Related Video:
Video tutorials related with ConceptDraw Mindmap includes - beginner, intermediate and advanced cources.
Example - Solar System
This example demonstrates capability of professional mind mapping to create learning materials and use them for webinars or training classes.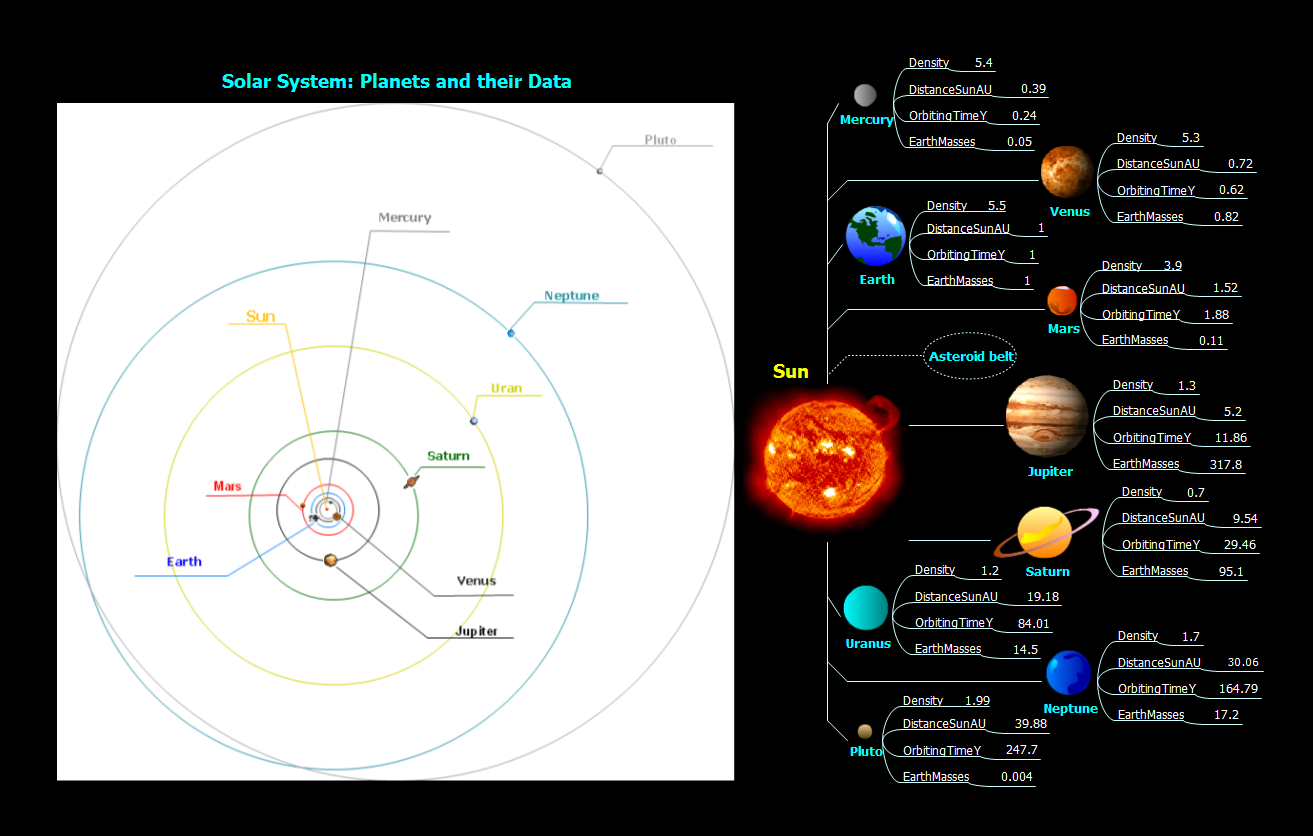 Solar system mind map sample is created using ConceptDraw MINDMAP mind mapping software. This example helps to learn how to create learning mind map presentation and show it via Skype. Use this mindmap example for implementation of Remote Presentation for Skype solution from ConceptDraw Solution Park.
---
See also:
How to make great presentation via Skype?
...how it works with ConceptDraw MINDMAP ?
---
See also Samples of mind maps: