Business Diagram Software
Add the power of neat visual communication to your daily work.
Whether you manage people, projects, or networks, ConceptDrtaw PRO will meet your needs. Large set of solutions for ConceptDraw DIAGRAM help you convey your ideas successful and rapidly no matter are you professional or beginner.
ConceptDraw is the business diagram software of choice for business and technical professionals who need to quickly and easily visualize, explore, and communicate information. With ConceptDraw, creating a wide range of diagrams such as:
flowcharts,
business process diagrams,
work flow diagrams,
audit diagram,
value stream maps,
TQM diagrams,
ERD diagrams,
EPC diagrams,
marketing diagrams,
cause and effect diagrams,
dashboards,
infographics
is a snap.
Free Download Business Diagram Software and View All Examples
With ConceptDraw, easily diagram complex processes that conform to particular standards such as Lean or Six Sigma. It includes a variety of business process shapes so your diagrams look exactly the way you want. Easily collaborate with colleagues to create detailed process diagrams and use them as a key element in streamlining your processes.
ConceptDraw Business Diagram Suite is the most powerful business and relational charting/diagramming package available. If you need to create advanced, completely customizable Flow Charts, Organizational charts and other relational diagrams from your data, then ConceptDraw is the ideal solution for you.
Examples of functionality that ConceptDraw Business Diagram is perfectly suited for include:
Creating Dynamic Organizational Charts
Creating Social Network Diagrams
Building Flow Charts and Block Charts
Diagramming your business processes
Decision Charts
Much more.
Business Diagram Examples
Even users with no prior experience, may create neat and comprehensive business diagrams using ConceptDraw DIAGRAM and its Solutions.
If you need to draw professional, customizable Business Diagrams, Organizational charts and many other relational diagrams using your data, ConceptDraw DIAGRAM is the right tool for you.
What are the Benefits of Business Diagram
Gain greater understanding of your corporate data, by visualizing business processes and acting on them.
Dynamically create advanced, customized Organizational Charts and Diagrams on the web.
Visually examine how people, business functions and other items relate to each other.
Create custom, reusable objects for rapid application development.
With just a few clicks, ConceptDraw can connect, align, and evenly distribute shapes in your business process diagrams. ConceptDraw can automatically connect shapes as you drag, drop, and rearrange them onto the drawing page, or connect existing shapes that are already on the drawing page.
Free Download Diagram Software and View All Examples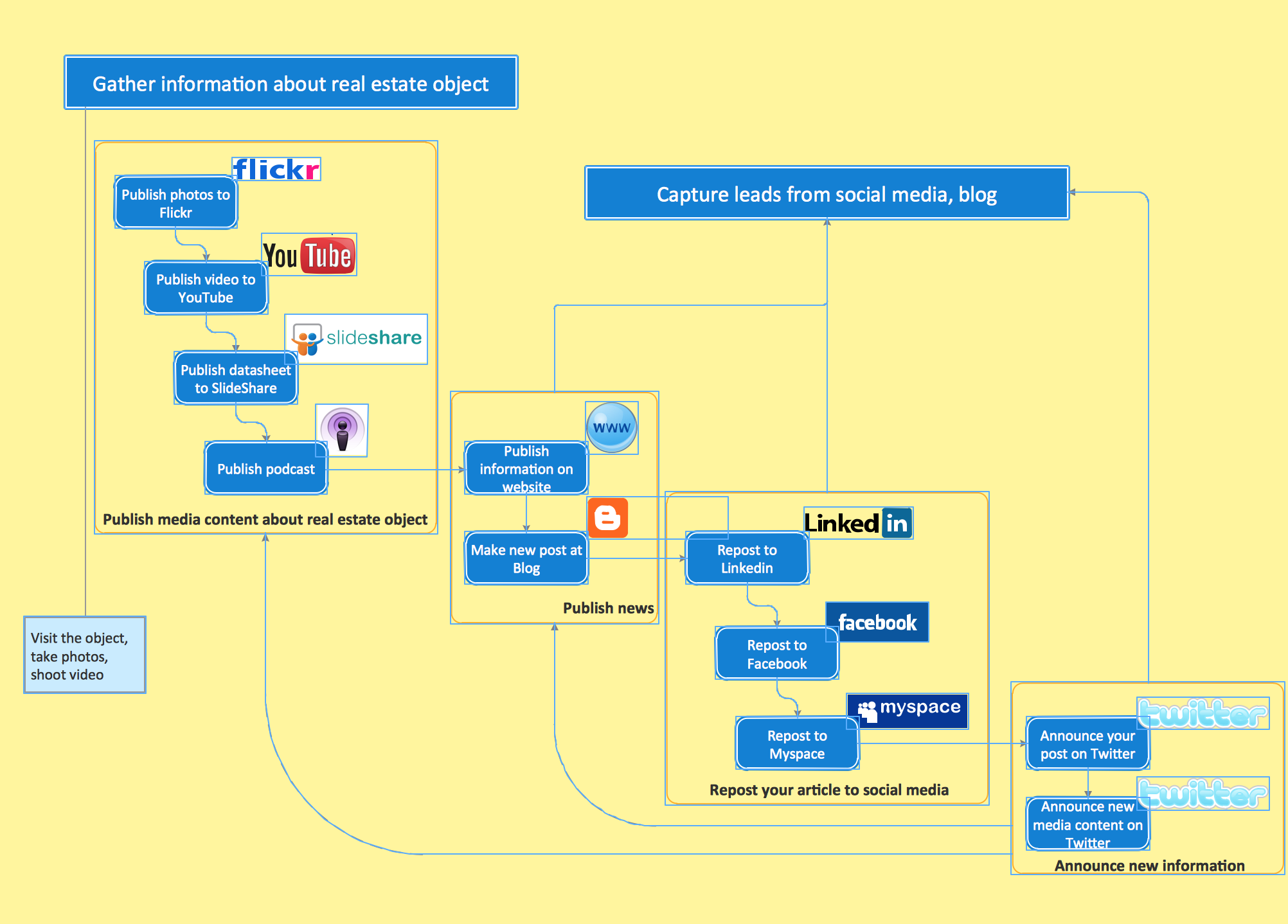 Pic. 1. Business Flowchart. Social media activity of a real estate agent.
All ConceptDraw DIAGRAM documents are vector graphic files and are available for reviewing, modifying, and converting to a variety of formats: image, HTML, PDF file, MS PowerPoint Presentation, Adobe Flash, MS Visio VSDX.