Hiring Process
Hiring process is a step-by-step process of finding, attracting, selecting, and recruiting new employees for an enterprise. This process is implemented by the HR department which is an invaluable asset for any company. Hiring process is a quite complex and responsible task, but however, it is an inevitable process, which highly affects business success. And proper training of HR managers has a strict impact on hire quality. Managers and recruitment specialists actively apply various technics, methods, models and also modern computer technologies for effective planning and realization hiring process.
Strategic thinking and a competent approach will help you attract and retain high-quality employees. Developing and implementing a consecutive hiring plan helps to optimize the process of identifying the best candidates. Continuous improvement of the talent acquisition process and onboarding in place and the implementation of new developments and technologies contribute to increasing the efficiency of the hiring process and retaining your employees.
The steps of the hiring process can vary and include unique elements according to the company's specificity. However, there are some common basic steps. Hiring process includes three key components: planning, recruitment, and selection of qualified employees.
Primarily, the organization should identify its hiring needs. This supposes filling a recently vacated position or creating a new position with regard to the company's expansion. Analyze and take a close look at your business needs, goals, and objectives. Determine the best recruitment method for your company and devise a recruitment plan. This gives the proper understanding of the current and future needs of the business, allows filling gaps and making long-term plans for expansion or reduction in staff, and as result, makes you more efficient.
Now, you can open the requisition and create accurate job descriptions including a list of job requirements, desired characteristics, qualifications, and requisite experience for candidates, information for salary and benefits. A competitive salary and opportunities for personal growth increase the chance of success. Offering quality employee benefits and bonuses attracts diverse and talented applicants. Then post and promote job position internally and externally on the company's website, social media platforms, job posting sites like LinkedIn, etc.
The hiring process includes selecting the right candidates to interview, performing interviews, testing and checking candidates, and choosing the best candidate for company requirements, based on pre-determined selection criteria. The resumes and cover letters of candidates are analyzed and reviewed for possession of the required education, skills, and experience during the stage of application reviews. As a result, the list of candidates for interviewing is created.
Depending on the size of the company, one or several interviews are conducted for candidates. Initial interviews are usually conducted by telephone and enable companies to further reduce the list of candidates. Once the phone interview is completed, the applicant talent assessment by testing is conducted. It is a way to evaluate the professional skills of candidates and also their reasoning, problem-solving ability, emotional intelligence, and more skills to successfully perform the job. This step allows even more reducing the list of candidates.
Only then the face-to-face interview is conducted. During the interviews, HR managers determine if applicants possess the requisite qualifications for a certain position. In addition, it is important to pay attention to personality traits, employee temperament, motivation, coachability, emotional intelligence, and correspondence to the company's culture and values, not just for professional skills.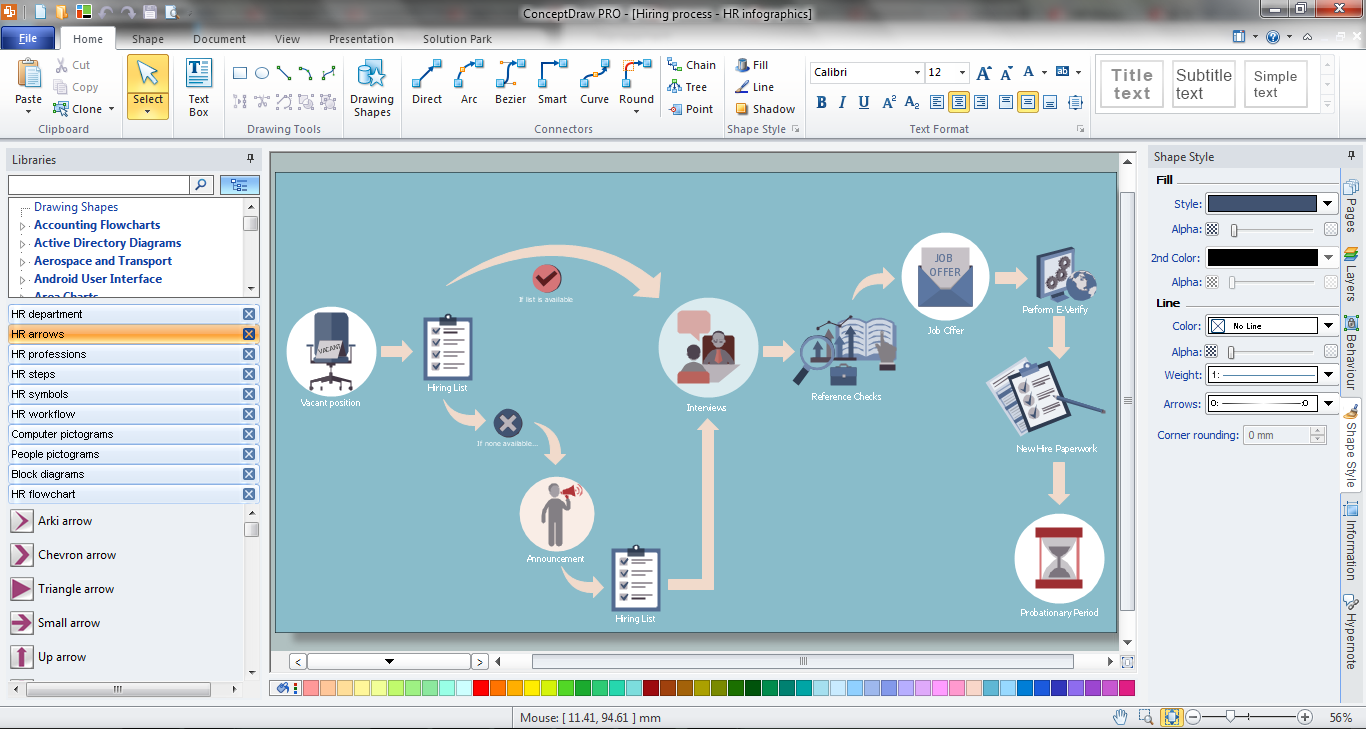 Example 1. Hiring Process in ConceptDraw DIAGRAM
The resulting choosing the best candidate is done by comparing the candidate's qualifications to a pre-determined list of criteria for a certain job. It is done by one person or a committee to avoid biased choices. Then the offer to the selected candidate is made. In the offer letter, indicate the start date, the position's salary, benefits, leave duration, working remotely policy, and other details to keep the candidate engaged. It is also recommended to have backup options if the selected candidate declines your offer.
The last step is often a check of a selected candidate for the truthfulness of indicated data, including his background check, employment history, criminal record, military record, credit score. However, don't forget to indicate in your initial job posting about this check. Some companies also check social media accounts.
Once the candidate accepts the job offer, the appropriate documents are filled, the contract is signed and the new employee is hired. However, a proper hiring process is not enough and the onboarding process is also similarly important. Onboarding, orientation, and welcoming integration are the base for long-term productive relationships. The onboarding process greatly influences the success of hiring and the productivity of further work in the company. A welcome letter is also part of correct ethics. All important information about the company, culture, people, scheduling of company events, and responsibilities are given during onboarding. All needed materials are obligatorily offered. Training is also possible and assigning a mentor to help settle the new position is encouraged. It is recommended to establish a training budget to develop and improve the skills and knowledge of new and long-working employees.
Use the various ways to improve your hiring process in order to enhance your company's efficiency, and develop your own ways to better serve your business needs. Actively manage your company brand, build it strong, update your company's information in the network, promote it on social media, share news, track reviews and respond to them, answer candidate FAQs, etc. Social recruiting and using current employees' referrals are effective HR ways. Use actively digital trends and the latest tech trends, write the best job descriptions, be flexible, and improve your interviews. Because successful modern companies are prestigious and easily attract the best professionals.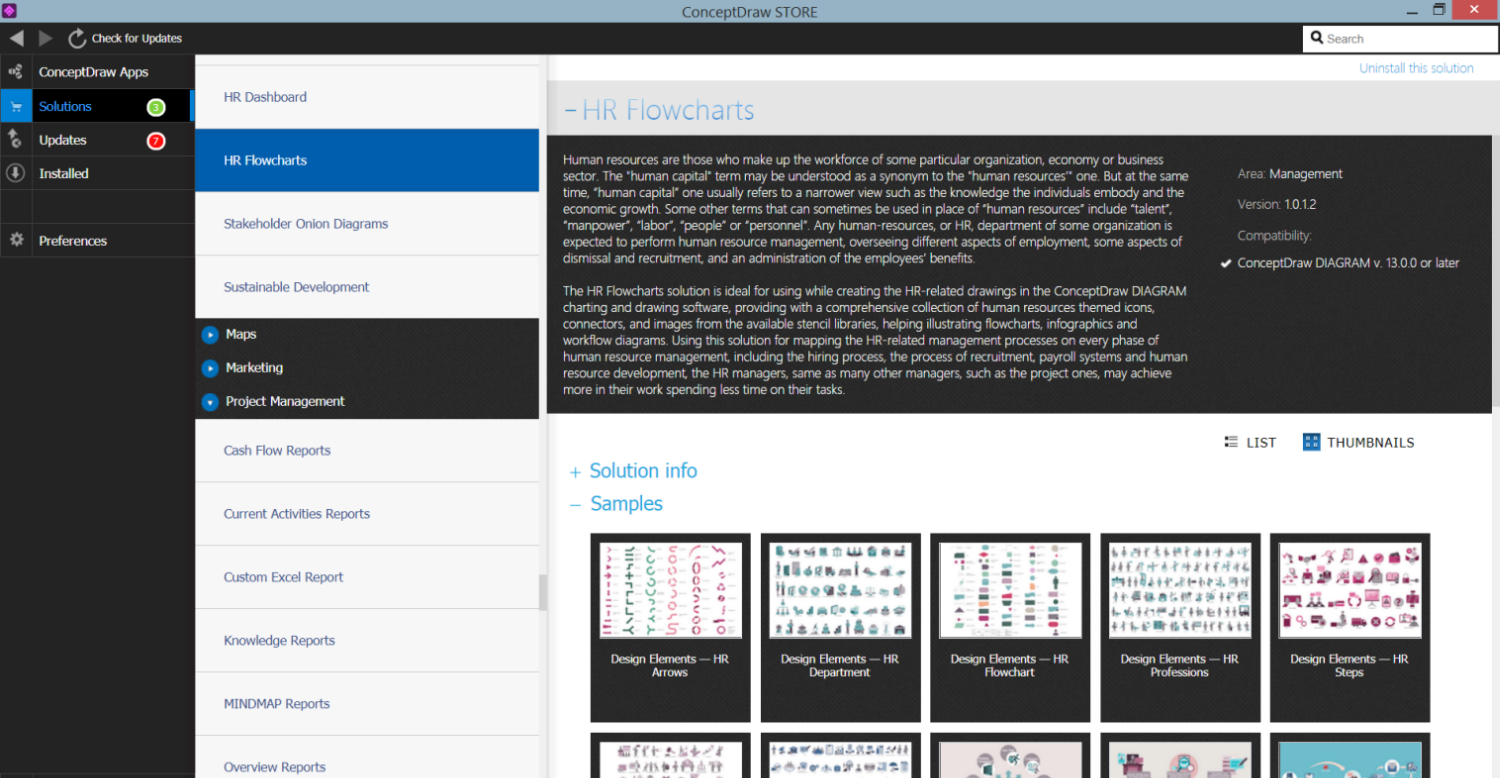 Example 2. HR Flowcharts Solution in ConceptDraw STORE
ConceptDraw DIAGRAM diagramming and vector drawing software aspires to help its users in the hiring process and offers a powerful HR Flowcharts Solution from the Management Area of ConceptDraw Solution Park. Illustrate the most common steps in the hiring process fast and easily in ConceptDraw DIAGRAM.
HR Flowcharts Solution offers 7 libraries with 387 vector objects:
HR Arrows
HR Flowchart
HR Workflow
HR Symbols
HR Department
HR Professions
HR Steps
which will help you quickly and easily design various materials illustrating the hiring process and methods to improve the effectiveness of the hiring process.
HR Flowcharts solution contains also a set of different examples and samples. All they are available from ConceptDraw STORE, you can open any of them and use as is, or change something if needed.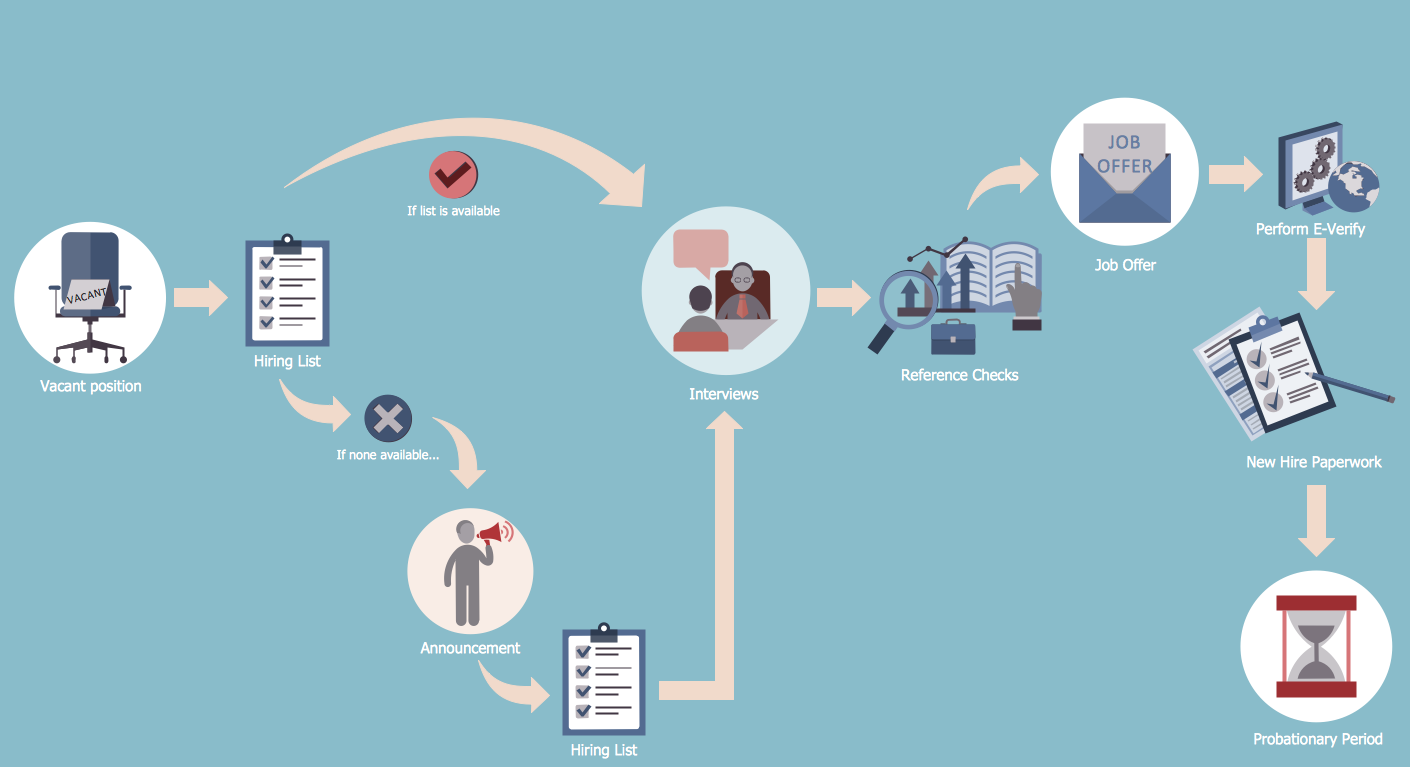 Example 3. HR Flowchart - Hiring Process
This HR Flowchart sample was created in ConceptDraw DIAGRAM using the extensive drawing tools of the HR Flowcharts Solution and visually shows the hiring process on the HR Flowchart. An experienced user spent 10 minutes creating this sample.
Use the HR Flowcharts Solution for ConceptDraw DIAGRAM software for effective hiring process and for quick and easy creating professional-looking HR Flowcharts.
All source documents are vector graphic documents. They are available for reviewing, modifying, or converting to a variety of formats (PDF file, MS PowerPoint, MS Visio, and many other graphic formats) from the ConceptDraw STORE. The HR Flowcharts Solution is available for all ConceptDraw DIAGRAM users.
TEN RELATED HOW TO's: