Human Resources
A unique HR Flowcharts Solution downloaded from ConceptDraw STORE will accompany all your human resources drawings made in ConceptDraw DIAGRAM within only a few minutes as long as you use the templates, pre-made by the specialists of CS Odessa.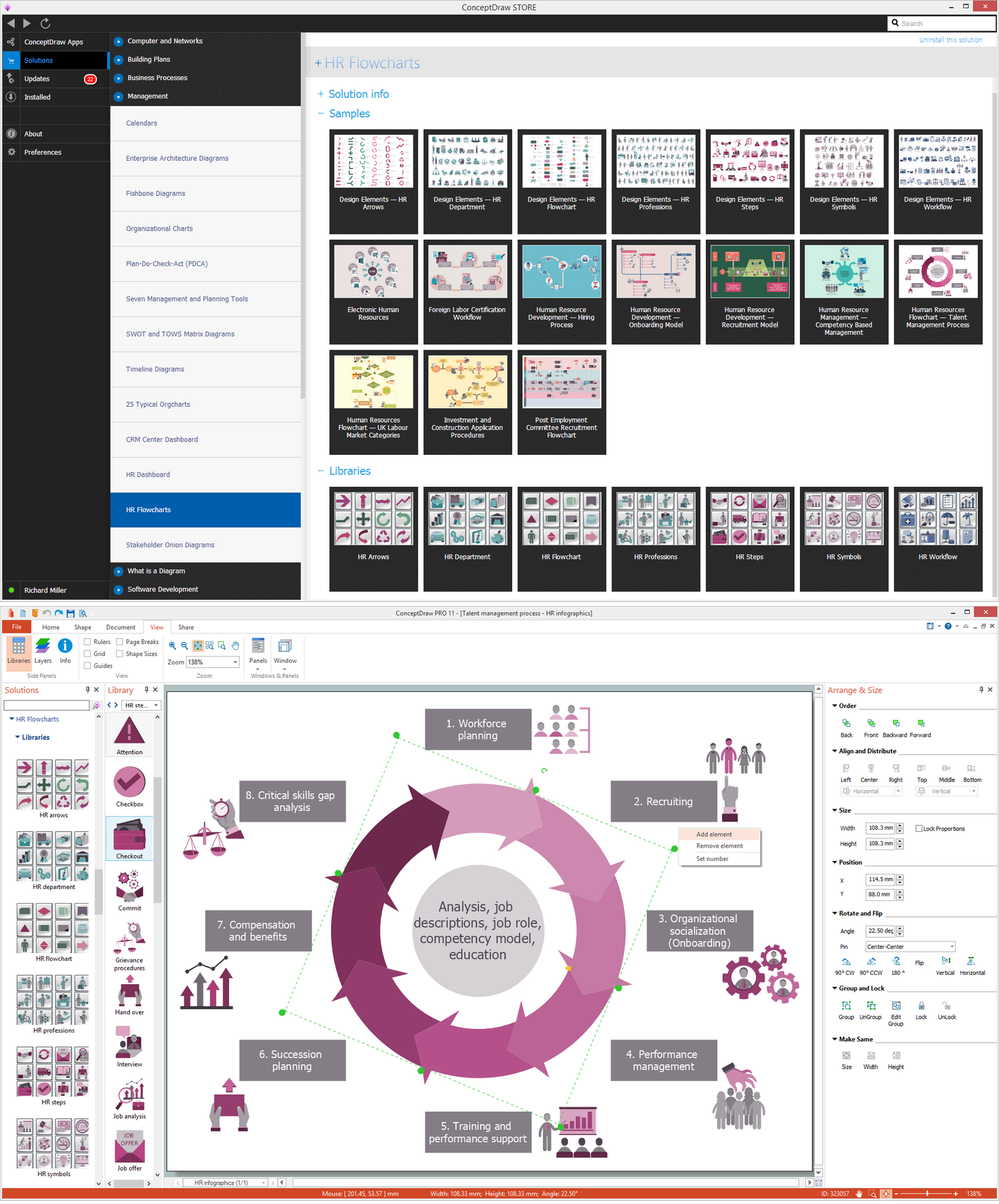 Example 1. Human Resources in ConceptDraw DIAGRAM
Human resources are simply those people who work for some organization, being involved in a particular business sector, or some definite economy. At the same time, the term of "human capital" can sometimes be used synonymously with the previously described one — "human resources". At the same time, human capital usually refers to a more narrow definition, such as "knowledge the individuals in order to stimulate an economic growth". A few other terms which can be sometimes also used instead of "human resources", are "talent", "labour", "manpower", "personnel", or just "people".
A department known to be called as an HR department is simply the one responsible for human-resources activities, performing the human resource management within some organization. In order to oversee lots of numerous aspects of an employment, such as compliance with a labour law as well as the employment standards, administration of employee benefits, and some aspects of dismissal and recruitment, such HR department is expected to be performing.
All human resources activities involve a so-called Human Resources Manager, who is known to be having a few functions performing within a company, such as determining all the needs of the staff working for the company, including in order to use some temporary staff as well as to hire a few employees for filling all the existing needs. An HR manager is usually known to be in charge of recruiting and training the best of the employees and for supervising their work.
Managing the employees' relations, unions as well as collective bargaining is also something he should do. Preparing their personal policies and records is always a part of HR manager's role. In order to ensure the high performance of the employees, HR managers are known to be making up some tests in order to see if those who work for the company develop their skills and still are able to continue working achieving the goals. Managing the employees' payrolls benefits and compensations is also HR manager's task. He also has to ensure the equal opportunities for all the employees so they feel their work place to be as their second home and, if needed, he has to deal with discrimination on his own or involving other staff and instances. Dealing with many different issues, including the performance ones is also HR manager's job.
Are sources practices conform to all the needed various regulations. Also, it is always important to push the employees' motivation by the HR manager so it is obvious for them to know what they work for and what exactly they will get as a result. Motivation is known to be a powerful reason for any people's actions, needs and desires and if some of the employees lose it, then it becomes useless for them to keep on trying every day, so they stop working as hard as they used to.
Thus, it is always important to have enough motivation for those who work for an organization as their direction to their behaviour, causing them to want to repeat the needed behaviour. Any motive is what prompts the person in order to act in a certain way to develop an inclination for specific behaviour, is what needed for all people in order to work hard enough and so to achieve their goals.
All managers seem to be needing to develop their interpersonal skills so they become effective enough in their own work as well as their employees' work. All organisations behaviour is known to be focusing on how exactly to improve all the needed factors to make organisations more effective, which are known to be the following: Vision, Mission, Values and Purpose.
Any social skill is known to be any skill, which is facilitating any interaction as well as communication with the other people and social rules and relations can be created, changed and communicated in both — verbal and nonverbal — ways. The process of learning these skills itself is known to be called socialization.
Interpersonal skills are essential for socialization in order to relate one another, being the interpersonal acts some person may use for interacting with others. Persuasion, delegation, stewardship and active listening are all known to be the positive interpersonal skills among others. Social psychology is also the academic discipline researching the related to social skills, studying in what way those skills are learned through changes in attitude, behaviour and thinking.
Some of the most important social skills are known to be coordination, which is simply adjusting the actions as a reaction to some others' actions, mentoring, which is helping others explaining how to do something as well as teaching things, negotiation that is an act of trying to reconcile differences and so bringing others together, persuasion or an ability of motivating others in order to change their behaviour or their minds, service orientation and social perceptiveness. The very last skill represents the ability to be aware of others' reactions and so to clearly respond to responses.
Human resources play an important part of developing any company as well as making such organization at the very beginning, ending up being a successful and prosperous one. Human resources are expected to show how to get the better employment relations within some particular workforce. Also, it helps bring out the best work ethic of the employees making a move to a better working environment in this way. Focusing on the Mission, the Purpose, the Role and the Qualities, Human Resources Management can succeed with their goal within some organization having the needed tools for achieving such results.
HR Flowcharts Solution contains variety of ready-to-use vector objects grouped in 7 libraries. Thanks to them you can easy design any Human Resources Flowchart.
All these objects are vector objects, so you can resize them without loss of quality, change their colors as you like, to make your HR Flowchart more interesting, bright, attractive.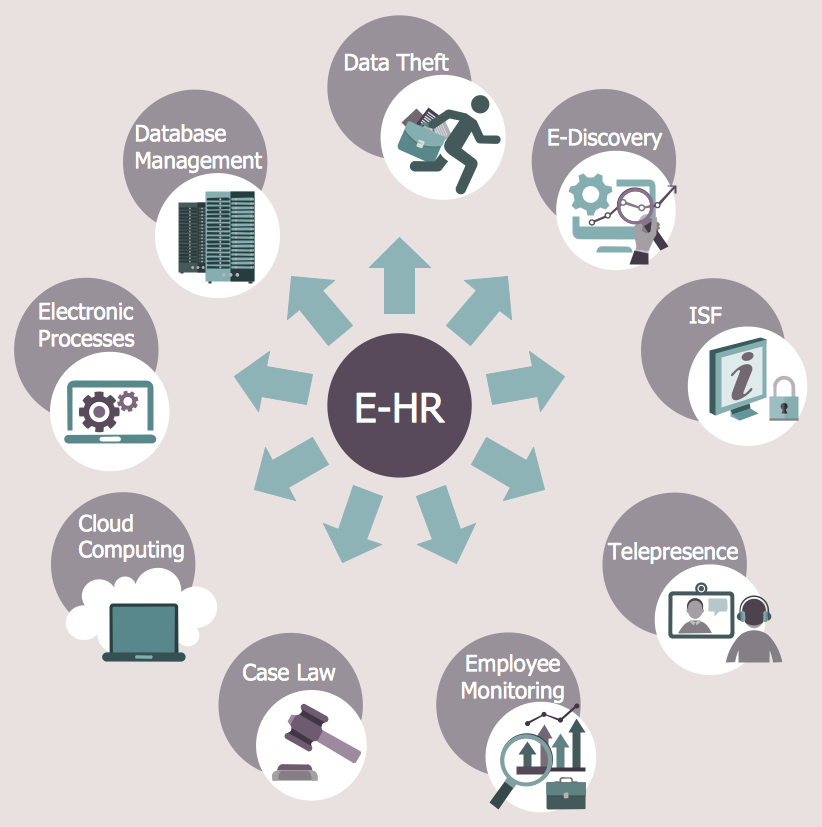 Example 2. Electronic Human Resources
One of the best tools is a ConceptDraw DIAGRAM diagramming and drawings software as well as ConceptDraw STORE application where the HR Flowcharts Solution can be found and downloaded.
NINE RELATED HOW TO's: