An Event-driven Process Chain (EPC) -
flowchart used for business process modelling
Event Driven Process Chain (EPC)
ConceptDraw DIAGRAM is a business process mapping software for making EPC flowcharts to provide business process modelling. The Event-driven Process Chain (EPC) flowcharts allows managers visually present business process models for making decisions for business.
The EPC is able to cope with extremely diverse and complex businesses processes. EPC flowchart as a result can represent the various elements in a way which is easy to understand.
An EPC flowchart is a multifaceted method of analysing business processes. It makes sure that all the elements are indicated and business owners or managers are able to pinpoint duplication or inefficiencies of tasks and inputs. Just like any ARIS business process modelling method, EPC flowchart is an indispensible tool to help businesses analyse and improve their processes. Its excellent business process improvement tools.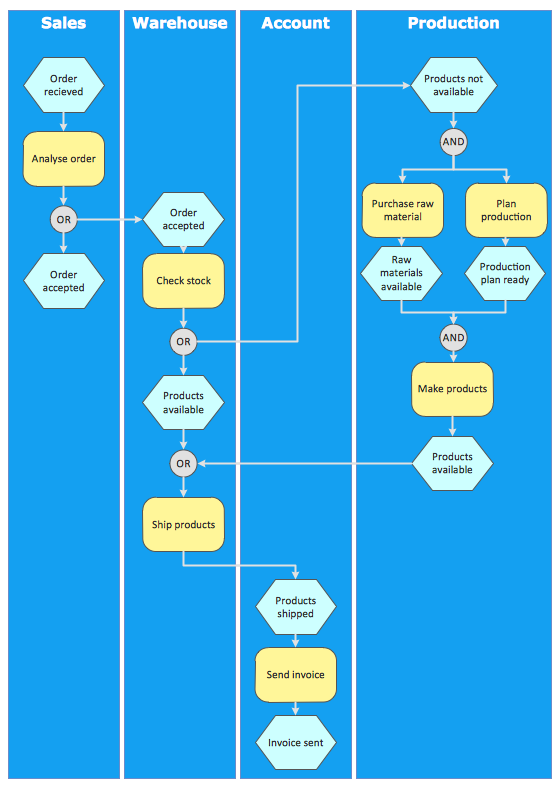 Pic.1 Event-driven Process Chain (EPC) flowchart - business process modelling
Stencil library EPC Diagram shapes, symbols from Event-driven Process Chain Diagrams solution provides 23 vector design elements for drawing event-driven process chain diagrams.
Pic.2 Event-driven Process Chain (EPC) flowchart symbols and template for drawing business process
Use design elements from the EPC Diagram Shapes library for drawing your EPC flowcharts to plan resources and improve business processes.
NINE RELATED HOW TO's: