Imagine the following scenario — at your fingertips you have a wealth of information related to what you are working on. Synthesizing all that information is tricky, and sharing it with other people is challenging. Even if the others have access to the same information, they do not have your comments and insights to guide them. How do you make this information relevant to them?
Now imagine another scenario — suppose you could gather all the input sources you have, put the input into one document, and then organize the input quickly and easily. Next, imagine adding your own thoughts and sharing them with other people in a way that is meaningful to them. Think about it — your work would be much easier and more effective.
ConceptDraw MINDMAP gives you just what you need — an extendible tool that allows you to input data from many inputs, organize the data easily so it makes sense to you, and then create output to share with others.
What are Inputs and Outputs?
The terms "inputs"and "outputs" refer to much more than importing and exporting content. Inputs into a mind map include all means of adding content to a map — copying and pasting from other applications, adding your own ideas to a map, recording brainstorming sessions, and also importing content.
The distinction between importing and exporting, versus input and output is important. If we only emphasize the technological dimension of importing and exporting, we overlook the value of human inputs. Capturing and organizing the best thoughts from you, your teams, and your colleagues are what mind maps are for. ConceptDraw MINDMAP focuses on making it simple to capture that input.
Sharing content effectively with people has greater value than simply exporting it. ConceptDraw MINDMAP includes a variety of ways to share content — not only by exporting or publishing mind maps in other formats, also by creating useful ways to share content that is appropriate for specific business activities, such as presentations.
What Types of Inputs Does ConceptDraw MINDMAP Support?
As a mind mapping application, ConceptDraw MINDMAP supports one of most valuable inputs you have — input from colleagues, teams, and customers. It provides different types of brainstorming activities so you can easily capture and organize ideas from other people, ideas that are easily lost using applications that do not support brainstorming. During presentations, you can also edit mind maps keeping them up to date.
ConceptDraw MINDMAP product designers focused on the easiest form of input — copy and paste. When you cut and paste content from external sources, it is ready to use without any restructuring.
It also supports importing content from other document formats such as Microsoft Word; and copy and pasting from Microsoft Excel.
Finally, your own input is also extremely important. Mind mapping helps you organize your thoughts. Because you can input information from many sources, your own thinking also improves.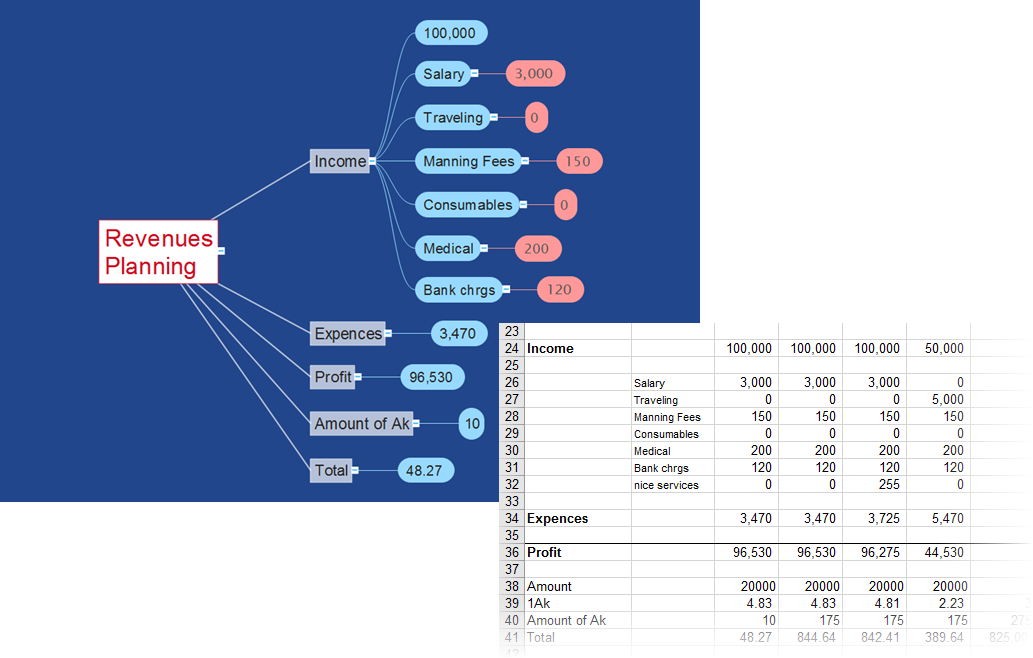 What Types of Output Can You Create with ConceptDraw MINDMAP?
After all your information is in a mind map, you need to share it with others. How do you do that? Not everyone has ConceptDraw MINDMAP, and not everyone is familiar with mind maps, even if they have the product. Taking the time to rework your content in other formats is not an option because of time, so you to create output that works outside of your mind map.
Creating output using ConceptDraw MINDMAP means sharing in an appropriate manner that is specific for your audience or task. Simply exporting content or republishing a map in format does not necessarily mean the communication is.
It lets you choose the output that is correct — be it a presentation, a map or subset of a map, copying and pasting into another document, or exporting to another application.
You can create a variety of presentations with one click. You can define just how you want to present the content — which portion of a map, which view, and for which audience. From within the map, you can create different presentations and save them so you do not need to recreate them repeatedly.
ConceptDraw MINDMAP provides a variety of export capabilities, including Microsoft PowerPoint, Word, or HTML. These automatically generated documents save you time and effort.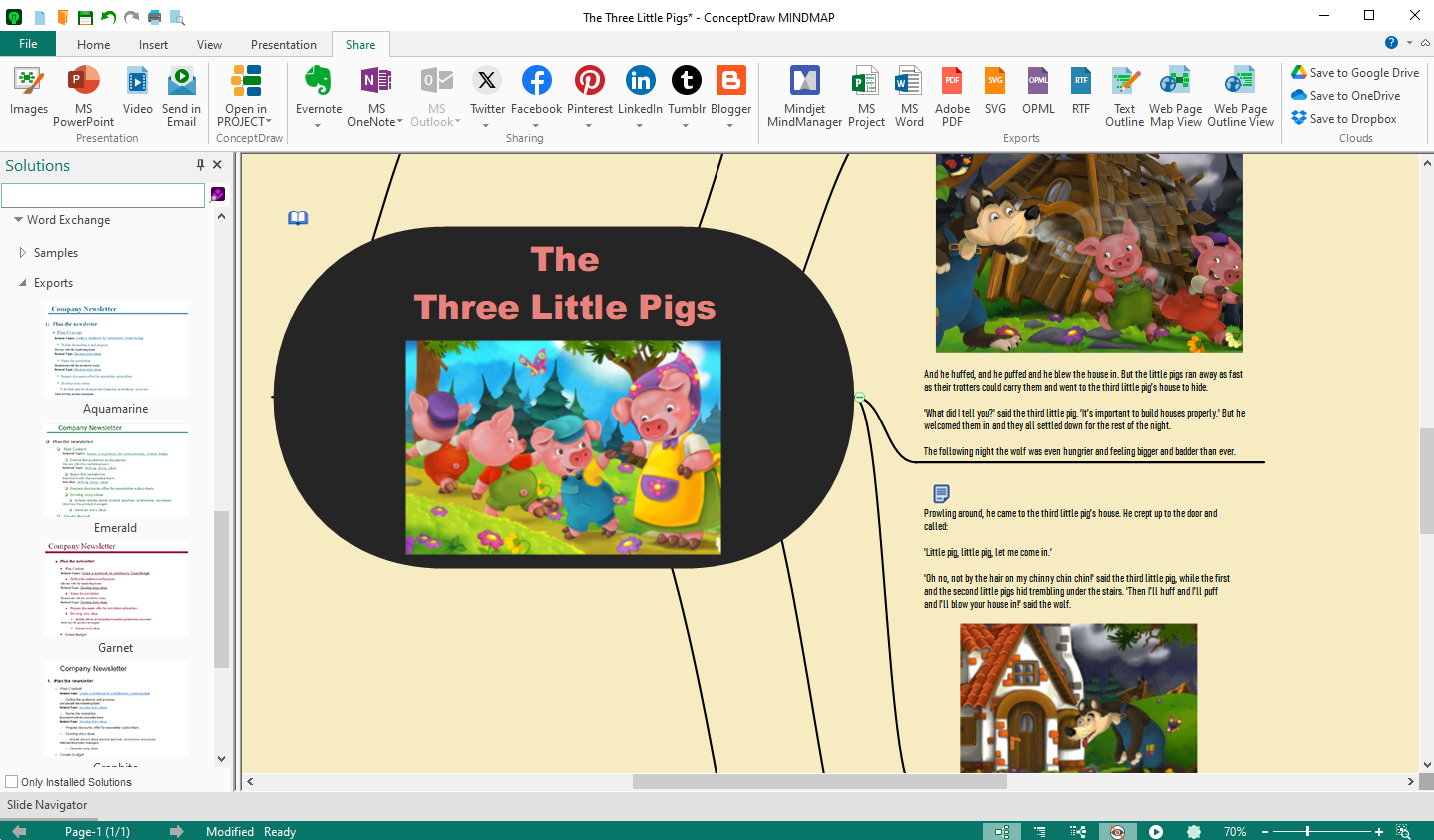 Kicking Off the Next Round of Action
After you share your content, you are able to trigger all types of important activities. People provide feedback, take action, and provide new data for you to include in your next round of presentations. It matters how you gather that information, track it, measure it, and share the results. Creating new documents is too much work and makes it difficult for people to track how ideas and processes evolve.
ConceptDraw MINDMAP helps you maintain information because adding information to a mind map is simple. Updating status and presenting the results allows you to capture and manage this data in one place so when you need to start the process over again, all of the information is there waiting for you.
Sharing Made Easy
ConceptDraw MINDMAP makes the process of creating and sharing content fast and effective. You can gather inputs from a variety of sources, organize and synthesize your thoughts, and share them with others using import/export tools, copying and pasting, using presentation features, and automatically generating documents.
ConceptDraw MINDMAP makes inputting and outputting data an intuitive process that meets your needs. The process is simple, and the information appears as you would expect, saving you the time and trouble of reformatting and reworking your ideas. Content is not limited by document formats and the flow of information from input source to output content is seamless.
In these ways, mind maps deliver on the promise of becoming a pivotal part of your information management strategy.
How do Solutions Extend the Functionality of ConceptDraw MINDMAP ?
CS Odessa's ConceptDraw Solutions contains many input and output options for MINDMAP. It is capable of downloading additional functionality from CS Odessa or third parties for company and individual users. Company users can integrate ConceptDraw MINDMAP into their environment because of the product's extensibility. With this software, you can customize input and output functionality to easily and economically solve unique work situations.