ConceptDraw MINDMAP v14 is the first of the next generation mind map product available. Its powerful document generation capabilities go beyond traditional mind mapping products.
ConceptDraw MINDMAP v14 because of its powerful input, output, presentation capabilities and extensibility through ConceptDraw Solution Park make ConceptDraw MINDMAP v14 the lynch-pin of a daily productivity regime that takes you and your organization to another level of efficiency.
No other mind mapping product can provide the same level of ease of use, power, extensibility and value that is available in ConceptDraw MINDMAP v14.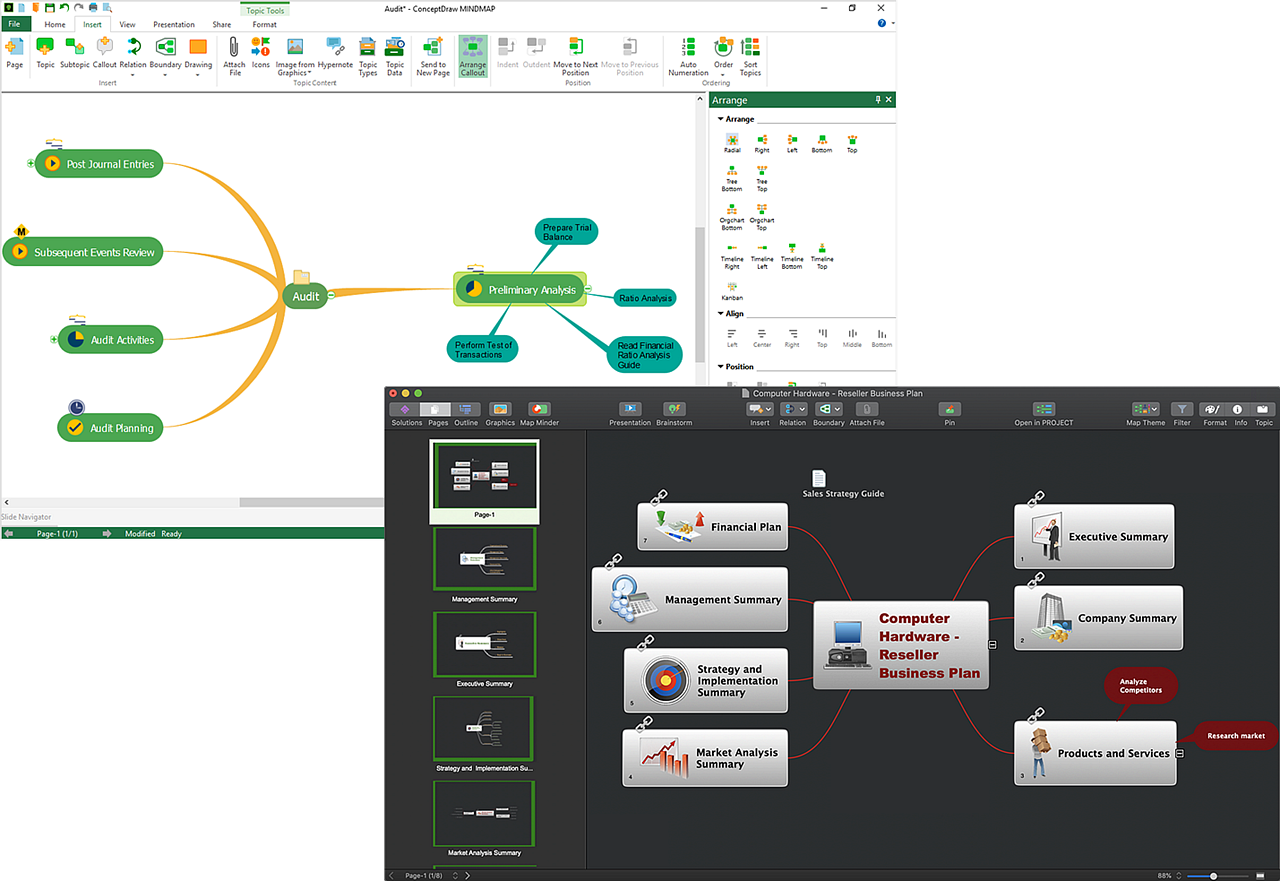 Application Compatibility
Versions of MS Office supported 2007/2010/2016
Versions of MS Project 2007/2010
ConceptDraw PROJECT v13
ConceptDraw DIAGRAM v16
ConceptDraw OFFICE v9
Mindjet MindManager v7 and later

Brainstorming
Powerful Brainstorming Modes provide you with situational brainstorming timer
Multiple Page Maps
Multiple-page support, break up maps by placing topics on separate pages, manage multi-projects
Page Navigator — displays thumbnails of other pages inside map
Themes and Templates
Map themes — instantly change map appearance, or build your own
Map templates — templates come with product or build your own
Copy-and-Paste
Column from MS Word creates same level topics
Columns from MS Excel creates same level topics
Rows from MS Excel become parent-child relationship
Any section of map can be pasted into
ConceptDraw PROJECT v13 to Gantt View
ConceptDraw MINDMAP v14 mind maps can be pasted into ConceptDraw DIAGRAM v16, topics remain linked
Tasks from ConceptDraw PROJECT v13 can be pasted into ConceptDraw MINDMAP v14
Imports & Exports
Import/Export MindManager v7 and later
Import/Export MS Word 2007/2010/2016
Import/Export MS Project 2007/2010
Import/Export MS PowerPoint 2007/2010/2016
Import from MS Excel 2010/2016
Import from XMind
Import from FreeMind
Export map as image of BMP, JPG, GIF, TIFF and PNG format
Export to MS PowerPoint, Adobe Acrobat and Rich Text Format
Export to HTML
Integration with MS Outlook
ConceptDraw MINDMAP v14 has integration with Outlook
The E-mail type topics can be sent to Outlook

Editing & Formatting
Topics
900+ pieces of clip art in MINDMAP, 200+ QuickSymbols 20000+ CD PRO clip art pieces
Automatic and manual topic positioning
Map topic directional control
Topic look configurable
Topic Types
Included — General, Project, Task, Resource, Phase, Milestone, Documents
(embedding), Attachments, Additional extensible topic types at ConceptDraw Solutions

Topic Attributes
Topic Relationships — General, Start-to-Start,
Finish -to-Finish, Start-to-Finish, Finish-to-Start Call outs
Floating or attached
Auto numeration
Copy-and-paste attributes
Filtering, Sorting & Searching
Sort — Alphanumeric, Alphabetic,
Task Percentage Complete, Number,
Main Topics Only, Entire sub tree,
Forwards-Backwards
Filter for content
Find and Replace — Topic text, notes, hyperlinks, resources
Spotlight — Mac OS; Google Desktop — Windows
Visual Work Layouts
Map View
Outline View
Map & Outline side-by-side view
Full Screen Mode — eliminates tool bars from view
Presentations
Default Presentation — Automatic for instant presentation
Default Presentation Edited — Manual for quick presentation preparation
Filtered Presentations use only selected criteria for presentation
Full-Screen Mode presents larger view of map information without toolbars
Mouse selected-defined presentation
Identifies key topics
ViewNavigator provides easy access to preview, organize, and export options
Direct export of map parts to PowerPoint document
Direct export of map text to PowerPoint document
Miscellaneous
Automatic save
Spell check
Shape drawing tools
Extensive Keyboard Shortcuts
Ribbon interface — Windows
Shared file format with ConceptDraw Project
License per User for macOS and Windows
Undo/Redo
Send via e-mail, includes PNG image file of map
Map themes — instantly change map appearance, or build your own
Map templates — templates come with product or build your own
Print outline, map or notes
Print Portrait or Landscape
Print cut marks
Print background
Fit to 1,2,4,8,16 pages
Auto save
Specify default map theme
Save to FTP server
No charge technical support
ConceptDraw Solutions
Looking for additional productivity tools? Want to know what 3rd party developers have released for
ConceptDraw MINDMAP v14?
Visit ConceptDraw Solutions for the latest productivity add-ons that are focused on making you more productive each and every day. Come to the ConceptDraw Solutions to see what free and paid solutions are available to you.
3rd Party/ Corporate Developers
Development API available