ConceptDraw MINDMAP is a professional-grade mind mapping software, compatible with macOS and Windows. Actually, MINDMAP is much more than just a mind mapping and brainstorming tool — it's a solution for knowledge management, project planning, decision making, time management, note taking and lots more. MINDMAP comprises a comprehensive set of capabilities used to organize ideas and data and massive productivity features that are maneuver and simple to use it because of its powerful import and export capabilities, enables you to quickly produce business documents from mind maps. With the built-in presentation options, you can easily communicate your mind maps to an audience or collaborate with a team.
Ready-to-use Mind Mapping Solutions
The collection of task-oriented mind mapping solutions help you to create and share mind map content effectively. The Solutions Panel offers a variety of business-specific solutions that extend the MINDMAP with numerous task-tailored templates, samples, and export capabilities.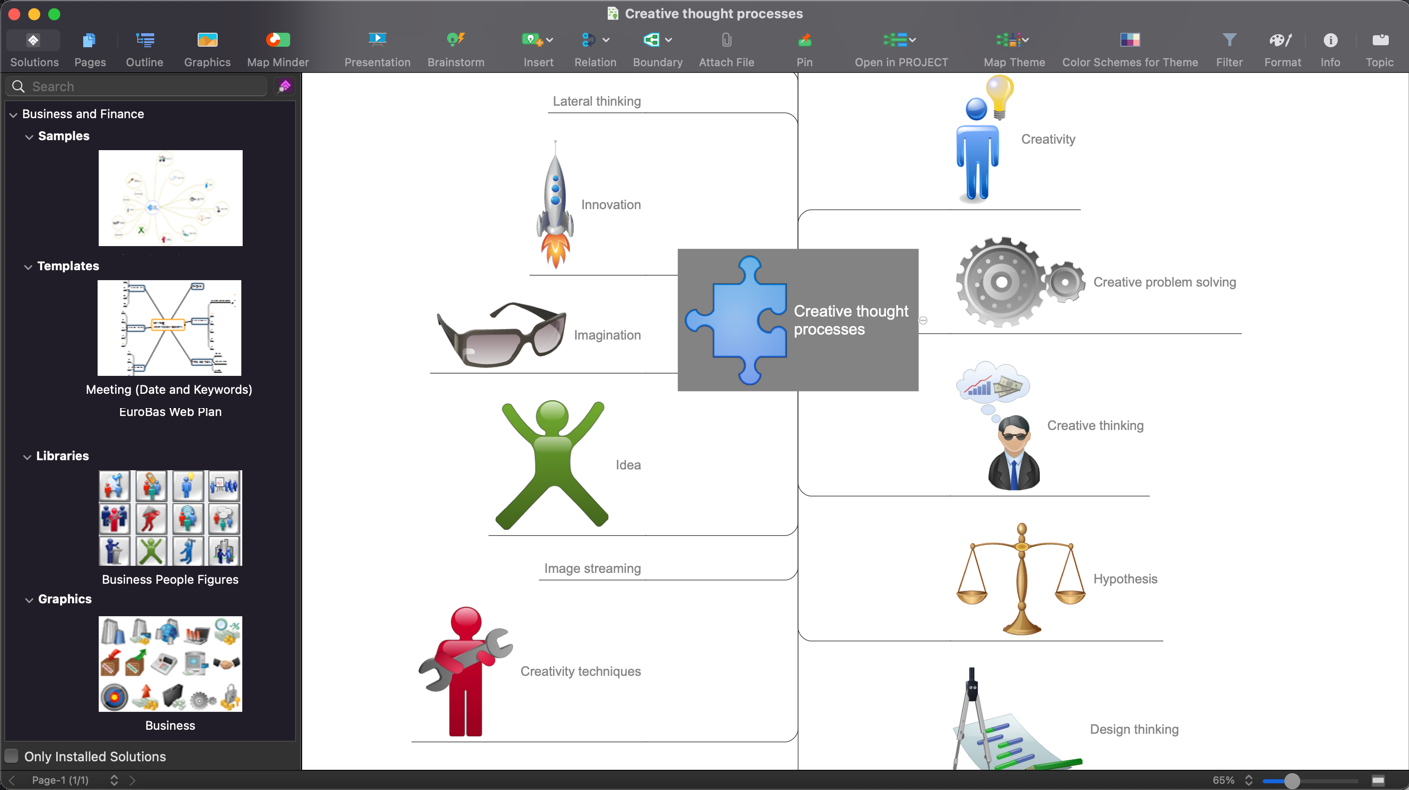 Brainstorming
Powerful Brainstorming mode provides you with situational brainstorming. You can activate a brainstorm mode in a one click. It allows you to manage the brainstorming period by tracking it with the help of the build-in timer. Then, you can edit and organize the result into a mind map structure.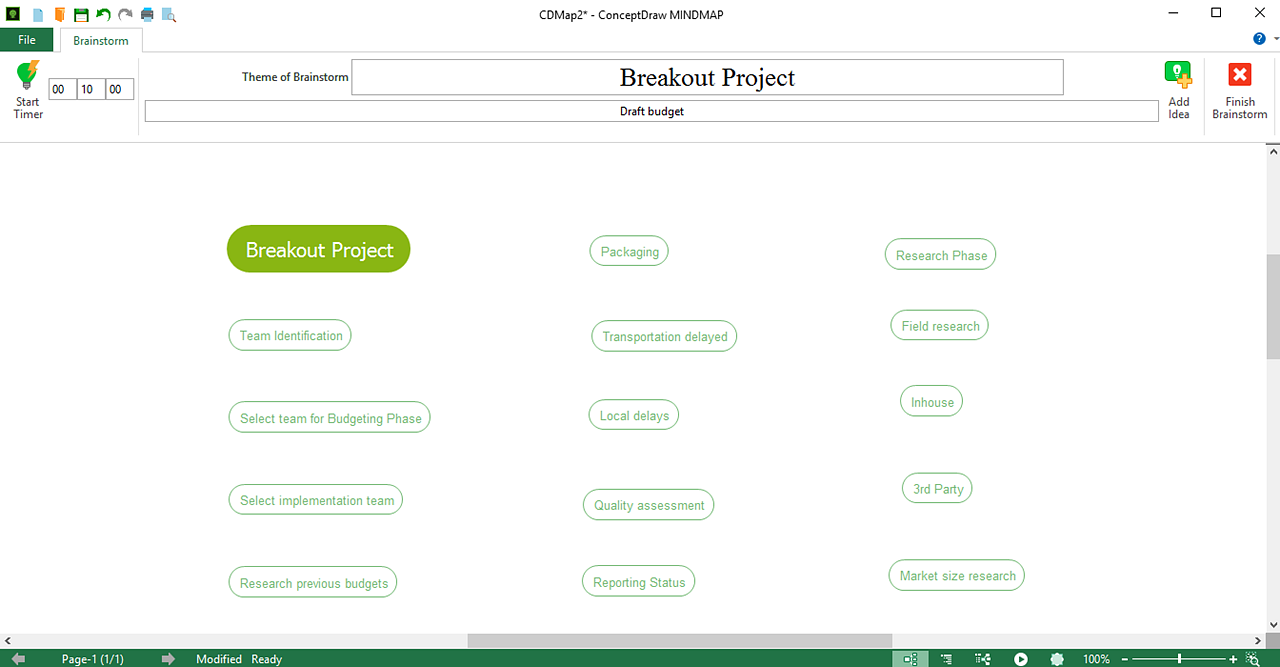 Multiple Page Mind Map
Multiple-page support, breaks up mind map by placing topics on separate pages. Each map may have several pages, connected with hyperlinks. It means you can map highly-detailed multi-level processes. Page Navigator displays thumbnails of all pages inside mind map. It allows you to navigate through pages.
Callouts and Floating topics enable adding your comments to the topics, placing random ideas that do not concern the map subject matter outside your map and then go back to these ideas later.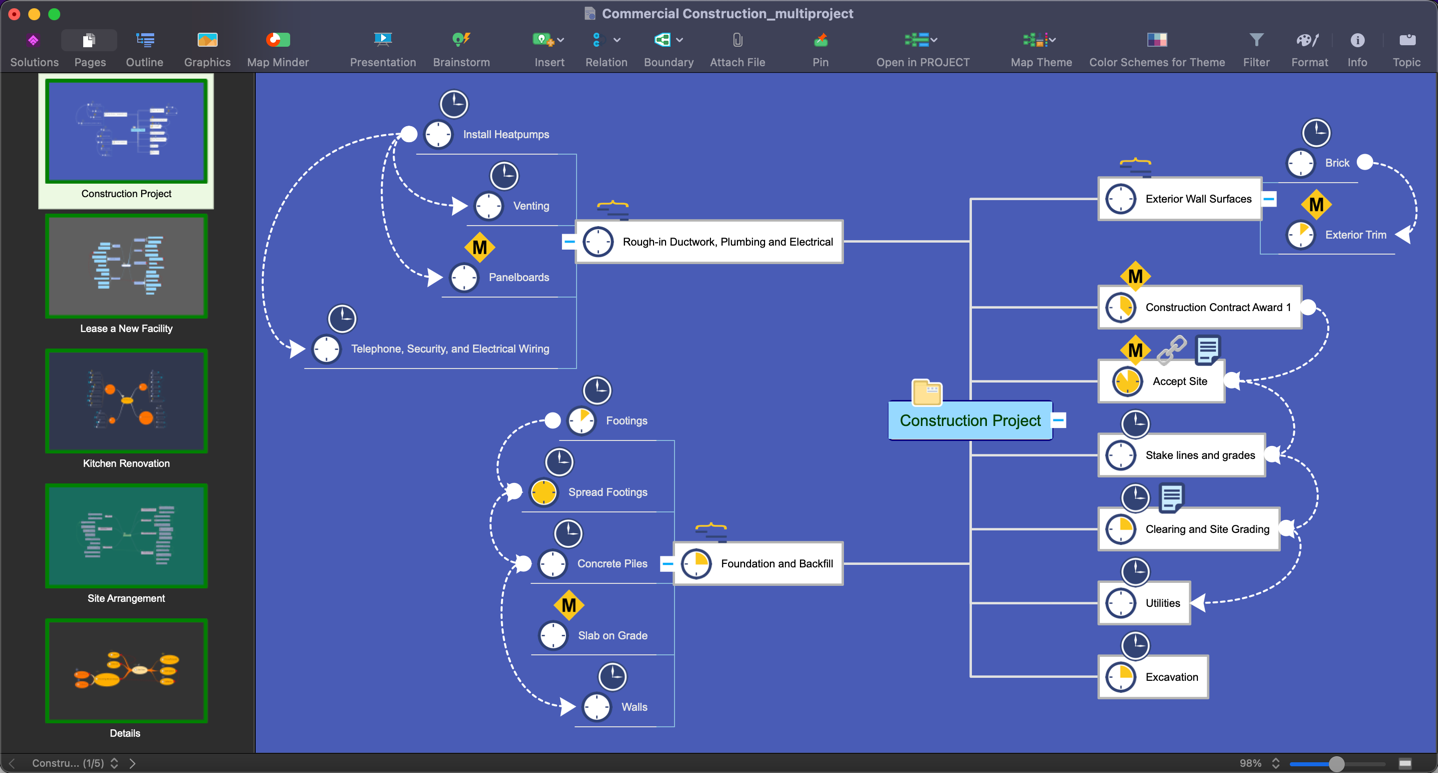 Pre-designed Mind Map Styles
ConceptDraw MINDMAP enables making custom-styled mind maps. Otherway, you can select one of the built-in designs — Themes. Each Theme includes topic color, font, layout, and topic shape design. Themes enable instant changing the mind map appearance with just one click. The "Color Schemes" feature makes it easy to coordinate colors of the Map Themes and update them quickly. You can instantly change all colors used in the mind map's current Map Theme by picking up an embedded color palette.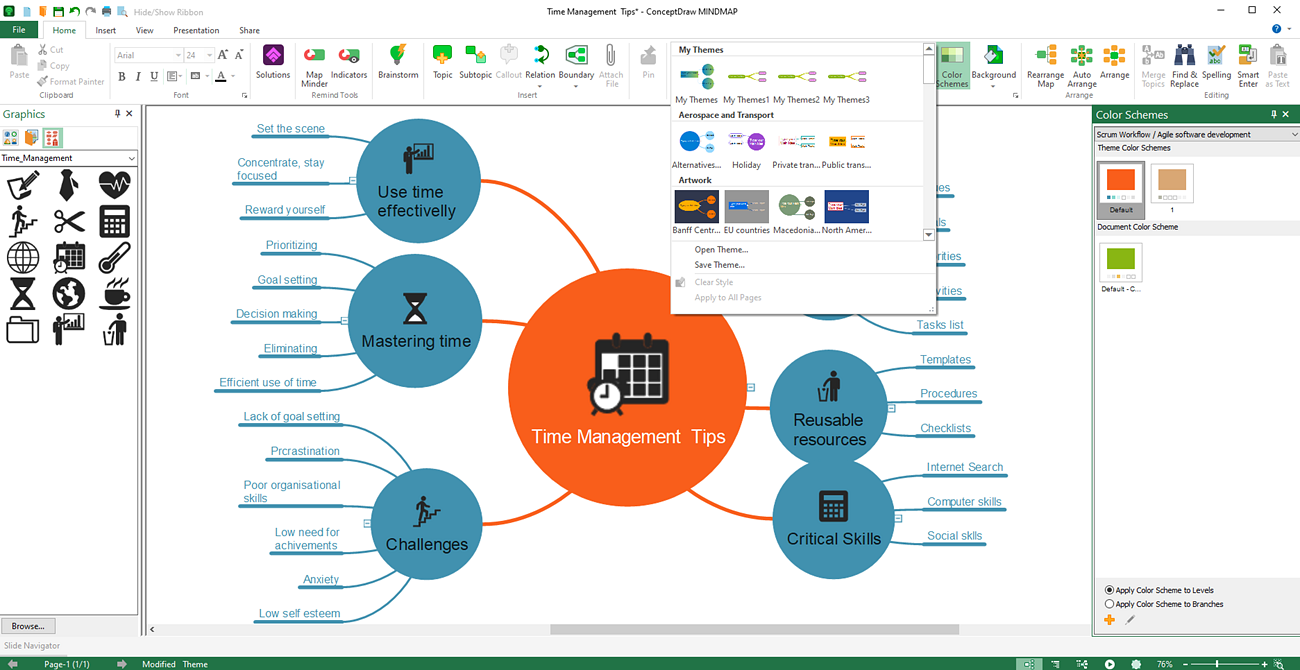 Automatic Placement and Arrangement of Branches
On adding new mind map branches there is no need to move them manually as they are automatically placed in a workplace. By clicking once on the corresponding icon you can arrange your mind map in different directions. At the same time, you can use the Pin button to stuck selected topics, subtopics, or graphic images on the mind map page, keeping them "pinned"  when you rearrange your mind map either manually, or automatically.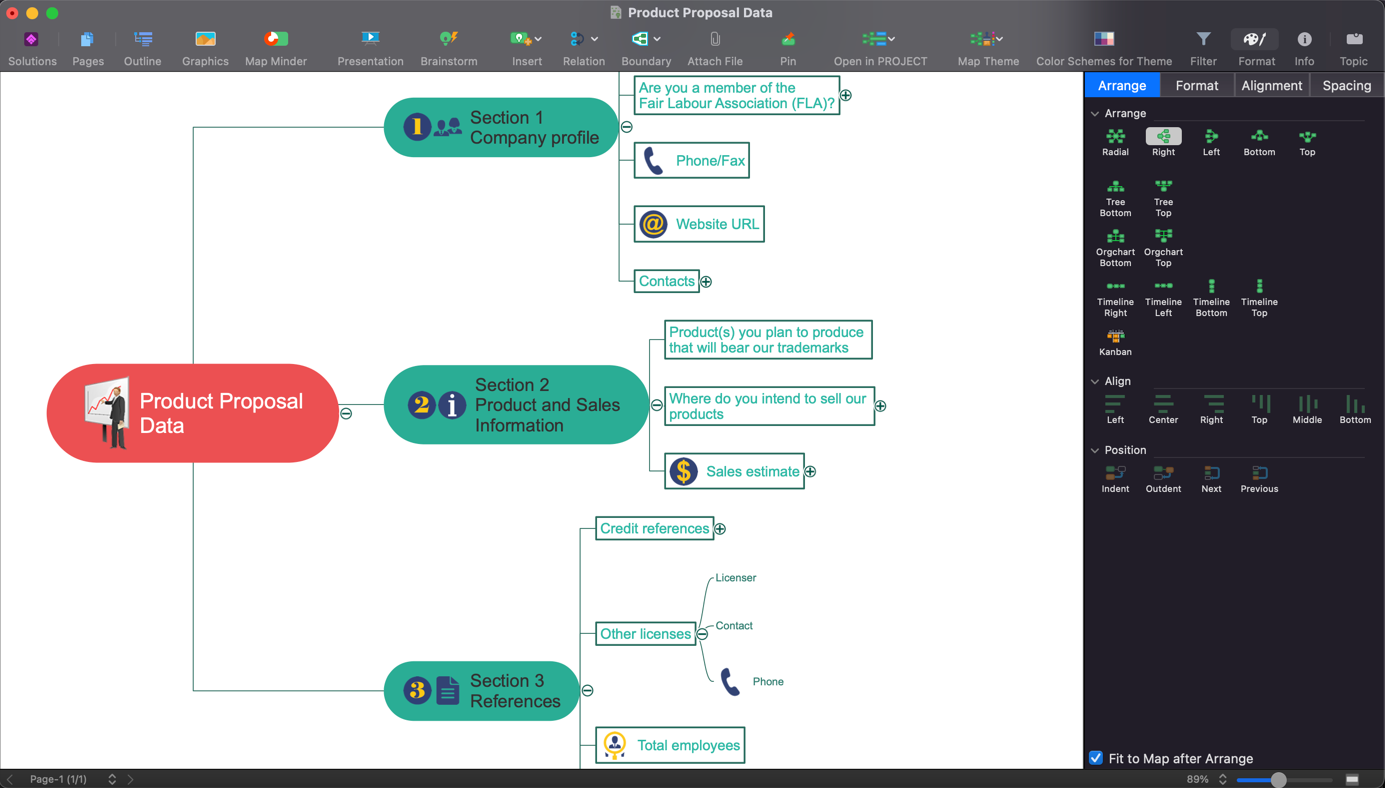 Graphics and Icons
The mind mapping technique uses small visual symbols along with free-styled images to highlight the mind map key points and to represent the same type of entities. More than 900 images, sorted by professional activities are available to download via the Solutions panel. The embedded libraries provide a collection of icons that you can add to topics in your mind map. Graphic files including vector objects provided with ConceptDraw DIAGRAM's libraries also can be incorporated into your mind map.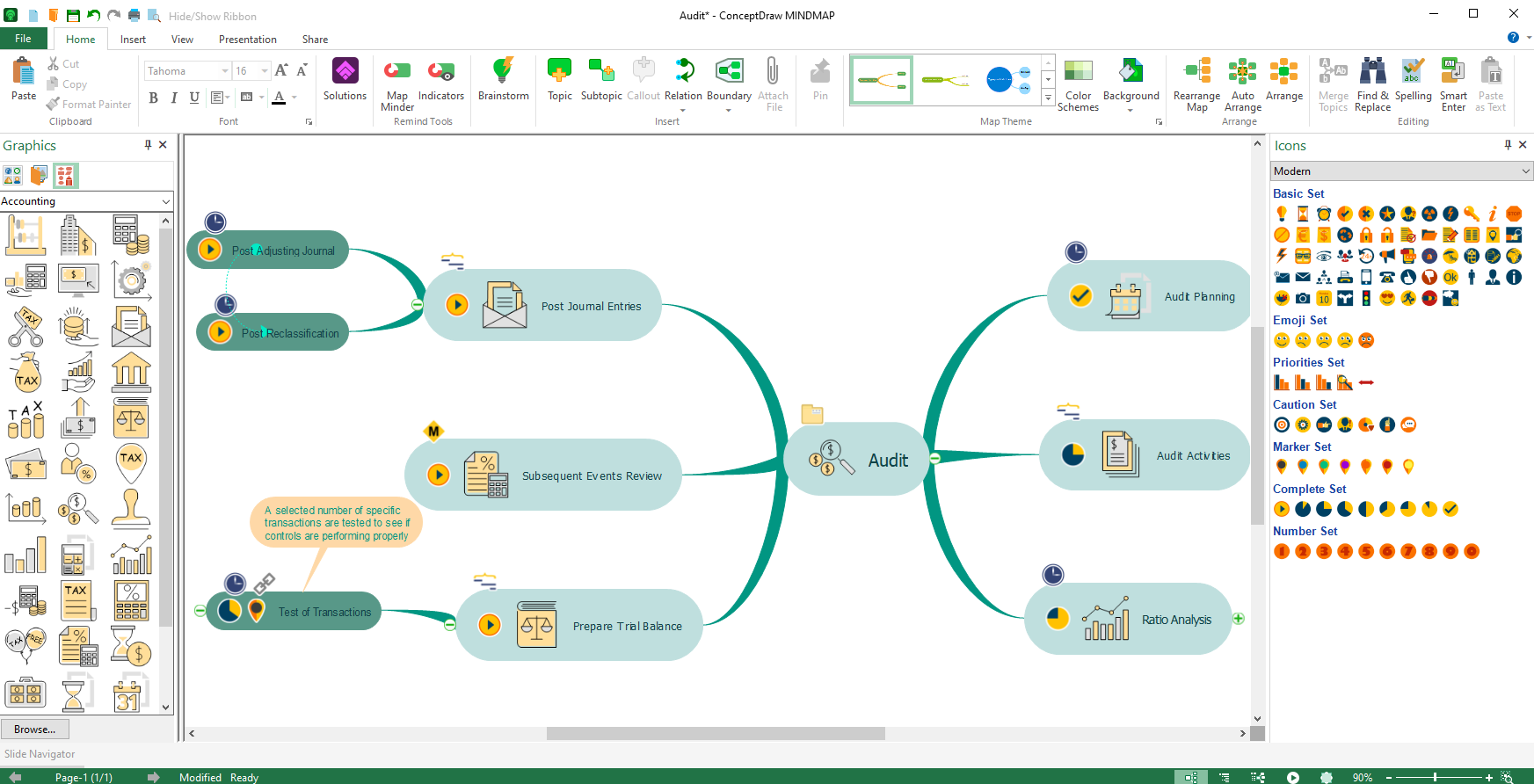 Hyperlinks and Text Notes
Hypernote is the combination of a text note with multiple hyperlinks. You can add hyperlinks to any topic, but it's really more than that. The Hypernote lets you add text to explain more about the topic and hyperlinks.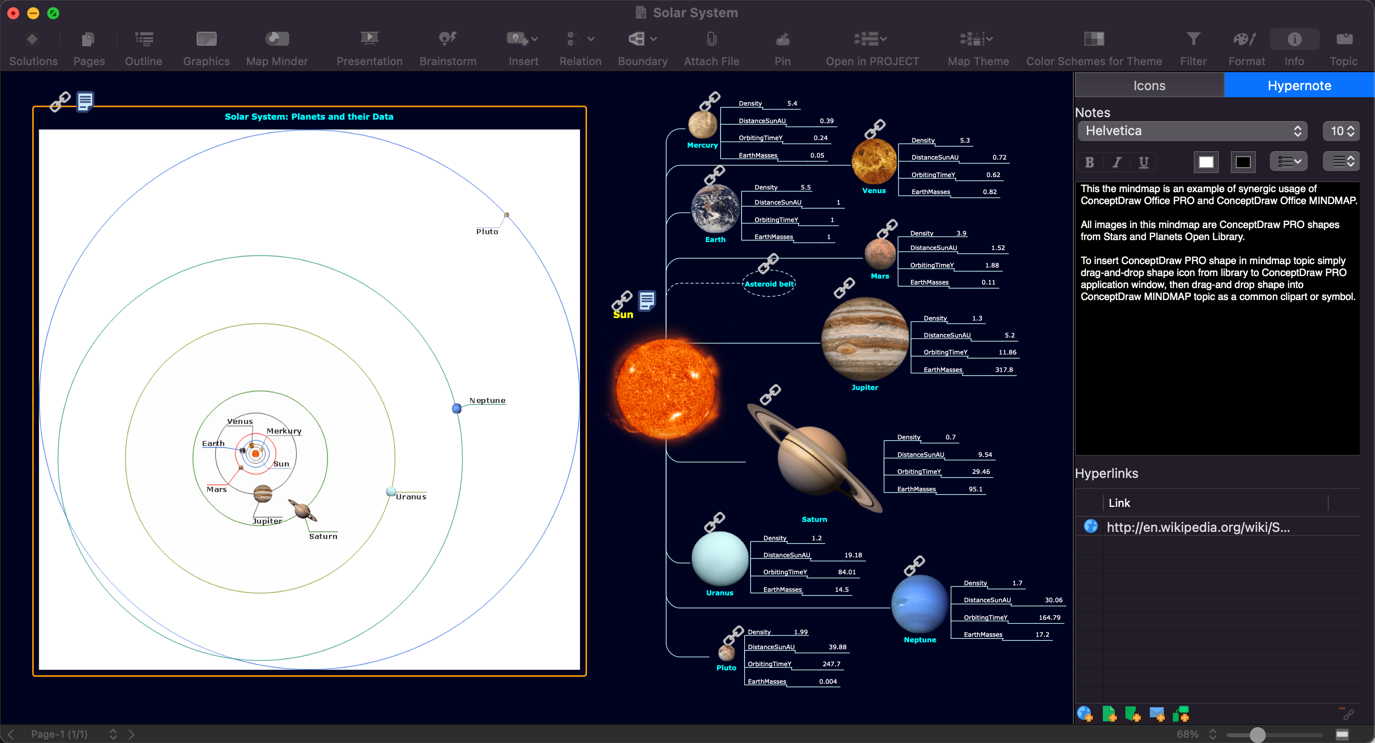 Filters
The filters functionality helps to display relevant information by temporarily removing unnecessary entries from the view. Filters can be extremely useful for analyzing project data. You can filter your mind map by topics, notes, and even symbols. ConceptDraw MINDMAP v14 provides the ability to customize the filter by topic content: icons, callouts, hyperlinks as well, as well as by the data of project tasks.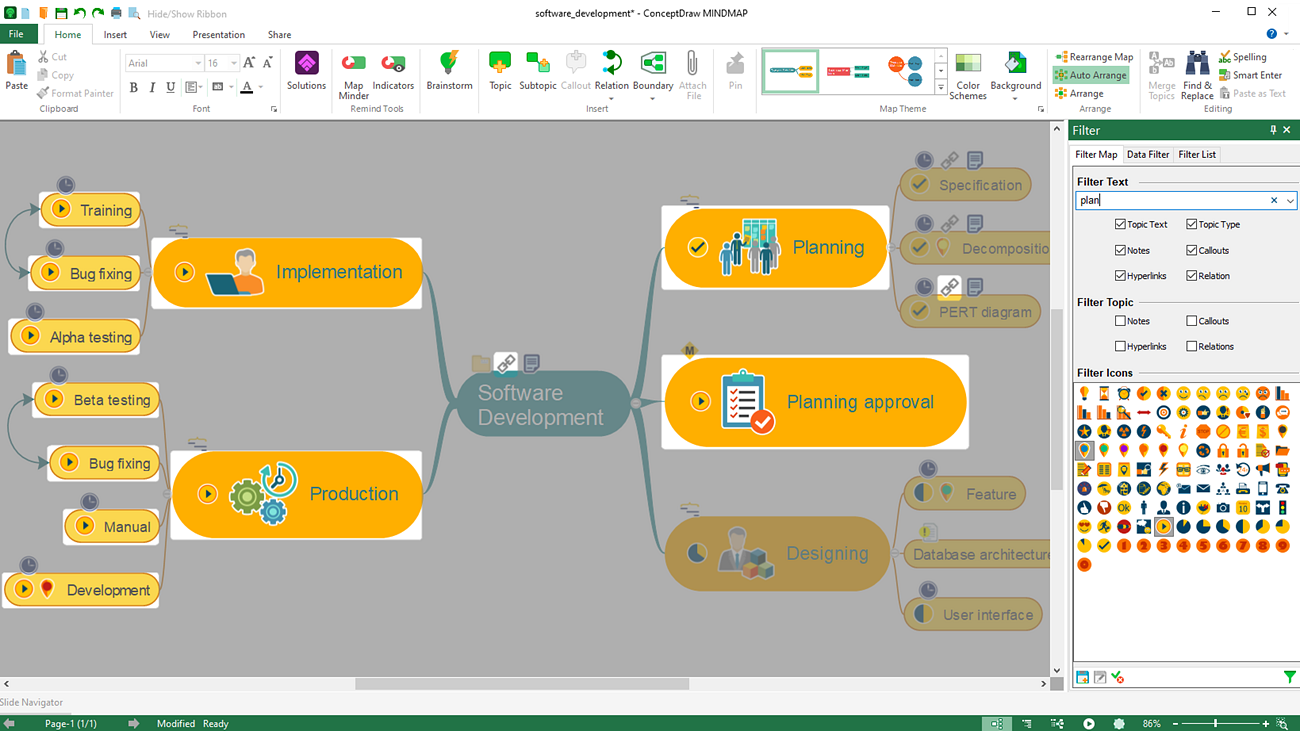 Boundaries
You can group related topics using a color boundary. Applying boundaries helps to draw the attention of the audience to a certain part of your mind map which is important if you've got a large and complex mind map. ConceptDraw MINDMAP gives you a variety of options in terms of boundary styles and colors.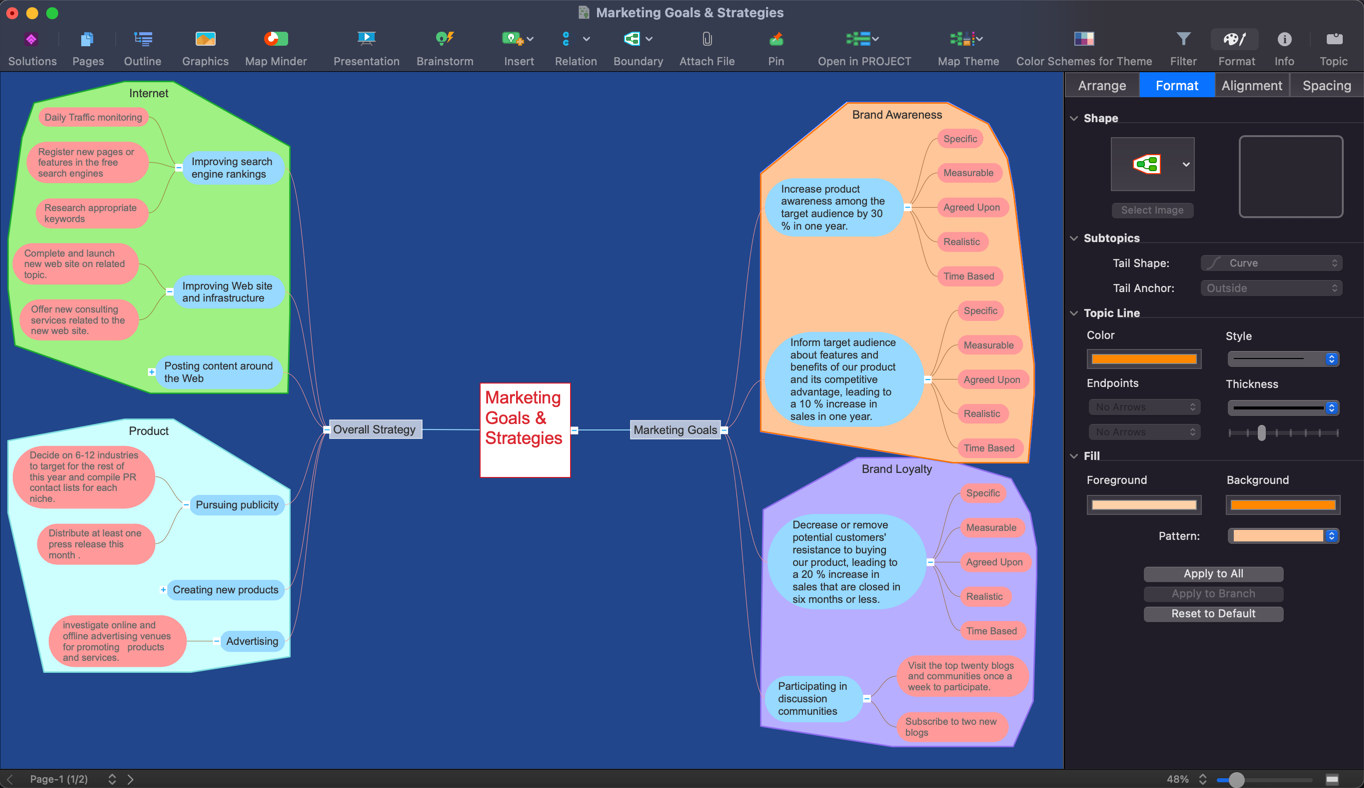 View Options
View Options buttons allow you to control the visibility of important elements of a mind map, to place different accents in your presentation. Using View Options, you can easily use one mind map instead of spending time making separate mind maps for presentation to different audiences.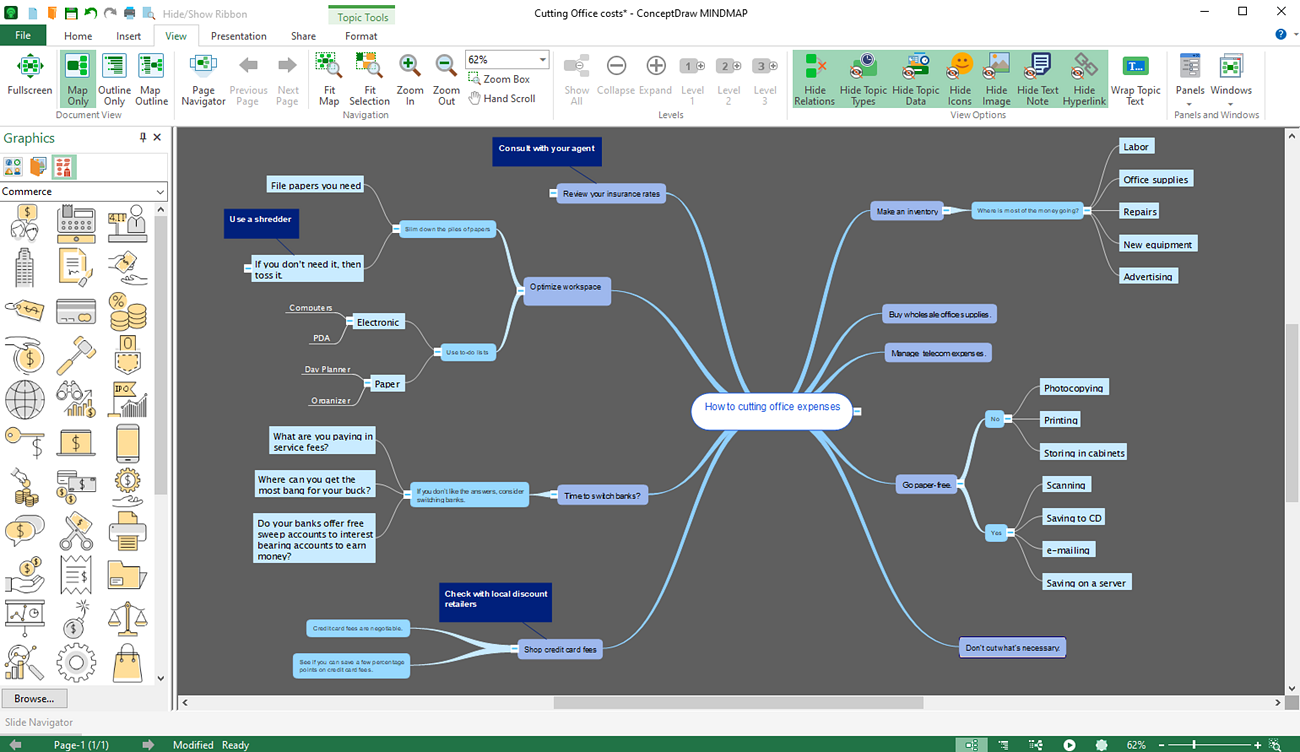 Import, Export and Communication
Copy-and-Paste Capabilities
There is a lot of functionality in ConceptDraw MINDMAP copy-and-paste capability:
Column from MS Word creates same level topics
Columns from MS Excel creates same level topics
Rows from MS Excel become parent-child relationship
Any section of map can be pasted into
ConceptDraw PROJECT  to Gantt chart
ConceptDraw MINDMAP  maps can be pasted into DIAGRAM, topics remain linked
Tasks from ConceptDraw PROJECT can be pasted into MINDMAP

Import and Export
ConceptDraw MINDMAP has the ability to import and export a number of usable formats, providing users with powerful flexibility in collaboration:
Import/Export MindManager
Import/Export MS Word
Import/Export MS Project
Import/Export MS PowerPoint
Import from MS Excel
Import from XMind
Import from FreeMind
Export map as image of BMP, JPG, GIF, TIFF and PNG format
Export to MS PowerPoint, Adobe Acrobat and Rich Text Format
Export to MP4 video
Export to HTML
Integration with Microsoft Products
ConceptDraw MINDMAP integrates with an extensive range of Microsoft products:
MS Word
MS Excel
MS Project
MS PowerPoint
MS Outlook
MS OneNote
Presentations
ConceptDraw MINDMAP provides a set of tools to quickly create a slideshow. Using ConceptDraw MINDMAP editing tools there is no faster way to build a presentation.
Default Presentation — Automatic for instant presentation
Default Presentation Edited — Manual for quick presentation preparation
Filtered Presentations use only selected criteria for presentation
Full-Screen Mode presents larger view of map information without toolbars
Mouse selected-defined presentation
Identifies key topics
Slide Navigator provides easy access to preview, organize, and export options
Export presentation to MS PowerPoint slideshow
Export presentation to MP4 video slideshow and instantly upload it to YouTube