Baseball Diagram – Basic Bunt Coverage – Runner at 1st
"It's less common for a team to sacrifice with only a runner on first base, but you will see it occasionally (especially with a weak hitter at the plate). In this scenario, the offense is trying to move the runner into scoring position, and the batter will most likely try to bunt towards first base. The first baseman holds the runner at first base so he cannot extend his lead; this allows for the possibility (however slim) of making a force play at second base." [iSport Baseball]
ConceptDraw DIAGRAM software extended with the Baseball solution delivers samples with diagrams of the most popular plays in baseball. You can complete this set modifying any sample. All you need is to drag and drop objects to depict another play and then save with the different name. Feel free to add text label with the play name directly to your document.
A combination of the "Baseball Fields" and "Baseball Positions" libraries gives you an ability to create a baseball-related drawing in seconds. Follow next steps to create you own baseball schema:
From the "Baseball Fields" library drop a field object to your document
From the "Baseball Positions" library drop all positions object you need to your document
Place positions on the field according to your drawing idea
Add arrows or text labels if needed.
All drawings, schemas and diagrams created in ConceptDraw DIAGRAM are scalable vector graphics that allows use it for any kind of presentation needs. As a perfect tool for explaining baseball rules and strategies you can present using two displays. The first display is for moving objects, the second one is full-screen presentation. This trick strengthens you explanation with dynamic visual range.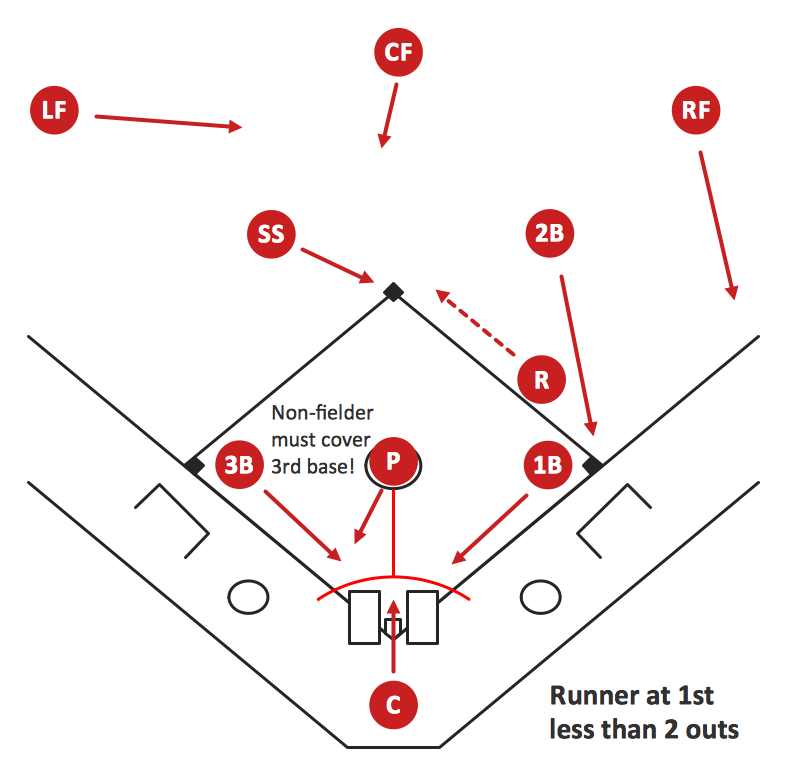 Sample 1. Baseball Diagram – Basic Bunt Coverage – Runner at 1st.
This diagram was created in ConceptDraw DIAGRAM using the "Baseball Positions" library from the Baseball solution. An experienced user spent 10 minutes creating this sample.
The sample you see on this page was created in ConceptDraw DIAGRAM using the Baseball Solution; it demonstrates a portion of the solution's capabilities and the professional results you can achieve.
All source documents are vector graphic documents. They are available for reviewing, modifying, or converting to a variety of formats (PDF file, MS PowerPoint, MS Visio, and many other graphic formats) from the ConceptDraw STORE. The Baseball Solution is available for all ConceptDraw DIAGRAM or later users.
TEN RELATED HOW TO's: