Think. Act. Accomplish.
We hope it is apparent to you by now that accomplishing your goals can be made easier by the benefits to be derived from productivity thinking technique based on mind maps. ConceptDraw MINDMAP is ready to provide you with mind mapping tool which can serve as comprehensive productivity tool for your business.
ConceptDraw MINDMAP Business -packs
Brainstorming


Brainstorming is a simple yet effective method for generating new ideas and solving problems, which should not be overlooked. Mind mapping software such as ConceptDraw MINDMAP has a number of advantages over the traditional methods for recording ideas. In the result of brainstorming session you will get a mind map, which can be open on both Macintosh or Windows platforms.

Read more...



---



Project Management


The visual display of information provides for quick and easy collecting, structuring and distributing number of various data, various resources. It makes applying of mind mapping technique in projects extremely useful for managing. ConceptDraw MINDMAP is the mind mapping software specialized for teamwork with Project management tools.

Read more...



---



Decision Making


We all come up against the need to make decisions in every area of life - starting in business and finishing with daily problems. We all know how difficult it is to make the correct decision and sometimes how difficult it is to foresee the consequences of this or that action. A mind map is an effective tool for analytical thinking, as it displays information in a visual form allowing us to use the resources of our brain more fully, and promotes the development of creative thinking.

Read more...



---



Problem Solving


Try to increase the efficiency of your approach to the solution of problems by using creative thinking. If you are thinking creatively, at each stage of a problem it is possible to reach a set of various solutions. The main thing is always to be ready to make use of new opportunities. These are the advantages which come with the use of mind mapping tool such as ConceptDraw MINDMAP

Read more...



---



Event Planning


Events that need to be organized in life can come in many forms: business presentations for new products or services, exhibitions and corporate parties, etc. Here is some advice which can be useful when planning any event.Mind mapping technique released by mind mapping software ConceptDraw MINDMAP can help you successfully plan for a whole range of diverse events.

Read more...



---



Time& information Management


Most of us share the same problem - how to find a simple way to store and manage the information upon which business is based. It's true to say that dealing with a large amount of information has for a long time been a regular part of most people's daily lives. Mind map is just the same thing that will help you to cope with it in the best way.

Read more...



---



Meeting Management


How to conduct a meeting so that it is productive and effective, instead of wasting everybody's time? Use ConceptDraw MINDMAP - the advanced mind mapping tool at all stages of conducting a meeting from preparation up to controlling the carrying out of proposals.

Read more...



---



Daily Planning


One of the main questions in life is how to do a large amount of things in the shortest possible time. Use mind map to apply the technique of time management to increase personal efficiency by the sensible use of time.

Read more...



---



Presentation Preparing


Have to present some information to an audience? How can you get a top class presentation ready quickly, as well as achieve the maximum desired results from it? The use of ConceptDraw MINDMAP, for preparing and giving presentations is something we think you should know about. Due to cross platform compatibility you can easily export your mind maps for presentation using other software on both Mac and Windows platforms.

Read more...



---



SWOT analysis


The use of mind mapping techniques for carrying out a mind maps for SWOT-analysis, realized with the help of ConceptDraw MINDMAP will help you to structure the available information for your company, a product in the market, as well as take a fresh look at your current situation and developing prospects.

Read more...



---



Theory of constraint (TOC) application


The methods offered by the theory of constraints (TOC Thinking Processes) for solving management problems can be successfully applied to various business systems, including Manufacture, Distribution, Supply chains and Marketing. Visualization of business process is a starting point for the application of TOC methods.

The visual display business process is a starting point for the application of TOC methods. Mind map created with ConceptDraw MINDMAP are an ideal solution for the visual representation of all parts of a circuit of your process.

Read more...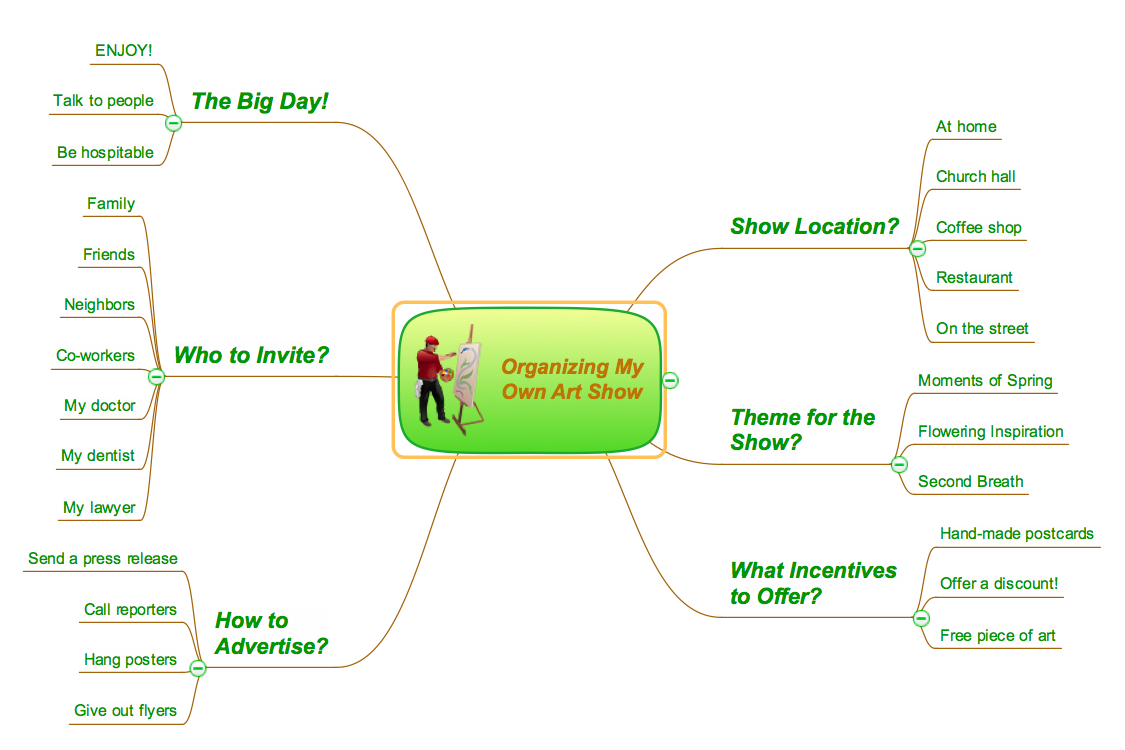 NINE RELATED HOW TO's: