How To Draw Building Plans
Buying land you wonder how to use its space properly. Making your own building plan of where to have garden and where to build your house as well as what to have on each floor, use special software to design your housing in a way you want it to look like with not much effort and not much time. Discovering ConceptDraw DIAGRAM you'll do it quickly with help of existing 49 libraries of over 1500 pre-designed stencils. This software was conceived especially for purpose of helping those who need to make home or garden area looks simply great in very short terms. Feel as confident as specialist making your own plan not being professional in it at all!
Find the easiest way to create your space plan, landscape design, secure parking or sport playing areas in tutorials and make sure you can do it well with help of nothing else but this software!
Building Plans are a set of scaled drawings, which show a view from above, the relationships between rooms, spaces and other physical features at one level of a structure. Usually plans are drawn or printed on paper, but they can take the form of a digital file.
Examples of building commercial plans, engineering networks and layouts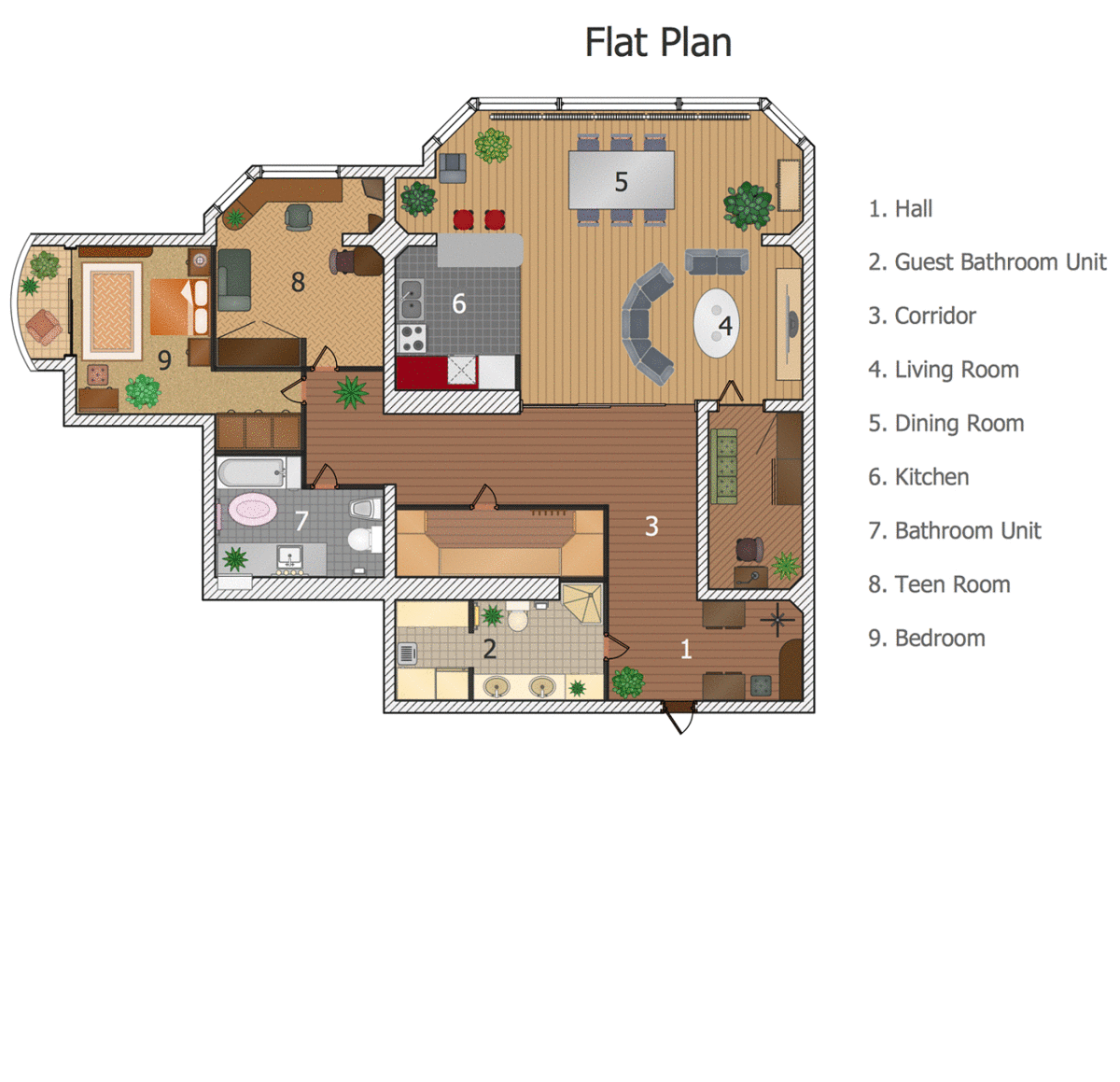 ConceptDraw as a powerfull Building Plan Software has numerous examples of:
Storage building plans
Expo and Shopping Mall building plans
School and Training building plans
Cafe or Restaurant plans
Landscape & Garden plans
Gym and Spa Area plans
Sport Field plans
Electric and Telecom building plans
Fire and Emergency plans
HVAC plans
Security and Access plans
Plumbing and Piping plans
Office Layouts
Plant Layouts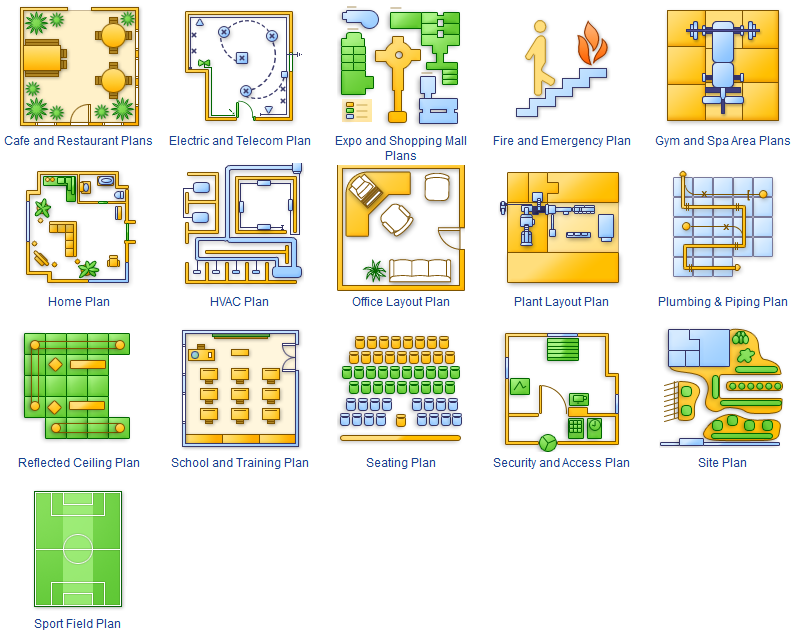 You can create quick and easy custom Building Plan with the 49 libraries of more than 1500 pre-designed stencils. There is set of special objects that displays the sizes, corners, squares and other technical details using the current measurements of units.
How To Draw Building Plans
You can use ConceptDraw DIAGRAM to produce layouts of real estate properties. You can easily determine the size of the rooms & distances in you drawing. The ability to create a floor plan is delivered by the Floor Plans solution. Open ConceptDraw STORE, check the Floor Plans solution and click "Install".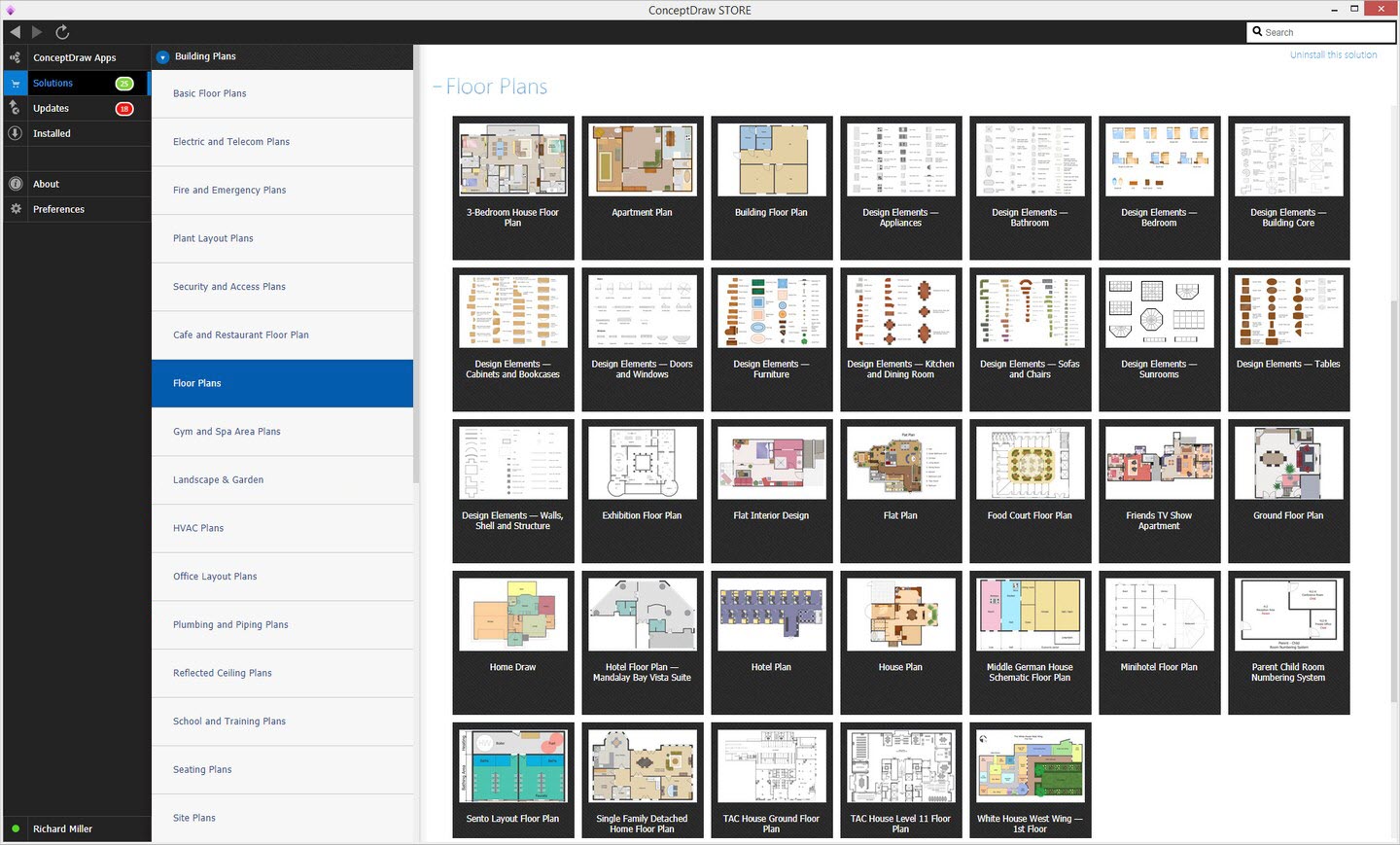 To use these objects, you will need to:
Set the measurement units for your document by clicking on the intersection of the vertical and horizontal rulers.
Create your drawing.
Open the libraries catalog using Ctrl+Shift+O (Windows) or Cmd+Shift+O (Macintosh). Go to the "Floor Plans" folder and then open the "Dimensioning" library.
Select a dimension and insert it into the document by double clicking.
Move the dimension object to connect its lines with a connecting point of the layout object.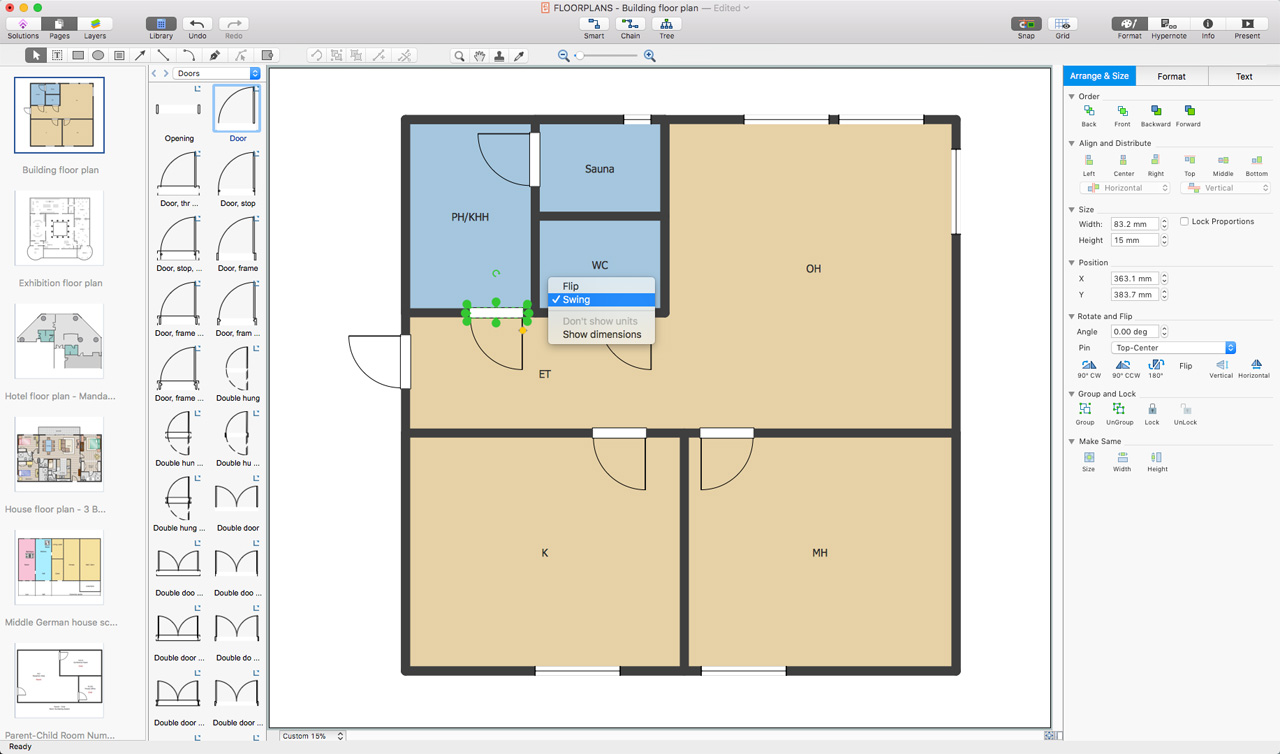 Result: This article is helpful for those, who use ConceptDraw DIAGRAM to create or modify floor plans or their related elements.
Building Plan Software and some examples of building plan layouts:
ConceptDraw building plan software works across any platform, meaning you never have to worry about compatibility again. ConceptDraw DIAGRAM allows you to make building plans on PC or macOS operating systems.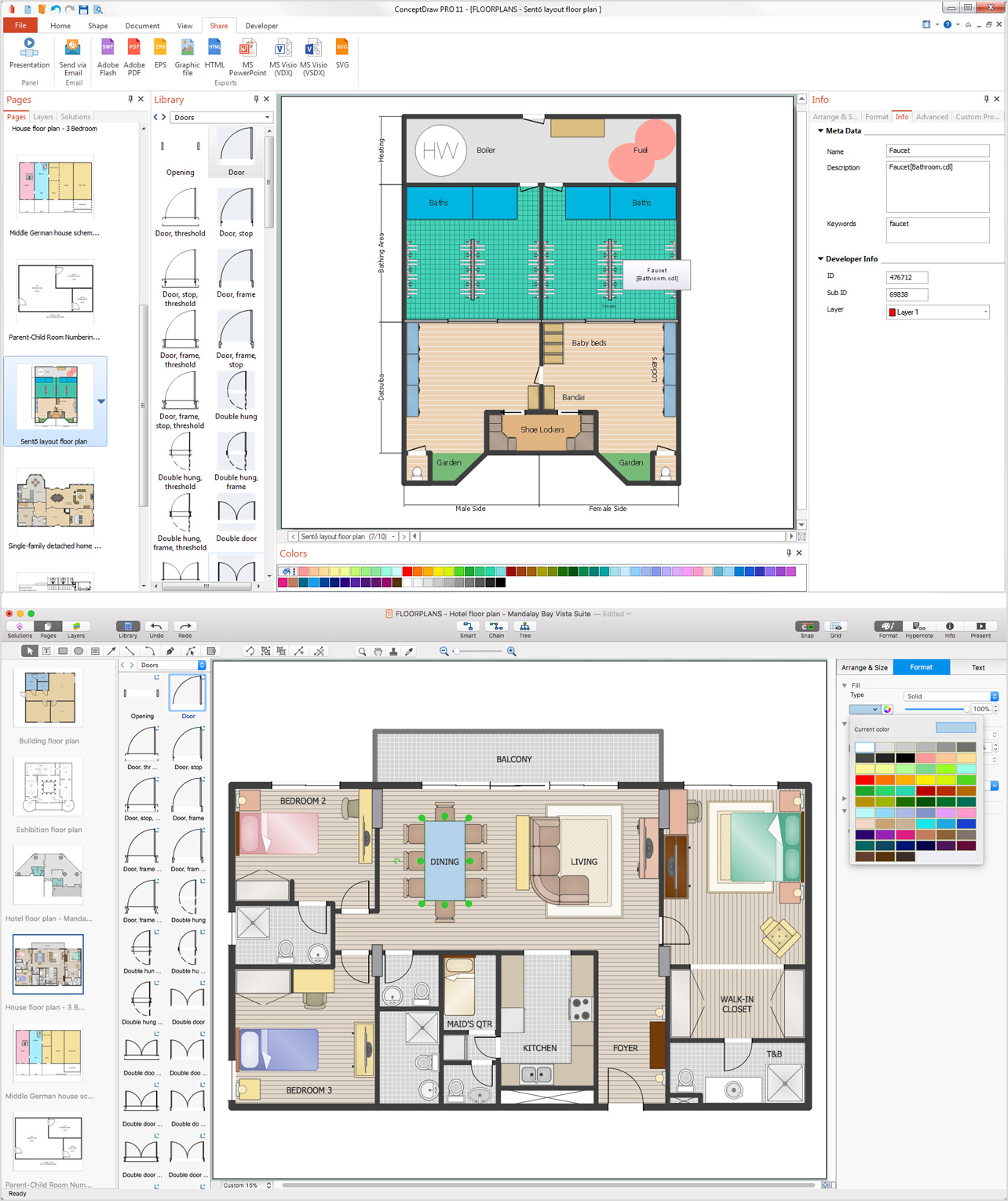 Pic.1. Building Plan Software (Macintosh, Windows)
You can see the layout of the rooms. The rooms are denoted by names, living and non-living spaces are visually marked by color.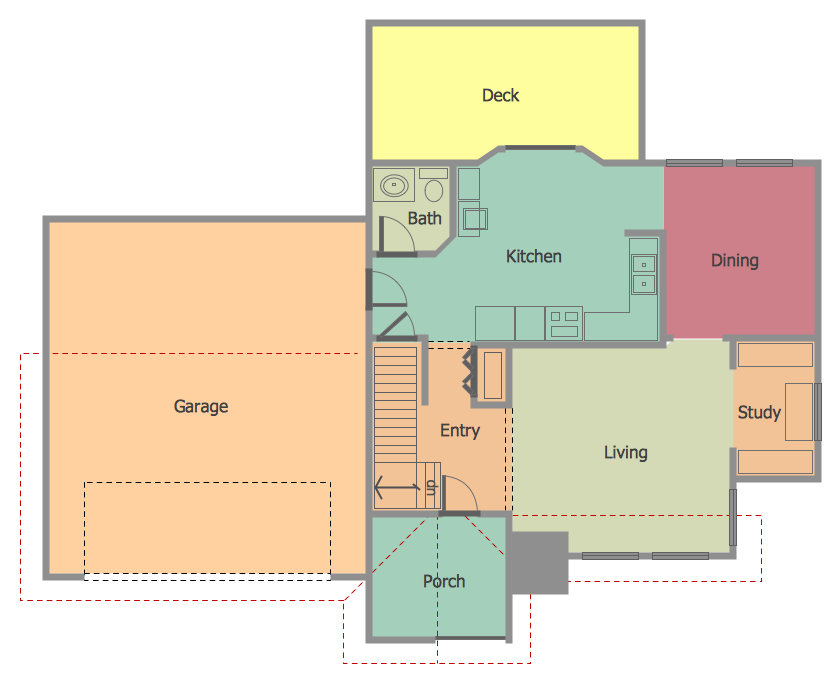 Pic.2. Home Plan
This image shows how to design a garden on a larger scale. Plan the planting of trees and flowers, the positioning of pools and ponds; using the extensive solution libraries, it's even possible to arrange garden furniture and sports facilities.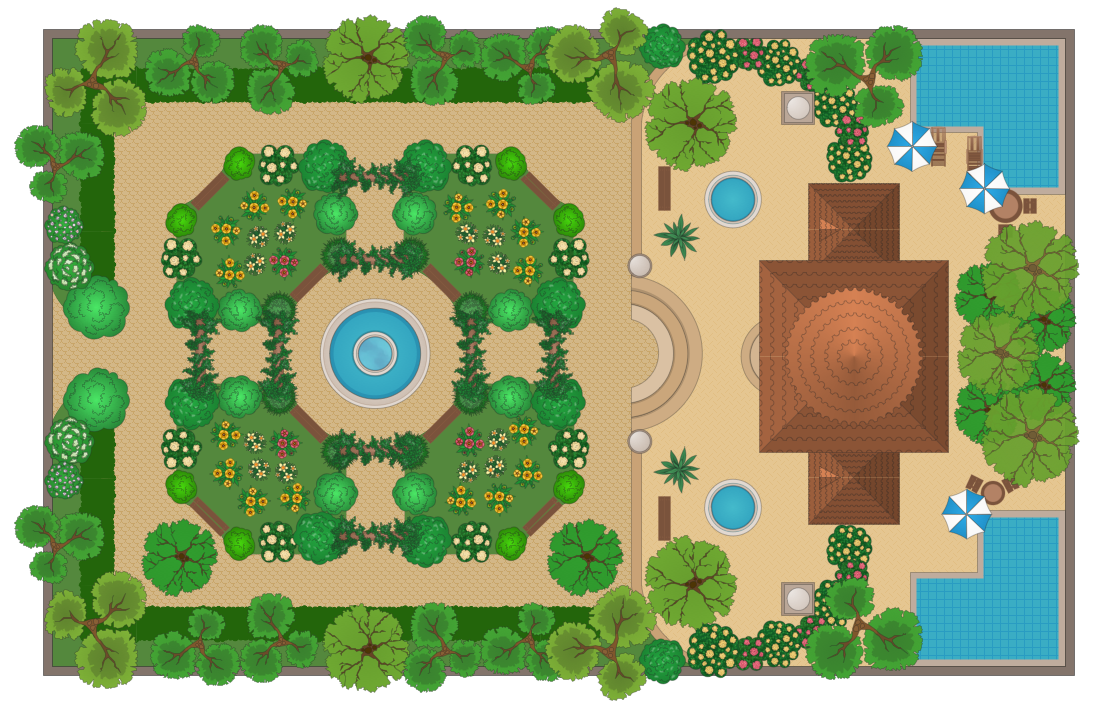 Pic.3. Landscape Design
Planning an office space is an important part of common office planning. With ConceptDraw DIAGRAM you can simply realize various designs that implement the best office ideas and office concepts.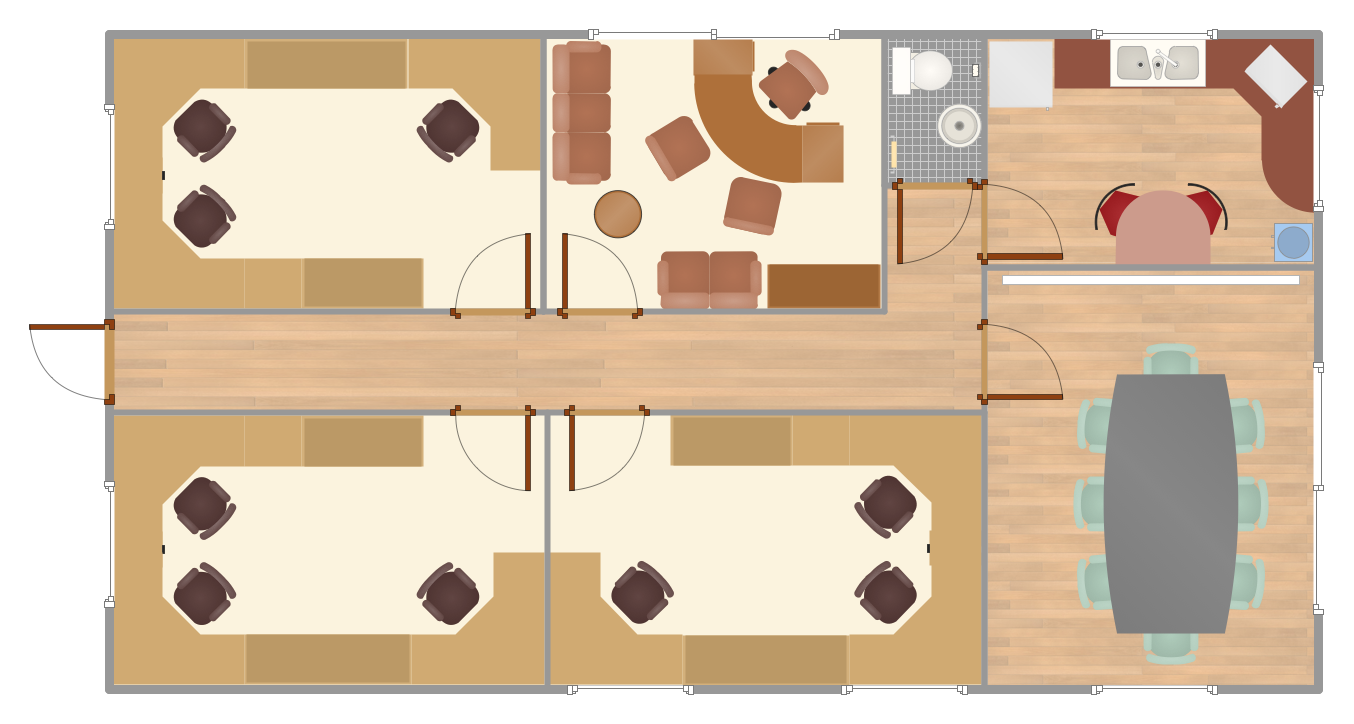 Pic.4. Space Plan
This sample shows the site plan of a security parking lot. ConceptDraw DIAGRAM contains a large number of predesigned objects and allows you easy create site plans with any level of detail. You can display even such details as manholes, dumpsters, fire hydrants, etc.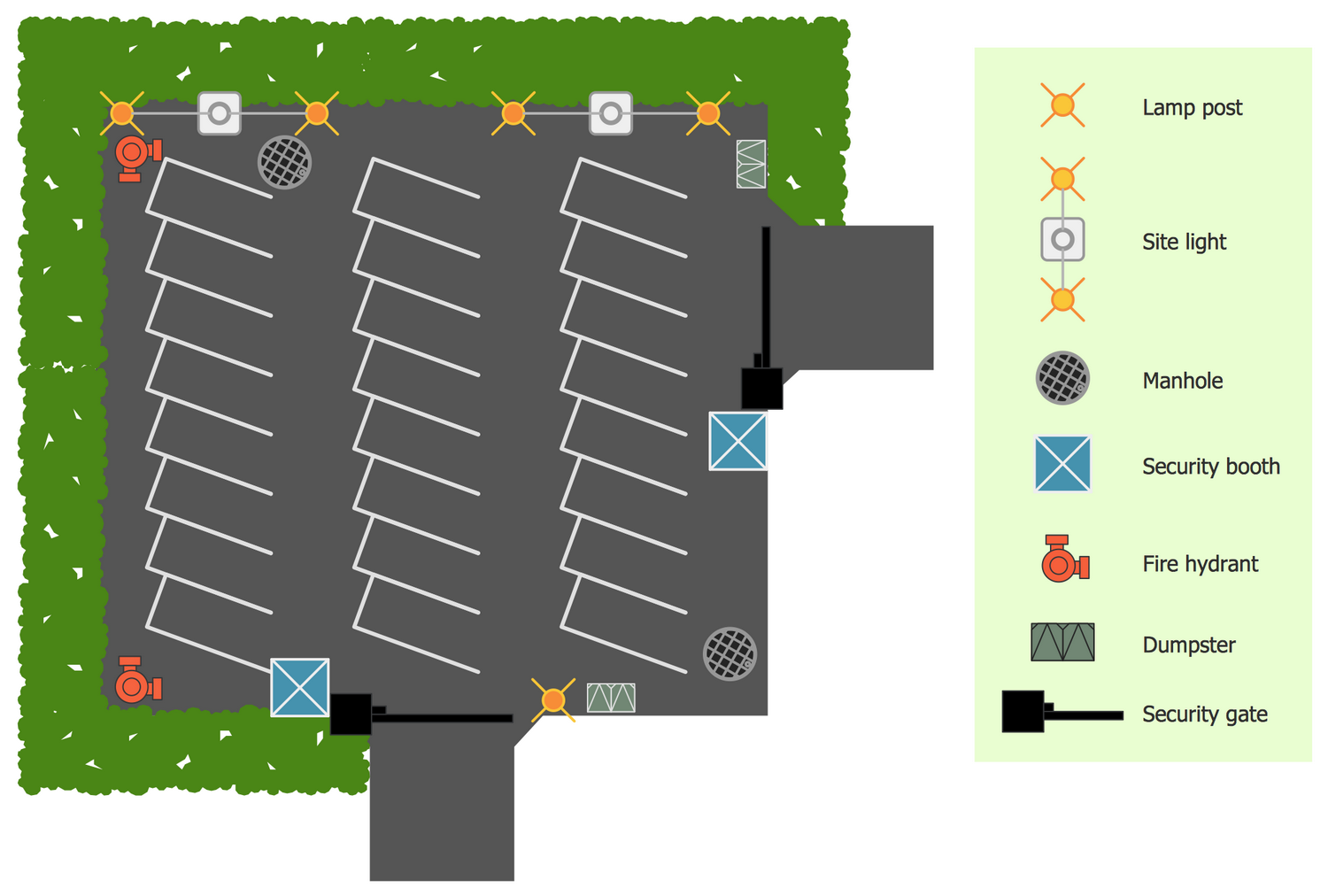 Pic.5. Secure Parking
You want to design a bright, visual, attractive and understandable plumbing or piping plan? Nothing could be easier with ConceptDraw DIAGRAM software with the Plumbing and Piping Plans Solution for ConceptDraw Solution Park.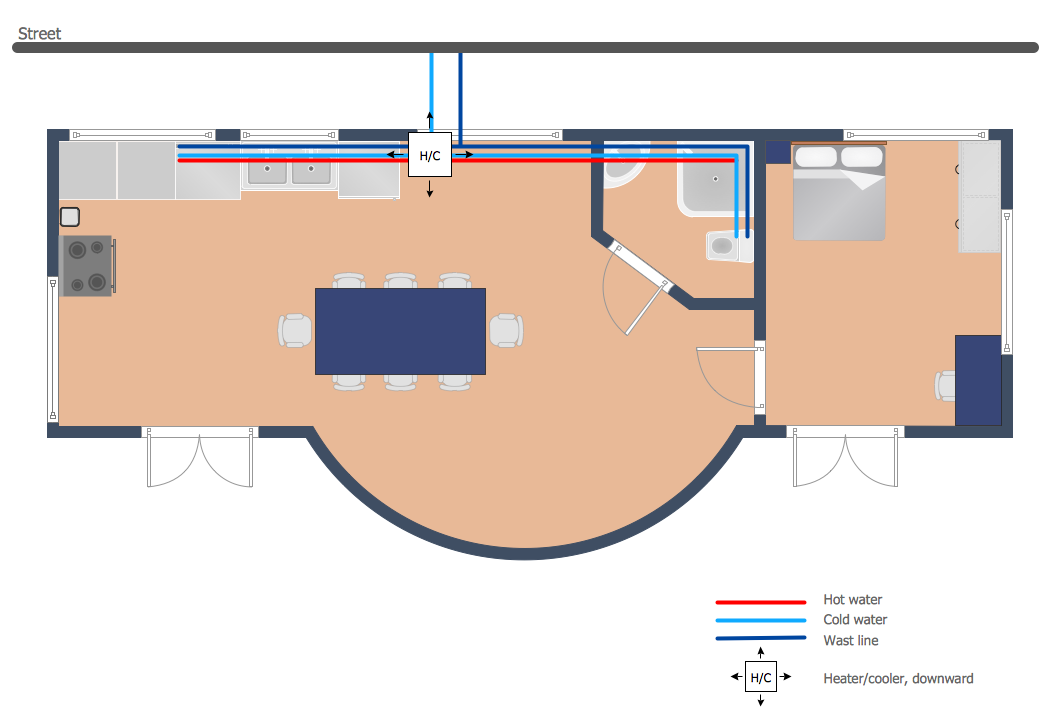 Pic.6. Plumb Plan
This sample shows the different sport playing areas and allows to compare their size ratios. It's very useful when you plan the building of the sport complex, sport school.
Pic.7. Sport Playing Areas
The samples you see on this page were created in ConceptDraw DIAGRAM diagramming software enhanced with Building Plans Area from ConceptDraw Solution Park.
The following features make ConceptDraw DIAGRAM the best Building Plans software:
You don't need to be an artist to draw professional looking diagrams in a few minutes.
Large quantity of ready-to-use vector objects makes your drawing diagrams quick and easy.
Great number of predesigned templates and samples give you the good start for your own diagrams.
ConceptDraw DIAGRAM provides you the possibility to use the grid, rules and guides. You can easily rotate, group, align, arrange the objects, use different fonts and colors to make your diagram exceptionally looking.
All ConceptDraw DIAGRAM documents are vector graphic files and are available for reviewing, modifying, and converting to a variety of formats: image, HTML, PDF file, MS PowerPoint Presentation, Adobe Flash, MS Visio.
Using ConceptDraw STORE you can navigate through ConceptDraw Solution Park, managing downloads and updates. You can access libraries, templates and samples directly from the ConceptDraw STORE.
If you have any questions, our free of charge support is always ready to come to your aid.
EIGHT RELATED HOW TO's: