How to do presentation of Mind Maps via Skype conference call?
Collaboration in active Skype call:
Do Skype conference call
Share presentation via Skype using solution Remote Presentation for SKYPE
Keep presentation file synchronized between participants of Skype call
ConceptDraw MINDMAP features:
Start presentation for active call participants
With no interuption to call, edit mindmap and do slide show again
Advanced features:
Import mindmaps created with other mindmaping software: FreeMind, MindJet Mindmanager, XMind. Use solution MindMap Exchange
Import MS Word documents using solution: Word Exchange
Import MS PowerPoint documents using solution: Presentation Exchange
Copy-Paste diagrams created with ConceptDraw DIAGRAM into ConceptDraw Mindmap
Layout mindmap diagrams between multi-pages and slides
Prepare graphics to presentation via Skype by using multi-page mindmaps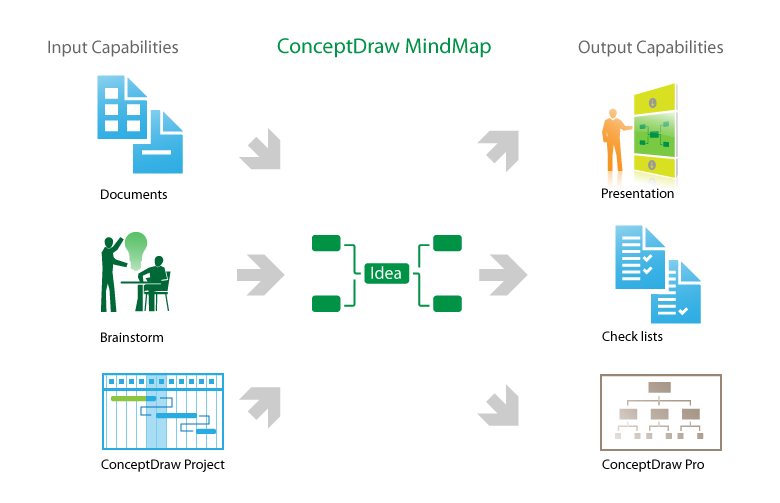 ---
See also:
One formula of professional mind mapping.
How to use input and output features to prepare data for presentation:
Video lessons for professional mindmapping
Sample-1. Project Status report as mindmap presentation via Skype
Sample-2. Solar System presentation via Skype, mindmap and data
How to make great presentation via Skype?
...how it works with ConceptDraw MINDMAP ?
---
See also Samples of mind maps:
Mind Maps
Mind Maps — Marketing
Mind Maps — Idea Communication
Mind Maps — Mind Map Exchange
Mind Maps — Presentation Exchange
TEN RELATED HOW TO's: