Sales Process Flowchart Symbols
The Sales Process
For most commercial organizations, the sales process is inherent to its existence and ability to create profit. Although each company will achieve this aim in its own way, the core selling process remains similar throughout — a potential buyer or prospective customer exchanges money with an organization in return for goods or services. Despite this rather simplistic definition, there exists huge scope as to which approach is taken. Indeed, it is not uncommon for the sales division to be the largest within a corporate structure, employing a team of salespeople, analysts, and the sales managers, who are in charge of sales division operations.
Sales operations is an umbrella term for all the processes and business activities that a key to running a sales division. The sales operation team is responsible for its smooth and efficient running, and to act as a liaison between other parts of company structure, such as IT, Legal, HR, Finance, or Marketing. There is a continual focus on sales process engineering, which is the analysis and refinement of a sales process in order to increase its efficiency or to identify problems within the workflow; other benefits might include the ability to standardize customer response into the form of a process, or as a platform to conduct buyer and seller risk management. A sales process itself is defined by strategy, sales targets, quotas, forecasting and demand; some theories also ascribe to a generic framework to build your process around — Rich, Spiro and Stanton identify 8 steps that make up a sales process in Management of a Sales Force (12th Ed. p. 66). They are as follows:
Prospecting/initial contact
Pre-approach — planning the sale
Identifying and cross questioning
Need assessment
Presentation
Meeting objections
Gaining commitment
Follow-up
The ideal method with which to represent these step-by-step processes is through the flowchart medium. Using flowchart symbols create the color-code for your sales objects to convey things like who's responsible, critical resource for process flow, risk levels or milestone critical decisions, etc.
Example 1. Sales Process Flowchart — Hunting and Fishing License
The most easier way of creating the visually engaging and informative Sales Process Flowcharts is to create the new ConceptDraw document and to use the predesigned vector symbols offered in 6 libraries of the Sales Flowcharts Solution:
Sales Flowchart
Sales Workflows
Sales Arrows
Sales Department
Sales Steps
Sales Symbols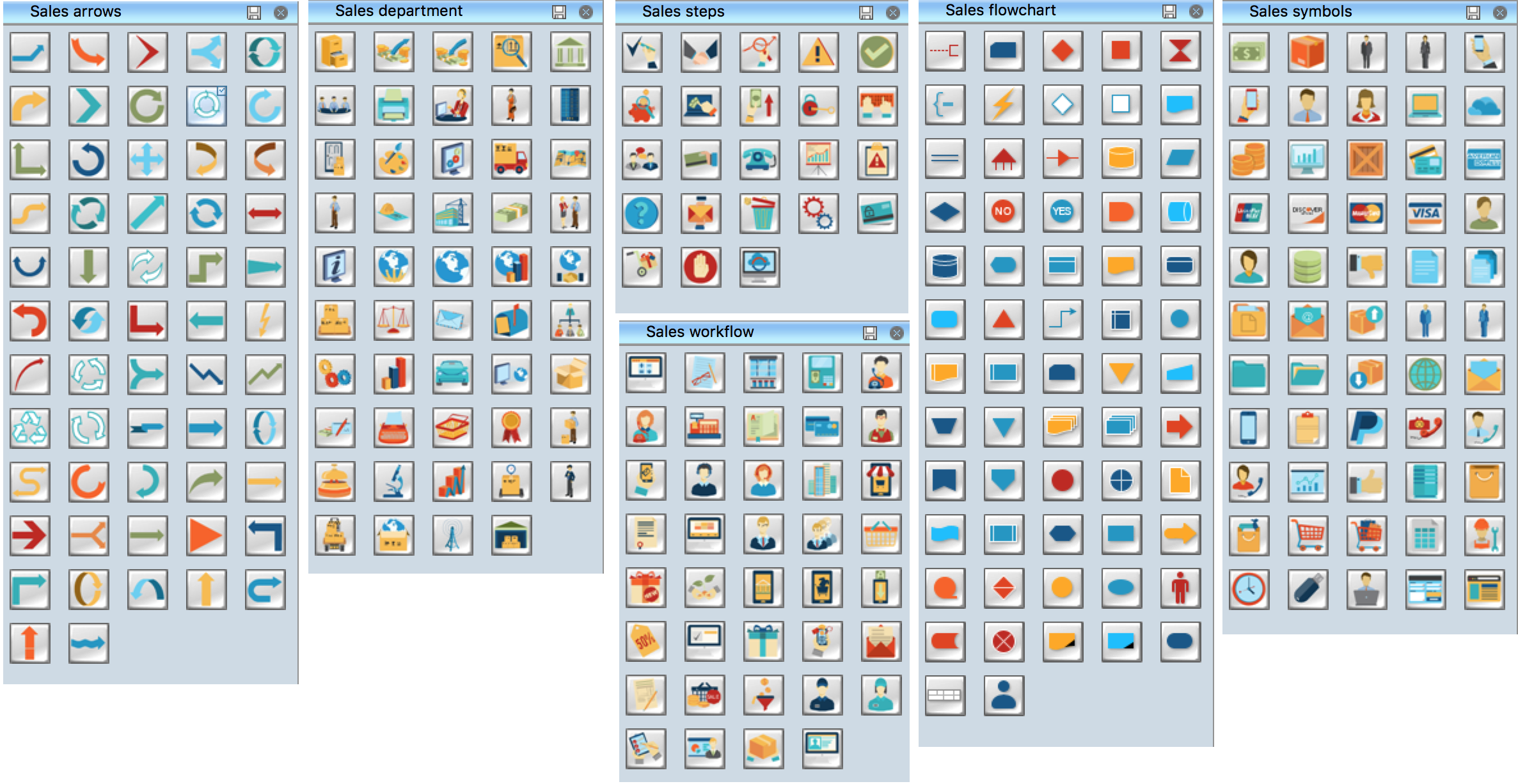 Example 2. Sales Process Flowchart Symbols
These libraries are the real godsend, because now you don't need to be an artist for drawing professional looking and attractive Sales Process Flowcharts.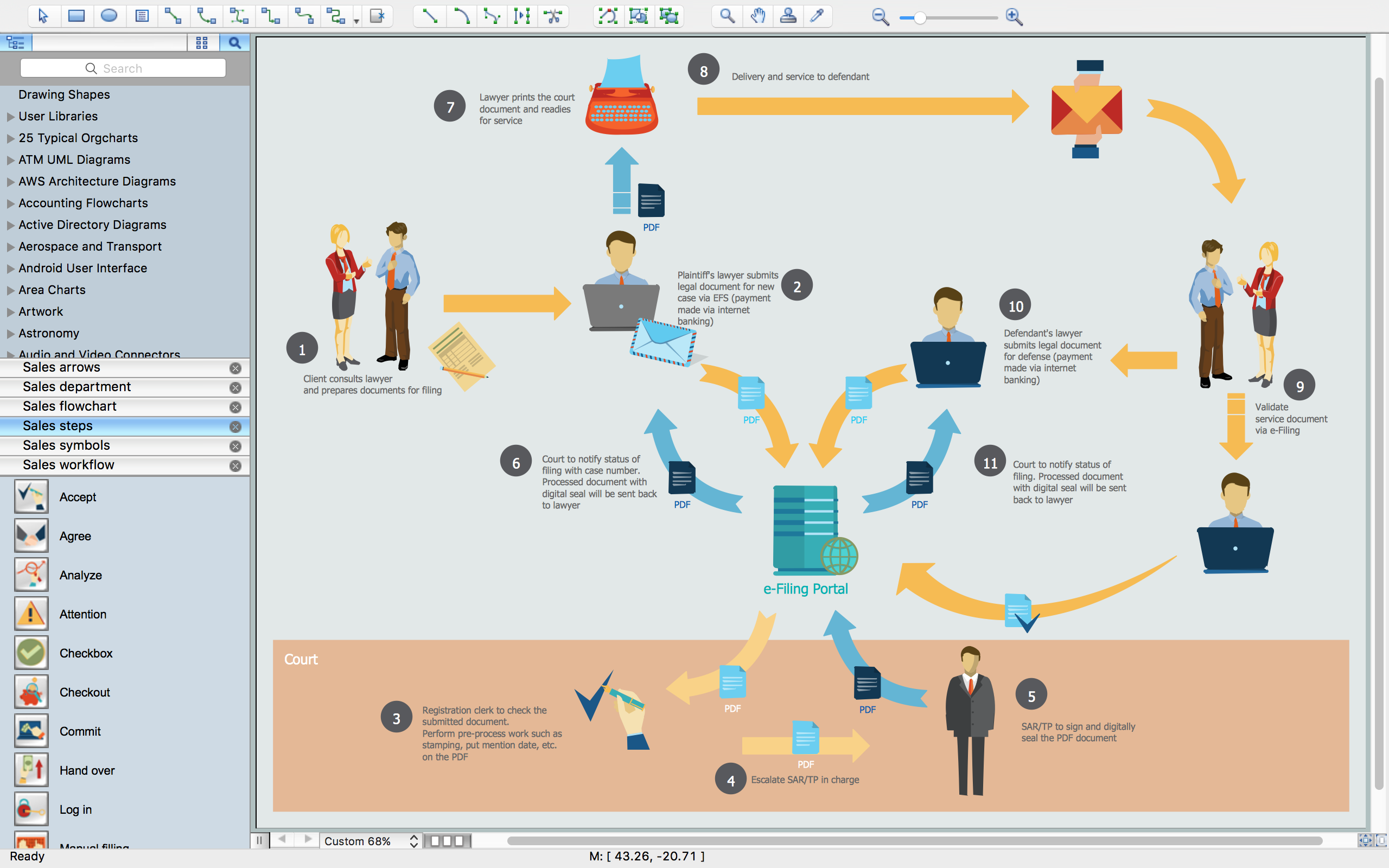 Example 3. Sales Process Flowchart Software
This diagram was created in ConceptDraw DIAGRAM using the Sales Arrows and Sales Symbols libraries from the Sales Flowcharts solution. These samples successfully demonstrate solution's capabilities and professional results you can achieve. An experienced user spent 10-15 minutes creating each of them.
The Sales Flowcharts solution is a great tool for anyone involved in sales process management. A user can show a workflow at multiple hierarchical levels across and entire business, on a single diagram, thanks to the wide array of graphics and templates at their disposal.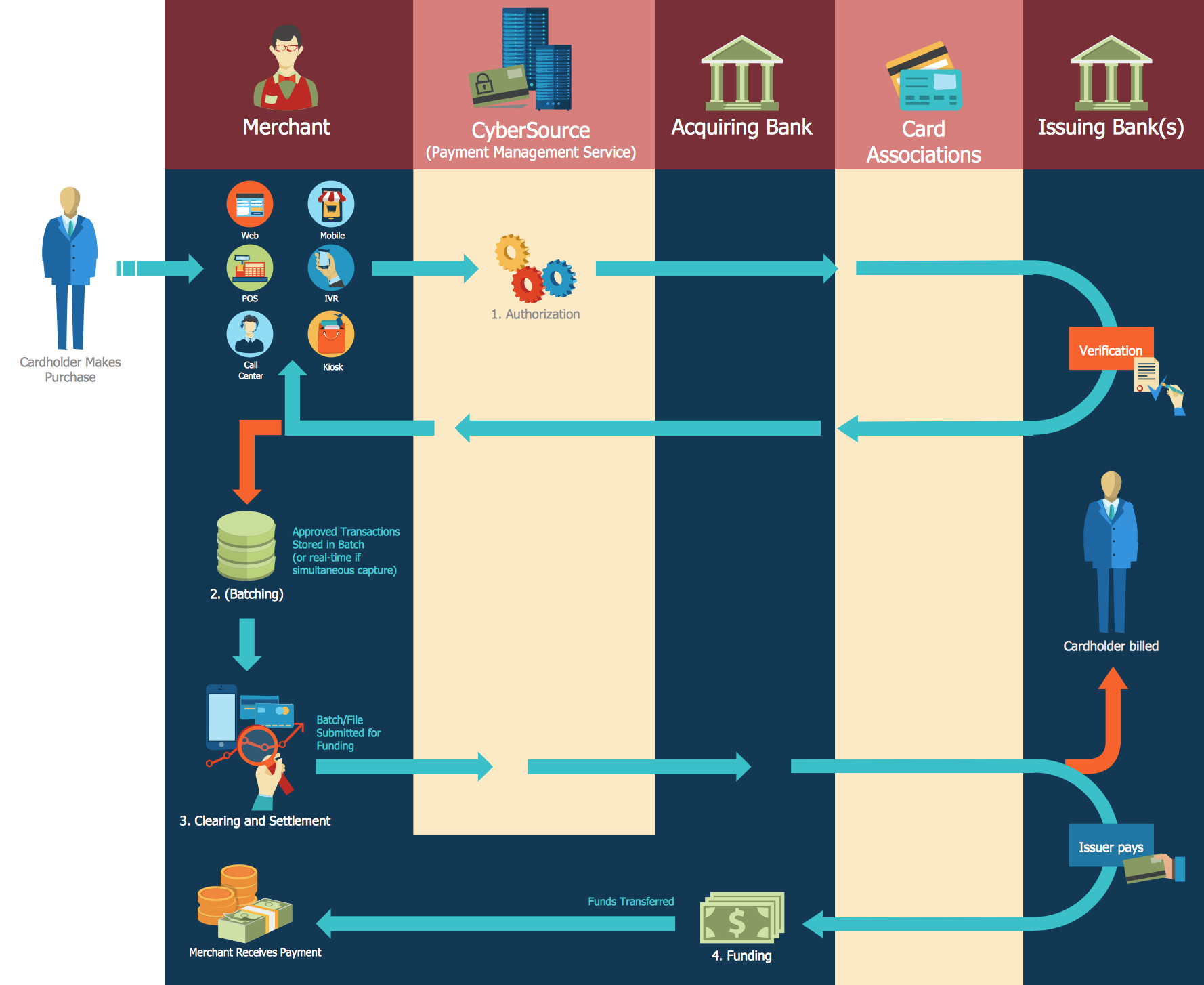 Example 4. Sales Process Flowchart — Global Payment Solutions
All source documents are vector graphic documents. They are available for reviewing, modifying, or converting to a variety of formats (PDF file, MS PowerPoint, MS Visio, and many other graphic formats) from the ConceptDraw STORE. The Sales Flowcharts Solution is available for all ConceptDraw DIAGRAM
TEN RELATED HOW TO's: