Basic Network Diagram
How To Draw Basic Network Diagram
ConceptDraw has 10+ templates and 30+ examples of the basic network diagrams for drawing:
10Base-T Star Network Topology
Bus Topology Diagram
Common Network Diagram
Common Network Topologies
Communication Network
Regional Cable Head-End Diagram
System Design
Customize your
Basic Network Diagram
with more than
2 000 pre-designed network elements
. Computer & Networks solution allows you design simple LAN and WAN, cross-over cable wiring diagram and rack diagrams.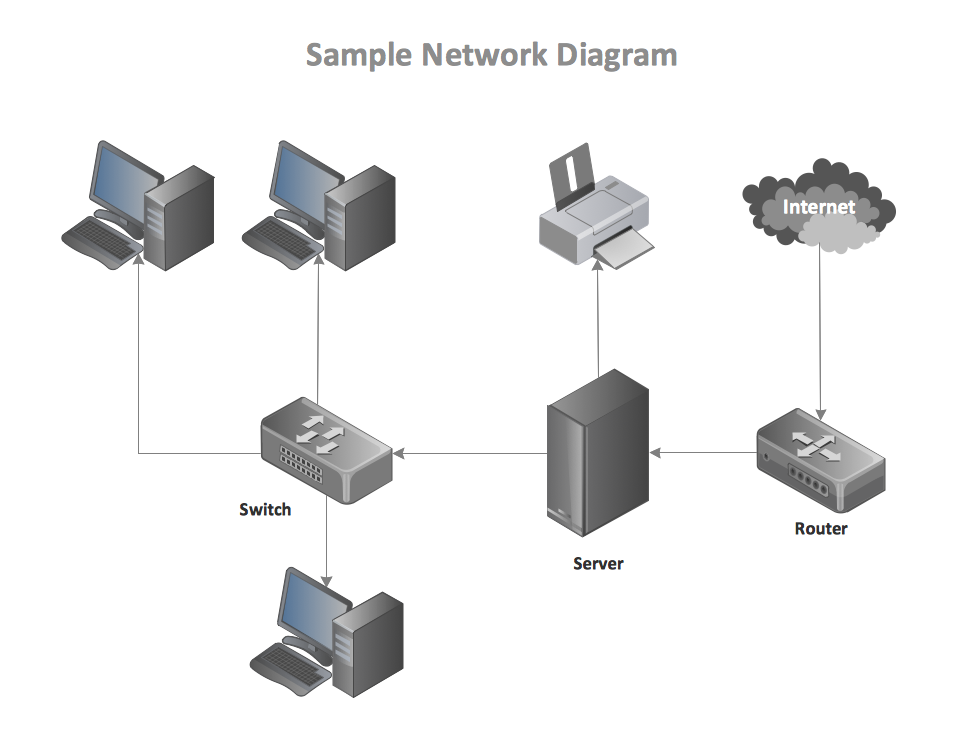 This basic network diagram sample is created using ConceptDraw DIAGRAM diagramming and vector drawing software enhanced with Computer & Networks solution from ConceptDraw Solution Park.
Computer & Networks solution provides libraries of symbols for network components and points, LAN and WAN, schematic and wiring drawings.
Use ConceptDraw DIAGRAM program with of Computer & Networks solution as tools to draw professional-looking network architecture, topology, design, layout and wiring diagrams quickly and easily, and to clearly present and communicate it to IT and telecom engineers, stakeholders and end-users.
TEN RELATED HOW TO's:
Communication via Internet nowadays is almost irreplaceable part of lifestyle. It's needless to say that providing that communication is not a piece of cake, and network diagram software is useful for representing all the interconnections between network devices. These diagrams are also helpful for educational purposes. This drawing depicts the network topology of the sample web studio. This is a physical type of network diagram. It is depicting the network, end-user equipment and connections between them. The given network has combined the both star and mesh network topology features. This diagram is a tool of network administrator. it delivers the actual information on location of servers, hubs, switches, routers, and other telecommunication equipment. The collection of network related symbols provided with ConceptDraw Network Diagrams solution represents the entire network components. All Symbols are standard. Therefore, network specialists can effortlessly decrypt this diagram.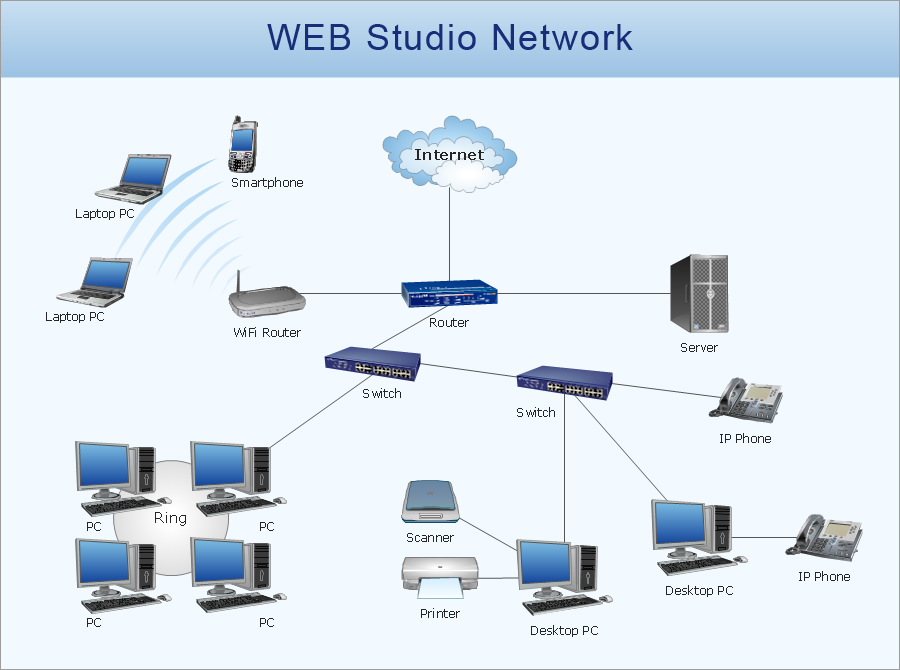 Picture: Network Diagram Software
Related Solution:
Today, we can't imagine our lives without daily data exchange. To call a set of devices that can be connected with each other a computer network, we must be sure that these devices support appropriate protocols to transfer data. A network consisting of personal devices is private, and global computer networks, for example, Internet, connects network nodes worldwide. This diagram represents a computer telecommunication network. The network depicted on the current diagram is featured with networked communication devices that provide data exchange through Internet. The network interconnections and connections between Internet nodes are settled using the cable media and wireless media. The nodes are the network workstations (terminals). and host computers. This network diagram was drawn with ConceptDraw DIAGRAM and its Computer and Networks Diagrams solution.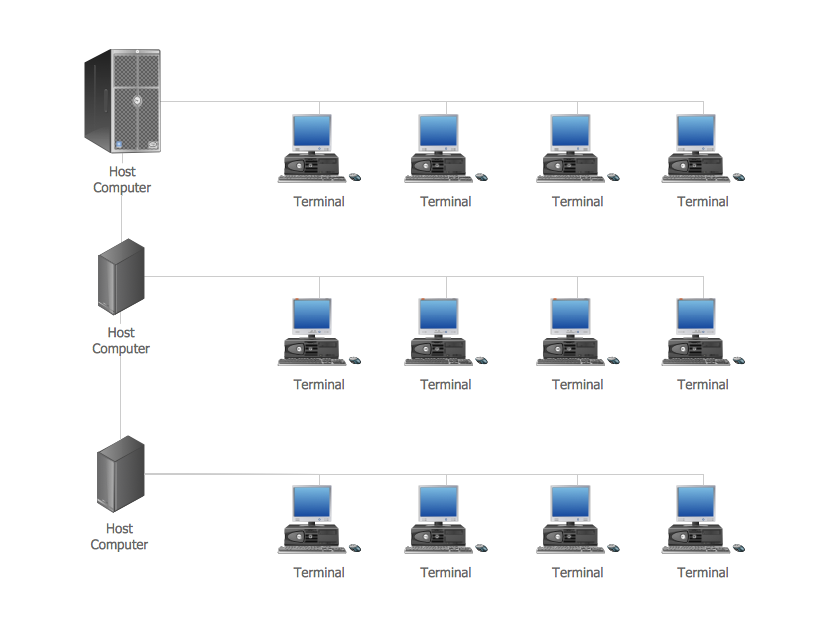 Picture: Computer Network. Computer and Network Examples
Related Solution: