Electrical Symbols — Switches and Relays
In electrical engineering, a switch is an electrical component that can break an electrical circuit, interrupting the current or diverting it from one conductor to another. The mechanism of a switch may be operated directly by a human operator to control a circuit (for example, a light switch or a keyboard button), may be operated by a moving object such as a door-operated switch, or may be operated by some sensing element for pressure, temperature or flow. A relay is a switch that is operated by electricity. Switches are made to handle a wide range of voltages and currents; very large switches may be used to isolate high-voltage circuits in electrical substations.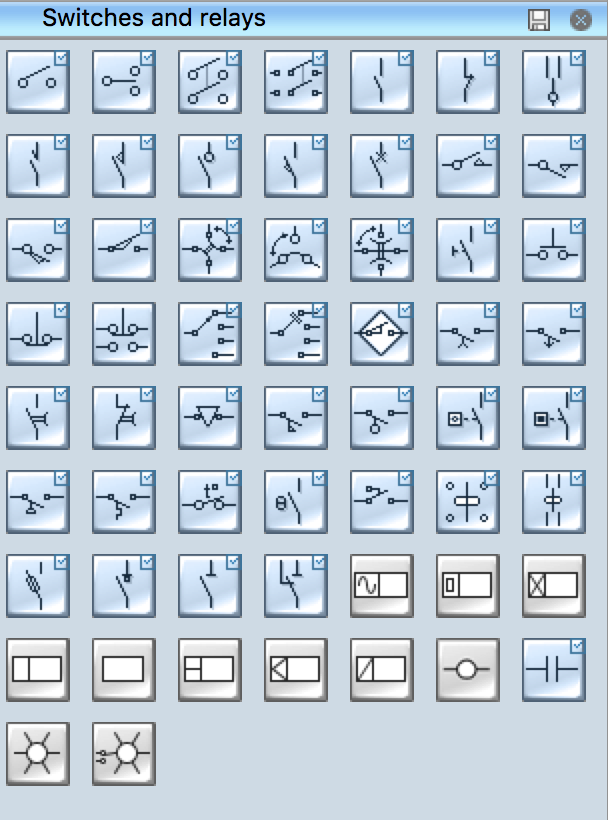 Pic. 1. Switches and Relays Library
ConceptDraw DIAGRAM is a powerful software for creating professional looking electrical diagram quick and easy. For this purpose you can use the Electrical Engineering solution from the "Industrial Engineering" area of ConceptDraw Solution Park.
Electrical Engineering Solution for ConceptDraw DIAGRAM provides the stencils libraries of ready-to-use predesigned 926 vector symbols, templates and samples that make your electrical drawing quick, easy and effective.
26 libraries of the Electrical Engineering Solution of ConceptDraw DIAGRAM make your electrical diagramming simple, efficient, and effective. You can simply and quickly drop the ready-to-use objects from libraries into your document to create the electrical diagram.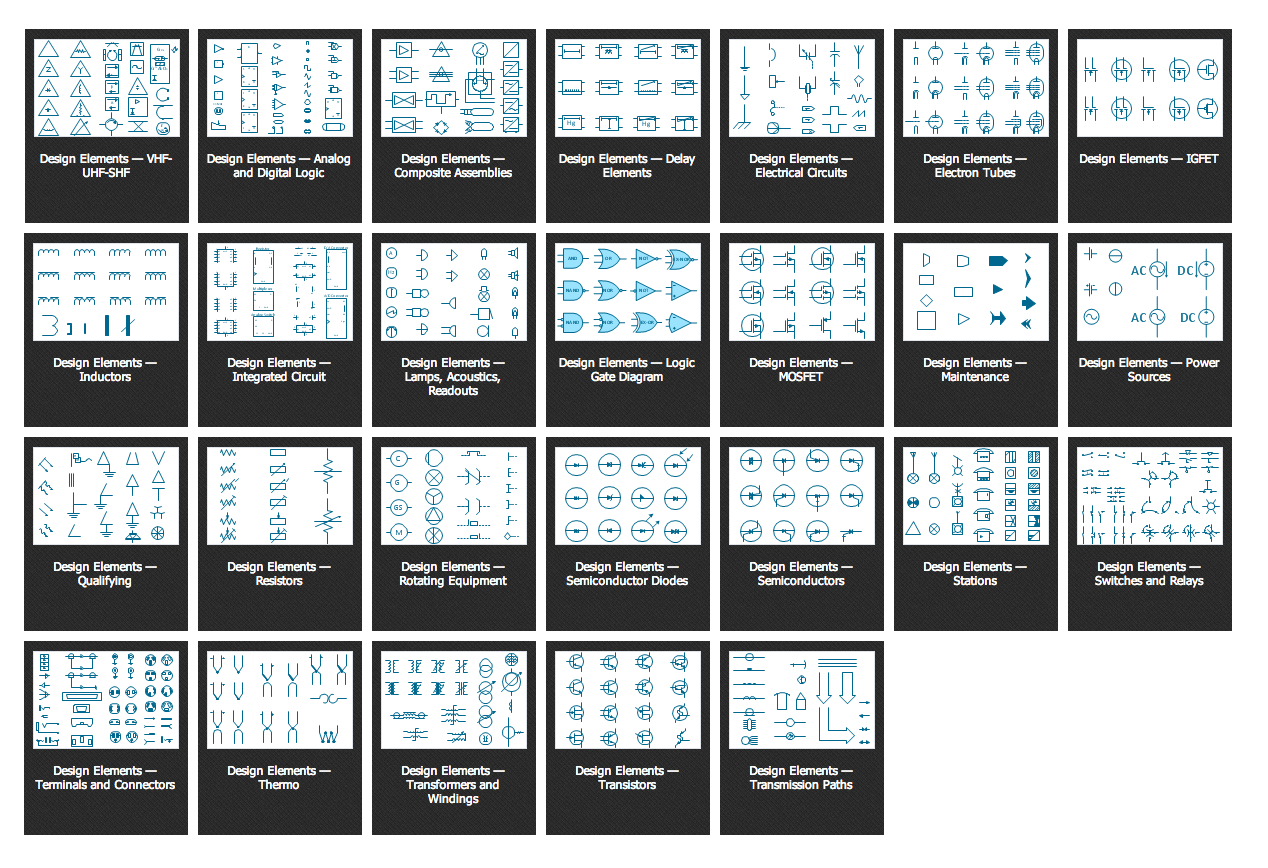 Pic. 2. Electrical Engineering symbols
Electrical diagram software will assist you in drawing your electrical diagrams with minimal effort and makes it very easy for beginners. Electrical symbols and smart connectors help present your electrical drawings, electrical schematic, wiring diagrams and blue prints.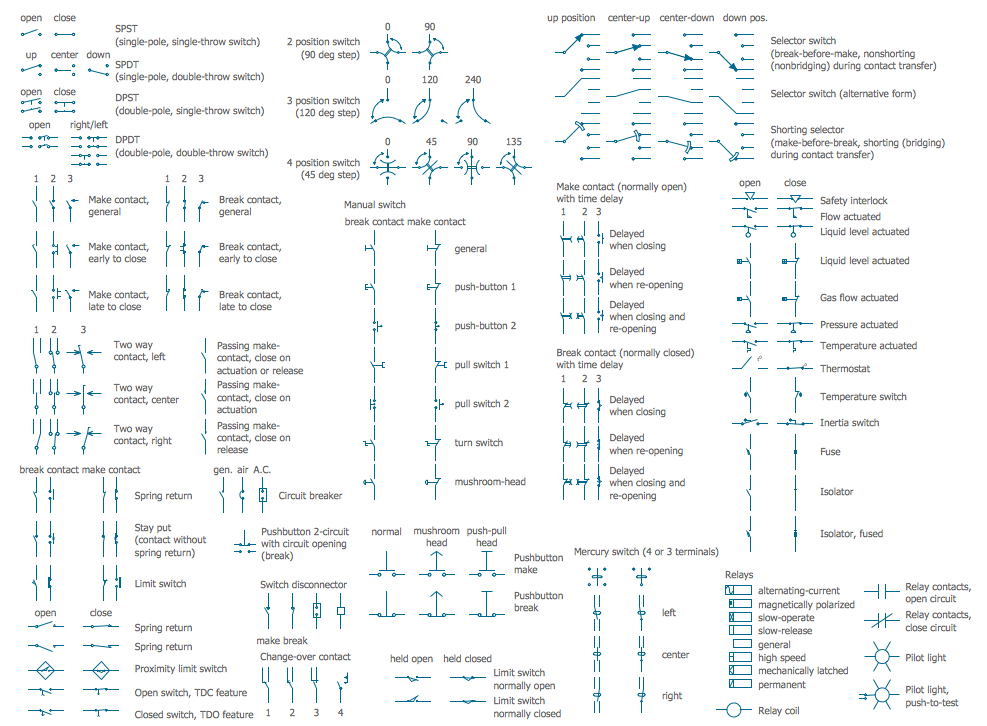 Pic. 3. Electrical Symbols — Switches and Relays
Most of the electrical symbols can be changed in their appearance, styles and colors according to users' requirements. Electrical symbols are used to represent various electrical and electronic devices in a schematic diagram of an electrical or electronic circuit.
The following table lists some switches and relays electrical symbols in our electrical diagram software.
Symbol
Meaning
Electrical Symbols — Switches and Relays
SPST
SPDT
DPST
DPDT
Make contact
Break contact
Two way contact
Passing make-contact
Spring return
Stay put
Limit switch
Circuit breaker
Spring return 2
Spring return 3
Limit switch n/o
Limit switch n/c
2 position switch
3 position switch
4 position switch
Manual switch
Pushbutton make
Pushbutton break
Pushbutton 2-circuit
Selector switch
Shorting selector
Proximity limit switch
Time delay make
Time delay break
Time delay make 2
Time delay break 2
Safety interlock
Flow actuated
Liquid level actuated
Liquid level actuated 2
Gas flow actuated
Pressure actuated
Temperature actuated
Thermostat
Temperature switch
Inertia switch
Mercury switch
Mercury switch 2
Fuse
Switch disconnector
Isolator
Change-over contact
Relay, alternating-current
Relay, magnetically polarized
Relay, slow-operate
Relay, slow-release
Relay
Relay, high speed
Relay, mechanically latched
Relay, permanent
Relay coil
Relay contacts
Pilot light
Pilot light, push-to-test
A relay is an electrically operated switch. Many relays use an electromagnet to mechanically operate a switch, but other operating principles are also used, such as solid-state relays. Relays are used where it is necessary to control a circuit by a separate low-power signal, or where several circuits must be controlled by one signal.
How to Create an Electrical Diagram Using Switches and Relays Library
Open ConceptDraw DIAGRAM new document page.
Select libraries from Electrical Engineering section.

Switches and relays library contains objects, identified by a blue tile in the library pane. Such objects can be edited by using the Action button menu. To open the menu select an object and click the button in the upper right corner of the object.
Select the Smart Connector tool . To connect elements using this tool, drag the connector from one connect dot to another.You can use Layers to place connections on different layers.
Result: Circuit Diagram.
TEN RELATED HOW TO's: