HR Flowchart Symbols
Human resources is the term given to the people who make up the employee workforce of an organization or company. It was initially used simply as a synonym for manpower or labour; latterly, with the advent of globalization, a cottage industry has grown regarding human resource strategy, as a way of enhancing business value through management of the workforce.
Human resource management has four basic functions:
Staffing,
Training and development,
Motivation,
Maintenance.
The ability to create flowcharts representing various HR processes and workflows is made possible with ConceptDraw's HR Flowcharts solution. A comprehensive selection of predesigned vector stencils libraries allow you to create eye-catching infographics relating to any human resource management process. Also included are standardized flowchart notation symbols, meaning your diagrams will be relevant and understood by all business associates. We try to make things easy for you at ConceptDraw, so you will also find flowchart and workflow templates inside the solution to help you get started with your own design. Using the HR Flowcharts solution, you can create professional looking HRM business process diagrams in a matter of moments.
This solution includes incredibly large collection of hr flowchart symbols libraries:
HR Arrows library contains 57 arrows shapes
HR Department library contains 49 department symbols
HR Flowchart library contains 62 flow chart symbols
HR Professions library contains 81 professions pictograms
HR Steps library contains 32 workflow step symbols
HR Symbols library contains 45 HR process pictograms
HR Workflow library contains 60 workflow symbols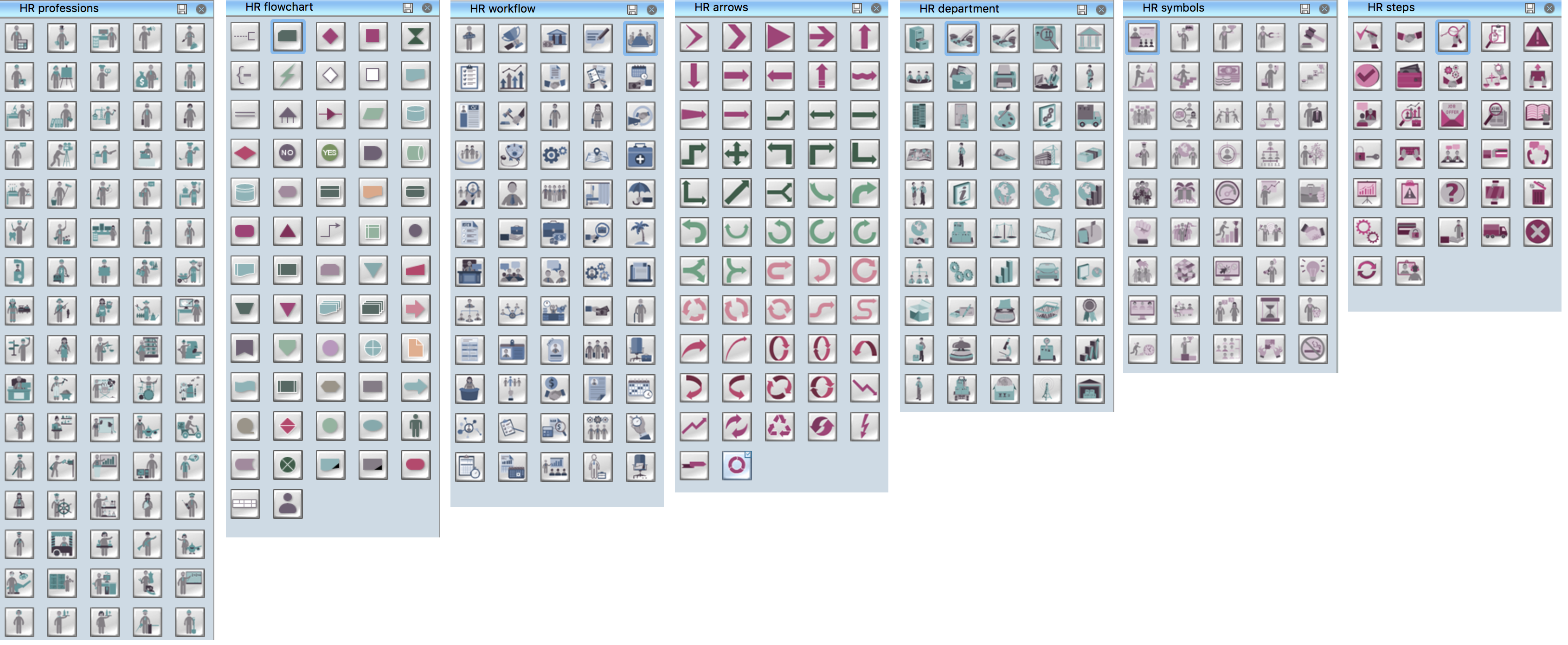 Example 1. HR Flowchart Symbols
Follow the next steps for design any HR Flowchart:
Example 2.
The HR Flowcharts solution is an incredibly powerful tool for those who need to analyze or present human resource process flows in a visually effective manner.
TEN RELATED HOW TO's: