Gantt Chart Software
Project Planning Chart addresses the time of individual work elements giving a time line for each activity of a project. As it can be seen in the figure. On the chart, everyone is able to see when each activity starts and finishes but there is no possibility to determine when each activity may start or if we can start a particular activity before finishing the immediate predecessor activity. Therefore, we need somehow know the precedence relationships between activities. This is the main reason for using the following tools instead of using exclusively Gantt Charts.
Using the Gantt Chart software you can create and manage projects of unlimited size and length. Add and distribute as many resources as you need for your project.
Benefits of Gantt Chart Software for Windows and Mac OS X
Speed - to make changes
Flexibility - to look at alternatives
Track many projects, each with many tasks
Set and track milestones for your projects
Communication - print reports or send software file to stakeholders or post results on web site
Accuracy
The Gantt Chart is the main interface in ConceptDraw PROJECT It summarizes the tasks in your project and presents them graphically so you can easily view your progress.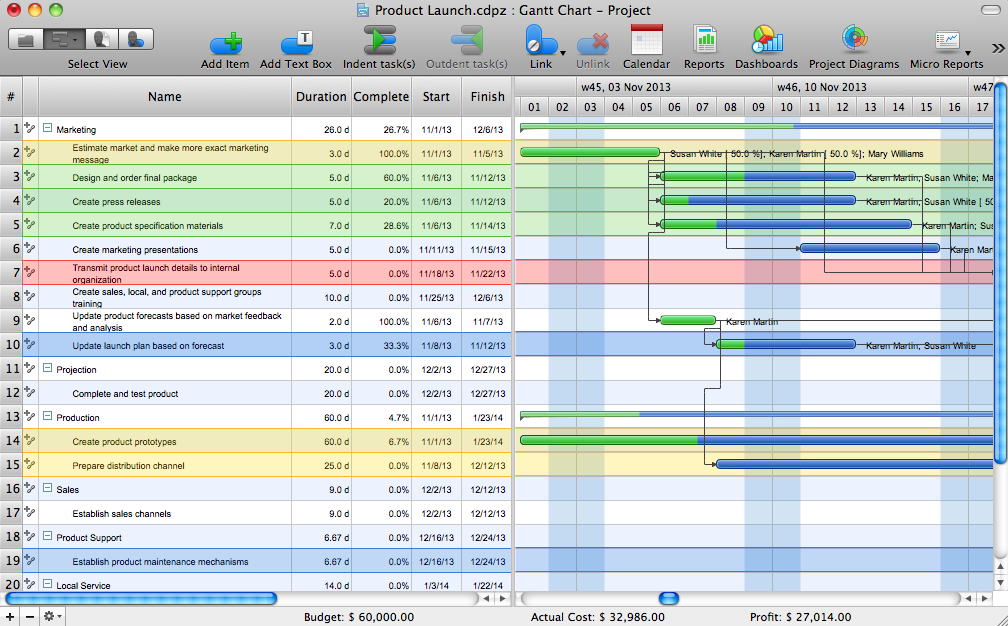 Pic. 1. ConceptDraw PROJECT - Gantt chart view.
The left pane of the Gantt Chart contains a list of tasks and shows their dates, priority, assigned resources, and subtasks. Markers help you identify the different types of task.

Pic. 2. Table part of a Gantt chart.
The right pane of the Gantt Chart shows a timeline of your project. Colored bars cover the dates assigned to each task, and changes of color within those bars show the task's degree of completion.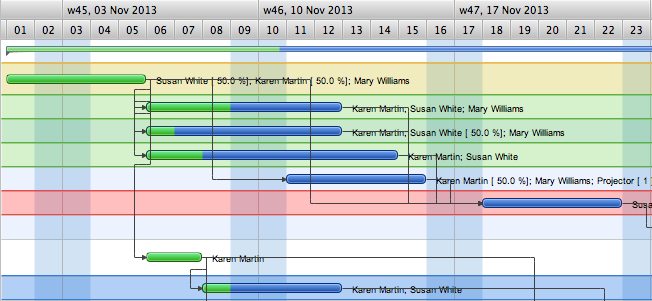 Pic. 3. Gantt chart timeline.
The purpose of ConceptDraw PROJECT is to track who does what, when, as well as reporting on the cost of your project over time. It will help you manage your time better by tracking the tasks your project consists of, when they will be executed, who is assigned to each task, and the associated costs.
Learn more about creating a Gantt chart in ConceptDraw PROJECT
---
TEN RELATED HOW TO's: