What Is It
ConceptDraw MINDMAP & PROJECT is the suite of two applications with precise integration between them, including the set of the reports.
Objective
The suite provides a vast amount of tools that can be used in order to complete the projects' design and to make a comprehensive day-to-day tracking while being used by project teams or companies of any size.
Features
The suite main feature is the one-click file sharing between the applications offering the complete and full set of project tasks' attributes. "Open in PROJECT" and "Open in MINDMAP" buttons can be found in the "Share" option in each of the mentioned apps. MINDMAP provides Brainstorm Session mode, tree layout of tasks structure, handy tools for drawing the relations between tasks and comprehensive import options that include FreeMind, Mind Manager, MS Excel, MS PowerPoint, MS Project, MS Word, Mind Manager, XMind and other outlined text files. The PROJECT app alone is the fully featured project management software that includes Gantt chart view, list of resources, Resource Usage view, an abundant set of report solutions, integration with MS Project and tracking option for multi-project files.
Use Cases
Project team starts working with the ConceptDraw MINDMAP app from having a brainstorm session on a new project typing a set of the pre-defined tasks in a form of a tree. Next, a project manager defines some particular project's structure by re-arranging the topics. The given mind map file can be opened afterward with the help of the ConceptDraw PROJECT app by choosing the Share option. Continue filling in the details of a project into the ConceptDraw PROJECT app mentioning its durations, relations, resources, start and finish dates, etc. Once the project's started, it needs to be tracked on a day-to-day basis and the following MINDMAP reports may help to do it as well: Send Tasks List, Completed Tasks, Critical Tasks, List of Materials, Milestones, Over Allocated Resources, Project Knowledge Map, Project Knowledge, Project Team, Resource Knowledge, Tasks in Progress, Top Level Tasks, Unstarted Tasks. Any project manager can use the Excel reports, Project Management Diagrams and Dashboards when it is needed.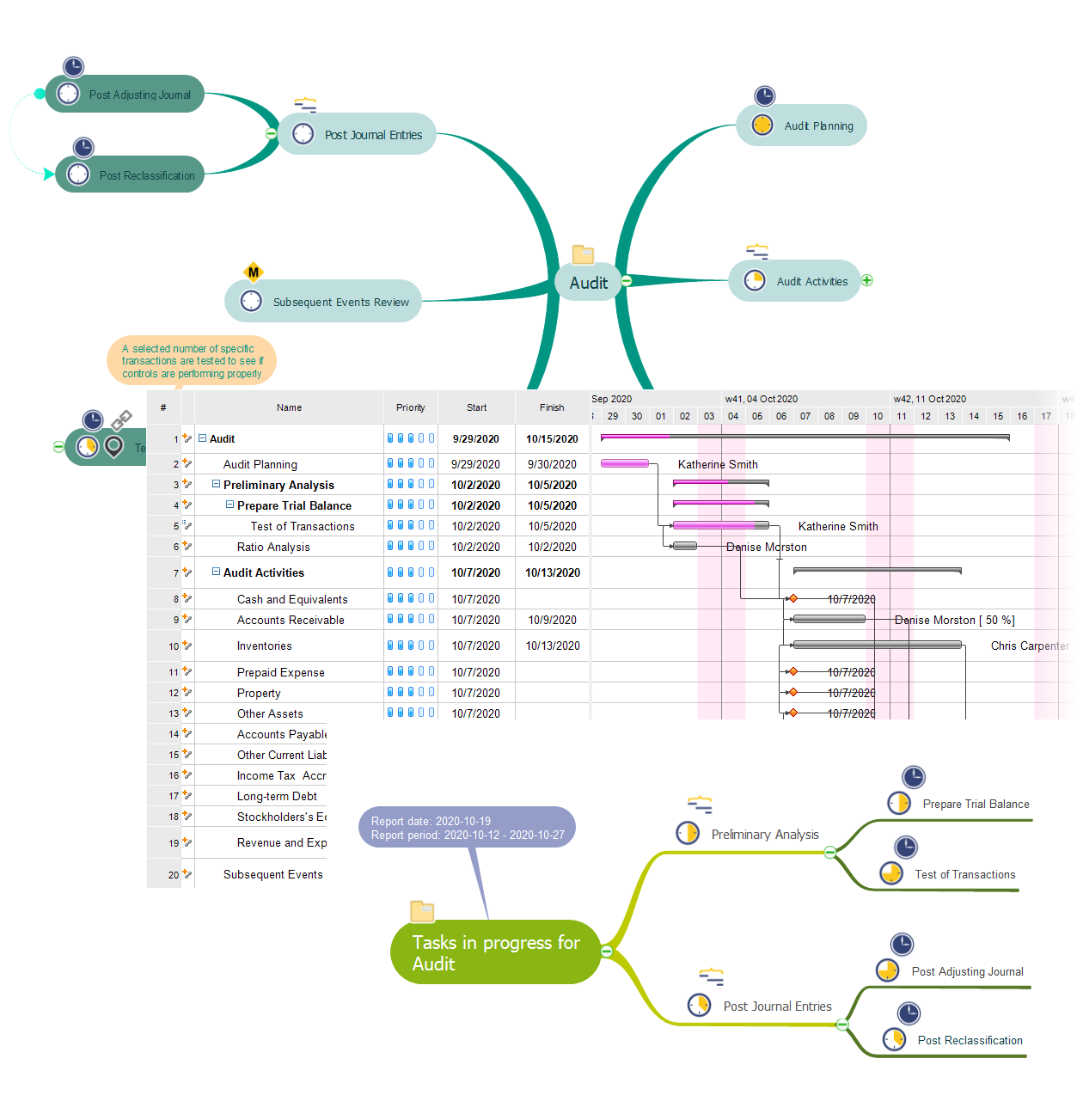 Professional Use Intention
The main purpose of developing the ConceptDraw MINDMAP & PROJECT suite was for it to be used by the marketing campaigns makers, non-profit organizations, event providers, government institutions, universities and colleges as well as companies that have projects involving construction (e.g., marine construction), science, etc.
Conclusion
The ConceptDraw MINDMAP & PROJECT suite provides a basic functionality for a successful project management activity supplying many helpful tools for improving both team collaboration and productivity. Both applications have the extensive import and export options for converting files into the most popular file formats, making the cross-software integration simple and convenient as well as easy to complete.