Overview
ConceptDraw DIAGRAM & PROJECT is a suite of two applications with robust integration that allows creating the needed drawings, including such data representations as sets of visual reports, project diagrams and project dashboards.
Objective
The suite provides a visually attractive type of project data presentation that allows using an efficient approach to viewing the key project activity indicators.
Features
The suite's main features are the comprehensive sets of Visual Reports, Project Diagrams and Project Dashboards that cover almost all requests for the given presenting projects' tracking data.
ConceptDraw DIAGRAM comes with a range of possibilities for designing the needed workflow in accordance with the project tasks. A number of task-oriented solutions containing both pre-made stencils and example drawings are intended to simplify the start with the designing of visual project documentation.
ConceptDraw PROJECT is the fully featured project management software that includes a Gantt chart, a Resource sheet that is single for multiple projects, and a Resource Usage analysis tool. With customizable report templates, provided by Project Management solutions, you can create professional tabular and graphic reports for various use cases. The round-trip compatibility with MS Project allows the interchange of project management information between both Mac and Windows users.

Use Cases
Any project team shall start their projects with setting the ConceptDraw PROJECT application in order to make the needed project's durations, relations, resources, start and finish dates, etc. Once the project is started, it needs to be tracked on a day-to-day basis. The following representations of data that may go straight to the DIAGRAM app can be generated: the needed Visual Reports of Accumulative Budget Actuals, Actuals per Project Period, All-in-One Indicators, Project's Budget Applications in a way of Charts, Projects' Progress Status, Projects' Status, Resources Chart, Tasks Status Completion, Tasks Status; Project Diagrams such as Gantt Charts, Milestone Charts, Resource Calendars, Resource Usage Views, Radial Tasks Structures, PERT Charts, timelines, WBSs; Dashboards of any type: Multipage, Multi-project, Tactical or Strategy ones.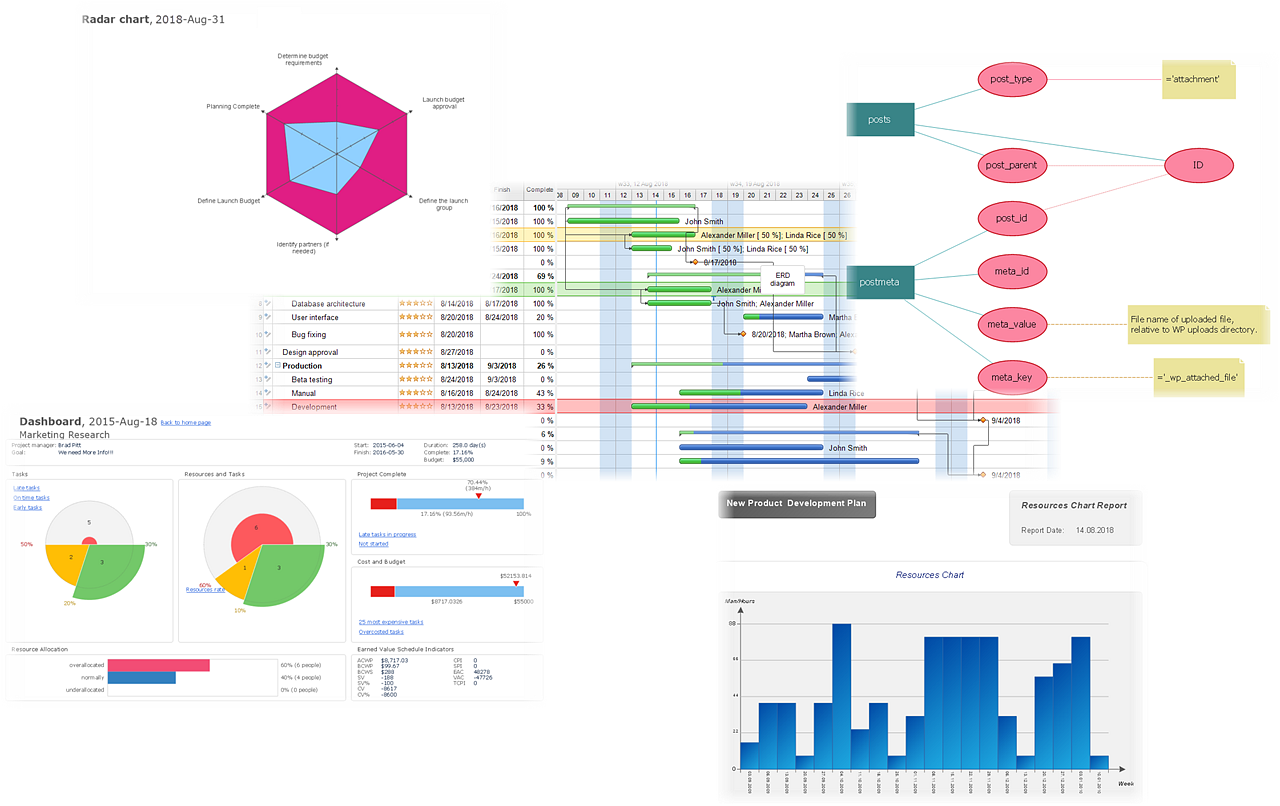 Professional Use Intention
The main purpose of developing the ConceptDraw DIAGRAM & PROJECT suite was for it to be used by the marketing campaigns makers, non-profit organizations, event providers, government institutions, universities and colleges as well as companies that have projects involving construction (e.g., marine construction), science, etc.
Conclusion
The ConceptDraw DIAGRAM & PROJECT suite provides a basic functionality for a successful project management activity supplying many comprehensive sets of Visual Reports, Project Diagrams and Project Dashboards. Both applications have the extensive import and export options for converting files into the most popular file formats and so making a cross-software integration simple and convenient as well as easy to complete.