Overview
ConceptDraw INGYRE is a collection of the integration capabilities between all the ConceptDraw applications. Since the ConceptDraw OFFICE release, all three CS Odessa's products have become well-integrated and CS Odessa continues increasing the value of these functionalities in its further releases. Our work started with allowing copying and pasting the selected information from one app to another as well as sharing files of same format leading to enabling the users to reach the export features later. The INGYRE is a new way of interaction across ConceptDraw OFFICE apps in order to use this information for some particular project or some other purposes.
Features
Having the extensive export and import capabilities is almost same important as having the core functionality for any corporate level office software. The INGYRE technology provides the ConceptDraw users with numerous varieties of capabilities. They all can be used in order to transform data from one ConceptDraw app to another. The handiest option to use is to make the reports in ConceptDraw PROJECT, importing them into ConceptDraw MINDMAP. There are many of them in the Mind Map Reports solution intended to be used in the PROJECT by making the needed Reports, Send Tasks List, Completed Tasks, Critical Tasks, Lists of Materials, Milestones, Over Allocated Resources, Project Knowledge Maps, Project Teams, Resources of Knowledge, Tasks in Progress, Top Level Tasks and Un-started Tasks.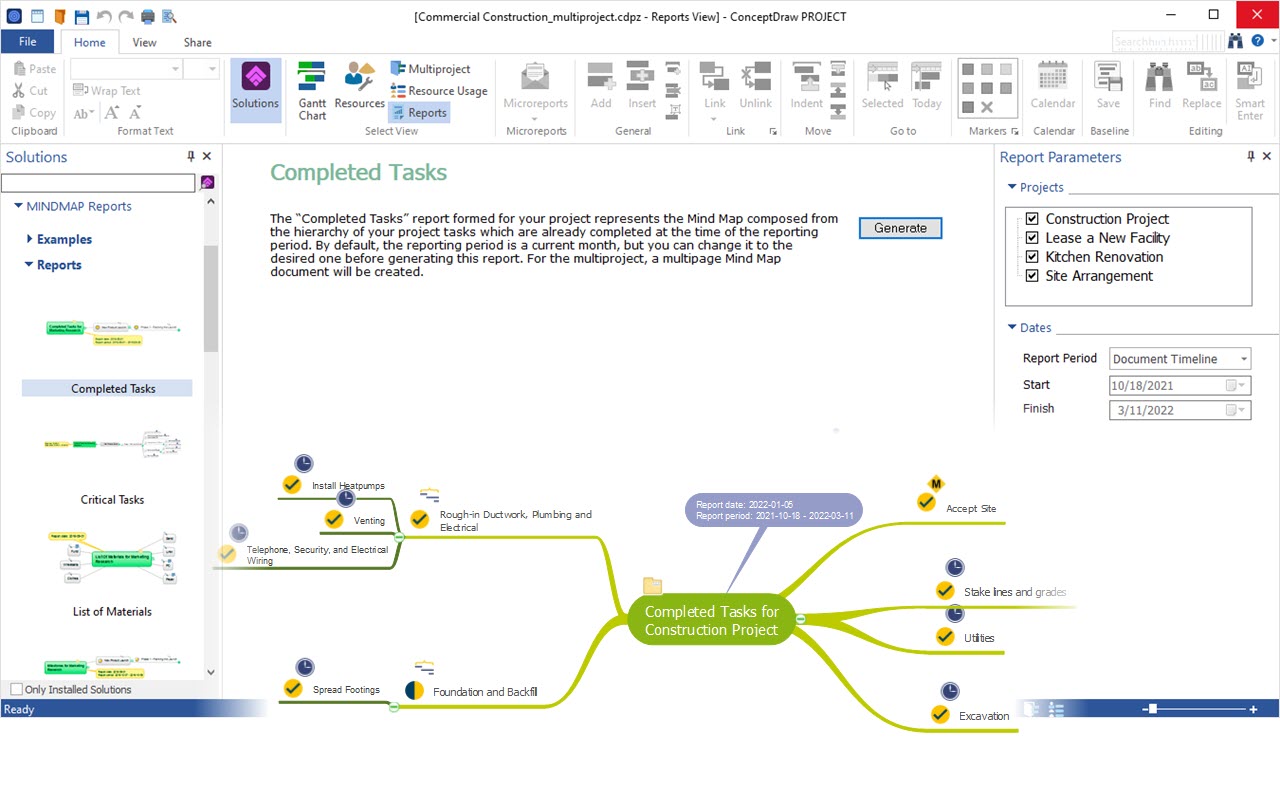 The next useful integration option that can be used with PROJECT and DIAGRAM is the capability to generate the needed Project Diagrams and Dashboards. They enable visual representation of the project's data where stakeholders or top managers can see the projects' progress. Another one great capability is an opportunity to create the Visual Reports that also provide both simple and clear visual view on the projects' progress.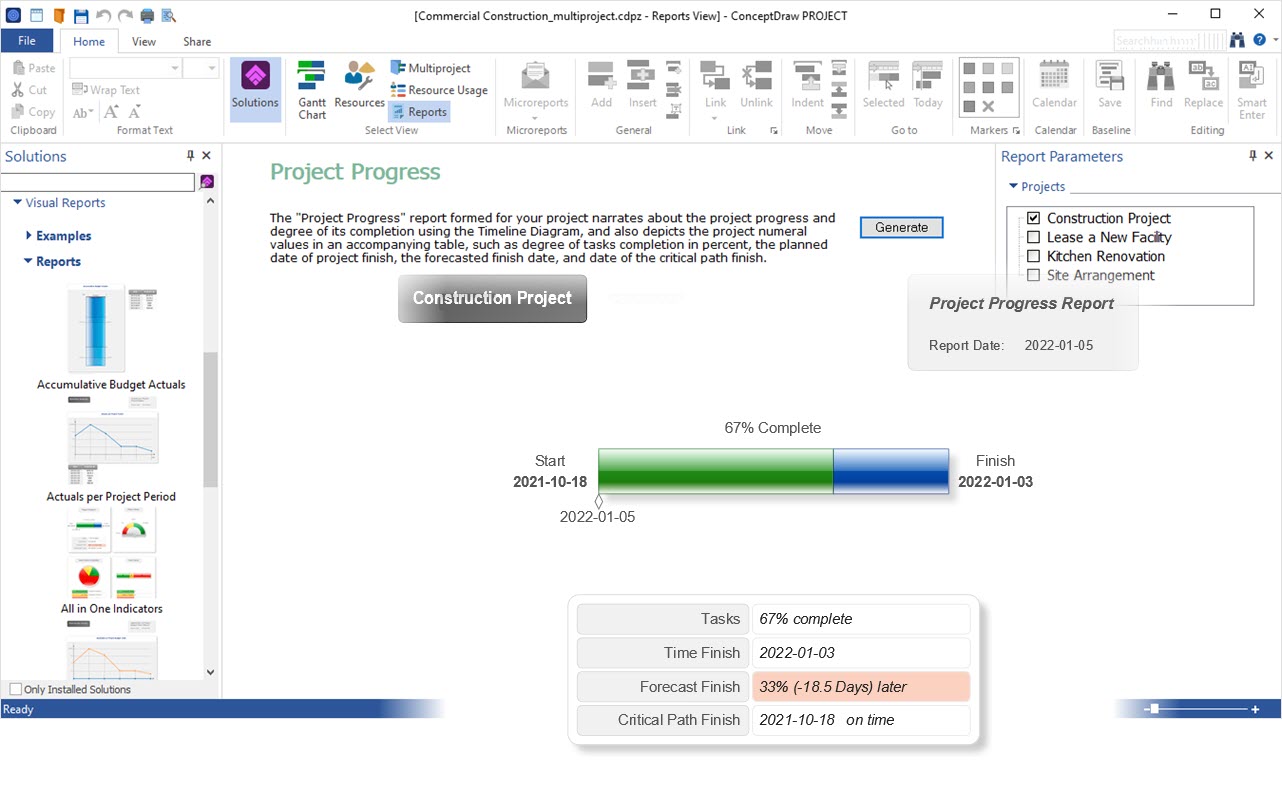 Another pair of ConceptDraw apps is the MINDMAP and DIAGRAM ones. A comprehensive integration is available to be used as an option for exporting from MINDMAP to DIAGRAM. A set of the exporting capabilities allows generating the needed mind map outlines to the business presentations in the DIAGRAM. There is also a set of the exporting features that transform mind maps to business diagrams: Affinity diagram, Risk diagram, Relation diagram, Root Cause Tree diagram, Cause and Effect (aka Fishbone) diagram. Organizational Chart diagram, SWOT diagram.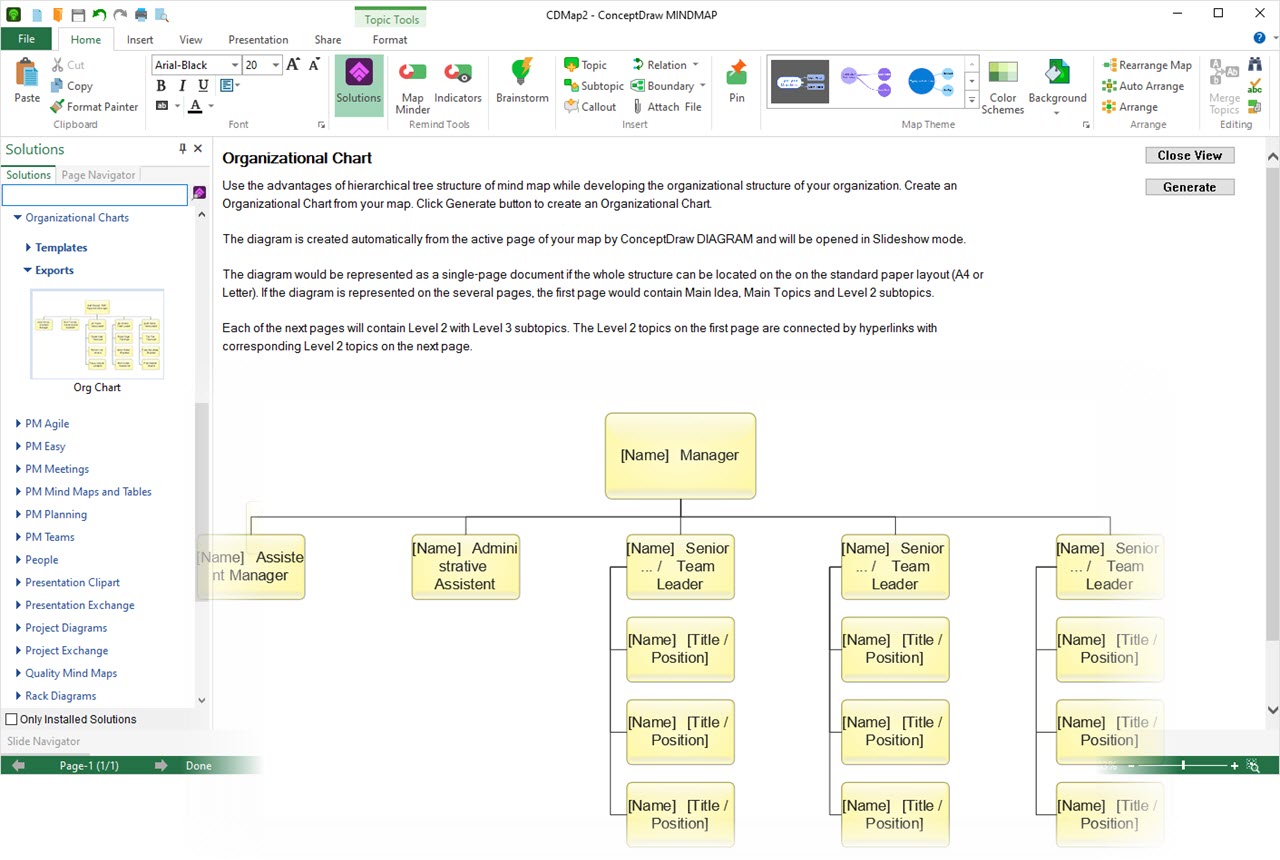 Use Case
The main approach to use the exports, reports, dashboards and diagrams is to perform the goal of transforming project data to the defined visual representation and then to choose the exact export or report, generating it in one click.
Conclusion
The INGYRE technology provides ConceptDraw users with a comprehensive set of information roundtrip among the ConceptDraw apps. Exports, reports, dashboards and diagrams capabilities allow users to create the needed project data within only a few minutes. The information migration across three apps is the necessary functionality of any professional office software.