Comprehensive Management Software Suite for Mac and PC
ConceptDraw OFFICE v5 contains three integrated products that are well-suited to assist in any business workflow task.
ConceptDraw DIAGRAM v12

Professional business visualization tool equipped with an extensive set of diagramming features. A great deal of vector drawing tools, pre-designed styles, and formats makes it easy to create any custom diagram.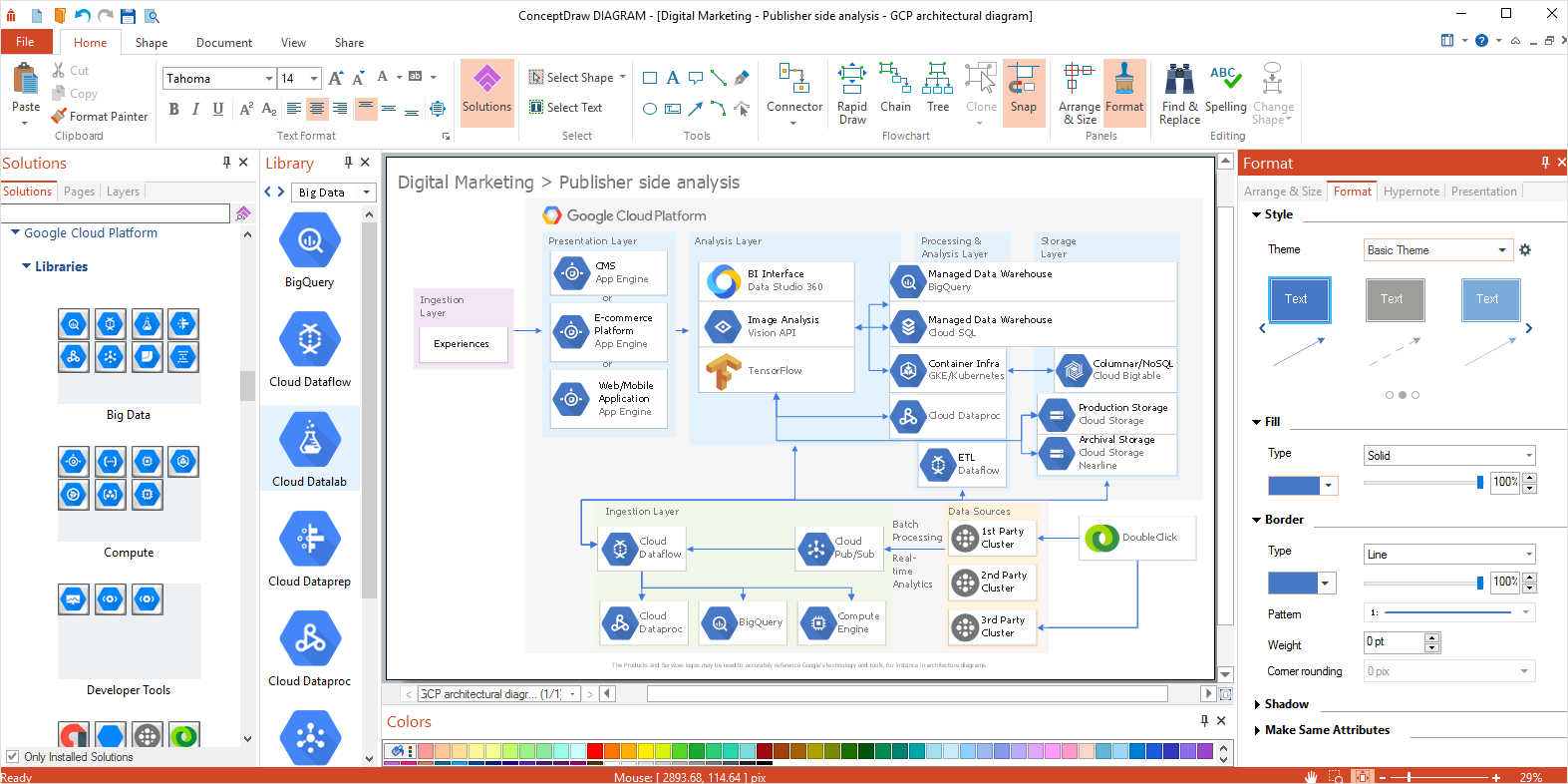 Flowchart tools including self-drawing Rapid Draw objects, smart auto-connection in a Chain or Tree view enable you to depict any process flow in a few clicks.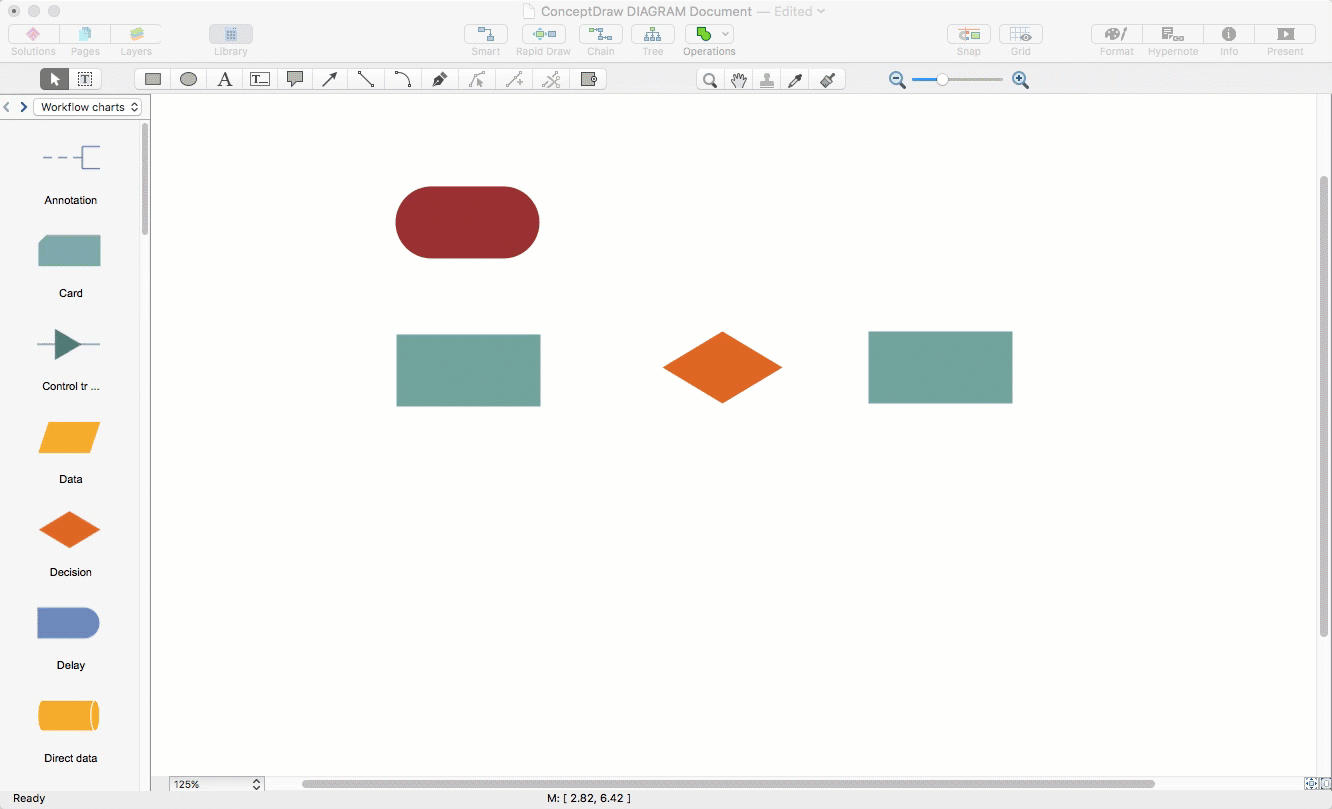 Live Objects technology provides a unique tool for drawing live interactive diagrams and dashboards.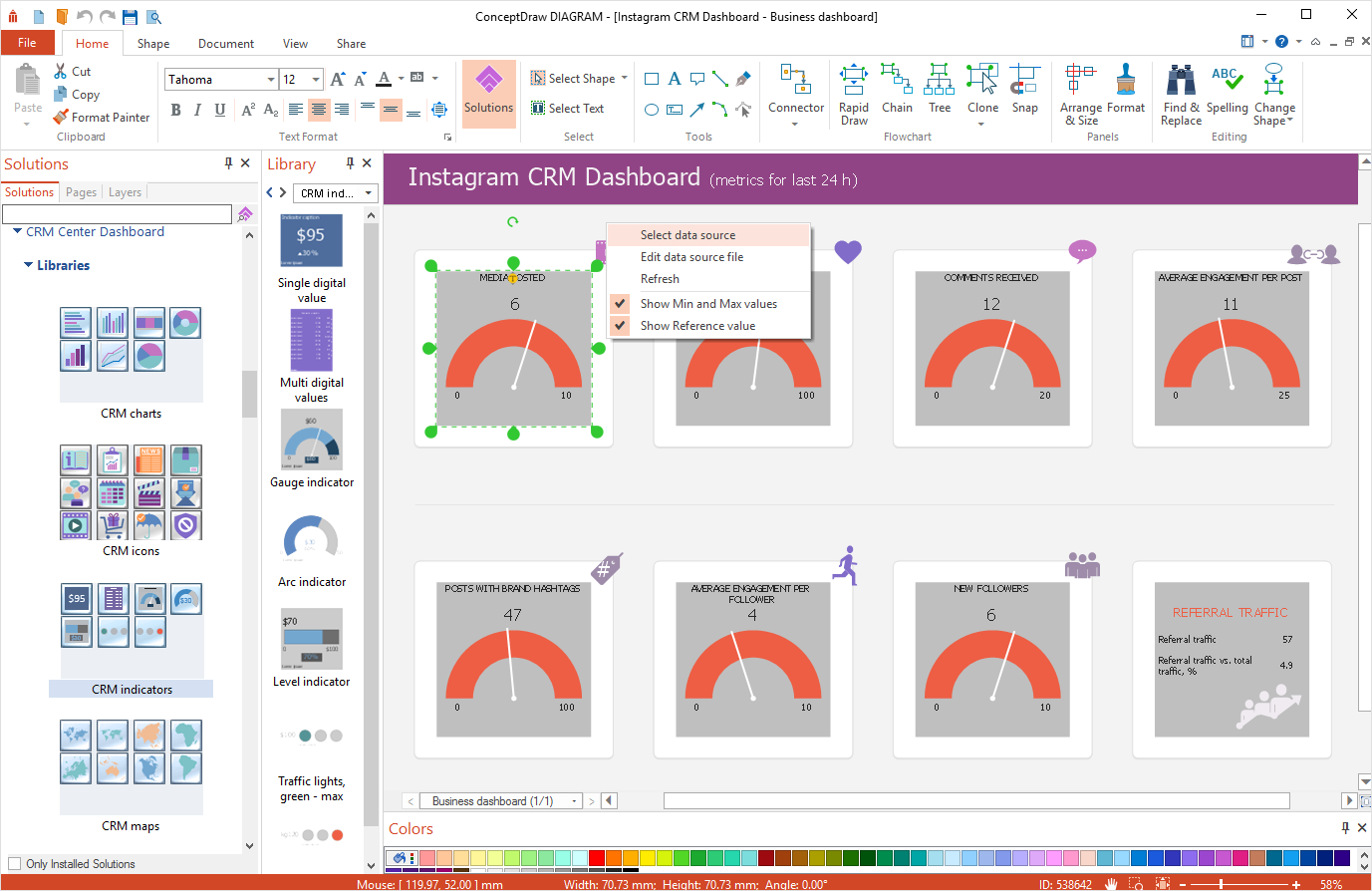 DIAGRAM v12 is the only professional alternative to MS Visio on the Mac and PC, which was actually the benchmark in the business graphics in the last twenty years.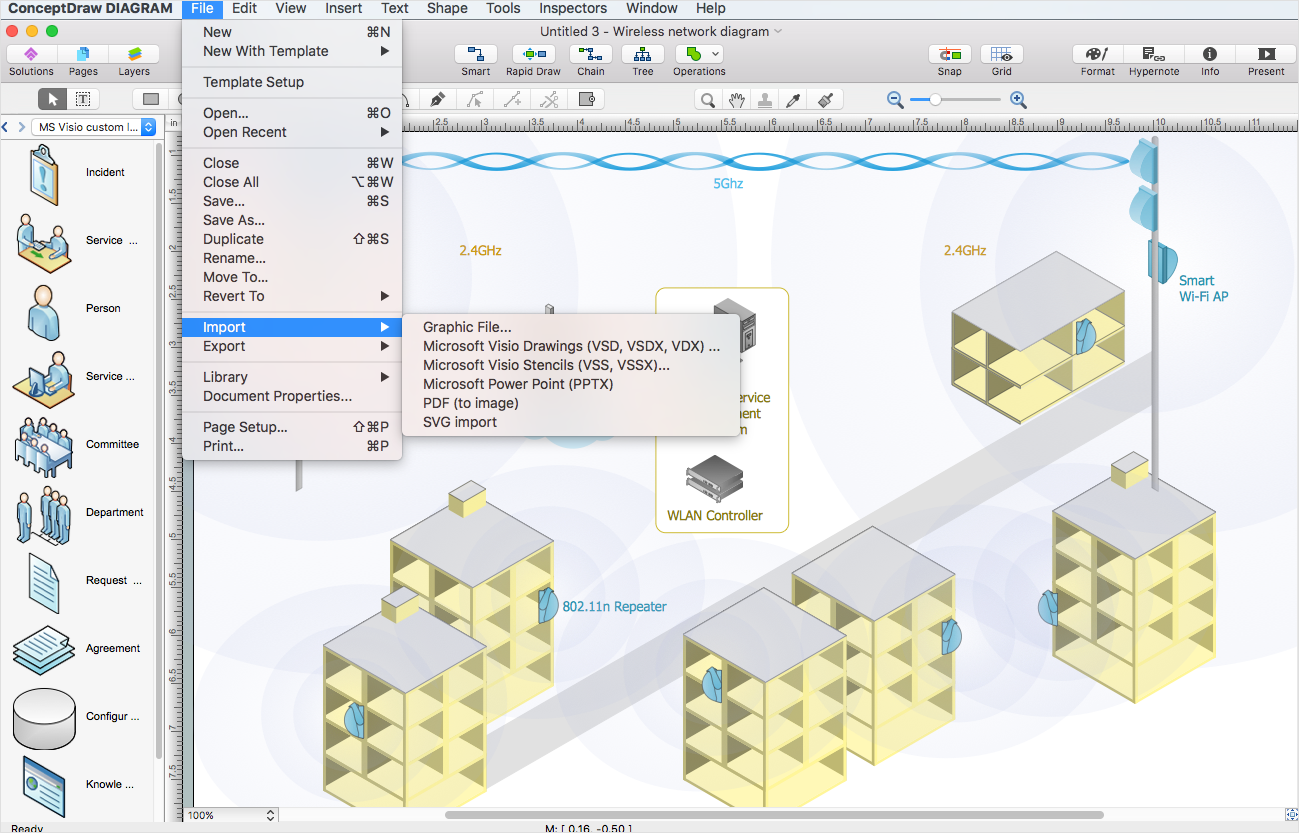 ConceptDraw MINDMAP v10

Robust tool for brainstorming, planning and organizing. MINDMAP v10 has all the features that you'd expect from a brainstorming and mind mapping tool. A number of different types of pre-designed layouts, great graphics, sets of symbols and topic types as well as the options of topic manual formatting, adding multiple hyperlinks and attaching files.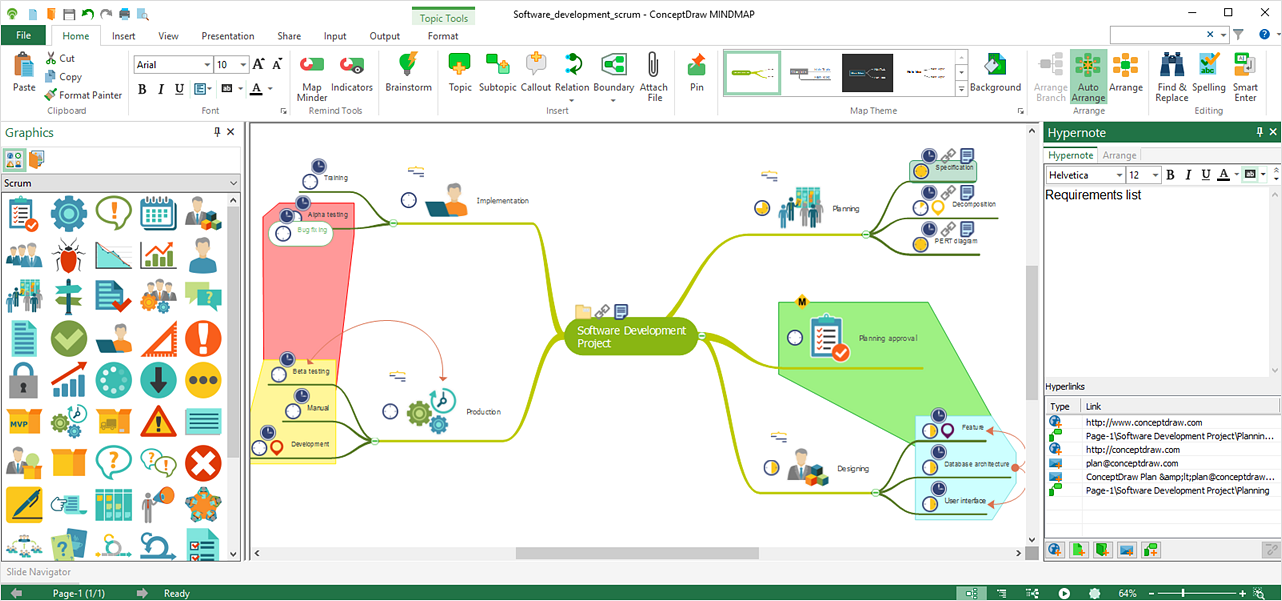 Mind maps are the great tool to analyze processes, plan projects, capture and structure knowledge. You can monitor processes, terms, resources, interrelationships and more in a shared visual environment.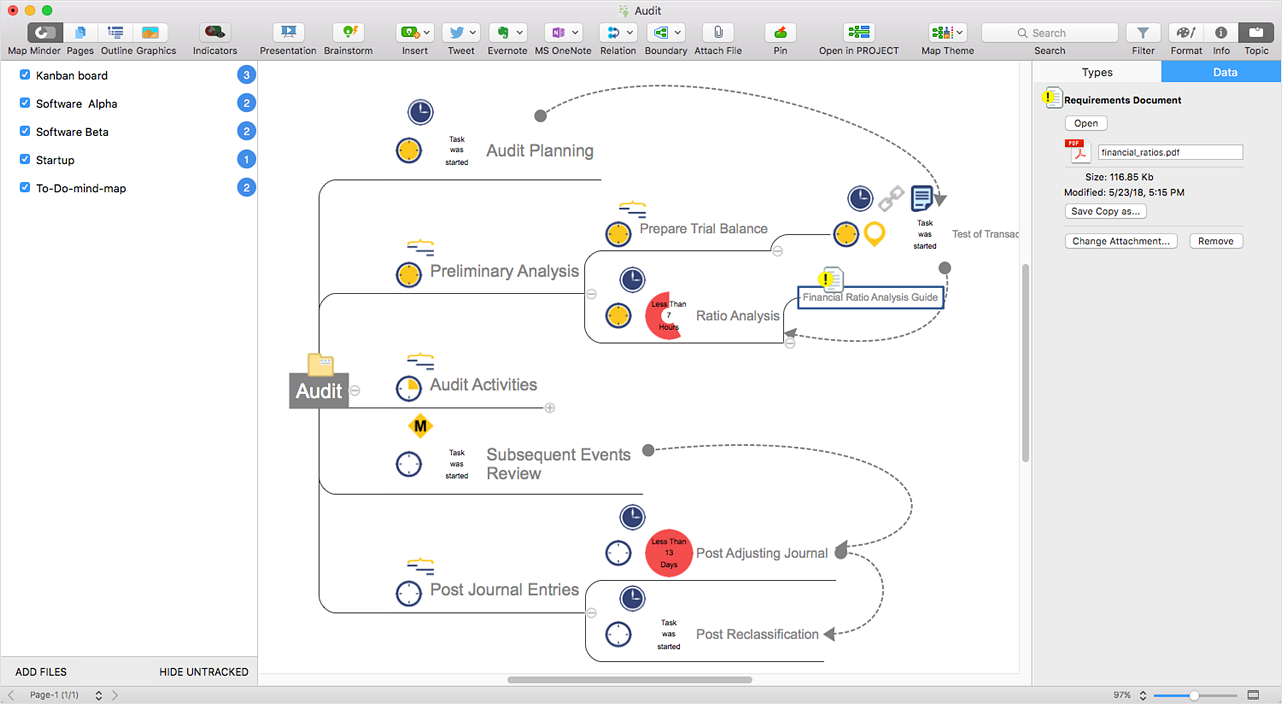 Powerful presentations capabilities, seamless integration with MS Office apps and other mind map apps transform MINDMAP v10 into a great analytical and planning tool in a shared visual environment.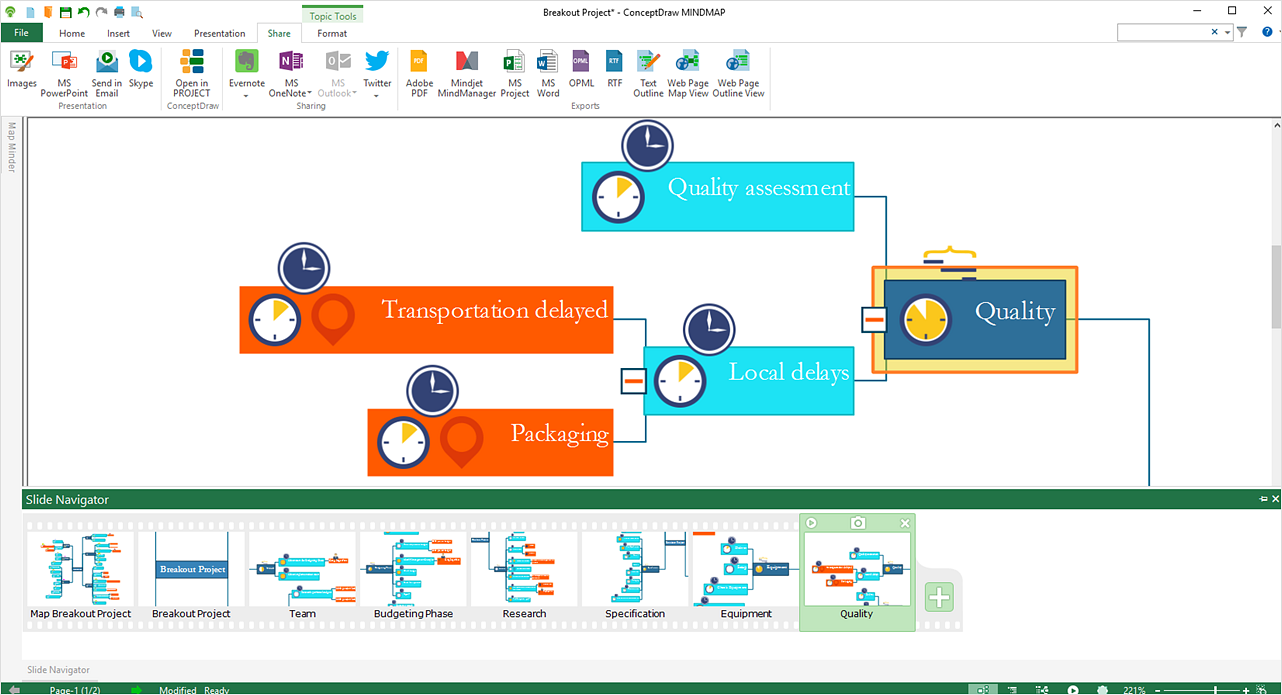 ConceptDraw PROJECT v9

Provides a classic approach to managing single or multiple projects by identifying all the key elements involved in a project: schedules, resources and finances,. It enables to monitor project progress in an effective but simple way. Software designed to help project managers plan multiple projects with common resources, analyze the workload of resources, monitor the status of the project, budget, and cost-effectiveness.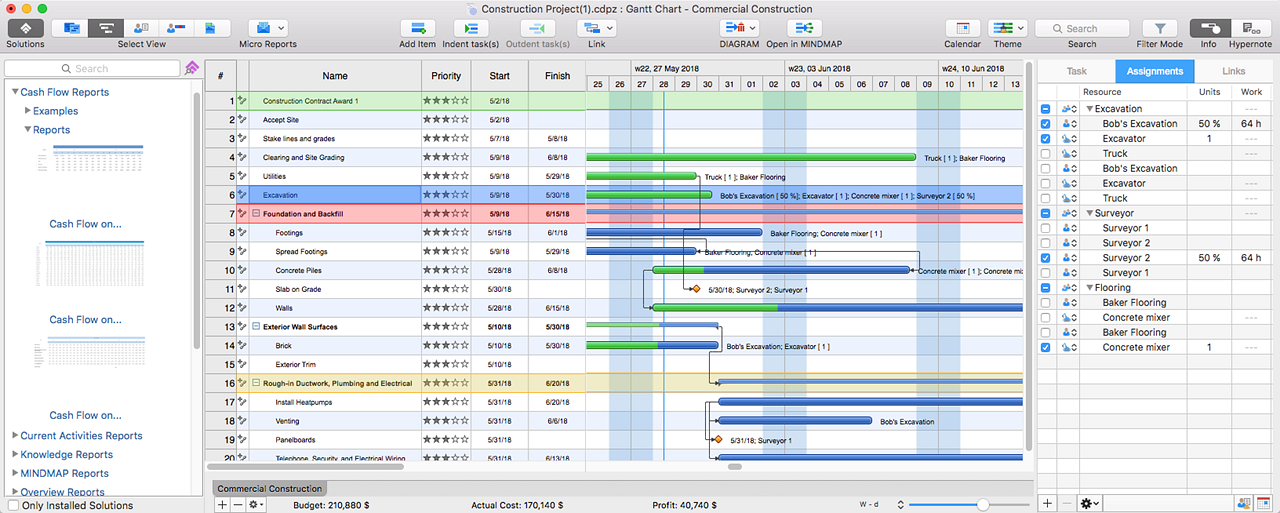 PROJECT v9 delivers the ability to plan project schedules, calculate expenses, track tasks execution, manage resource allocations, and set communication processes between team members through to-do lists, comprehensive reports and compatibility with MS Project and MS Excel.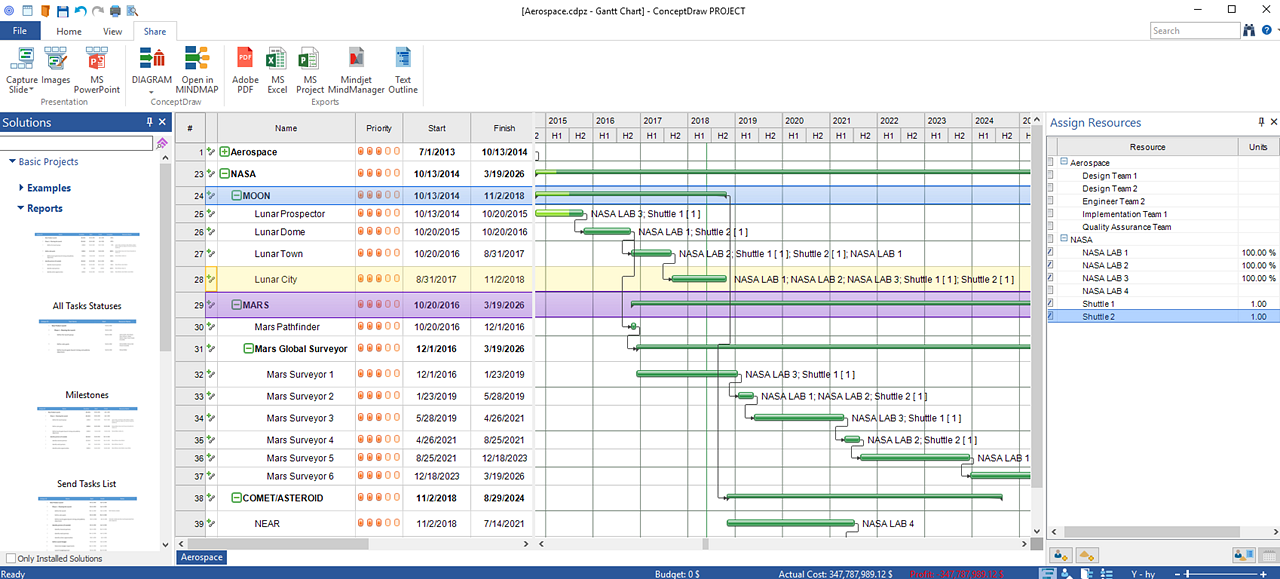 Solutions
ConceptDraw provides task-oriented Solutions to support visually business processes, project management, strategy planning, and more. Designed to deal with typical tasks in different professional activities, Solutions include product add-ons, templates, vector graphics libraries, samples and deployment instructions.
Solutions are focused on completing the professional tasks and supporting the multiple expert methodologies. Each solution has many unique features each of which can solve some particular professional problem that is typical for a definite sphere of business activity.
The ConceptDraw STORE application offers the extended product functionality. Both solutions and products that you decide to use can be identified and installed in one click. You can be automatically notified about all the updates for your products or/and solutions if you choose to receive them. All the interactions with ConceptDraw Solutions are accomplished through the STORE.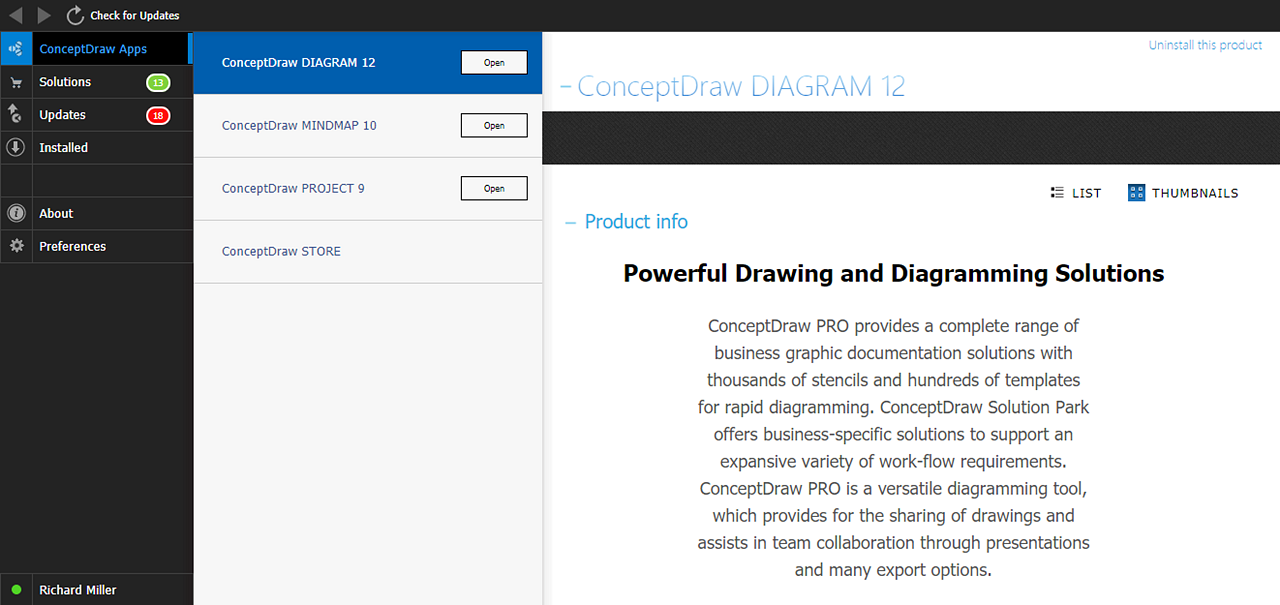 ConceptDraw STORE can identify all the ConceptDraw products installed on your computer, the available updates for the products or solutions, and a list of solutions offered for installation from ConceptDraw Solutions. All the solutions' contents and updates can be identified automatically, making it easy to download and install them on your computer.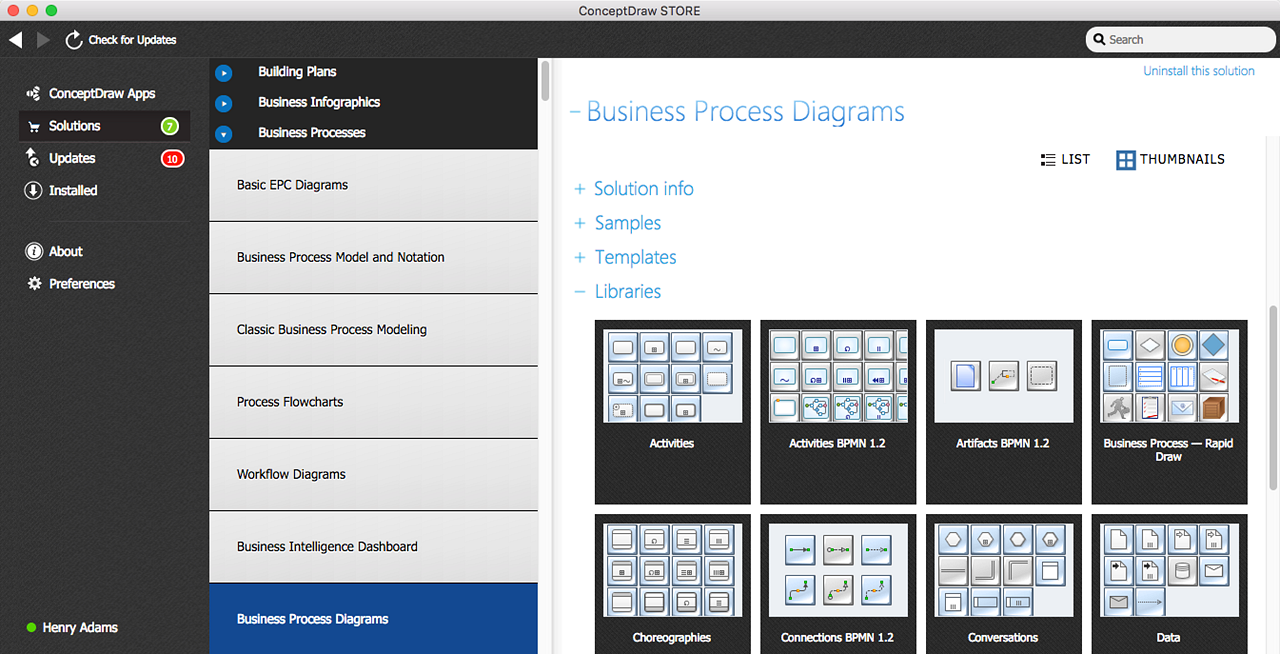 INGYRE Technology
ConceptDraw OFFICE v5 is an innovative, wide-ranging and integrated business solution that helps you achieve your business and project goals. New levels of integration optimize your data, allowing you to represent many types of data visually. ConceptDraw OFFICE v5 features INGYRE integration technology, making it the most comprehensive business tool available.
INGYRE featured the "Open in…" capability. It allows data exchange between MINDMAP and PROJECT applications. The "Open in…" option allows the ConceptDraw users to create projects within a few minutes and to view them in a way of a Gantt chart or a mind map while tracking them.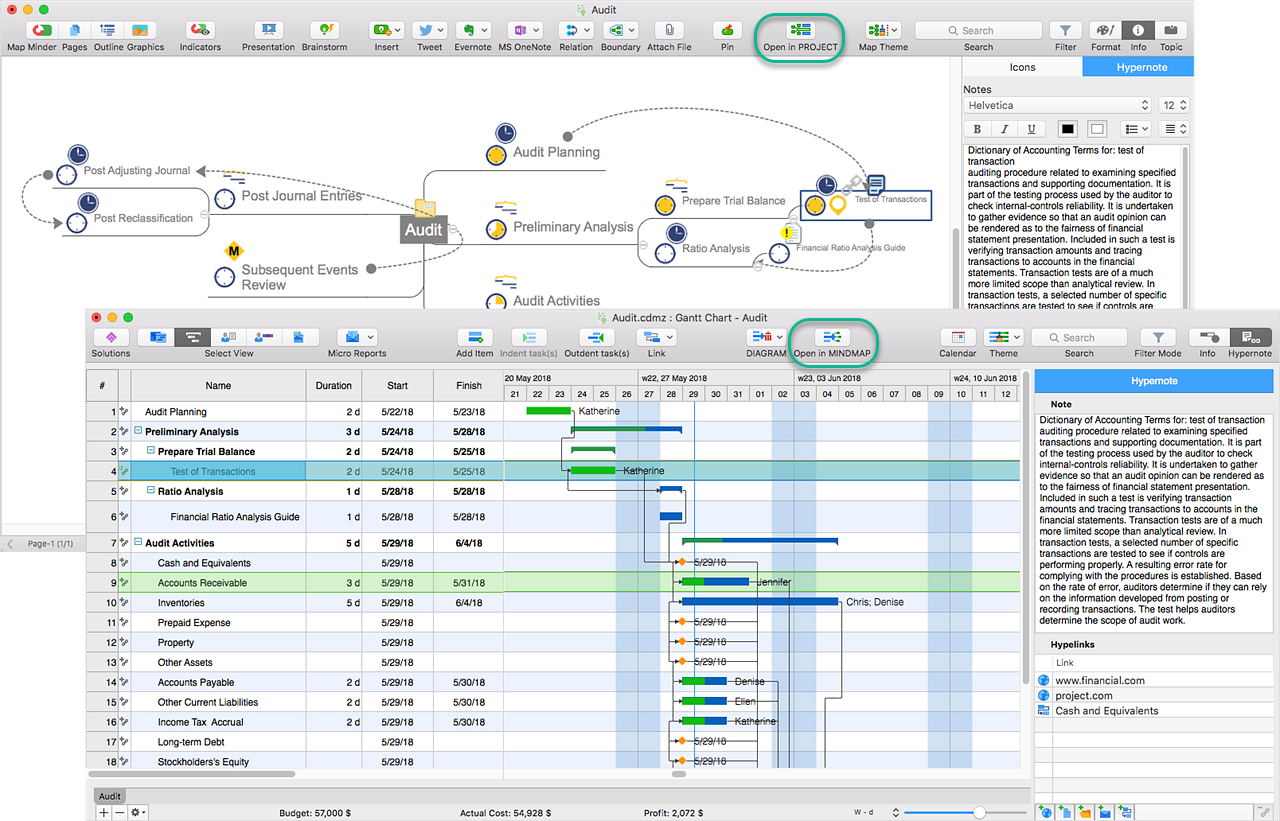 An extensive export and import functions also based on INGYRE information exchange technology. Export's, reports', dashboards' and diagrams' capabilities allow users to create the needed project data within only a short period of time.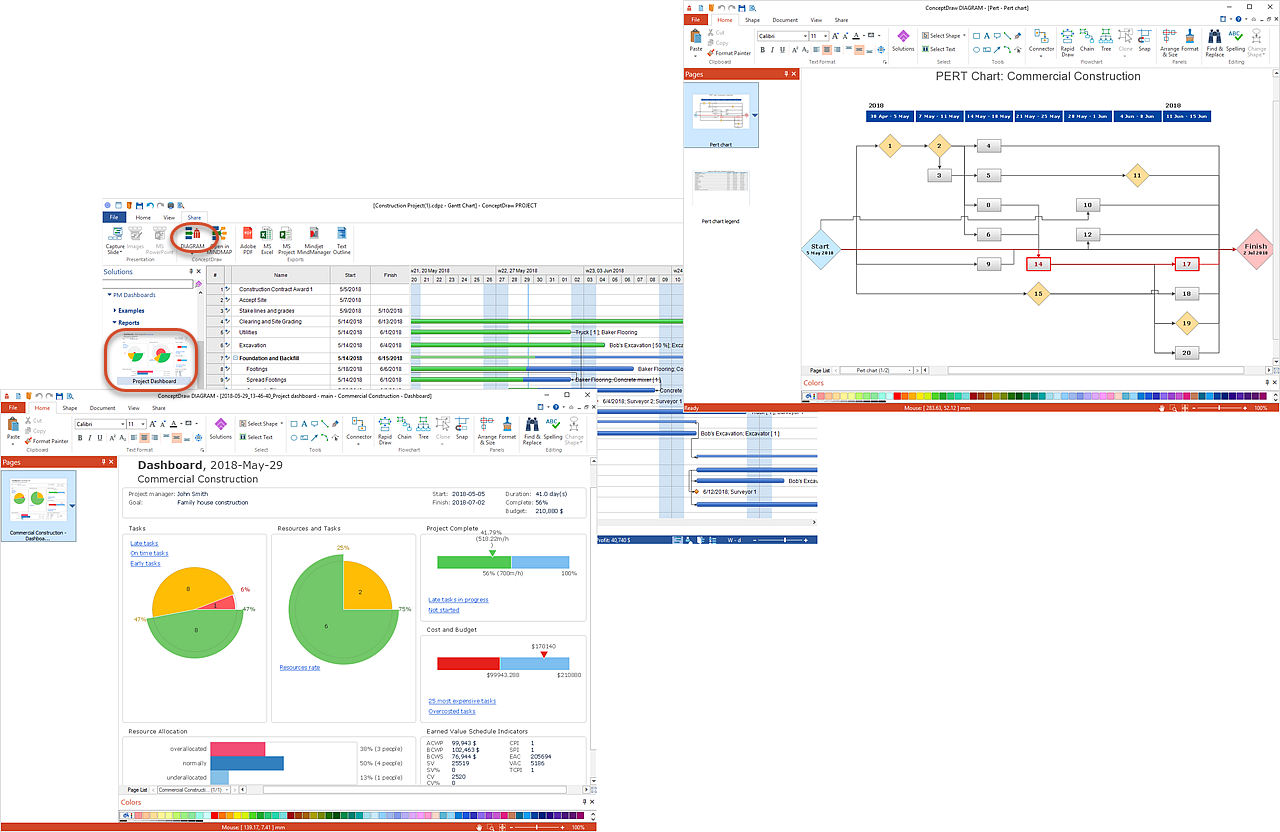 INGYRE provides varieties of capabilities for transforming data from one ConceptDraw app to another. It provides a comprehensive flow of information roundtrip in the ConceptDraw products. The information migration across applications is the necessary functionality of any professional office application.