What is SWOT Analysis?
The SWOT analysis helps in matching the company resources and capabilities information of the competitive environment in which it operates. The ConceptDraw DIAGRAM and MINDMAP software allow professional to make well-designed SWOT matrix in minutes.
Strengths: A firm's strengths are its resources and capabilities that can be used as a basis for developing a competitive advantage.
Weaknesses: The absence of certain strengths may be viewed as a weakness.
Opportunities: The external environmental analysis may reveal certain new opportunities for profit and growth.
Threats: Changes in the external environmental also may present threats to the firm.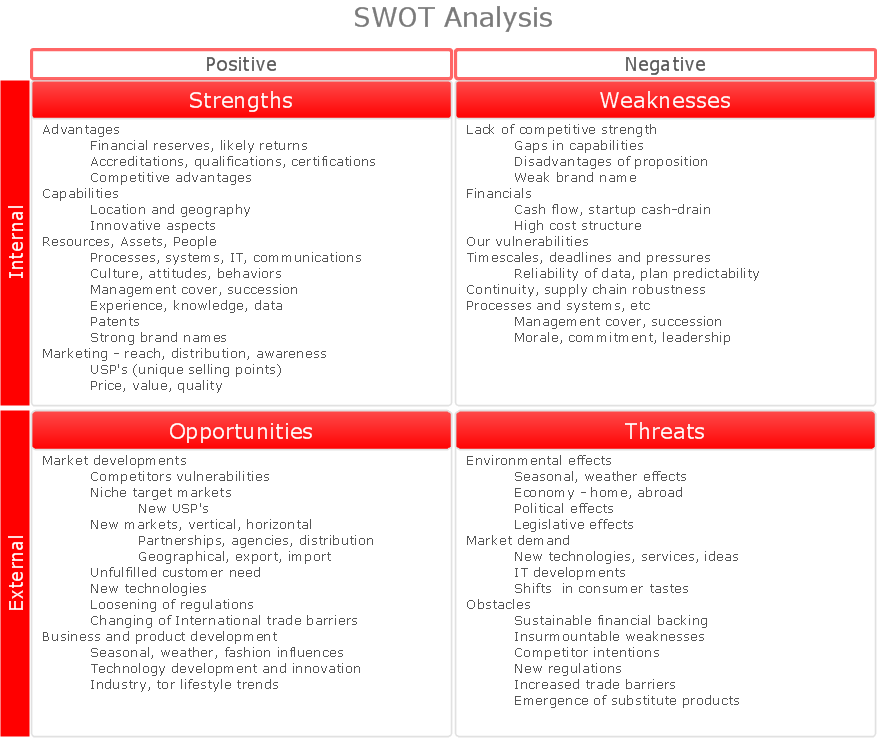 Sample 1. SWOT analysis matrix diagram - instructional sample.
SWOT analysis (SWOT Matrix) is a structured planning method used to evaluate the Strengths, Weaknesses, Opportunities, and Threats involved in a project or in a business venture. A SWOT analysis can be carried out for a product, place, industry or person. It involves specifying the objective of the business venture or project and identifying the internal and external factors that are favorable and unfavorable to achieving that objective. [SWOT analysis. Wikipedia]
---
See also:
Marketing — Matrices
Marketing positioning matrix - Product positioning map
Product-market matrix - Ansoff matrix
BCG matrix - Boston growth-share matrix
Feature comparison chart - Digital scouting cameras
Marketing matrix diagram - Competitive strategies
Marketing matrix diagram - Porters value chain
Marketing — Mind Maps
Marketing mindmap - Marketing research project
Marketing mind map - Strategic accomplishment mapping
Twitter Compaign for New Software Product
Marketing mind map - Sales Call
TEN RELATED HOW TO's: