Affinity Diagram
Affinity Diagram
The Affinity Diagram shows the structure of large, complex factors that have an influence on a problem, and then divides them up into a smaller and simpler structure. The Affinity Diagram does not show a causal relationship between the factors. This diagram is designed to prepare the data for further analysis of the cause-effect relationships. It's also known as a KJ diagram.
The History of Affinity Diagrams
The affinity diagram is a business tool for large idea and data organization. It's a part of the Seven Management and Planning Tools.
The term affinity diagram was invented by Jiro Kawakita in the 1960s, so now it could be referred to as the KJ Method sometimes.
Project Managers use this method right after brainstorming to sort large numbers of ideas into groups, based on their natural relationships.
Another area of affinity diagrams usage is contextual inquiry as a way to sort notes and observations from field interviews, open-ended survey responses organizing, support call logs, etc.
Other tools include:
Affinity Diagram
Relations Diagram
Prioritization Matrix
Root Cause Analysis Tree Diagram
Involvement Matrix
PERT Chart
Risk Diagram (PDPC)
When to Use Affinity Diagrams?
Once you finished a big brainstorming session with your team or on alone, next handy step will be - Affinity diagram.
It is used within Project Managers to organize a large number of ideas and represent it to team members in a better way, so they may see the patterns in what's been discussed and identify possible solutions to problems they have.
ConceptDraw STORE offers the Mind Map Exchange Solution from the Collaboration Area which allows to get instantly the access to the ConceptDraw MINDMAP for create Affinity Diagram.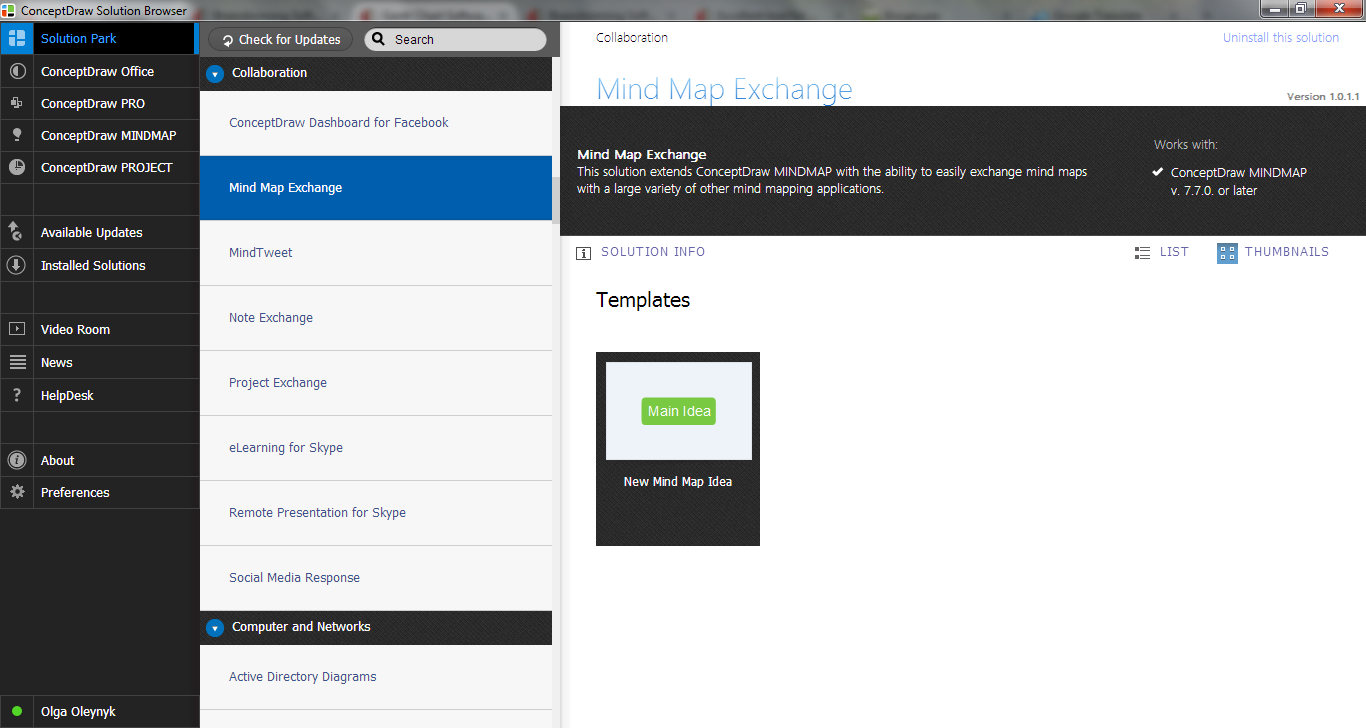 Example 1. Mind Map Exchange Solution in ConceptDraw STORE
Best Practices When Creating Affinity Diagrams
Affinity Diagram template (located in Input tab) opens a new Brainstorming session
Use this Brainstorming session to identify the central issue, contributing factors to that issue, and the details of those factors
Drag and drop to connect factors to the central issue
Drag and drop to organize details to their respective factors
Save map when finished
From Output tab, under "7 Management & Planning Tools", select Affinity Diagram
Affinity Diagram will be automatically drawn in ConceptDraw DIAGRAM
Collect and structure factors that impact on a problem.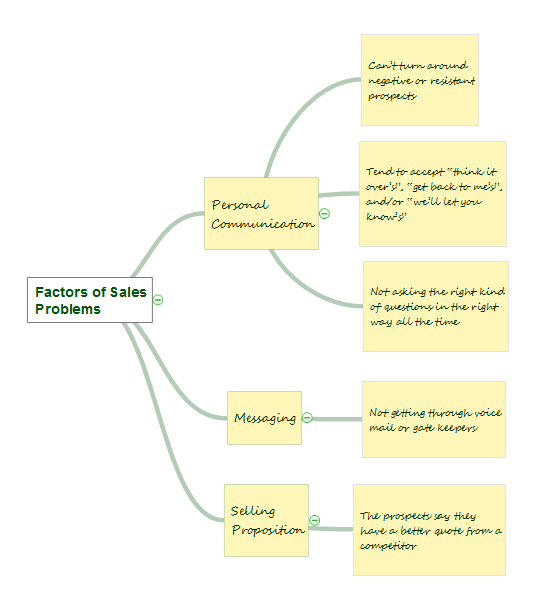 Example 2. Factors of Sales Problems
The Benefits for ConceptDraw MINDMAP Brainstorming Software
ConceptDraw MINDMAP is effective for brainstorming, designing mind maps, idea generating, creative and lateral thinking, creativity and problem solving.
ConceptDraw MINDMAP is ideal for team and personal work in Business, Marketing and Project Management.
The libraries with large quantity of vector objects help to illustrate your mind maps and to make them bright, visual and comprehensible.
Use of View Navigator tool lets create presentations from a mind map: you can simply select the map parts you want to present, sequence your slides, and preview the presentation.
ConceptDraw MINDMAP provides wide capabilities of importing and exporting in various formats: Microsoft PowerPoint, Microsoft Word, MS Excel, Mindjet MindManager, image, HTML, PDF file.
TEN RELATED HOW TO's: