Process Flow Diagram
What is a Process Flow Diagram
A Process Flow Diagram (PFD) is a diagram which shows the relationships between the main components in a system. Process Flow Diagrams are widely used by engineers in chemical and process engineering, they allows to indicate the general flow of plant process streams and equipment, helps to design the petroleum refineries, petrochemical and chemical plants, natural gas processing plants, and many other industrial facilities.
Process Flow Diagram is focused on the representation the major equipment and doesn't show minor equipment details and designations. The PFD of a single unit process can include:
process piping;
major equipment items, symbols, names and identification numbers;
recirculation streams and major bypass;
control valves and other valves which influence on the system's work, monitor and control the operations of the processes;
flow directions;
interconnections with other systems;
the set of operational data - pressure, temperature, flow rate, density, operational values for the pumps, compressors, distillation columns and other vessels, composition of fluids, process stream names, amount and composition of all the major process streams, amount of heat, system ratings, etc.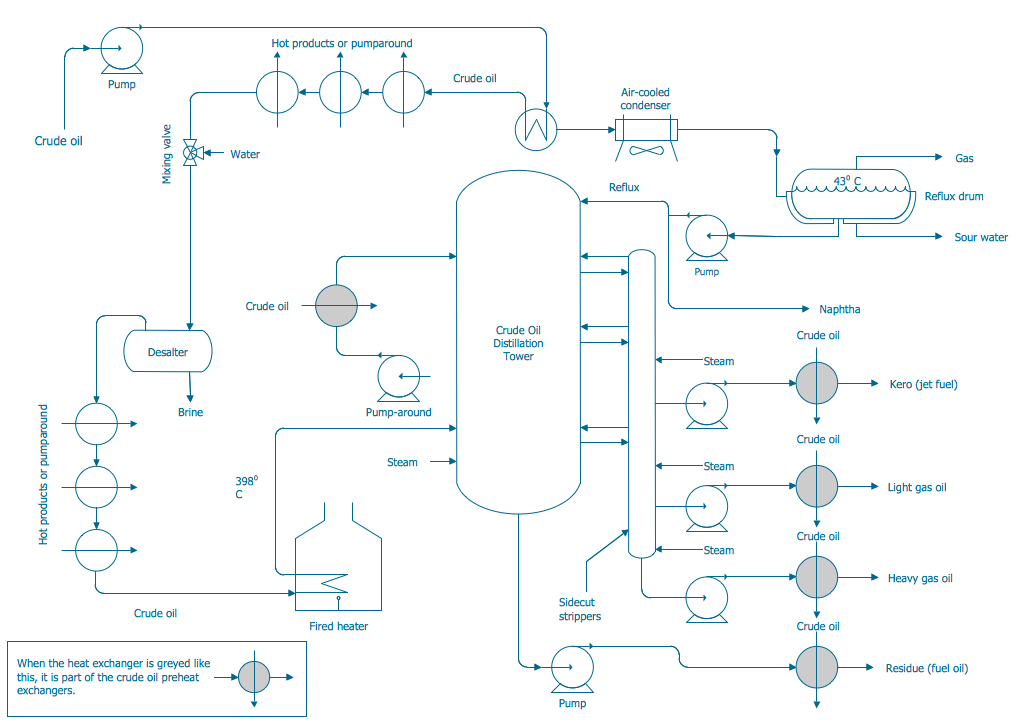 Example 1. Process Flow Diagram - Crude Oil Distillation Unit
Benefits of Process Flow Diagram
The Process Flow Diagram has a wide set of benefits:
gives a clear documentation of a process;
allows to define and offers common understanding of processes;
helps to build a process visual representation for analysis, discussion, and communication;
allows to identify the scope of the process;
allows to trace and analyze the process steps;
helps to standardize and find areas for monitoring, improvement and increased efficiency in a process;
allows to find and detach the steps of the process that are not essential;
helps in understanding the logic of complex problems;
offers a guidance for managers overseeing operations;
shows the plant design basis, the arrangement of major equipment, process lines, main control loops;
indicates feedstock, product, main streams flow rates and operating conditions;
facilitates communication between programmers and business people;
helps programmers to write the programs of any complexity and on the any high level language;
helps in debugging process and provides efficient program maintenance;
helps to understand and explain to other people the logic of the complex problems and their solution;
assists to improve teamwork effectiveness.
Design a Process Flow Diagram in ConceptDraw DIAGRAM
ConceptDraw DIAGRAM diagramming and vector drawing software extended with powerful tools of Flowcharts Solution from the "Diagrams" Area of ConceptDraw Solution Park is effective for drawing:
Process Flow Diagram
Flow Process Diagram
Business Process Flow Diagrams
Flowcharts Solution offers collection of predesigned samples and 2 libraries with variety of predesigned vector shapes for easy drawing Process Flow Diagrams:
Flowchart library contains 26 objects,
Flowcharts Rapid Draw library contains 39 objects.

Example 2. Process Flow Diagram. Design Elements — Invoice Payment Process Flowchart for Apple OS X and Windows
The Process Flow Diagrams you see on this page were created in ConceptDraw DIAGRAM software using the Flowcharts Solution and Chemical and Process Engineering Solution. These samples are available from ConceptDraw STORE.
Use the tools of Flowcharts Solution for ConceptDraw Solution Park for fast and easy designing professional looking Process Flow Diagram, and then successfully use it in your work activity.
All source documents are vector graphic documents. They are available for reviewing, modifying, or converting to a variety of formats (PDF file, MS PowerPoint, MS Visio, and many other graphic formats) from the ConceptDraw STORE. The Flowcharts Solution is available for all ConceptDraw DIAGRAM or later users.
TEN RELATED HOW TO's: