Org Chart Diagram
Project Management
In PM solutions we support many project methodologies such as Agile and Simple Projects. Methodology solutions help in implementing best practices in project management. CS Odessa provides Toolbox solutions to support solving issues related to planning, tracking, milestones, events, resource usage, and other typical project management functions. Toolbox Solutions help you deal with common project situations in an extraordinary way.
PM Teams
Benefits
ConceptDraw Solution Park creates a single information space for messaging to teams. PM Teams provides project participants and organizations with better tools that assist in task understanding, timeframe understanding, and project events in the entire organization. Improved communication fosters positive team spirit throughout.
Objective
Prepare organization charts, roles and responsibility matrices, team directories, and calendars.
Solution Purpose
Quickly create organizational charts, work calendars, and resource calendars using the graphic capability in ConceptDraw Office. Easily exchange project information and project maps with people who do not have ConceptDraw Office, using the powerful output capabilities in ConceptDraw Office.
Intended For
Project managers who need to communicate with managers throughout the organization including human resources managers, senior managers, stakeholders, and department managers.
Products and Methods
The solution's focus is on calendars and work charts. This tool sends messages to team members to let them know what is happening in a project. Use these tools to exchange information for internal audiences (team and task) and external audiences (organization, administration and other projects).
Org Chart Diagram
Use the advantages of hierarchical tree structure of mind map while developing the organizational structure of your organization. Create an Organizational Chart from your map. Double click the icon to create an Organizational Chart.
The diagram is created automatically from the active page of your map by ConceptDraw DIAGRAM and will be opened in Slideshow mode.
The diagram would be represented as a single-page document if the whole structure can be located on the on the standard paper layout (A4 or Letter). If the diagram is represented on the several pages, the first page would contain Main Idea, Main Topics and Level 2 subtopics.
Each of the next pages will contain Level 2 with Level 3 subtopics. The Level 2 topics on the first page are connected by hyperlinks with corresponding Level 2 topics on the next page.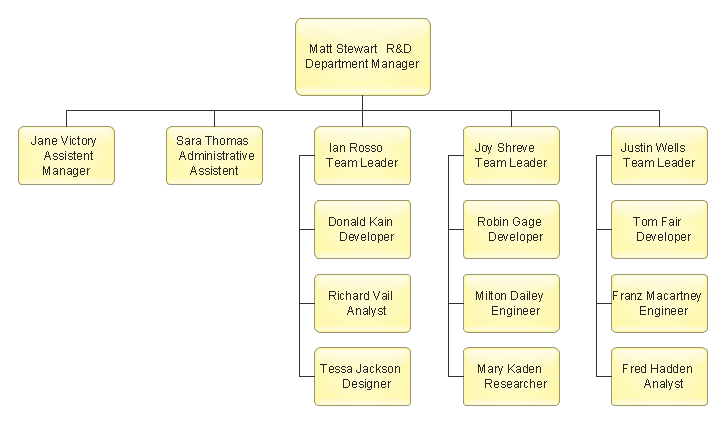 Example 1. Org Chart Diagram
The Benefits for ConceptDraw MINDMAP Brainstorming Software
ConceptDraw MINDMAP is effective for brainstorming, designing mind maps, idea generating, creative and lateral thinking, creativity and problem solving.
ConceptDraw MINDMAP is ideal for team and personal work in Business, Marketing and Project Management.
The libraries with large quantity of vector objects help to illustrate your mind maps and to make them bright, visual and comprehensible.
Use of View Navigator tool lets create presentations from a mind map: you can simply select the map parts you want to present, sequence your slides, and preview the presentation.
ConceptDraw MINDMAP provides wide capabilities of importing and exporting in various formats: Microsoft PowerPoint, Microsoft Word, MS Excel, Mindjet MindManager, image, HTML, PDF file.
TEN RELATED HOW TO's: