Project Management
ConceptDraw Office
ConceptDraw Office is an integrated set of visualization products and document exchange technologies. ConceptDraw OFFICE consists of a diagramming platform, a mind mapping, and a project management tool. These tools are essential to generate business diagrams, mind maps, project plans, dashboards, presentations, schematics, and any other business visualizations. These tools have access to an online service, ConceptDraw Solution Park that will deliver additional product extensions in the future. This is a time saving assistant for generating your business documents and presentations.
ConceptDraw Office consists of a diagramming platform, a mind mapping, and a project management tool. These tools are essential to generate business diagrams, mind maps, project plans, dashboards, presentations, schematics, and any other business visualizations.
ConceptDraw MINDMAP Samples
Sample mind maps created in ConceptDraw MINDMAP that demonstrate the different capabilities and applications of the program for business, personal, or education use.
A detailed mind map about the various elements and stages of project management.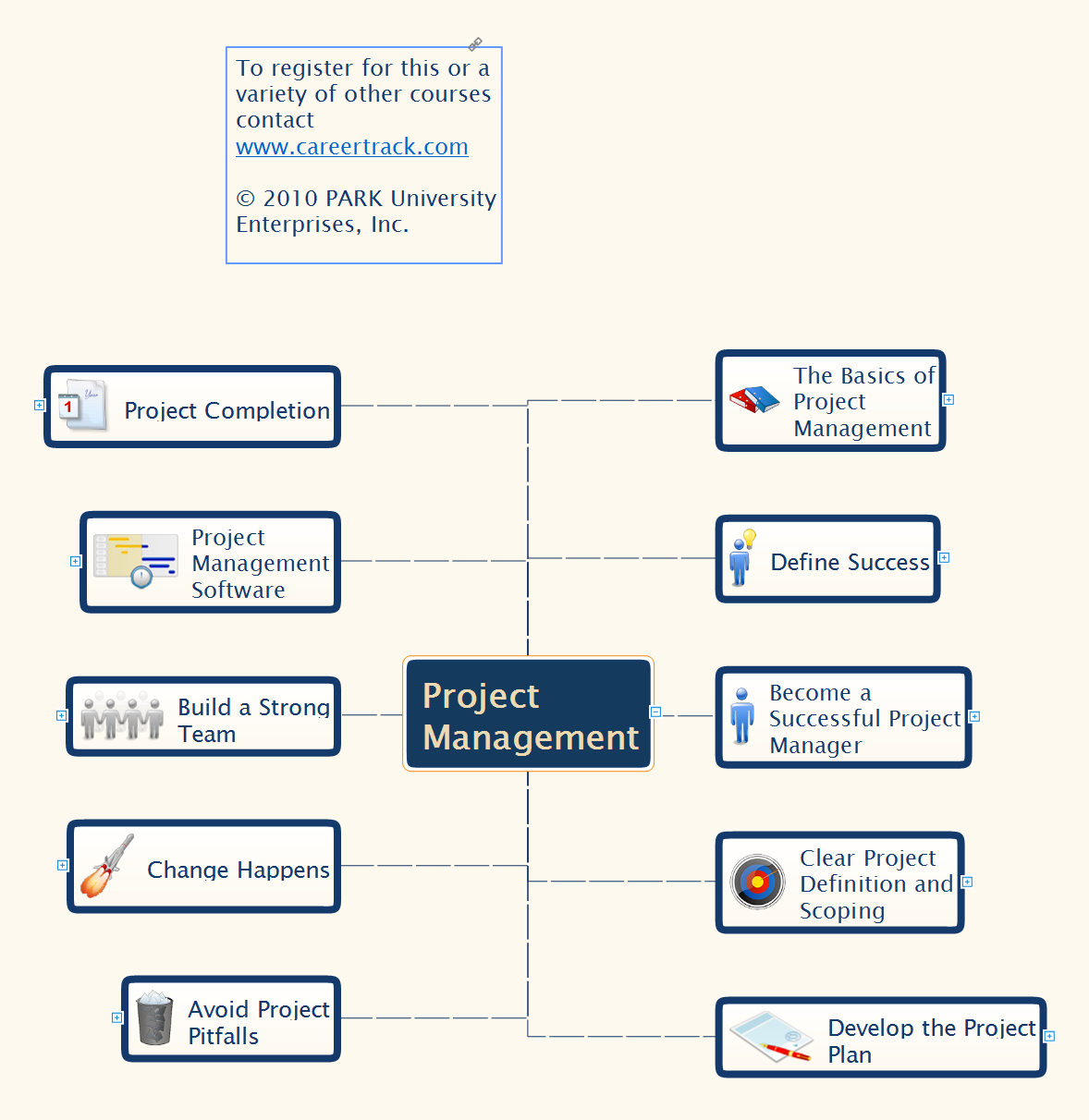 Example 1. Project Management
Export to Outline
Project Management
The Basics of Project Management

What is a project?

A one time, multi-task job that has clearly defined starting and ending dates, a specific scope of work to be performed, a budget, and a specified level of performance achievement.

Project Management is using a set of tools to:

Create a work plan.
Manage work.
Anticipate and solve problems.
Allocate resources.
Implement the plan.

Do you have a project to manage?

Projects must have multiple tasks.

Define Success

There are many variables that contribute to project success.
Components of a Successful Project

Become a Successful Project Manager

Top 5 Key Traits of Successful Project Managers
Determine Your Own Personal Strengths and Weaknesses
The Functional Manager vs. The Project Manager

Functional Managers:
Project Managers:
Your success as a project manager depends on knowledge, attitude, and flexibility.

Who Should Be Involved in the Project?

Identify specific people who should be involved in setting objectives and assure the project receives the necessary support and resources.
Fundamental expectations of the project manager are that:

They will provide a usable product or service
They will serve the customer professionally.
They will learn about the customers needs and address them effectively.
They will learn the project on time and within budget.

The Project Life Cycle

The project life cycle is the overall process used to manage and complete a project.
Each stage of the life cycle should be defined in a formal project plan.

Clear Project Definition and Scoping

Take time to clarify the project definition and scope so you can ensure all customer requirements are understood.
Perform a Needs Analysis with Your Customers to Help Define the Project and Scope
Project Definition and Scope
Managing a Balanced Project

Projects are a balancing act. Define the project and identify how best to manage project resources.
Determine your project constraints by evaluating the availability of the 4 main resources: MONEY, MATERIALS, MACHINES, and PEOPLE.
Identify vulnerabilities and make the necessary adjustments.
Each day review: project schedule status, resource allocation, project expenditures against the budget.

Common Mistakes Made in the Define Stage

Develop the Project Plan

Project planning is the process of creating and maintaining a "Game Plan".
The purpose of planning is to answer the who, what, when, how long, and how much.
Create the Project Plan-- The Work Breakdown Structure (WBS)
WBS Format
Estimating Time

Estimate Durations
Weighted Average Technique
Successful Estimating

A successful project manager has to be in tune with all aspects of the project.
Time estimates are a critical part of project planning.
8 Tips for More Accurate Time Estimates:

Evaluating Project Risk

It is best to plan as if things may deviate from the original plan.
Risk Assessment
Elements of Risk

Project Scheduling Models

Avoid Project Pitfalls

Problems and Solutions

Lack of Information
Time Constraints
Personnel Changes
Financial Constraints
Over-allocation or Unavailability of Critical Resources
Loss of Team Member

Documentation, Documentation, Documentation

To maintain continuity in your project, keep a record of project activities.
A Project Notebook will increase communication and provide useful project information.
Benefits of a Project Notebook

Top Notch Communication

Successful project managers know the importance of good communication.
Keeps team on track and informs the project stakeholders and clients of project status.
What to Communicate and When...

Weekly
As Needed
Immediately

Change Happens

Source of Change
Control Scope Creep
Help the Project Team Adjust to Changes

Build a Strong Team

7 Fundamentals of Strong Team
Team Problem Solving
Team Communication

Meeting Checklist

Schedule regular meetings.
Prepare an agenda.
Prepare yourself.
Manage meeting time.
Take minutes.
Insist on full participation.
Establish ground rules.

Team Meetings

Project Management Software

Use of computers and project management software are helpful in successfully competing a project.
4 Advantages of Using Computers in Project Management
Pinpoint Your Projects Specific Hardware and Software Requirements

Evaluation Methods
Installation and Conversion
Scheduling and Controlling

Selecting Project Management Software

Project Management Software can be simple and inexpensive or more complex and expensive.
Evaluate Software Options

Key Tips for Making the Right Software Choice

Project Completion

A clean ending is as important as a smooth beginning.
The final task of a project manager is to finalize the project and conduct a formal review.
The Benefits for ConceptDraw MINDMAP Brainstorming Software
ConceptDraw MINDMAP is effective for brainstorming, designing mind maps, idea generating, creative and lateral thinking, creativity and problem solving.
ConceptDraw MINDMAP is ideal for team and personal work in Business, Marketing and Project Management.
The libraries with large quantity of vector objects help to illustrate your mind maps and to make them bright, visual and comprehensible.
Use of View Navigator tool lets create presentations from a mind map: you can simply select the map parts you want to present, sequence your slides, and preview the presentation.
ConceptDraw MINDMAP provides wide capabilities of importing and exporting in various formats: Microsoft PowerPoint, Microsoft Word, MS Excel, Mindjet MindManager, image, HTML, PDF file.
FIVE RELATED HOW TO's: