Gant Chart in Project Management
ConceptDraw PROJECT — a full-featured project management solution with all the necessary functions right at your fingertips. Generates an extensive variety of reports on project and task statuses. Centralizes project information through embedded documents and hyperlinks. Unique Multiproject Dashboard manages multiple projects from a single file. Powerful integration with other ConceptDraw products makes project management easier than ever before.
Gant Chart is a graphical representation of tasks as segments on a time scale. It helps plan and monitor project development or resource allocation. The left hand side of the Gant chart is a column with lists of tasks. The horizontal axis is a time scale, expressed either in absolute or relative time.
| | | |
| --- | --- | --- |
| |   | In a Gant chart, each task takes up one row. Dates run along the top in increments of days, weeks or months. Rows of bars in the Gant chart show the start and end dates of each task in the project. Tasks may run sequentially, in parallel or overlapping. |
Gant chart example
Use Gant chart at project scheduling stage to

Assess time characteristics to a project
Show the task order
Define resources involved
Show links between scheduled tasks

Tip using Gant Chart
For large projects, tasks can be split into subtasks with own Gant charts to maintain readability.

Use Gant chart at project planning stage to

Monitor project completion
Display the results of correctional activities
Show links between scheduled tasks

Mac Gant chart screenshot
Useful Gant Chart links
History of a Gant Chart

Gant chart was created by Henry L. Gant, an American engineer, in 1917. He developed the first Gant chart for planning of building ships in the First World War times. The chart proved to be such a powerful analytical instrument that it had not undergone any changes for almost 100 years. It was only in 90s of the last century when link lines between tasks were added to the Gant chart.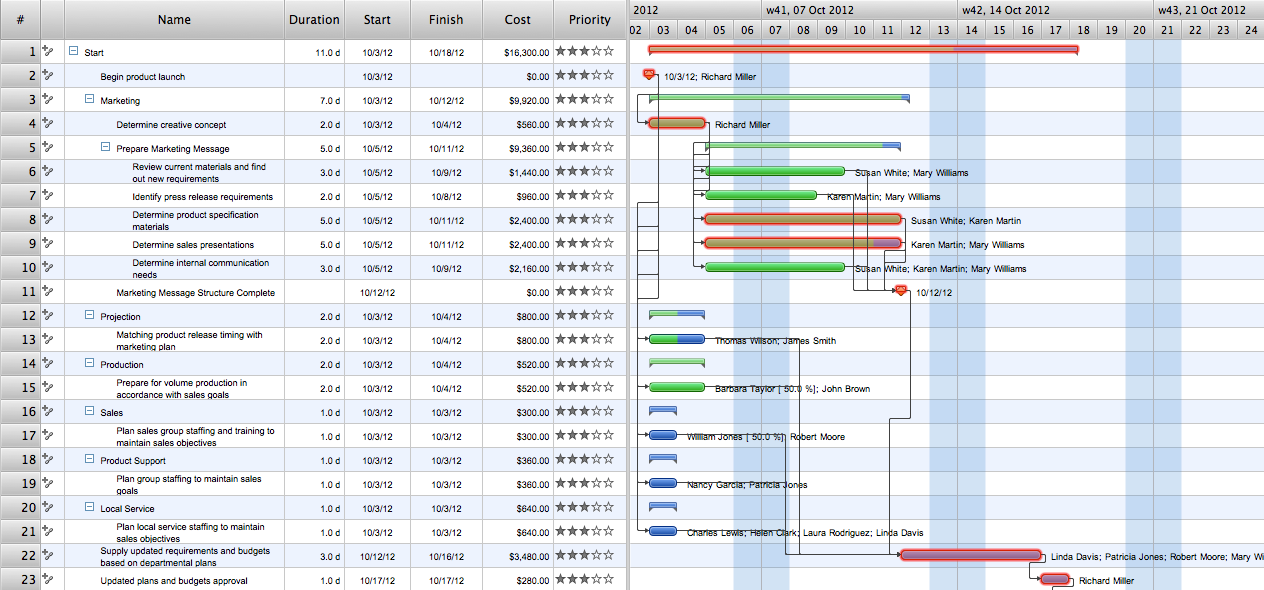 Addendum: Gantt Spelling
Widely discussed, but difficult to spell, and far more than a buzzword, Gantt's unusual surname gives rise to much dismay as people search for information on Gant Charts, Ghant Charts, and Gannt Charts. As such, I have included these common misspelling.
Gant Chart
:
Gant Chart for project planning and scheduling
:
Usage of Gant Charts
:
History of a Gant Chart
:
Gant Chart examples
:
Gant chart software download
:
More on Gant Charts
:
Project Management Tool
:
Gant Chart
:
Buy Gant Chart
NINE RELATED HOW TO's: