How to Build Cloud Computing Diagram
Principal Cloud Manufacturing
The term "cloud" is very popular and widely used now, it is a server, data processing centre, or a network which lets to store the data and software, provides access to them, allows to run applications without installation and gives the possibility to process data hosted remotely via the Internet connection.
With increasing a competition, each manufacturing company strives to support flexible and scalable business processes, that's why the modern technologies, such as the cloud manufacturing, are so actively applied today.
Cloud manufacturing (CMfg) is a new, relatively recently developed manufacturing paradigm. It is based on the service-oriented technologies and advanced computing technologies under the support of cloud computing, popular manufacturing models such as ASP, NM, AM, MGrid. Cloud manufacturing are the high-quality, effective, safe, reliable, cheap, on-demand manufacturing services for the whole lifecycle of manufacturing. It includes all steps of a product lifecycle - design, simulation, production, test and maintenance. Cloud manufacturing offers the capabilities of intelligent management, lets to share and jointly use the manufacturing capabilities and resources, transform them into the manufacturing services, the on-demand use of services is offered for all users involved to this manufacturing process.
Succeed in design Cloud Computing Diagrams, visually represent how cloud computing works and depict professionally Cloud Computing Architecture, with powerful tools of Cloud Computing Diagrams solution for ConceptDraw DIAGRAM software.
Let's see how to build the Cloud Computing Diagram on the example of building the Principal Cloud Manufacturing. Here is represented the chain of easy steps you need to follow for designing professional looking and attractive diagram representing the cloud manufacturing.
Create new document
Change document Page size in Document Properties - Page Size
To see orientation buttons, select Page Size, other than your printer paper size
Select Orientation - Landscape

Select Rectangle tool from the main toolbar and make it the same size as a page
Use Fill Inspector to change fill color of rectangle. For more specific color use Color Wheel

Lock layer with rectangle in Inspectors - Layers
Select other Layer for next drawing
Add Guide line to the page center. Just drag and drop it from rulers

Open Cloud Computing Diagrams Solution -> Cloud clipart library. Select Cloud shape
Drag Cloud shape from library to the page
Glue shape center to guide - glued points are marked in red.
Add label to shape - double click on share or just select shape and start typing
Move label - grab yellow diamond point with T.
Change text attributes in Inspectors - Text

Add two more Cloud shapes
Bring to front first cloud using buttons on a toolbar
Add Network bus shape from Cloud clipart library
Rotate shape dragging a shape rotate tool

Change background rectangle color using Color Slider. Also you can set a specific color in RGB, CMYC, HSB systems ets.
Change Network bus shape color
Add Rectangle, orange shape from Cloud shapes library and change the size
Type text for Network bus shape. To rotate text box use Rotate tool in text edit mode

Increase shapes' sizes, replace
Snap to guides Cloud shapes placed to back

You can change Snap Sensitivity in ConceptDraw DIAGRAM Preferences - General

To make both back clouds same sizes, select them and use Shape Tool - Make Same - Size. All selected shapes will become the same sizes as main selected shape with green frame

Add Square frame from Cloud shapes library around clouds on page
Duplicate orange Rectangle using Command+D few times
Replace rectangles and connect them using connector tool
Add Ellipse frame from library around rectangles
Change connectors arrows ends if needed
Specify arrows and frames color

Add connectors and arrow one-way from Cloud Connectors library
Add connect dotted one-way shape and select color from this shape using eyedropper tool
You can add specific color to palette panel to access it more quickly

Change color if needed, delete unnecessary shapes
Add text to one-way Arrow and to Ellipse frame. Set color and size for text. Replace if needed

Add shapes from Cloud clipart library
Specify place, size, text and text color

Replace inspectors
Add more shapes and texts
Specify attributes

Zoom some area on screen
Correct it the way you need

Add more shapes, connectors, text etc.
Specify attributes

Open page navigator
Open context menu on page - select Adjust to Drawing Contents
Note that this function apply to all pages and take into account page margins from printer settings

Check if everything is correct
Your document is ready!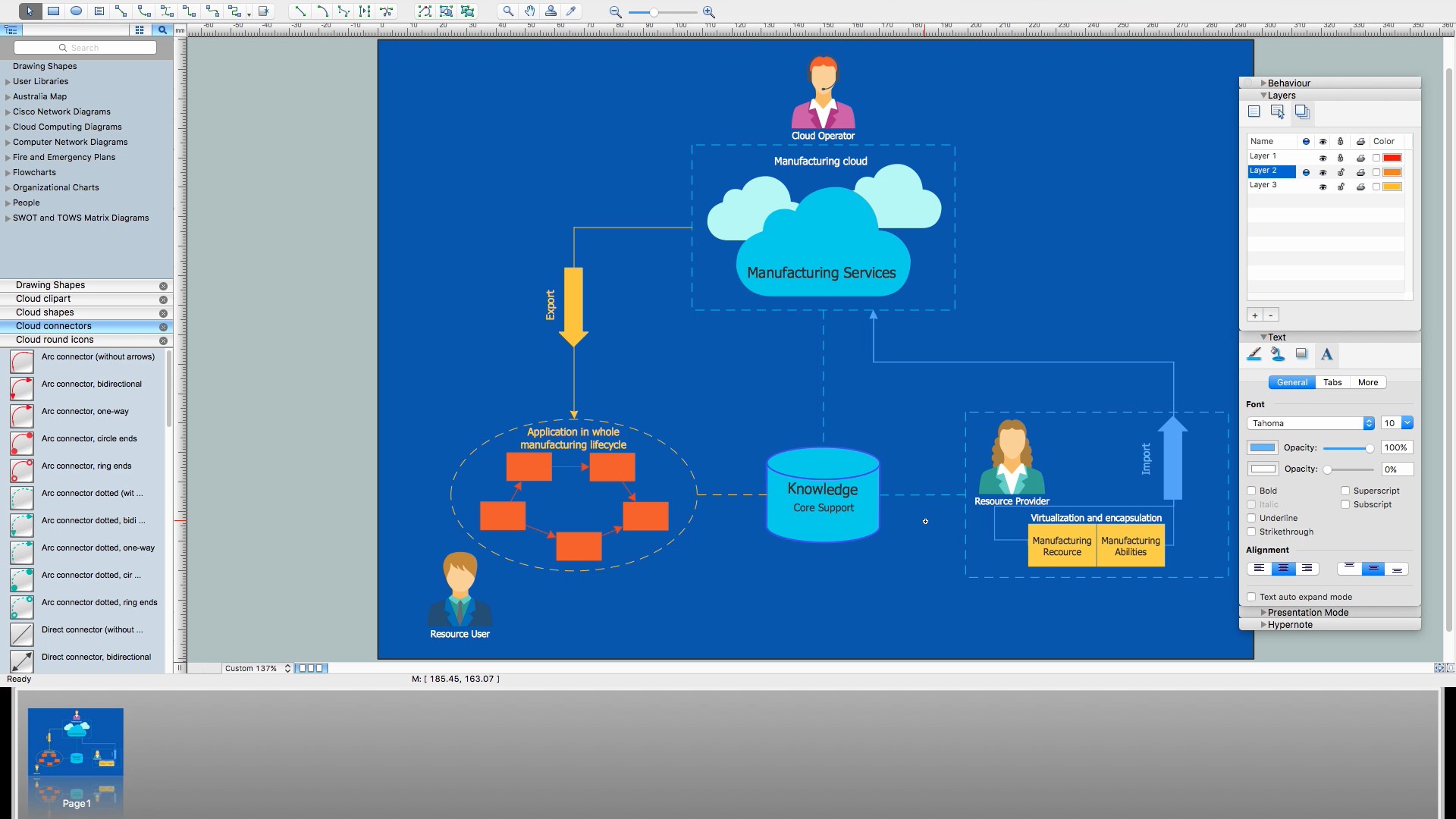 All exporting commands are available at ConceptDraw DIAGRAM from the File menu. You can immediately apply them when your diagram is ready.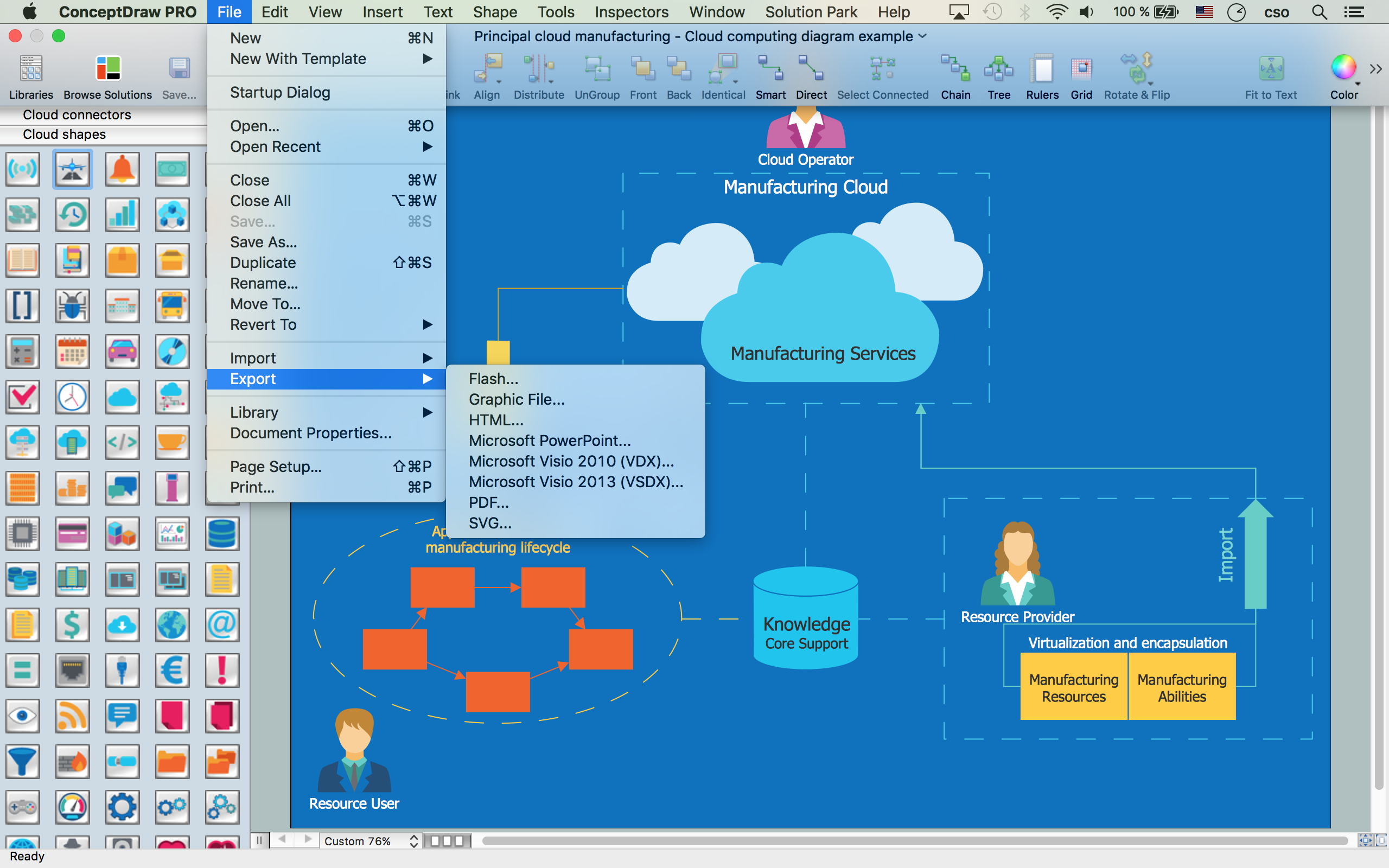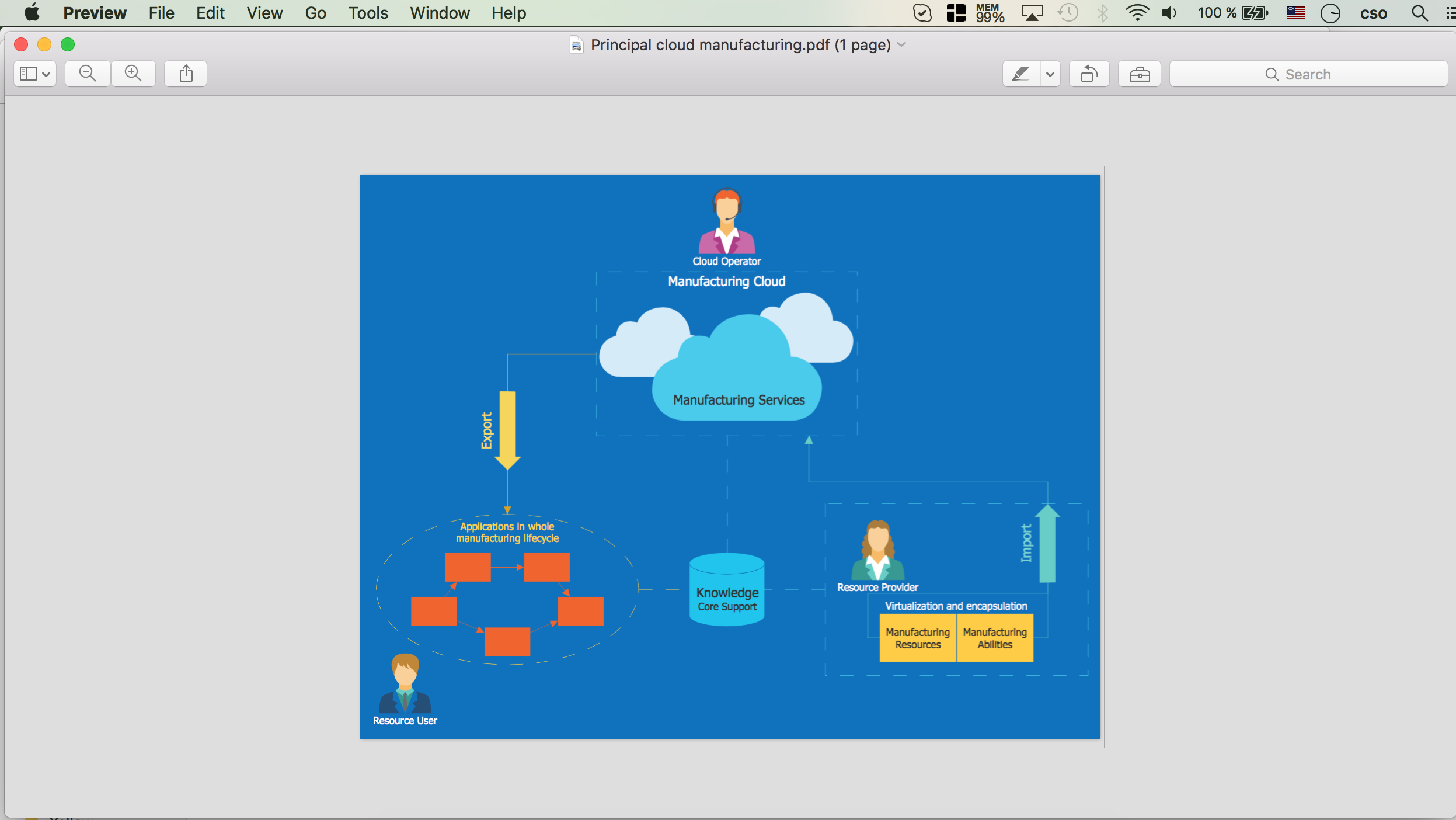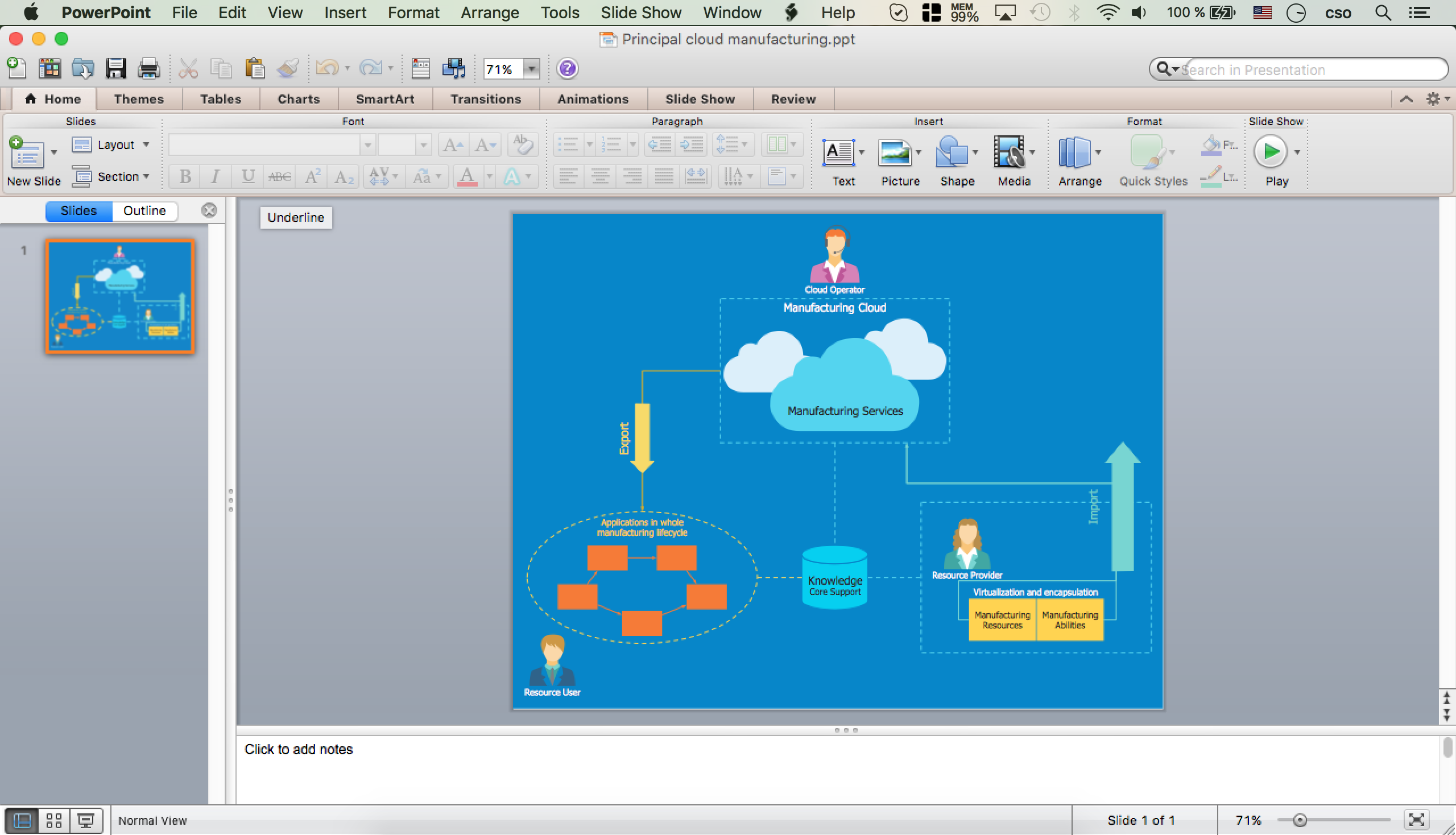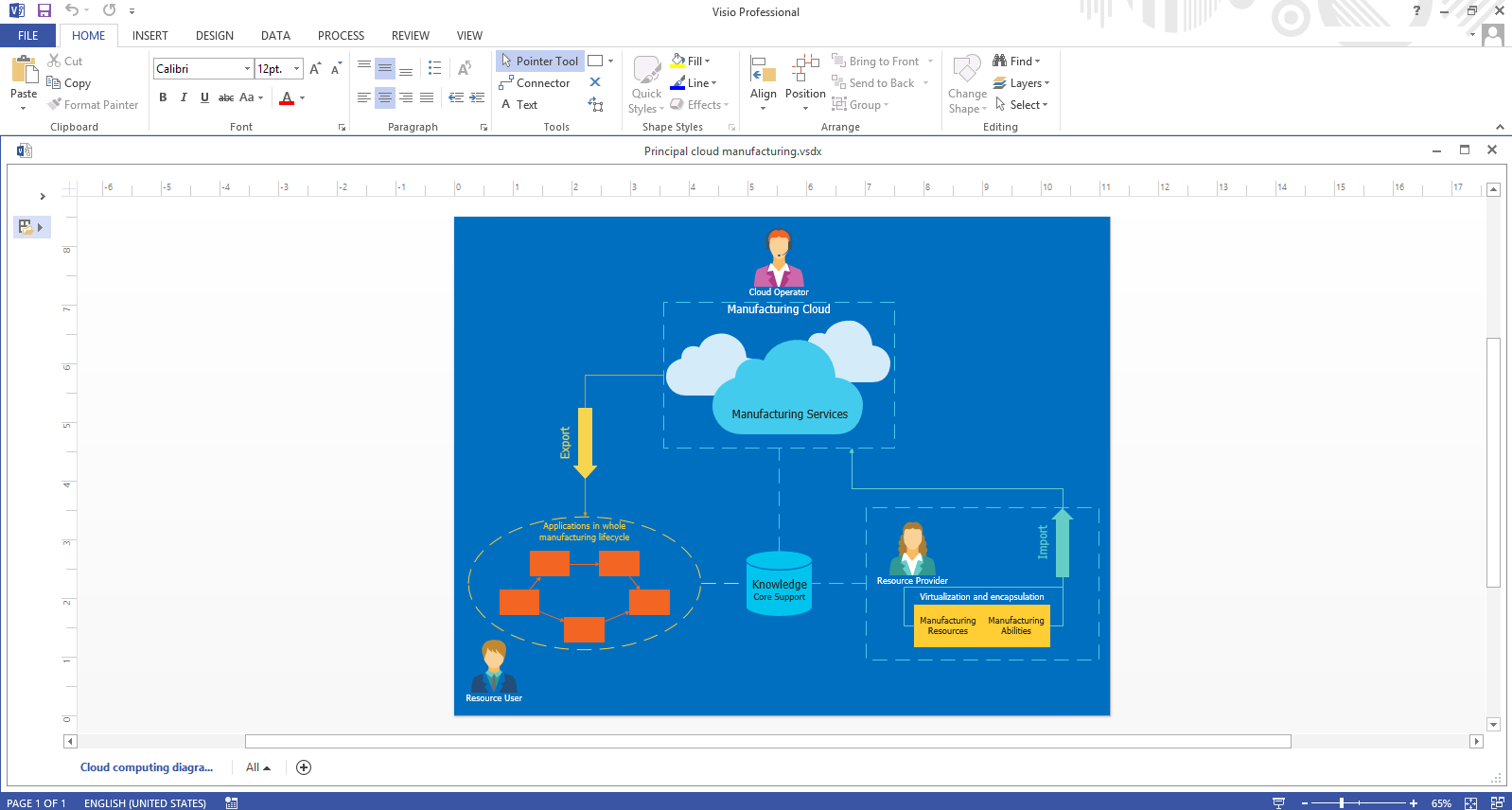 This Cloud Computing Diagram depicting the Principal Cloud Manufacturing is designed fast and easy thanks to the powerful drawing tools of ConceptDraw DIAGRAM software and numerous predesigned vector objects offered by the libraries of Cloud Computing Diagrams solution. It is a perfect example of fast and easy building processes in ConceptDraw DIAGRAM drawing Cloud Computing Diagrams and displaying the use of cloud manufacturing for streamlining manufacturing processes.
Design with pleasure your own cloud-based systems and draw your own professional-looking, vivid and attractive Cloud Computing Diagrams with help of Cloud Computing Diagrams solution for ConceptDraw Solution Park.
Make easier developing the cloud-based strategies in manufacturing and distribution industries, also in sphere of services with ConceptDraw DIAGRAM software. Use the cloud manufacturing for successful automatization customer services and optimization key areas in business field, create the cloud-based Human Resource Management (HRM) systems and Enterprise Resource Planning (ERP) solutions for manufacturing, apply the cloud manufacturing technologies in industrial, aerospace and defense industries.
TEN RELATED HOW TO's: