Geo Map — USA — Washington
Maps of USA — State of Washington
Washington is one of the states of America, situated in the north-western part of the country. This state has borders with other states of America as well as the Canadian province of British Columbia to the north. Washington is bordered by the state of Oregon to the south, Idaho to the east and the Pacific Ocean to the west of Washington. This state is part of a region known as the "Pacific Northwest". There are the high mountains of the Cascade Range within the borders of this state and there are two parts of this state, known as the "Western Washington" and the "Eastern Washington", also called "West side" and "East side", "Wet side" and "Dry side" or "Timberland" and "Wheatland".
The so-called "Eastern Washington" is the part of the state east of the Cascades. There is a relatively dry climate, including the large areas of semiarid steppe as well as a few deserts lying in the rain shadow of the Cascades. To the east, the climate becomes less arid. To the north-east, there are the Kettle River Range and Okanogan Highlands, as well as the Selkirk Mountains covering that area. "Western Washington" from the Cascade Mountains westward has a marine west coast climate, which includes wet winters, autumns and springs, quite dry summers and mild temperatures during the year.
There are a few volcanoes in the Cascade Range, including the big ones which are also active now: "Glacier Peak", "Mount Adams", "Mount Rainier", Mount Baker and "Mount St. Helens". The tallest among them is the Mount Rainier, which is 80 kilometres south of the city of Seattle. The most dangerous volcano in the Cascade Range is known to be the one, which is almost 5000 metres (4392 m) high - Mt. Rainier one, covered with more glacial ice than any other peak in all of the states in America. There are also well known the Olympic Mountains in the Western Washington, as well as the deep forests, such as the Hoh Rainforest one.
There are about 6,7% of the residents of Washington under age five and about 25,7% under 18 living there. Over 11% of the residents are 65 years old or older. There is about the same quantity of male and female people living in this state, but from the different European ancestry groups: over 20% of German, over 12% of Irish, over 12% of English people, over 8% Hispanic, over 6% Norwegian, almost 4% French, almost 4% American, the same 4% of Italian, about 3,5% of Swedish, equally to Scottish, about 2,5% of Scotch Irish residents, same 2,5% of Dutch people, about 2% of Polish people and slightly less than 2% of Russians live in this state, where less than 4% of the residents are African Americans.
There are known to be living about 77% of the white people, including the non-Hispanic whites as well as the white Hispanics (over than 6% of them). It is known, that there are about 4% of Black or African Americans living in Washington and about 1,5% of Native Americans, although over than 7% of the Asian people, and over 10% of Hispanic or Latino people there. There are all together over 700000 people living in Seattle nowadays, over 215000 in Spokane and over 200000 in Tahoma, which are three most populous cities in Washington. There are almost 175000 residents in Vancouver, 140000 in Bellevue, over 125000 in Kent, over 100000 in Everett and over 100000, but less than 101000 people live in Renton. And the last three most populous cities in Washington on this list are Renton with over 100000 people there, and Federal Way all together with Spokane Valley have about 200000 residents between them.
The most popular spheres of business in Washington include designing as well as manufacturing the aircrafts (for example, Boeing). The computer software development is also very popular and it includes the work of such huge companies, as Amazon, Microsoft, Bungie, Nintendo of America ArenaNet and Valve Corporation. The telecommunications are familiar with T-Mobile US, which is a company working within the borders of the mentioned state. There are also many people working in aluminium production, as well as producing the wood and lumber products working for "Weyerhaeuser". Electronics, mining, real estate, beverages, tourism, retail and biotechnology is what the residents of this state are busy with.
Four of the top 20 Most Admired Companies in the United States of America are based in Washington, such as Microsoft, Amazon.com, Costco and Starbucks. This state has a significant amounts of hydroelectric power generation (over 80%). Washington trades with Asia passing through the ports of the Puget Sound leading to a number 6 ranking of the ports in the United States of America. Among its resident billionaires, there is a well-known Bill Gates working in Washington, who can be mentioned as one of those who makes a fortune having business in this state. Being a technology advisor and former Chairman as well as CEO of Microsoft, who managed to earn 84 billion USD, this man was the wealthiest one in the world in 2013. The other Washington state billionaires are Craig McCaw, Paul Allen, Jeff Bezos, Steve Ballmer, Howard Schultz, Charles Simonyi and James Jannard.
If you want to be on a list of the wealthiest people in the world, then you might need to use the professional software in order to help you in your business. Thus, to create a map of yours, such as the one of the mentioned state, you can always choose ConceptDraw DIAGRAM as your adviser and so to draw the needed plan, which you can always use for your presentations, web sites and other projects. Having the "Washington library" from the "Continent Maps" solution, which can be downloaded both from the "Maps" area of "ConceptDraw Solution Park" or from ConceptDraw STORE, can simplify your work with creating the thematic maps, geospatial infographics as well as vector illustrations of the state you need, to use them for your business documents, presentations and websites.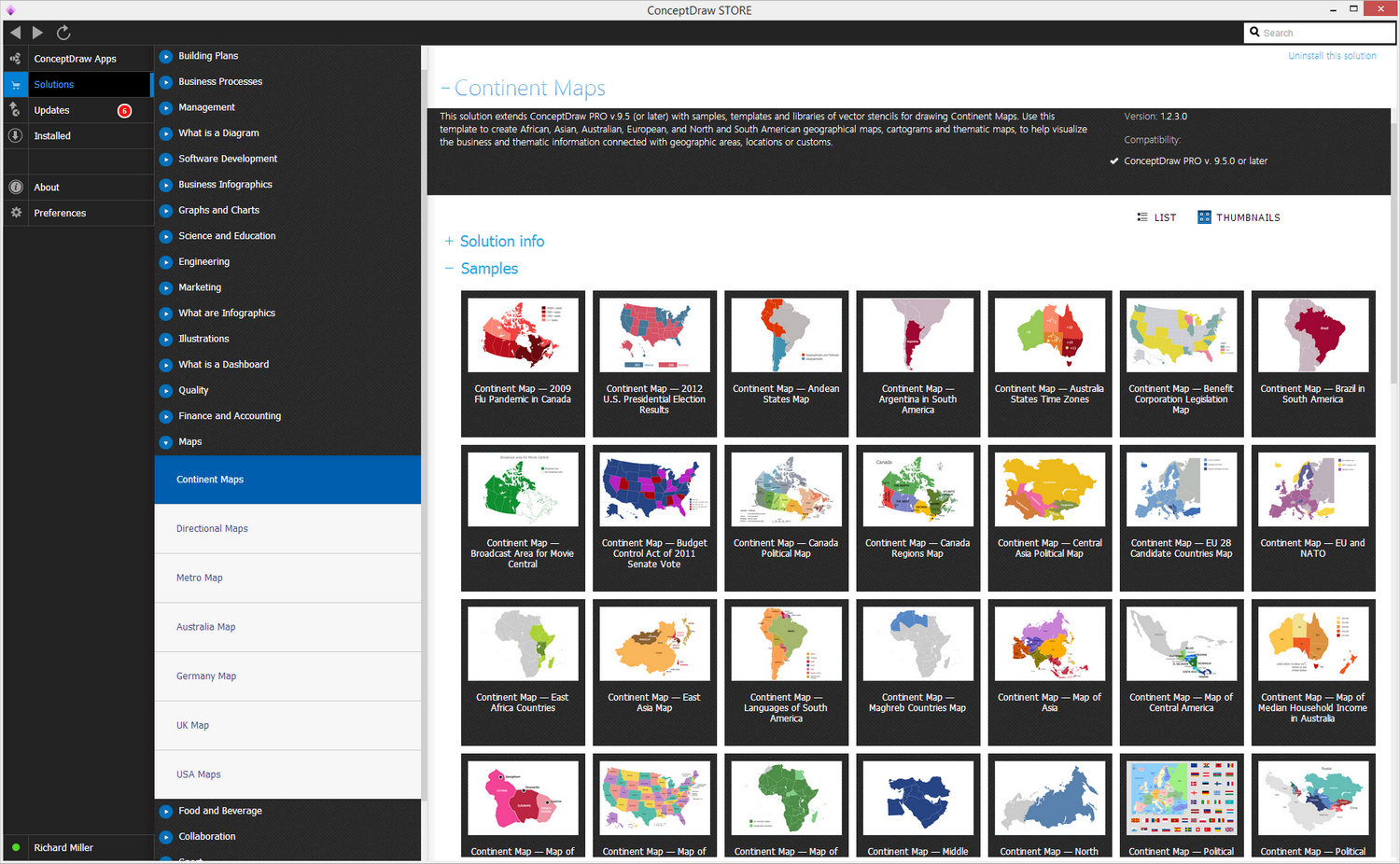 Pic. 1. Continent Maps Solution
Geo Map — USA — State of Washington
Area 71,362 sq mi (184,827 km2); Width 360 miles (580 km); Length 240 miles (400 km).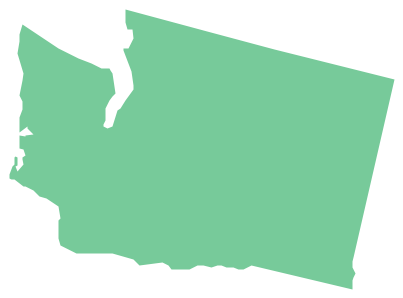 Pic. 2. State of Washington
Geo Map — USA - Washington Contour
Capital — Olympia.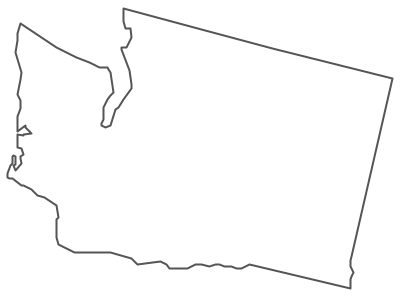 Pic. 3. State of Washington Contour
Geo Map — USA
The United States of America, is a federal republic composed of 50 states, a federal district, five major territories.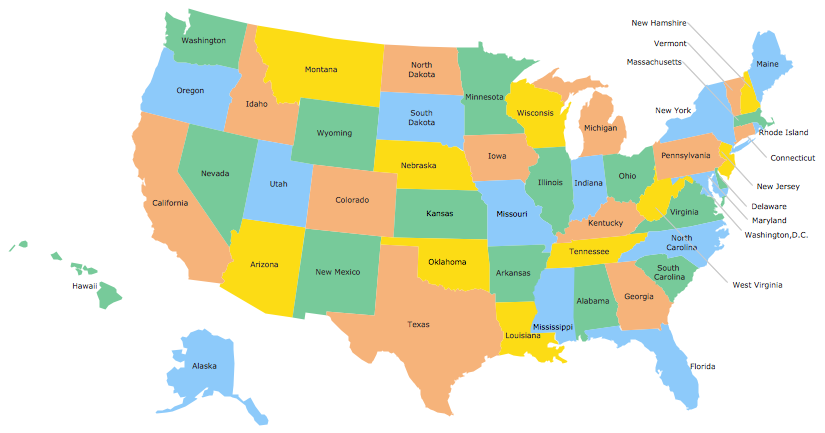 Pic. 4. USA Map
Geo Map — USA Contour
A contour map is a map illustrated with contour lines.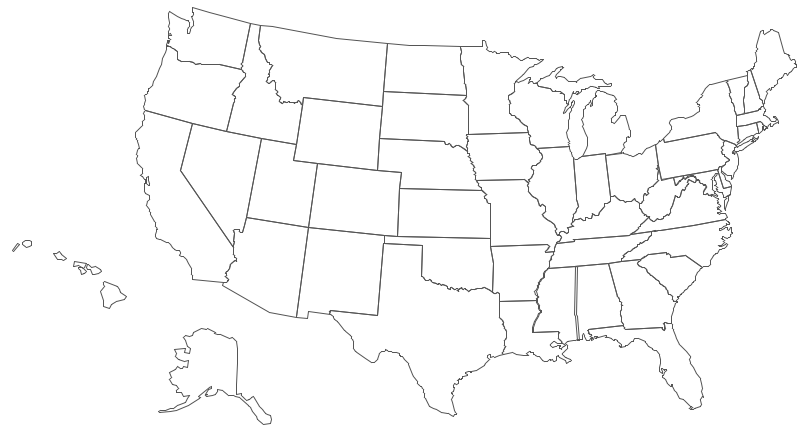 Pic. 5. USA Contour
Geo Map — contours of Territories of the United States
Use the map contours library "United States of America" to design thematic maps using the ConceptDraw DIAGRAM diagramming and vector drawing software.
The vector stencils library "United States of America" contains 53 map contours: US political map, map contours of states.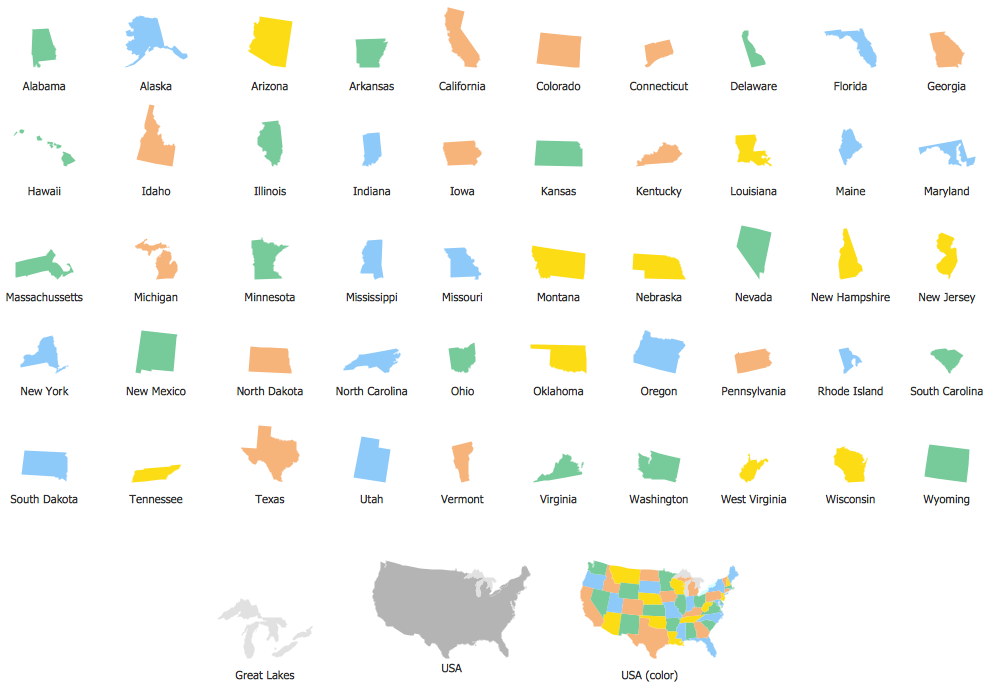 Pic. 6. Contours of Territories of the United States
Geo Map — Ranks US States by Peacefulness
This example is created using ConceptDraw DIAGRAM diagramming software enhanced with Continent Maps solution from ConceptDraw Solution Park.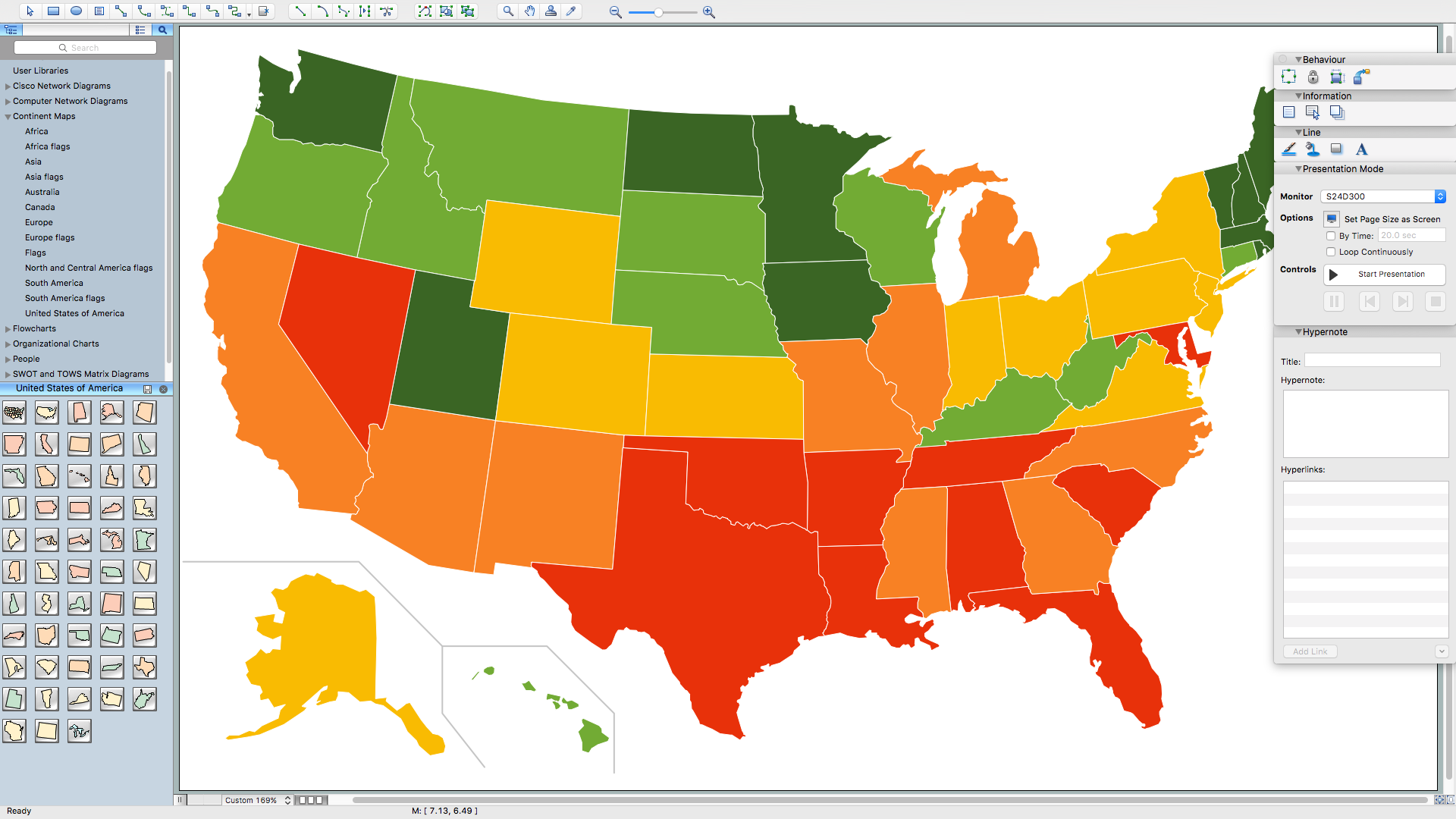 Pic. 7. Ranks US States by Peacefulness
All ConceptDraw DIAGRAM documents are vector graphic files and are available for reviewing, modifying, and converting to a variety of formats: image, HTML, PDF file, MS PowerPoint Presentation, Adobe Flash, MS Visio (.VDX, .VSDX).
---
See Also Territories of the United States Geo Maps :
TEN RELATED HOW TO's: