Flow Chart Symbols
A flowchart is a common type of diagram (graphical models) describing algorithms or processes in which individual steps are depicted as blocks of various shapes interconnected by lines indicating the direction of the sequence.
ConceptDraw DIAGRAM software extended with Flowcharts Solution from the "Diagrams" Area is a powerful software that will help you design the flowcharts for any business and technical processes, and software algorithms thanks to the predesigned flow chart symbols.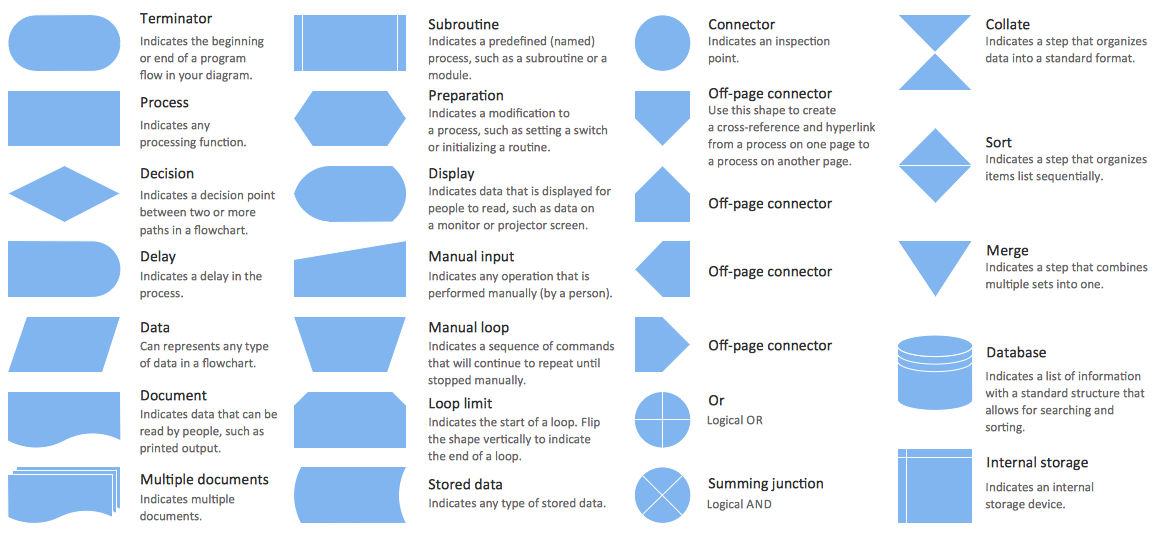 Example 1. Flow Chart Symbols — Flowchart Library Design Elements
Set of flowchart symbols such as: terminator, process, decision which indicates a decision points between two or more paths in a flowchart, symbol of delay. Major symbols includes symbol of data, document or multiple documents, subroutine, preparation for processing of documents. Also includes symbols: display, manual input, manual loop, loop limit, stored data,connectors and suming junctions, sort and merge operations, symbols of database and internal stor.
Flowcharts Solution offers 3 libraries with large collection of vector flow chart symbols:
Flowchart Library,
Flowcharts Rapid Draw Library,
Swimlane Flowcharts Library
that you can use to create your flowcharts quick and easy.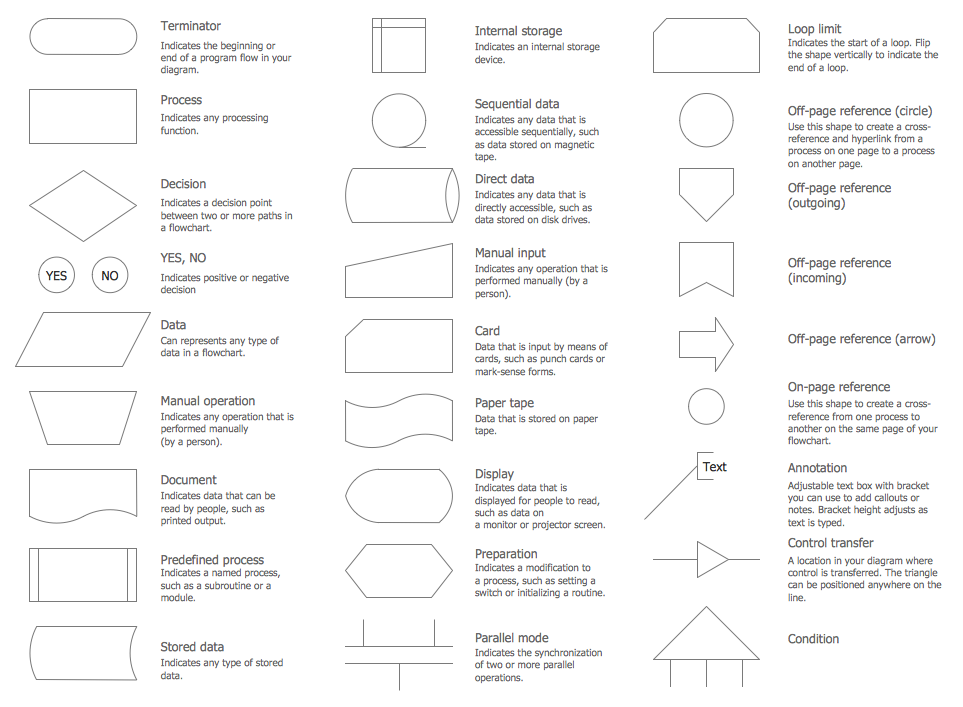 Example 2. Flow Chart Symbols — Shapes
Simply drag the predesigned flow chart symbols from the libraries to your document, arrange them, highlight with color the elements or background, type the text and flowchart title to get the excellent result — your own flowchart in minutes.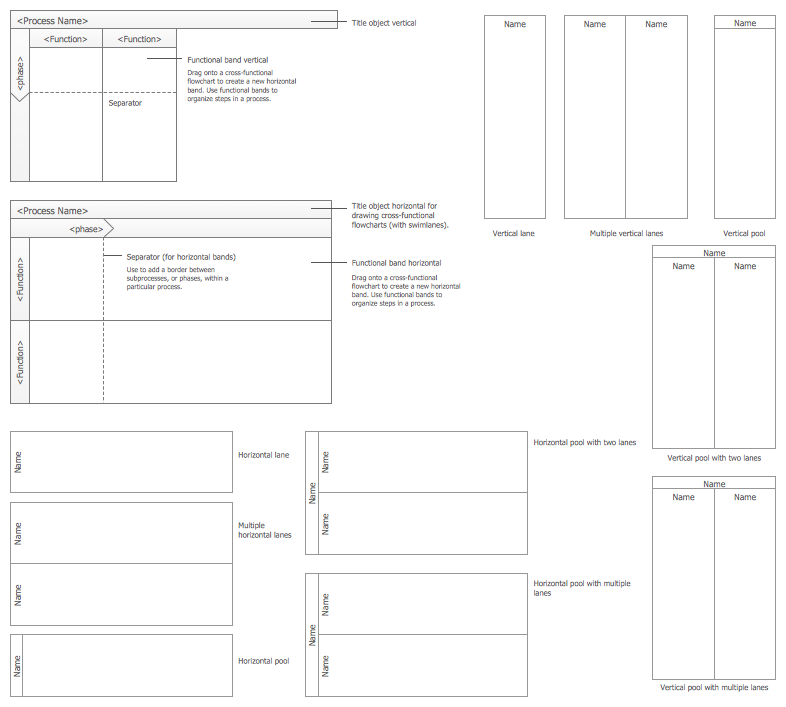 Example 3. Flow Chart Symbols — Swimlanes
Use of predesigned symbols from the Flowcharts Solution is very fast and easy way of flowchart drawing, and the most important — you don't need to be the painter for this.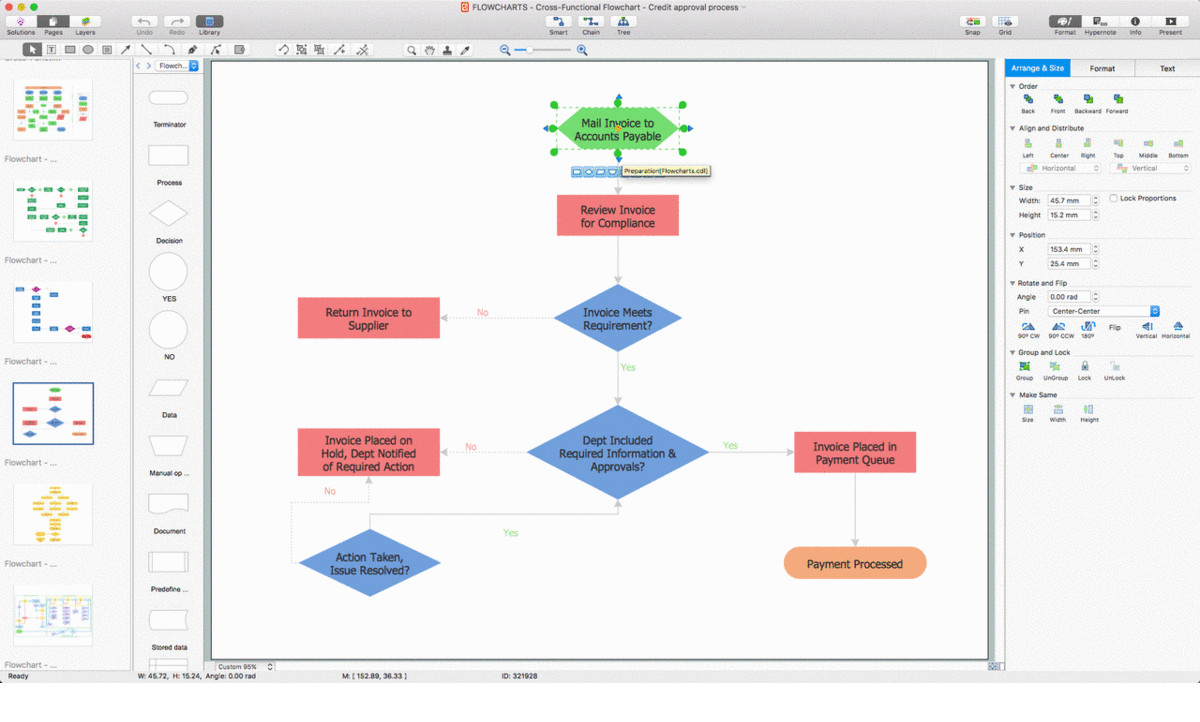 Example 4. Flow Chart Symbols
Use the pre-designed symbols from the stencil libraries from the Flowcharts solution. Also, the pre-made examples from this solution can be used as drafts so your own drawings can be based on them.
For example such as:
Workflow Flowchart;
Audit Flowchart;
Accounting Flowchart;
Sales Process Flowchart;
HR Flowchart;
Process Map;
Business Process Flowchart;
IDEF0 Flowchart;
Education Flowchart;
Logistics Flowchart;
Healthcare Management Workflow Diagram.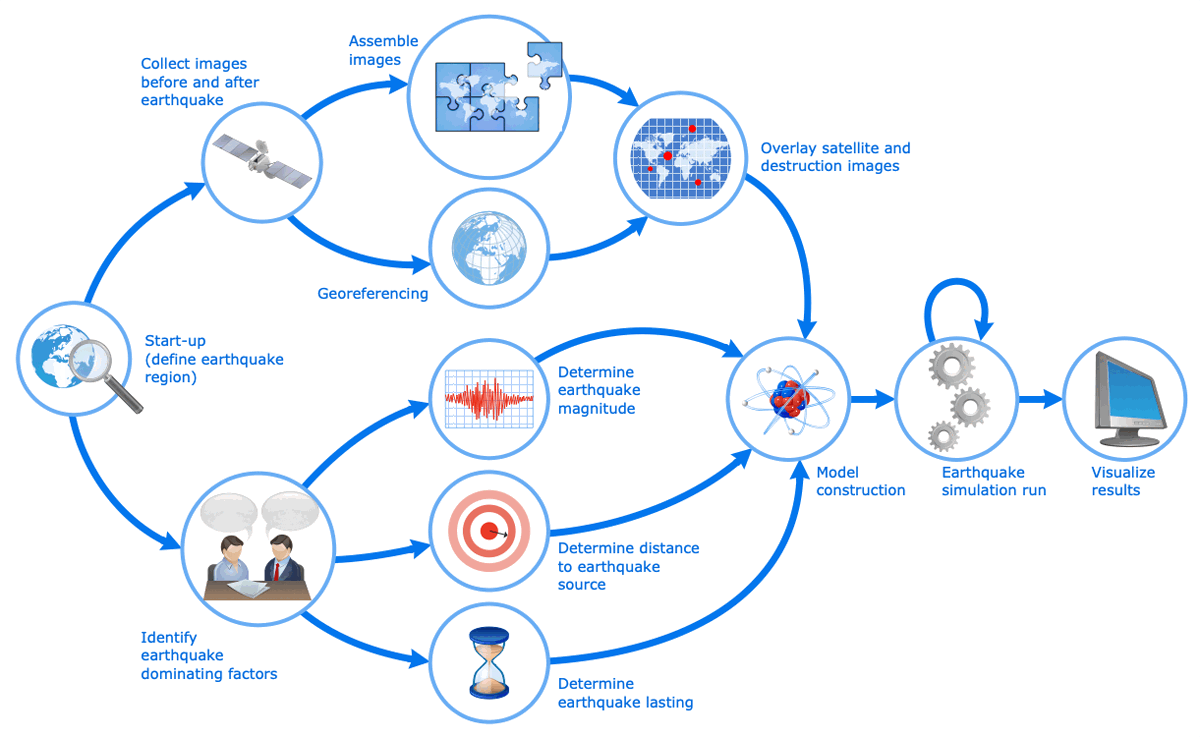 Example 5. Flow Charts
All source documents are vector graphic documents. They are available for reviewing, modifying, or converting to a variety of formats:
Microsoft Visio (.vdx, .vsdx),
Adobe PDF file,
Microsoft PowerPoint,
SVG,
EPS,
HTML,
and many other graphic formats.
Benefits of СonceptDraw Products:
Support MicroSoft Windows and Apple macOS;
Toll-free live support agents;
Preputial software license (no annual fees);
Products are engineered to save you time;
Tools are easy to learn, and have the power to take on any scale of task;
Economical pricing provides quick return on investment.
EIGHT RELATED HOW TO's: