Electrical Symbols — Electrical Circuits
A circuit diagram or wiring diagram uses symbols to represent parts of a circuit. Electrical and electronic circuits can be complicated. Making a drawing of the connections to all the component parts in the circuit's load makes it easier to understand how circuit components are connected. Drawings for electronic circuits are called "circuit diagrams". Drawings for electrical circuits are called "wiring diagrams".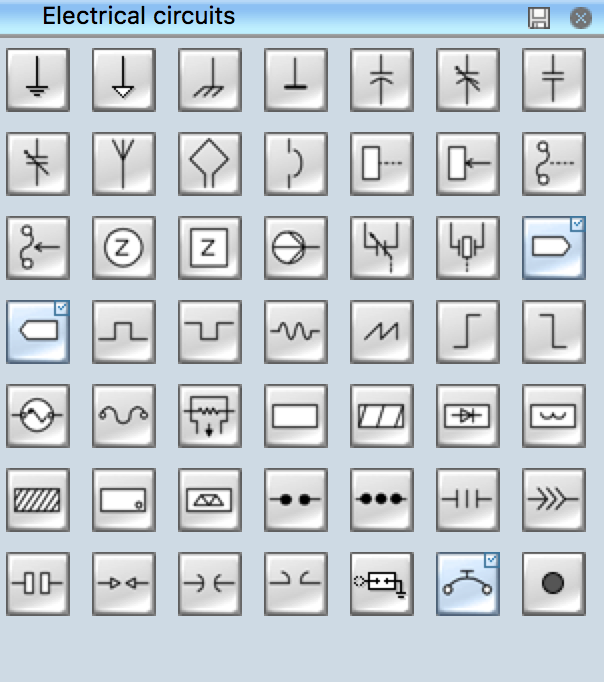 Pic. 1. Electrical Circuits Library
ConceptDraw DIAGRAM is a powerful software for creating professional looking electrical diagram quick and easy. For this purpose you can use the Electrical Engineering solution from the "Engineering" area of ConceptDraw Solution Park.
Electrical Engineering Solution for ConceptDraw DIAGRAM provides the stencils libraries of ready-to-use predesigned 926 vector symbols, templates and samples that make your electrical drawing quick, easy and effective.
26 libraries of the Electrical Engineering Solution of ConceptDraw DIAGRAM make your electrical diagramming simple, efficient, and effective. You can simply and quickly drop the ready-to-use objects from libraries into your document to create the electrical diagram.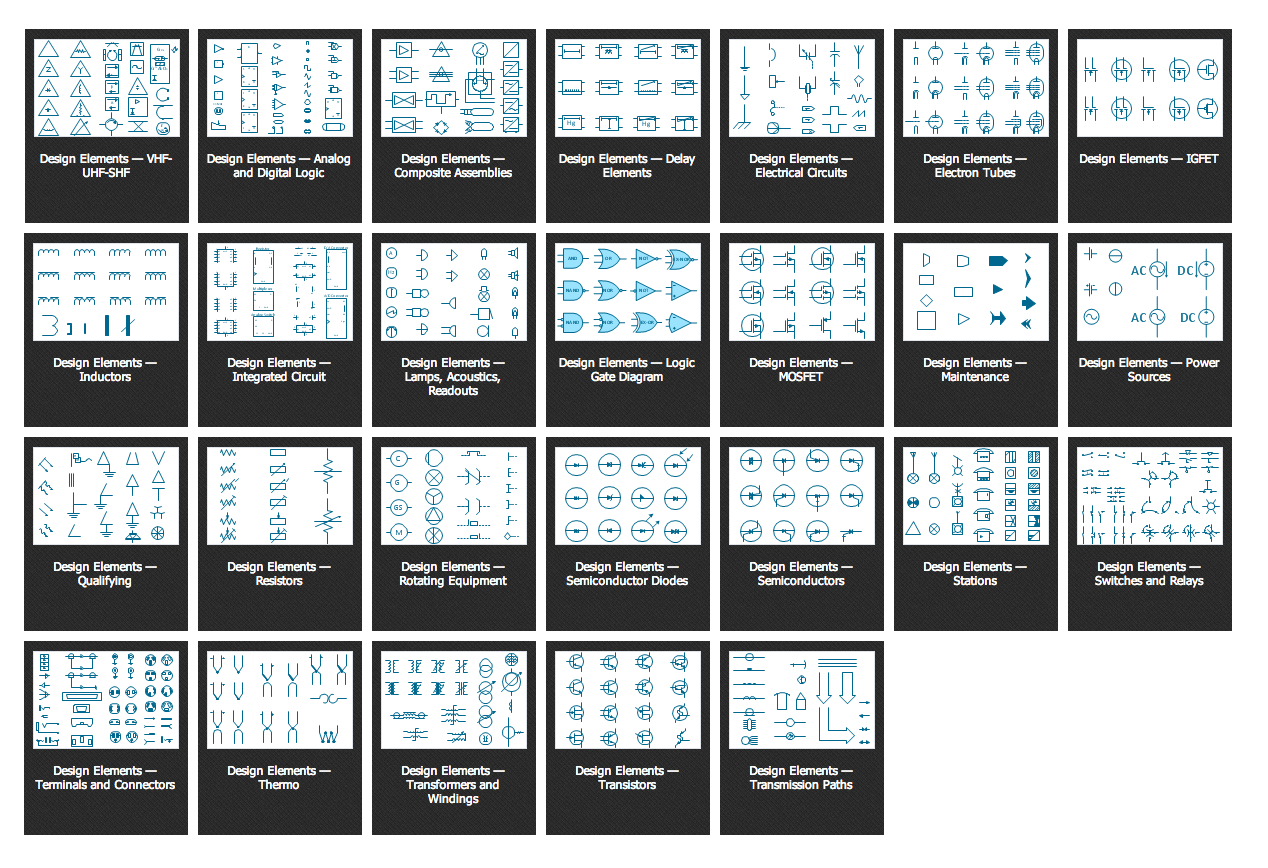 Pic. 2. Electrical Engineering symbols
Electrical diagram software will assist you in drawing your electrical diagrams with minimal effort and makes it very easy for beginners. Electrical symbols and smart connectors help present your electrical drawings, electrical schematic, wiring diagrams and blue prints.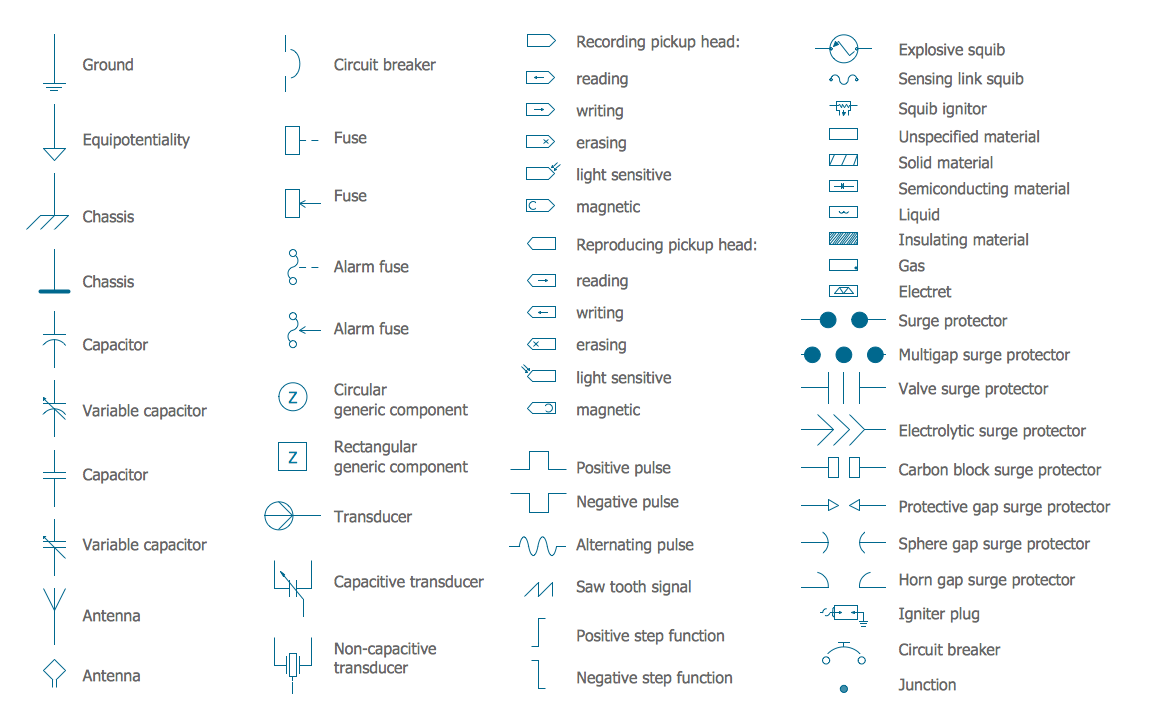 Pic. 3. Electrical Symbols — Electrical Circuits
Most of the electrical symbols can be changed in their appearance, styles and colors according to users' requirements. Electrical symbols are used to represent various electrical and electronic devices in a schematic diagram of an electrical or electronic circuit.
The following table lists some electrical circuits electrical symbols in our electrical diagram software.
Symbol
Meaning
Electrical Symbols — Electrical Circuits
Ground
Equipotentiality
Chassis
Chassis 2
Capacitor
Variable capacitor
Capacitor 2
Variable capacitor 2
Antenna
Antenna 2
Circuit breaker
Fuse
Fuse 2
Alarm fuse
Alarm fuse 2
Circular generic component
Rectangular generic component
Transducer
Capacitive transducer
Non-capacitive transducer
Recording pickup head
Reproducing pickup head
Positive pulse
Negative pulse
Alternating pulse
Saw tooth
Positive step function
Negative step function
Explosive squib
Sensing link squib
Squib ignitor
Unspecified material
Solid material
Semiconducting material
Liquid
Insulating material
Gas
Electret
Surge protector
Multigap surge protector
Valve surge protector
Electrolytic surge protector
Carbon block surge protector
Protective gap surge protector
Sphere gap surge protector
Horn gap surge protector
Igniter plug
Circuit breaker
Junction
A schematic is a diagram of an electrical circuit. A schematic doesn't look like a life like a circuit, but it does show the essential connections. Schematics use symbols to represent components in the circuit. We use conventions in a schematic, we use them to represent the way electricity flows. The common convention we use is from the positive to the negative terminal. The realistic way electricity is from the negative to the positive terminal.
How to Create an Schematic of Circuit Using Electrical Circuits Library
Open ConceptDraw DIAGRAM new document page.
Select libraries from Electrical Engineering section.

Electrical circuits library contains objects, identified by a blue tile in the library pane. Such objects can be edited by using the Action button menu. To open the menu select an object and click the button in the upper right corner of the object.
Select the Smart Connector tool . To connect elements using this tool, drag the connector from one connect dot to another.You can use Layers to place connections on different layers.
Result: Schematic of Circuit.
NINE RELATED HOW TO's: