Interior Design. Piping Plan — Design Elements
Every apartment needs renovation from time to time, as some home systems such as wiring or plumbing may fall out. When developing the future design of a piping system, the engineer should take into account many aspects. Replacing the worn plumbing begins with the choice of materials and sizes of pipes for the new system. Each proposal has its own pros and cons that should be considered before purchasing. It is also relevant to draw attention to temperature changes that might effect pipes, such as freezing or thermal expansion. Let's take a closer look at possible pipes materials.
Recently, steel pipes were the most common, and now they can still be purchased. The most important advantage of steel is that it is eco-friendly and the fact that they have passed the test of time and pipes of good quality can function for more than 50 years. Remaining pros: high operating pressure and temperature, as well as small thermal expansion. The negative sides of steel pipes include their big weight; inner diameter gradually decreases due to corrosion and the complexity of the system assembling and altering. It is also worth noting that even a temporary lack of water in the pipes causes their rapid rusting which gives water a metallic taste.
Plastic (Polypropylene) pipes are a good alternative to the steel and are characterized by ease of installation, low weight and price, durability and a complete absence of corrosion. Currently, it is the most used option. When connecting to the existing metal communications one should use fittings like unions or elbows. Due to thermal expansion, it is recommended to use a double-walled pipe system, which allows creating an interstitial space between the diameters of the two pipes.
Another option is PEX-AL-PEX pipes, which consist of three layers: the outer layer of high density polyethylene, a middle layer of aluminum foil and the inner layer of polyethylene.
Piping plan — Design elements libraries
Vector stencils libraries Piping 1, Piping 2 and Valves contain shapes of pipes and valves for drawing plumbing and piping building interior design plans, schematic diagrams, blueprints, or technical drawings of waste water disposal systems, hot and cold water supply systems using ConceptDraw DIAGRAM diagramming and vector drawing software.
These libraries are included in Plumbing and Piping Plans solution from Building Plans area of ConceptDraw Solution Park.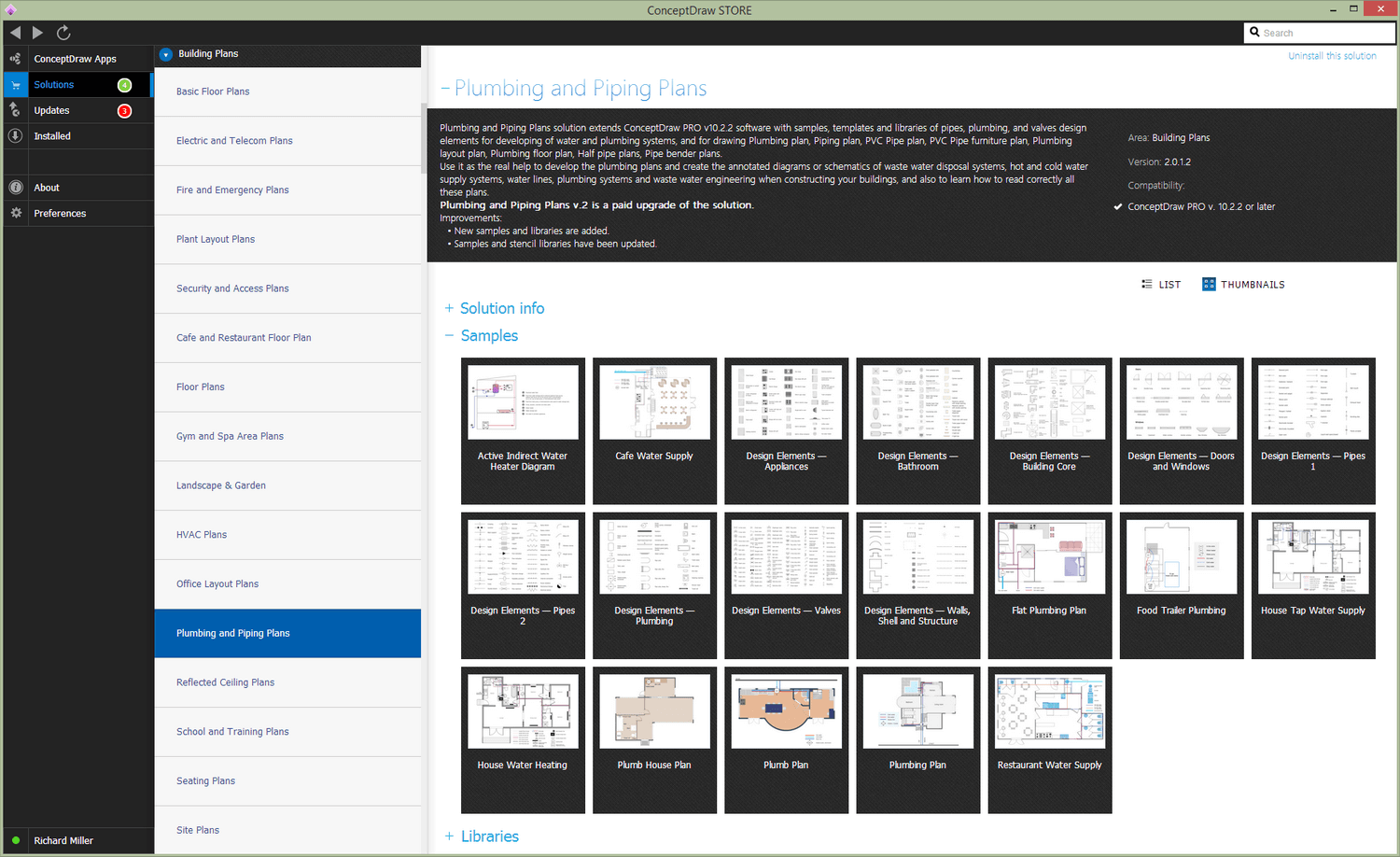 Sample 1. Interior Design Software. Piping Plan solution
The Pipes 1 library contains 28 symbols:
General joint
Butt weld
Soldered / solvent
Screwed joint
Socket and spigot
Sleeve joint
Socket weld
Flanged / bolted
Swivel joint
Electrically bonded
Electrically insulated
End caps
Strainer
Flame arrester
Bursting disc
Separator
Drain silencer
Exhaust silencer
Y strainer
Tundish
Bell mouth
Exhaust head
Liquid seal open/closed
Open vent
Syphon drain
Hydrant
The Pipes 2 library contains 42 symbols.
Crossing
Junction
Cross
Double branch
Elbow 45
Elbow 90
Heated or cooled
Pneumatic line
Signal line
Electric line
Hydraulic line
Capillary line
Internal connection
Route radiation
Jacketed
Lagged
Pipe bore change
Mechanical linkage
Electrical device
Vibratory device
Weight device
Spray device
Rotary motion
Stirring / fan
Basic support
Guide
Stopper
Anchor
Support / anchor
Hunger
Access points
Trap
Flexibility provision
Bellows
Expansion loop
Sleeve extension
Flow restrictor
Guide
Sleeved
Sleeve joint
Expansion sleeve joint
Flow indication
Reducer
Arrow
Flexible hose
The Valves library contains 37 symbols.
Flanged
In-line valve
3-way valve
4-way valve
Screw-down valve
Lock-shield valve
Reel valve
Lock-shield valve
Screw-down valve
Relief valve
Angle valve
Check valve
Screwdown valve
Float operated valve
Flanged valve
Butterfly valve
Globe valve
Needle valve
Diaphragm valve
Wedge gate valve
Parallel side valve
Gate valve
Ball valve
Powered control valve
Relief angle valve
Reducing valve
Plug valve
Straight through
3-way plug valve
Plug valve, T-port
Plug valve, L-port
3-way plug valve
Mixing valve
Characterized port valve
Manual isolation
Power signal
Statically loaded
Actuating method
Spring loaded
Remote control
Diaphragm
Positioner
Chain operated
Gear operated
Solenoid
Weight loaded
Float operated
Dash-pot
Piston
Quick opening
Quick closing
Connecting unit
Motor element
Safe direction
Retains position on fail
Regulating
Method of control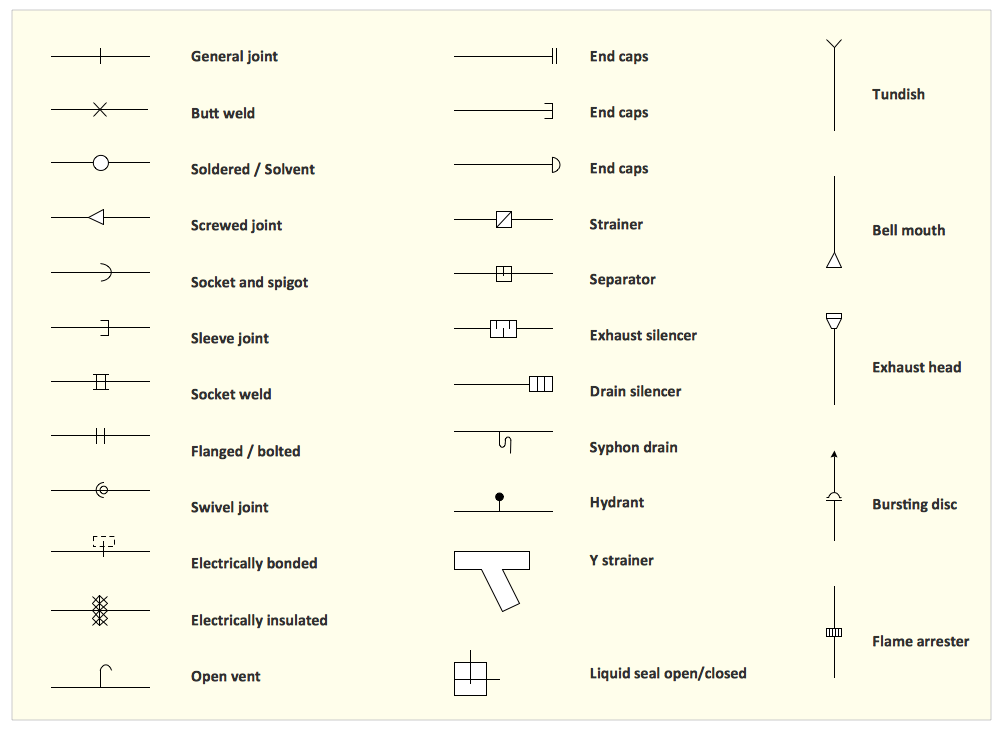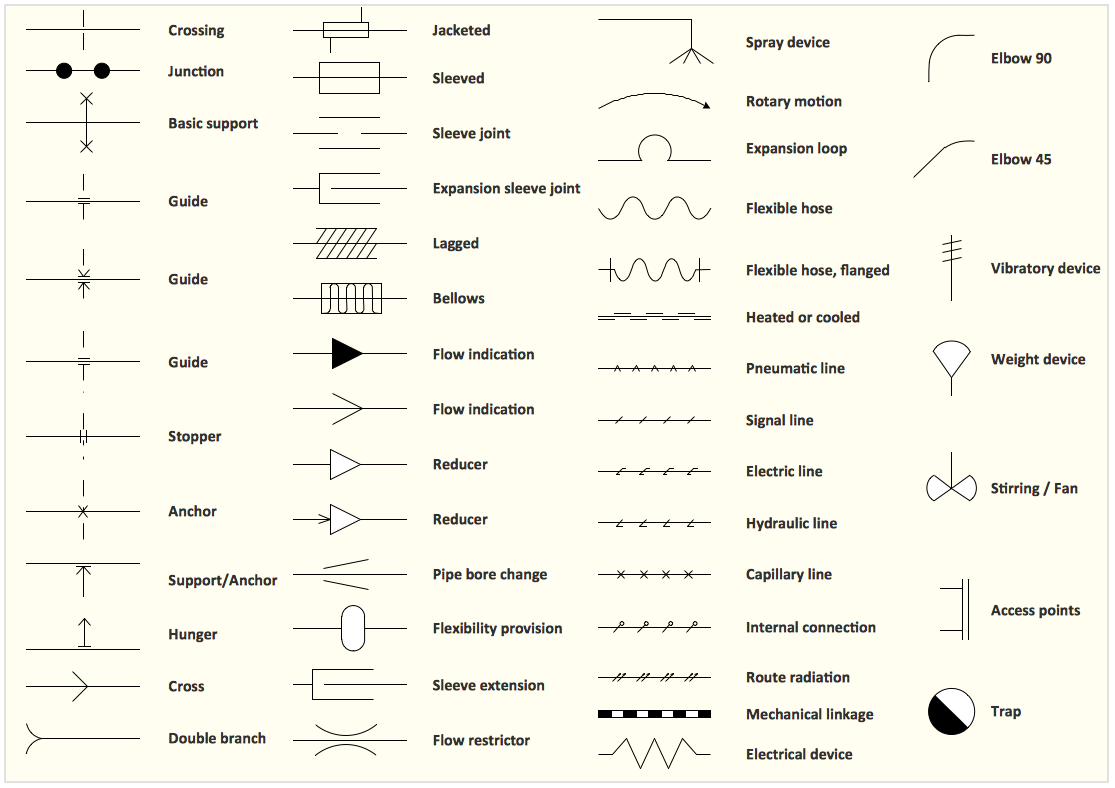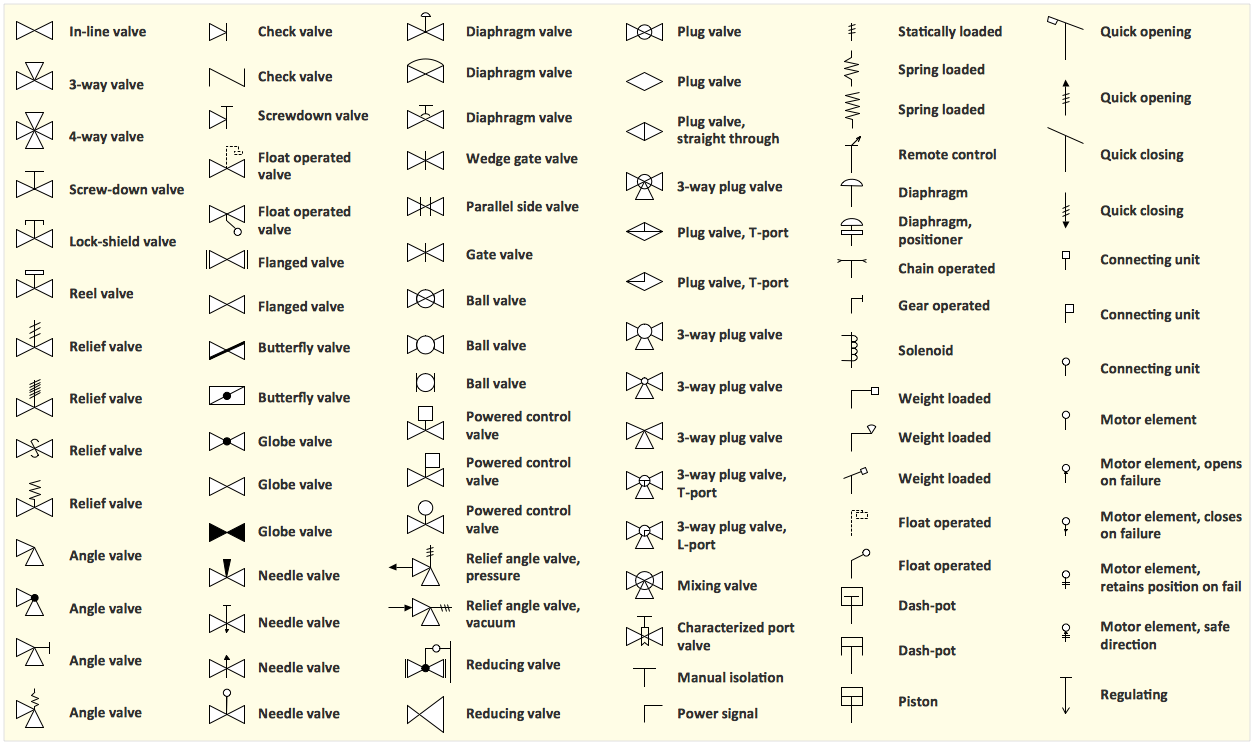 Sample 3. Interior Design Software. Design Elements — Piping Plan
for Mac OS X and Windows
Solution Building Plans from ConceptDraw Solution Park provides 4 vector stencils libraries with 128 design elements as pipes, valves and other sanitary equipment for drawing Plumbing & Piping Plans.
Use ConceptDraw DIAGRAM diagramming and vector drawing software enhanced with Building Plans solution to draw your own plumbing & piping plans, annotated diagrams or schematics of waste water disposal systems, hot and cold water supply systems, water lines, plumbing systems and waste water engineering using plumbing floor plan, plumbing layout plan, half pipe plans, pipe bender plans and plumbing plan symbols.
Read more about Home and Landscape design
TEN RELATED HOW TO's: