Electrical Symbols — Transformers and Windings
A transformer is an electrical device that transfers electrical energy between two or more circuits through electromagnetic induction. Electromagnetic induction produces an electromotive force within a conductor which is exposed to time varying magnetic fields. Transformers are used to increase or decrease the alternating voltages in electric power applications.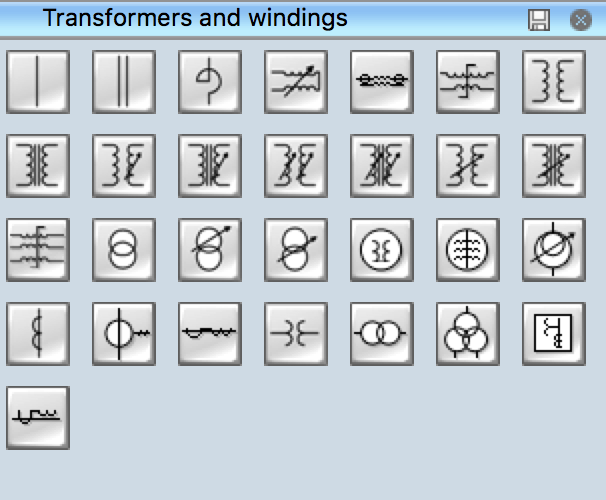 Pic. 1. Transformers and Windings Library
ConceptDraw DIAGRAM is a powerful software for creating professional looking electrical diagram quick and easy. For this purpose you can use the Electrical Engineering solution from the "Engineering" area of ConceptDraw Solution Park.
Electrical Engineering Solution for ConceptDraw DIAGRAM provides the stencils libraries of ready-to-use predesigned 926 vector symbols, templates and samples that make your electrical drawing quick, easy and effective.
26 libraries of the Electrical Engineering Solution of ConceptDraw DIAGRAM make your electrical diagramming simple, efficient, and effective. You can simply and quickly drop the ready-to-use objects from libraries into your document to create the electrical diagram.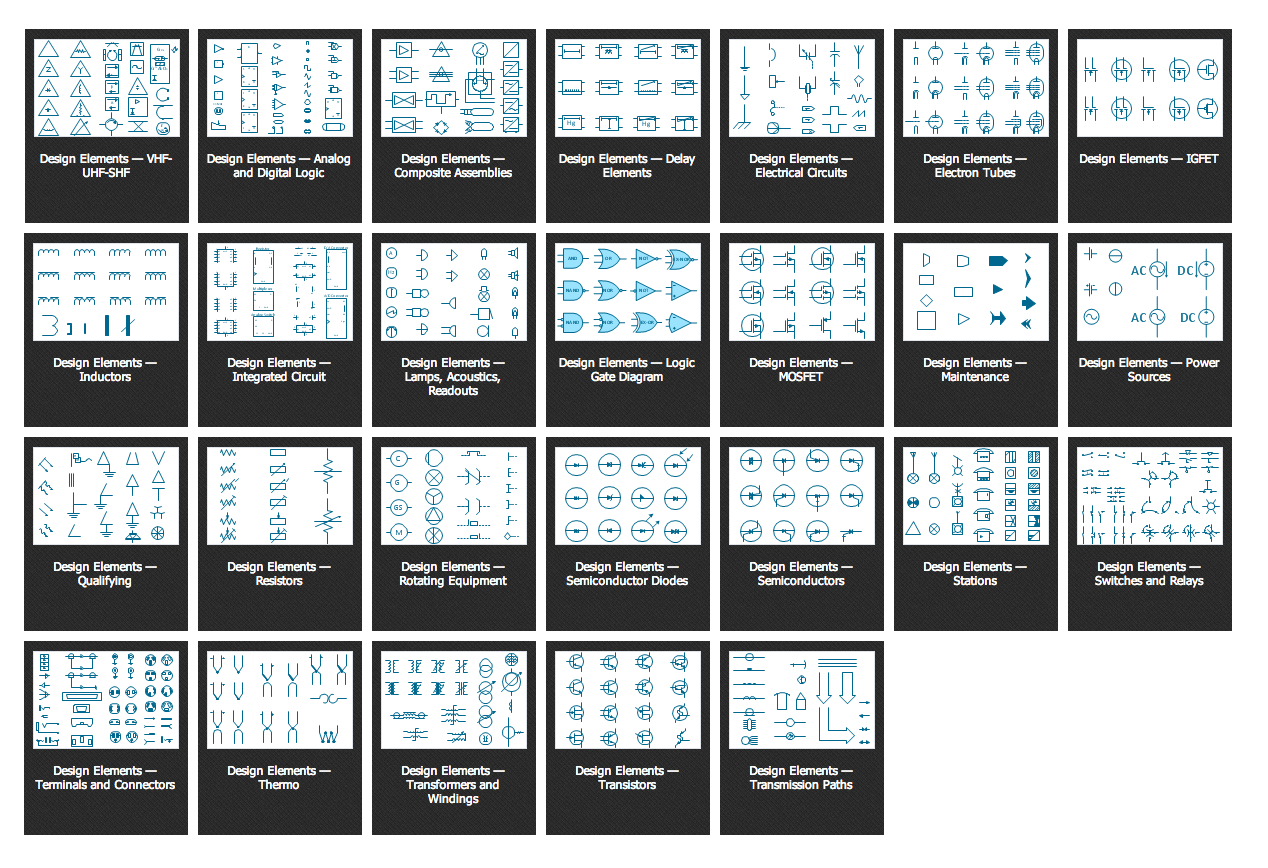 Pic. 2. Electrical Engineering symbols
Electrical diagram software will assist you in drawing your electrical diagrams with minimal effort and makes it very easy for beginners. Electrical symbols and smart connectors help present your electrical drawings, electrical schematic, wiring diagrams and blue prints.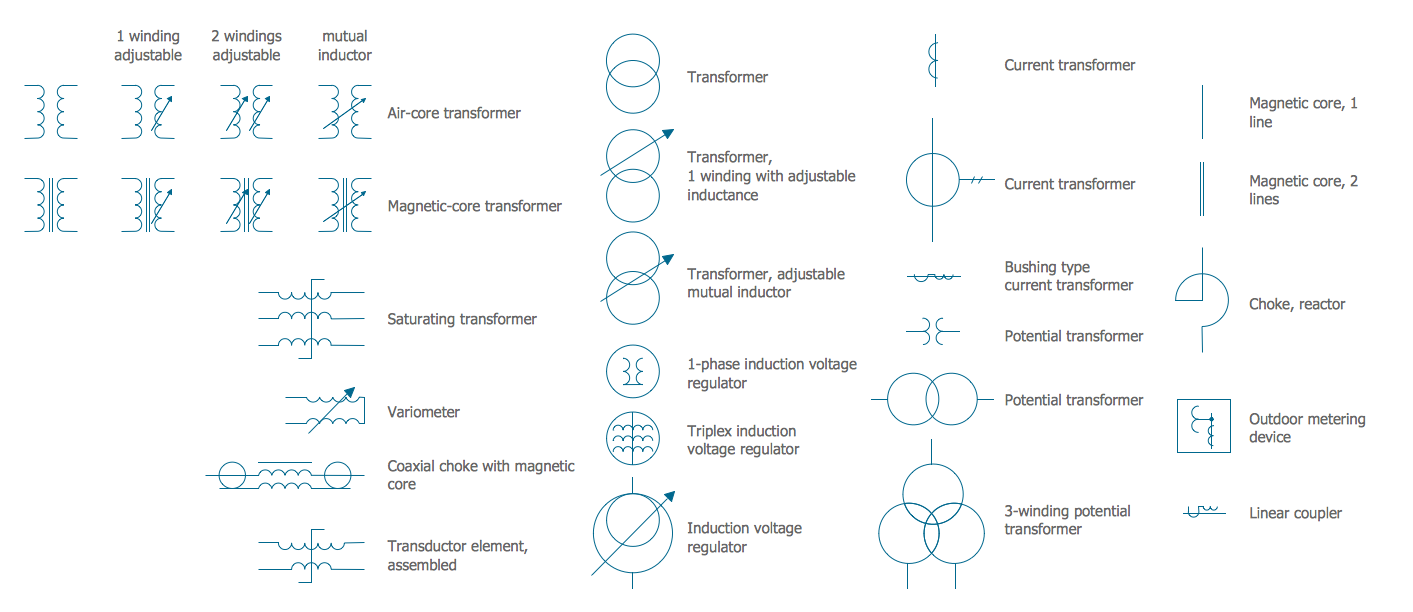 Pic. 3. Electrical Symbols — Transformers and Windings
Most of the electrical symbols can be changed in their appearance, styles and colors according to users' requirements. Electrical symbols are used to represent various electrical and electronic devices in a schematic diagram of an electrical or electronic circuit.
The following table lists some transformers and windings electrical symbols in our electrical diagram software.
Symbol
Meaning
Electrical Symbols — Transformers and Windings
Magnetic core, 1 line
Magnetic core, 2 lines
Choke
Variometer
Coaxial choke
Transductor
Air-core transformer
Magnetic-core transformer
Air-core transformer, 1 winding adjustable
Magnetic-core transformer, 1 winding adjustable
Air-core transformer, 2 windings adjustable
Magnetic-core transformer, 2 windings adjustable
Air-core transformer, mutual inductor
Magnetic-core transformer, mutual inductor
Saturating transformer
Transformer 2
Adjustable transformer, 1 winding
Adjustable transformer, mutual inductor
1-phase induction voltage regulator
Triplex induction voltage regulator
Induction voltage regulator
Current transformer 1
Current transformer 2
Current transformer 3
Potential transformer
Potential transformer 2
Potential transformer with 3 windings
Outdoor metering device
Linear coupler
Since the invention of the first constant potential transformer in 1885, transformers have become essential for the transmission, distribution, and utilization of alternating current electrical energy. A wide range of transformer designs are encountered in electronic and electric power applications. Transformers range in size from RF transformers less than a cubic centimeter in volume to units interconnecting the power grid weighing hundreds of tons.
How to Create an Electrical Diagram Using Transformers and Windings Library
Open ConceptDraw DIAGRAM new document page.
Select libraries from Electrical Engineering section.

There are a few different ways to place an object into your drawing:

Click on an object and then click on the document, at the place you want the object to be inserted.
Perform a

drag-and-drop

from the library to your document.
Double click on an object's icon in the library to place an object in the center of your document.

Select the Smart Connector tool . To connect elements using this tool, drag the connector from one connect dot to another.You can use Layers to place connections on different layers.
Result: Electrical Diagram.
TEN RELATED HOW TO's: