Cisco Products Additional.
Cisco icons, shapes, stencils and symbols
The ConceptDraw vector stencils library "Cisco Products Additional" contains 141 equipment symbols for drawing the computer network diagrams using the ConceptDraw DIAGRAM diagramming and vector drawing software:
Protocol translator
CiscoWorks workstation
Access server (communications server)
Workgroup director
Network management appliance
Storage Solution Engine (SSE)
Software based router on file / application server
Cisco MeetingPlace Express
PC router card
Transpath
Bridge
IOS SLB
100BaseT hub
uBR910
CDDI-FDDI
PC adapter card
VIP
CSM-S
Terminal server
Route/switch processor with Si
Route/switch processor
PXF
AVS (Application Velicity System)
Content engine (cache director)
Cisco file engine
Management Engine (ME 1100)
PC with router-based software
PC with software
ASIC processor
General processor
Switch processor
Cisco 5500 family
Multi-switch device
IP transport concentrator
ITP
Cisco CA
Voice Gateway
BBSM
ATA
SIP Proxy Server
MicroWeb Server
NetRanger
Cisco 6920 RateMux
NetSonar
Cisco 1000
IP
System controller
ACE
Voice-enabled access server
Voice-enabled communications server
Directory server
Cisco 4310 End Office System
ADM
FireWall Service Module (FWSM)
Cisco Unity Express
Cisco Unity Server
Centri firewall
Cisco Security Manager
Data switch processor (AKA data center switch)
Cisco MP
IOS firewall
PIX firewall right
PIX firewall left
Cisco CallManager
Cisco 6700 Series
MGX 8240
MGX 8220
MGX 8260
DSLAM
Cisco 6732 Access Server
Cisco 6701
H.323
Access gateway
ICS 7750
VPN concentrator
SSL terminator
CDM (Content Distribution Manager)
Cisco 15200
Cisco 15800
Content Service Module
Content Transformation Engine (CTE)
Cisco VN 2900
Cisco VN 5900
Cisco VN 5902
Cisco Unified Presence Server
ICM
PC Card
Access point
Dual mode access point
Ether client
Tablet
Wireless transport
Wireless bridge
Lightweight single radio access point
Lightweight double radio access point
WLAN controller
Wi-Fi tag
Wireless location appliance
Wireless connectivity
WiSM
Mesh AP
SC2200 Signaling Controller
Virtual Switch Controller (VSC3000)
VS C3000 or SC2200 host
BTS 10200 Softswitch
Detector
IP/TV content manager
IP / TV broadcast server
Universal gateway
Generic softswitch
Generic softswitch, blue
Guard
Mobile access router
Cisco Carrier Routing System
FC storage
Intelli Switch Stack
Service control
UPC (Unified Personal Communicator)
PMC
IP communicator
Streamer
Vault
DWDM filter
DWDM ring
DWDM network line
Streamer (half-full)
Vault (half-full)
Data center switch, reversed
Scanner
10GE/FCoE
car
CUBE
Director-class fibre channel director
Fibre channel disk subsystem
Fibre channel fabric switch
Generic gateway
Handheld
Internet streamer
jbod
MAS gateway
Mesh AP
Mobile streamer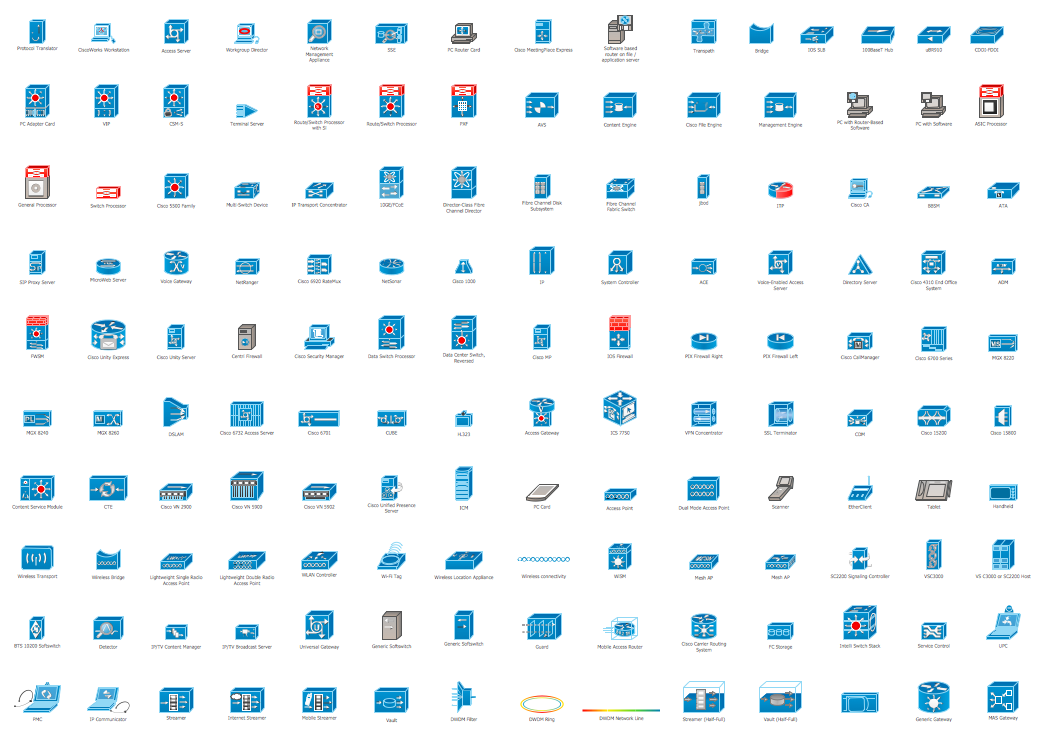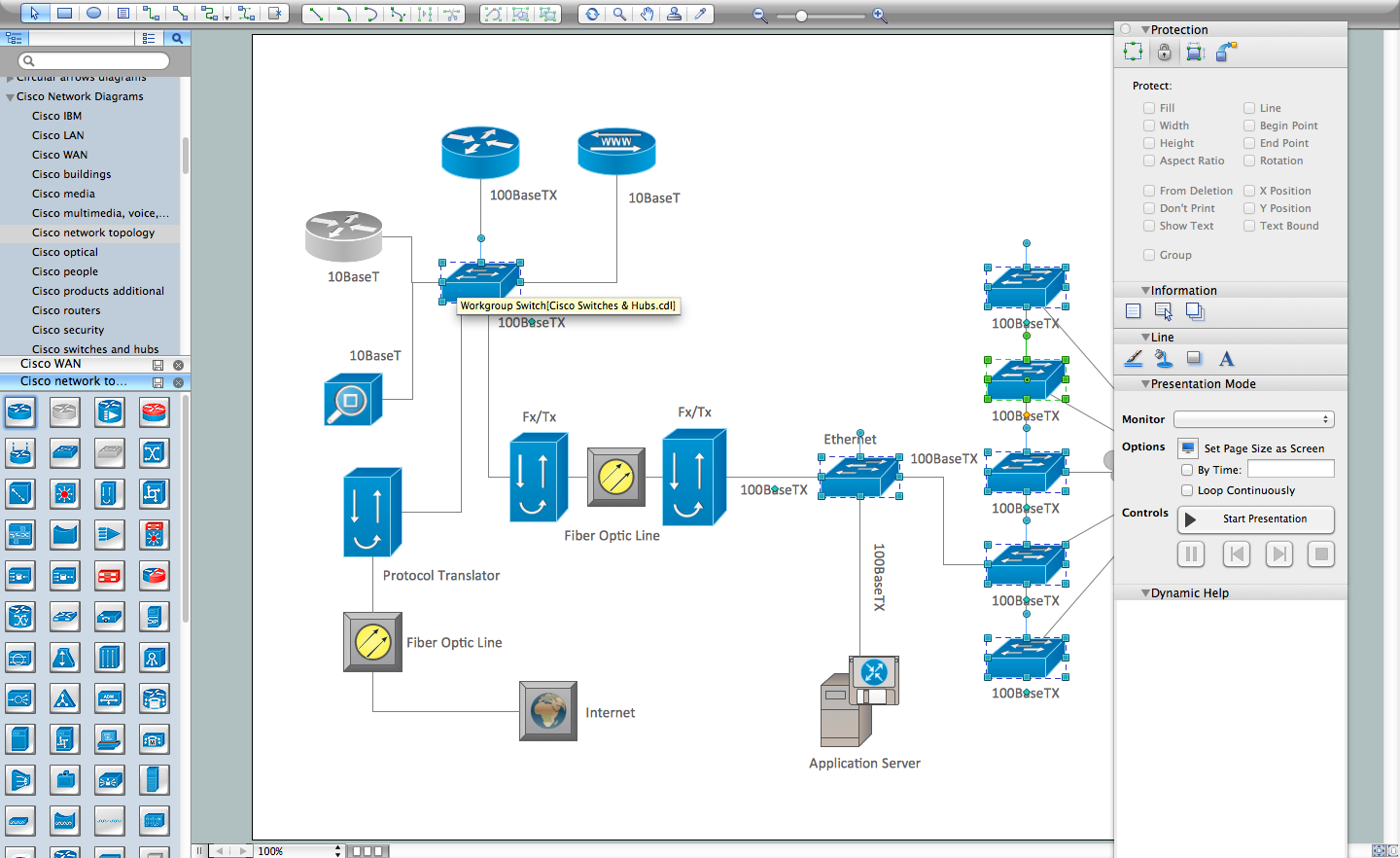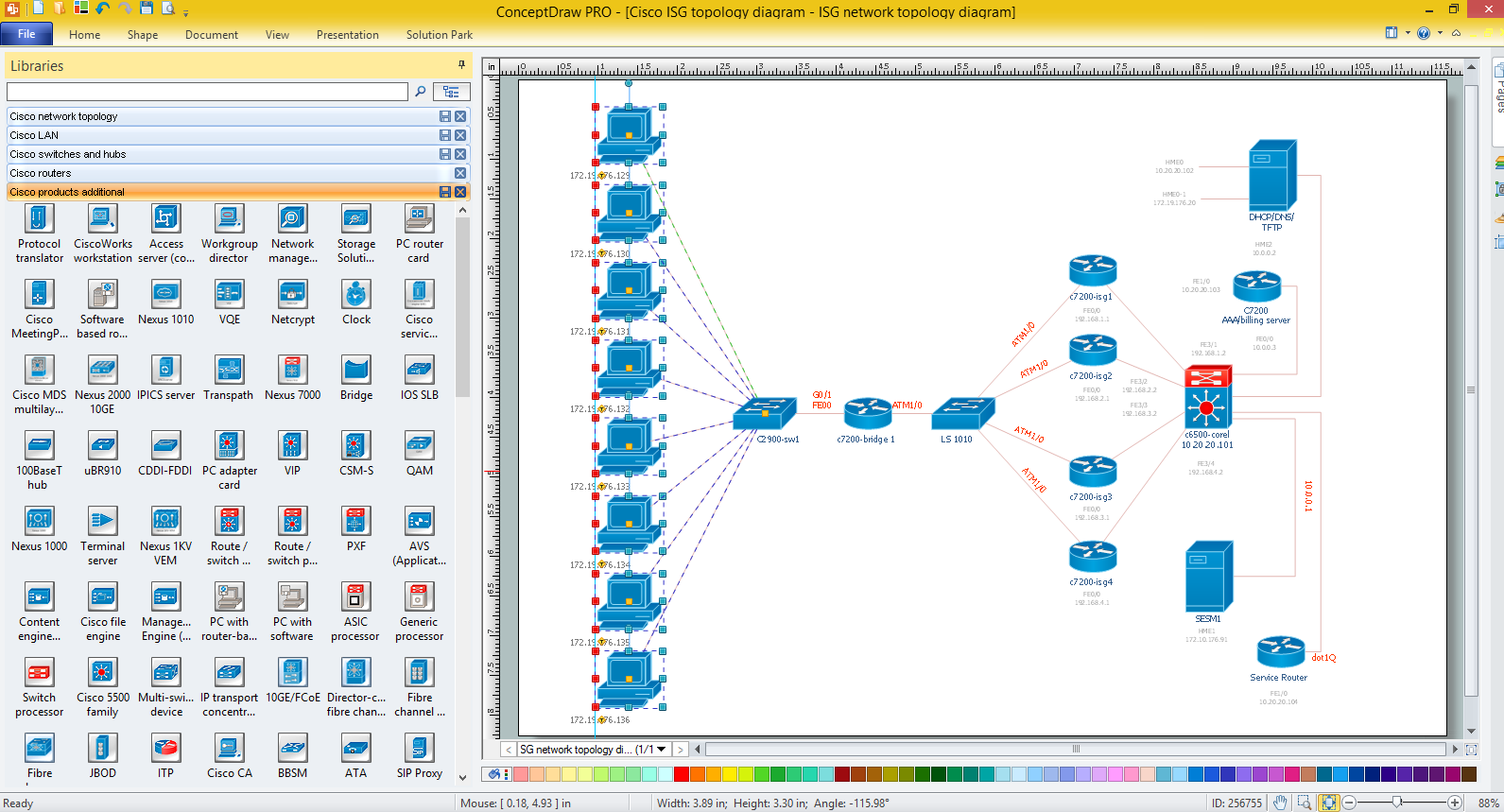 Sample 1. Design Elements — Cisco Products Additional (macintosh, windows)
for Network Diagrams.
The example "Design elements - Cisco Products Additional" is included in the Cisco Network Diagrams solution from the Computer and Networks area of ConceptDraw Solution Park.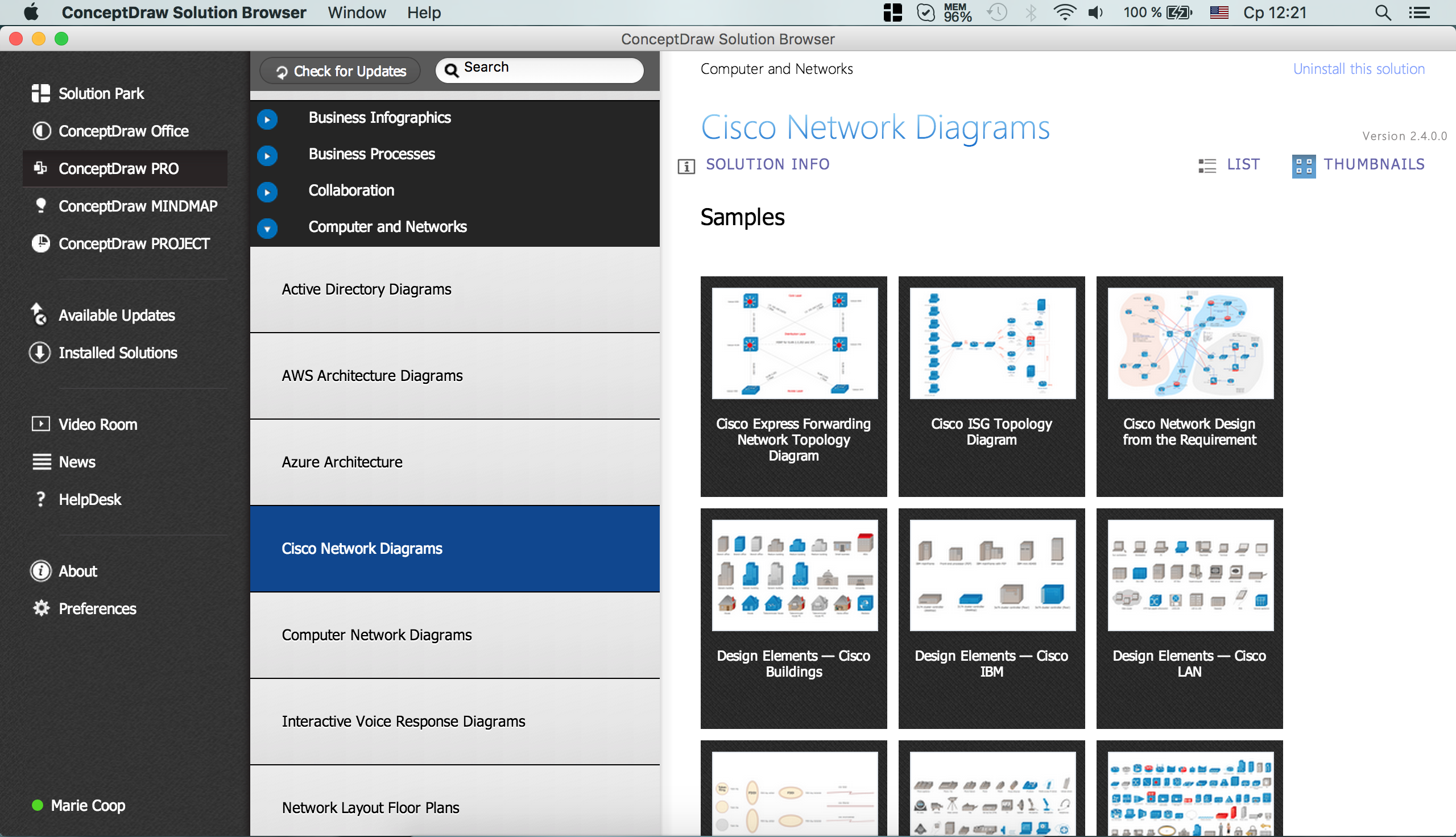 Example 2. Cisco Solution
---
Icons, shapes, stencils, symbols and design elements for Cisco Network Diagrams:
TEN RELATED HOW TO's: