Baseball Diagram – Basic Bunt Coverage – Runner at 2nd
"With a runner on second base, the batter will almost always try to bunt the ball towards third base. Both the first baseman and pitcher will crash and try to get the out at third, so the batter wants to keep the ball away from the charging players. But if the third baseman has to come off the base to field the ball, there's no way he can get an out at third, and the sacrifice will be successful. Executing bunt coverage with a runner on second forces the defense to decide quickly if they can get an out at third, or if the smart play is to first base. Much of this responsibility inevitably falls on the third basemen, but each position has an important role to fill as well." [iSport Baseball]
Drawing baseball diagrams using ConceptDraw DIAGRAM software extended with the Baseball solution saves your time, and adds more value to your work. You can easily convert vector drawing to a popular graphic format and then post it to your blog or site. There is no problem to add your logo or text copyright, or use some text comments to make your diagrams unique and recognizable.
A combination of the "Baseball Fields" and "Baseball Positions" libraries gives you an ability to create a baseball-related drawing in seconds. Follow next steps to create you own baseball schema:
From the "Baseball Fields" library drop a field object to your document
From the "Baseball Positions" library drop all positions object you need to your document
Place positions on the field according to your drawing idea
Add arrows or text labels if needed.
Baseball plays may be hard to explain with a single diagram. In this case you can break your explanation into some stages, and place each stage onto a different page. You don't need to draw from the start point each time, just copy and paste basic drawing to different pages, and then add arrows and text labels in order you talk about them. When you start presenting using F5 button, pages will appear one by one, that allows your audience to understand how players change their positions etc.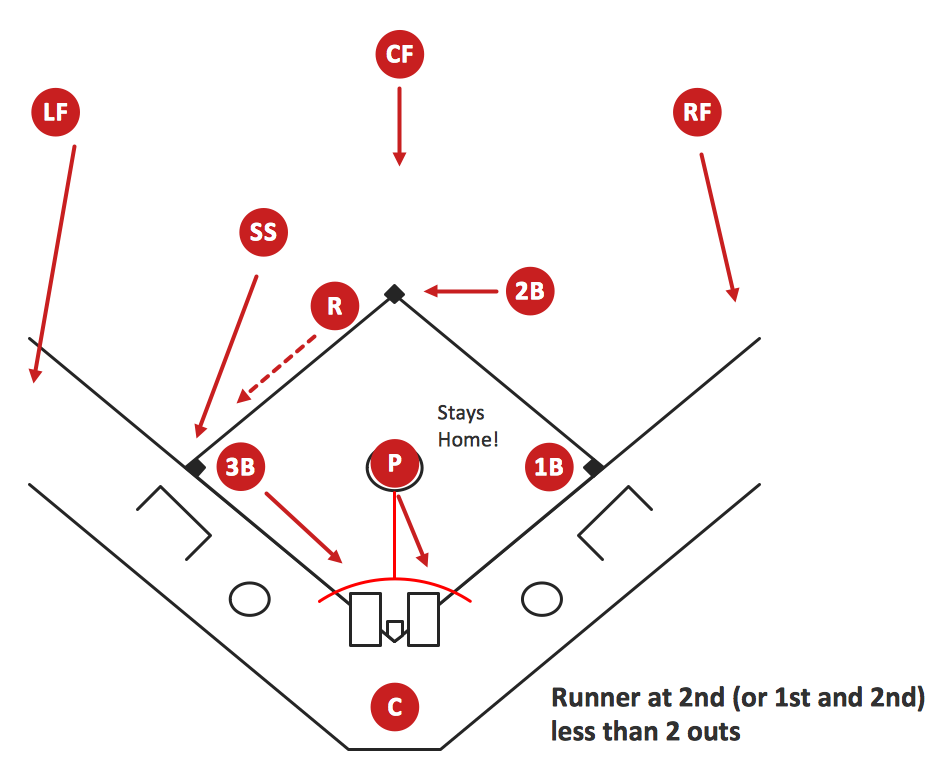 Sample 1. Baseball Diagram – Basic Bunt Coverage – Runner at 2nd.
This diagram was created in ConceptDraw DIAGRAM using the "Baseball Positions" library from the Baseball solution. An experienced user spent 10 minutes creating this sample.
The sample you see on this page was created in ConceptDraw DIAGRAM using the Baseball Solution; it demonstrates a portion of the solution's capabilities and the professional results you can achieve.
All source documents are vector graphic documents. They are available for reviewing, modifying, or converting to a variety of formats (PDF file, MS PowerPoint, MS Visio, and many other graphic formats) from the ConceptDraw STORE. The Baseball Solution is available for all ConceptDraw DIAGRAM or later users.
TEN RELATED HOW TO's: