ConceptDraw DIAGRAM v12 is a versatile diagramming software that you can run on a Mac and a Windows PC. It comes with thousands of stencils and templates ready for immediate diagramming and provides a comprehensive suite of graphic documentation solutions of all types of businesses. Being a highly flexible diagramming platform, ConceptDraw DIAGRAM v12 offers impressive presentation capabilities and a number of export options that enable easy document sharing and facilitate team collaboration.
Visio Compatibility
ConceptDraw DIAGRAM v12 is a viable MS Visio alternative for individuals and organizations that are looking for a professional business software. It has import and export roundtrip of the MS Visio file format — can open and save documents that can be used by MS Visio (VSD, VDX, and VSDX documents) users. ConceptDraw DIAGRAM can import both generations of MS Visio stencils (VSS or VSSX) to enhance further editing of diagrams created in MS Visio.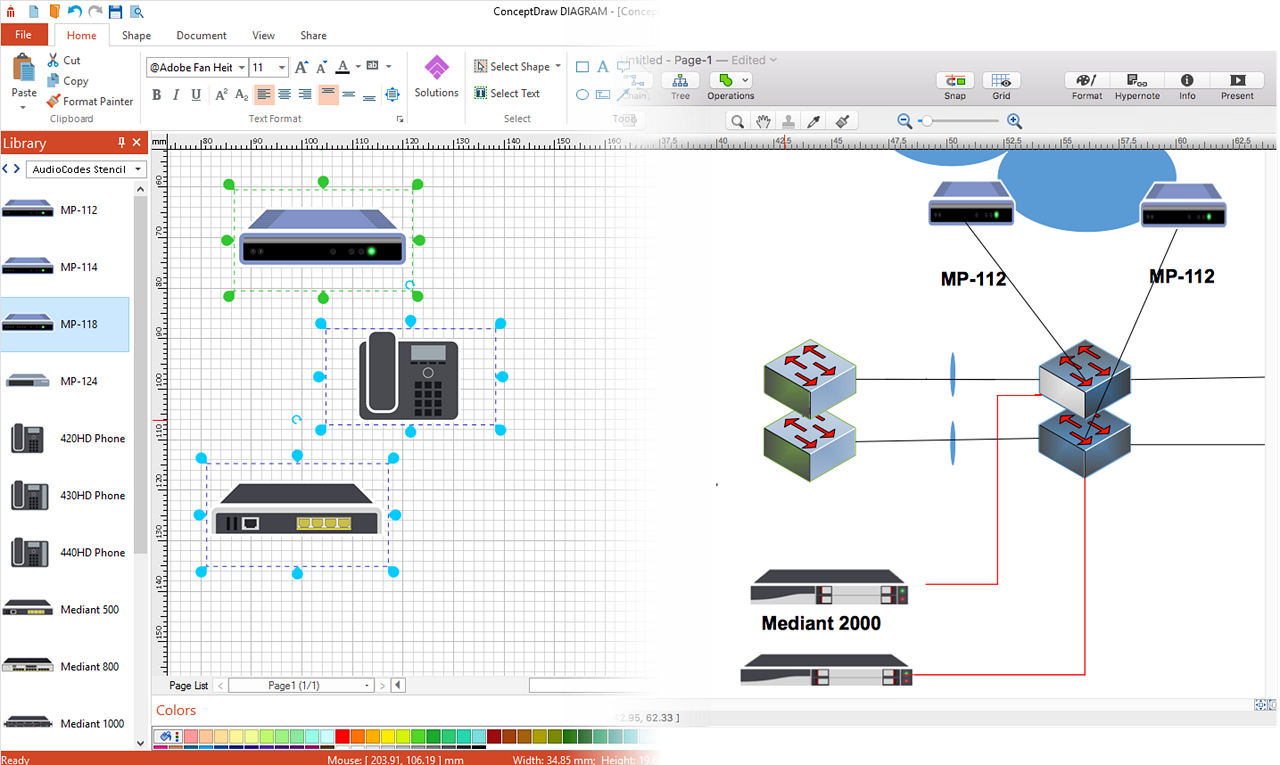 Solutions
Set of the business specific diagramming free and paid solutions. Hundreds of vector stencil libraries for different business activities. Sets of thematic templates and samples. Preview and download content of solutions using ConceptDraw STORE.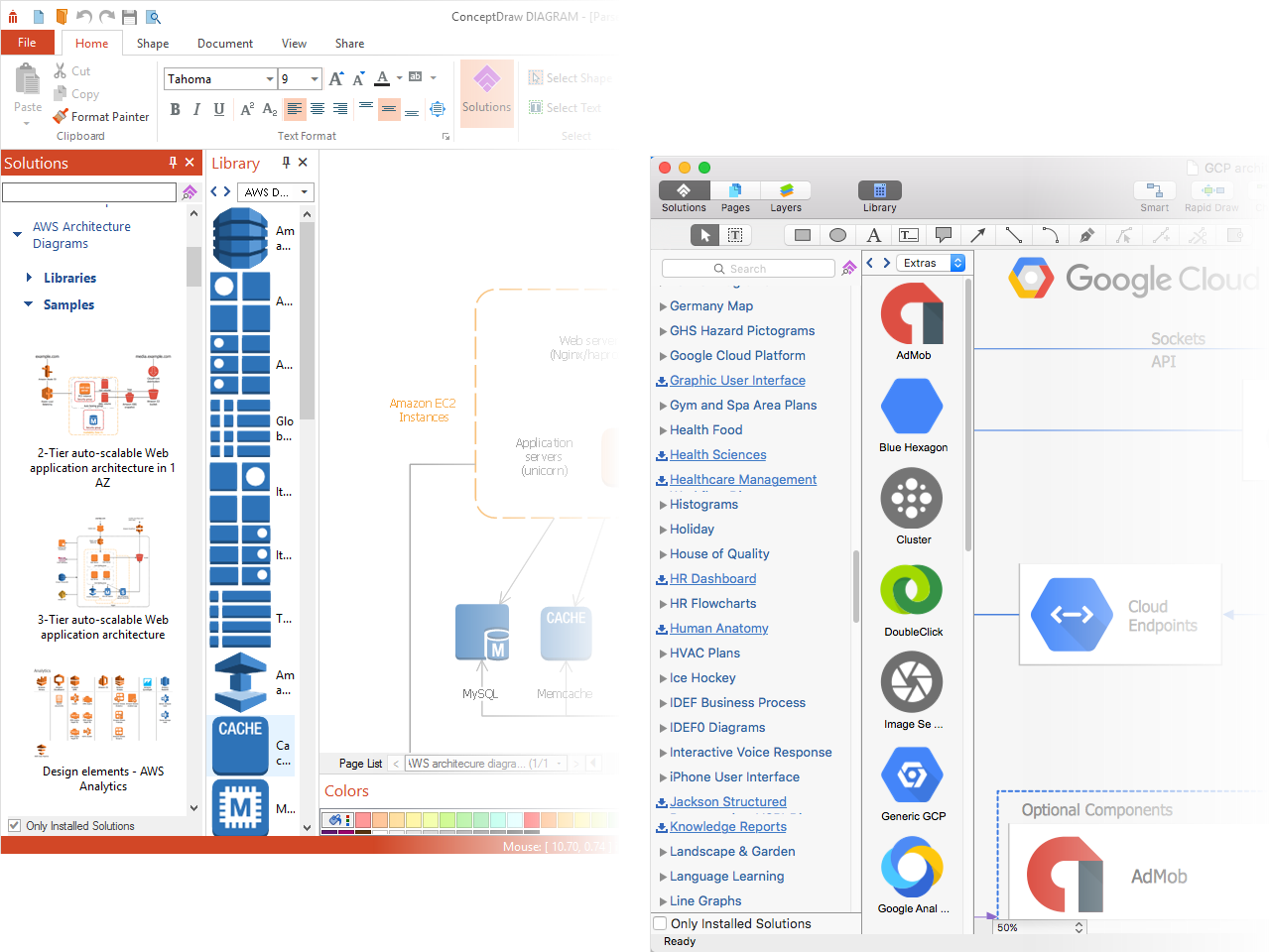 Quick Diagramming Tools
ConceptDraw DIAGRAM v12 provides a set of tools enabling diagrams creating faster than ever. It takes a few minutes even for an inexperienced user to create a diagram using Vector Stencil Libraries. Dynamic Guides and Snapping tools help you align objects quickly. Clone Tool is used for creating a copy of object, Alignment, Distribution, Make Same tools and other Arrangement options will automate routine operations with multiple shapes and allow one to layout objects properly.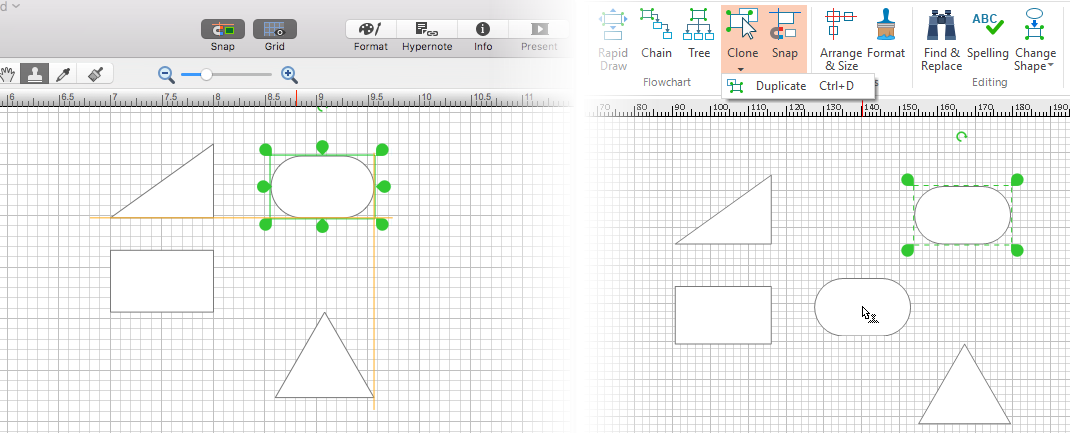 Rapid Draw Tools
The Rapid Draw tools make the short work of creating diagrams. By using Rapid Draw objects, you can quickly add, connect, and arrange a large group of objects with a few clicks. Using these tools will accelerate notably designing of Business Process Diagrams, Process Flowcharts and UML diagrams.
Live Objects
Live objects can dynamically show changes based on external data source files to give you an accurate overview of any process. Live Objects help you track and communicate process KPIs using interactive charts and indicators. Some library objects can be edited by using the predefined actions, which can be managed with the Action button. Deep object customization is provided with PowerEdit functionality. You can create your own objects with specific custom behavior.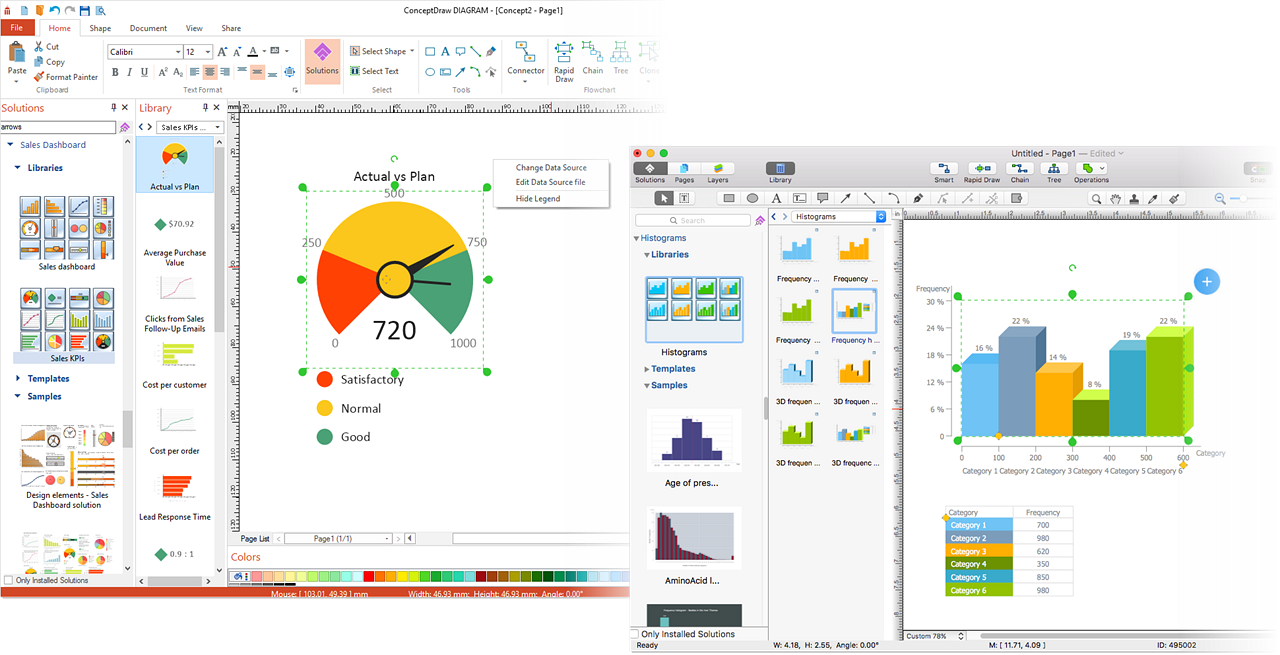 Connection Tools
These tools allow you to create and modify connections. Their behavior, including the Run Around Objects option depends on the connector's type (Direct, Smart, Curve, Round, Bezier, or Arc). You can flip between them dynamically. We have Chain and Tree modes for automatic object connection. Any object can be transformed to a connector. A connection point is a special place on an object. When you glue a connector to a connection point, it stays connected, even if one of the shapes is moved. You can add connection points to an object or to the blank area in a document.

Drawing and Text Tools
The set of simple drawing tools includes tools you need to draw and edit your custom objects: rectangle, ellipse, line, arc and spline figures. You can add text to shapes or connectors (Select Text tool) and also insert a freestanding text on the page of the document (Text Box Tool). The Title Box assigns predefined Heading style for a Title of your diagram. Text Format tools provides the capability to customize a text. The Callout box is a useful tool for adding hiding notes and comments.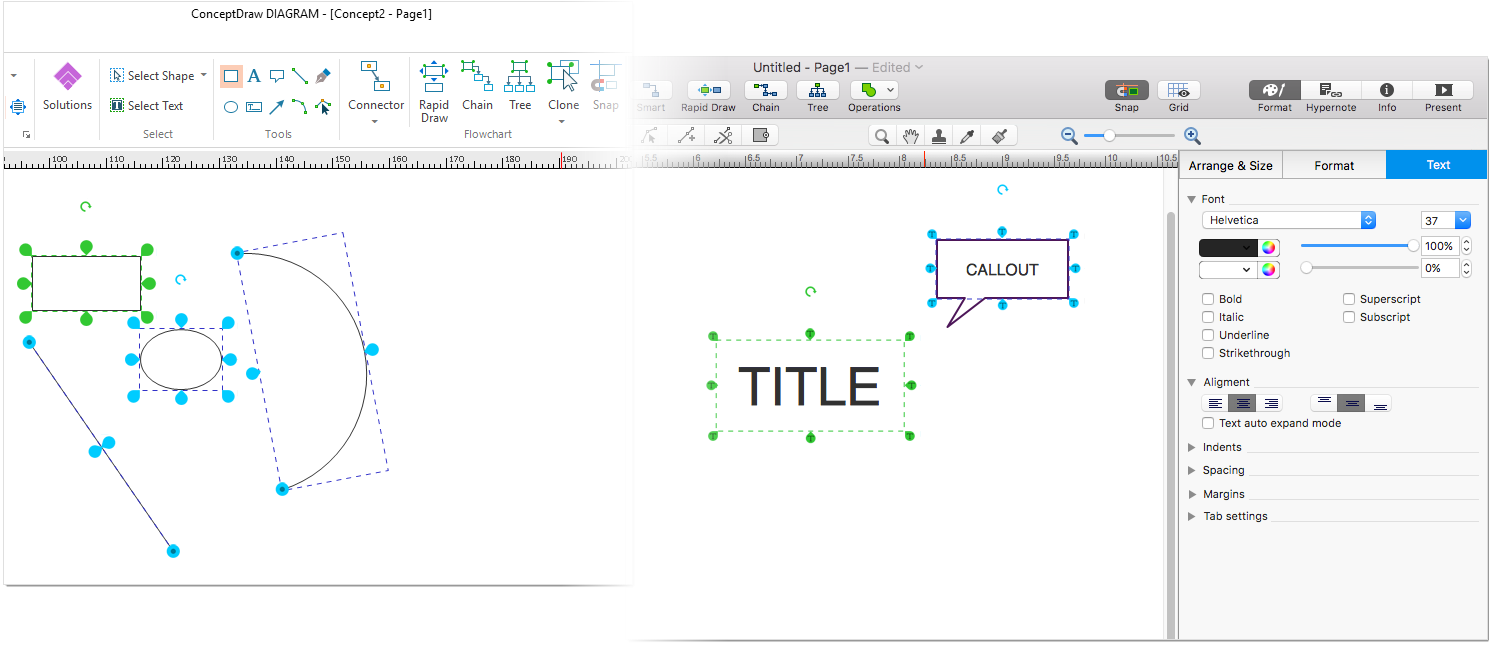 Drawing Format
Objects formatting options: Line styles and arrows, Fill styles, intelligence gradients, textures and shadows enable creating fully customized diagram objects. Set of predefined styles provided with embedded Themes allows you to create professional-looking attractive drawing in a short time. You can create your own Theme according a corporate standard of your organization. Create and save custom libraries to store objects that you frequently use. Save custom document settings together with your custom library as a custom template to make short work of creating diagrams you often use.

Hyperlinks and Notes
Make the diagram more informative by adding Hyperlinks and Text Notes. The Hypernote panel is the blend of a Text Note with multiple hyperlinks. You can link objects on your diagram to files, folders, web pages and even to other objects.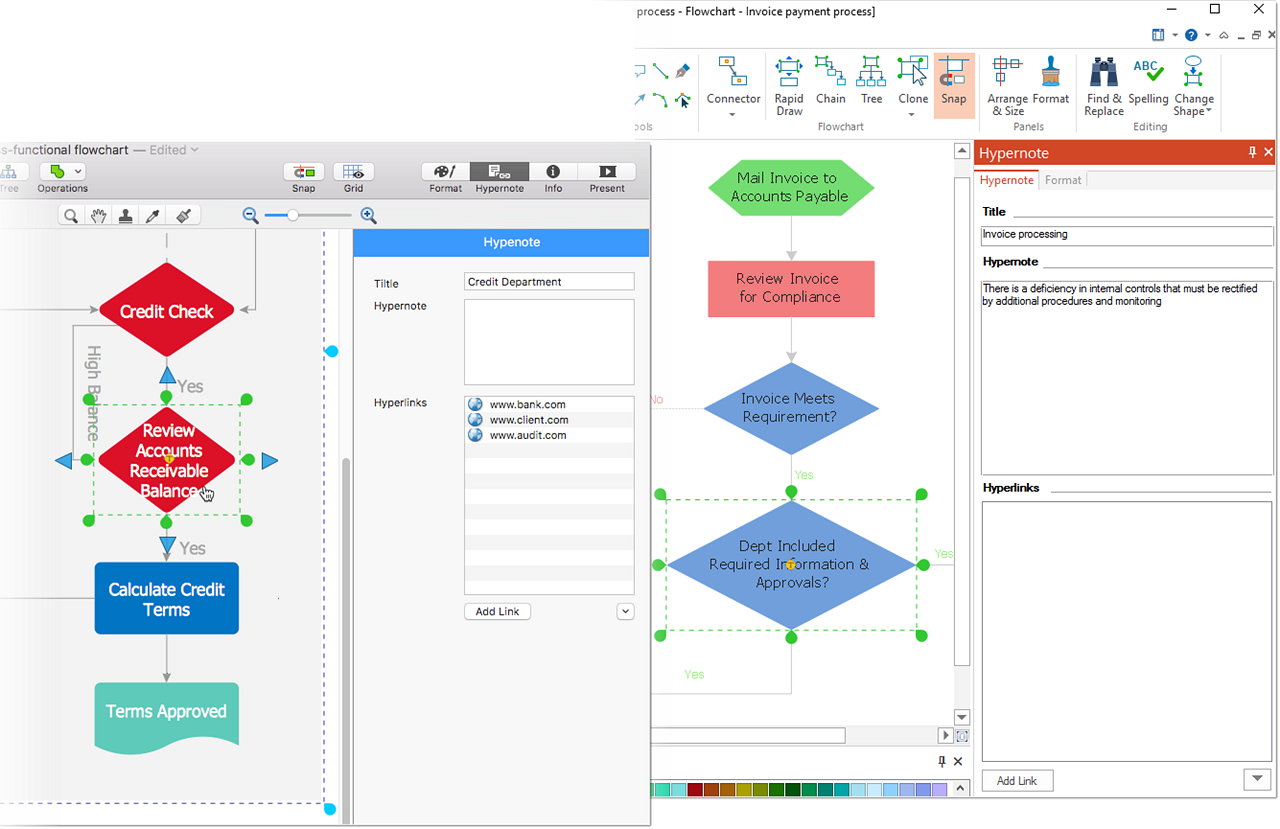 Multipage Documents
You can add multiple pages in a single document. You can add as many pages as you want using the Pages panel. Each new drawing page inherits the properties of the first page. You can manage pages in a document: add, remove and duplicate pages. Also, it is possible to reorder pages, drag and drop objects between pages, duplicate pages and creating multiple background pages in a document.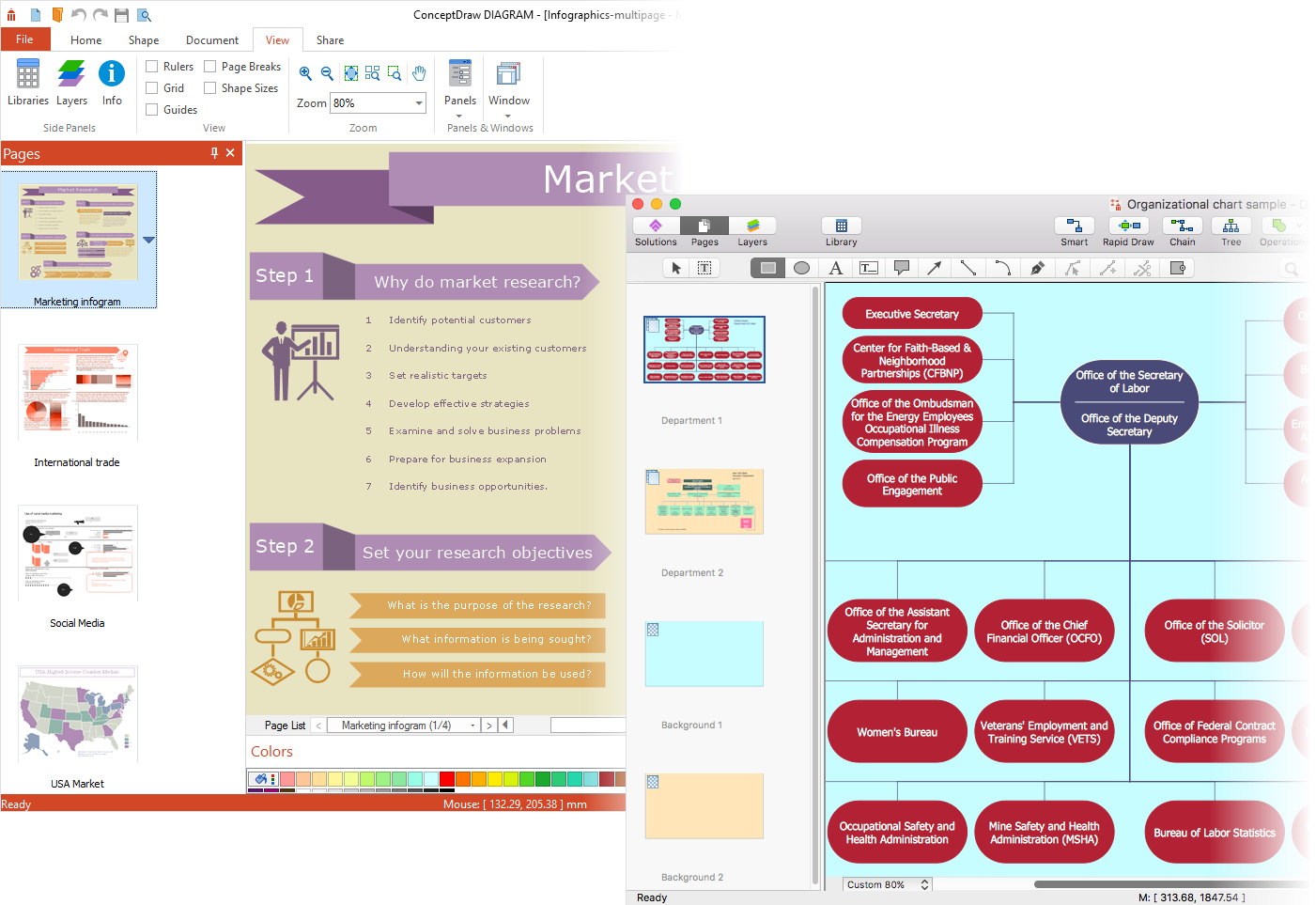 Document Output Options
ConceptDraw DIAGRAM v12 offers a wide variety of printing capabilities and customized printing settings. You can even protect objects and entire layers from printing. ConceptDraw DIAGRAM supports import and export of the most popular formats: Graphic Formats (PNG, JPG, BMP, GIF, TIFF); EPS (export Windows version only); Adobe PDF; HTML (export); SVG (export), and PowerPoint. With Presentation Mode you can perform a full screen Slide-Show without a need to use any special application. Presentation settings (display, auto-switching slides).